Welcome to the February 2017 edition of EV company news. January 2017 global electric car sales were disappointing with just 2% growth on January 2016. January was let down by a poor performance from China, as subsidies were cut by 20%. On the positive side, the US and Europe performed well.
2016 in review now that we have the charts
The two charts below highlight that 2016 was a stellar year for the electric vehicle (EV) industry with market share finishing 2016 at 0.86%, and growing by 41.7% on 2015. The biggest market, China, grew an outstanding 85% in 2016.
Global electric car sales 2010-2016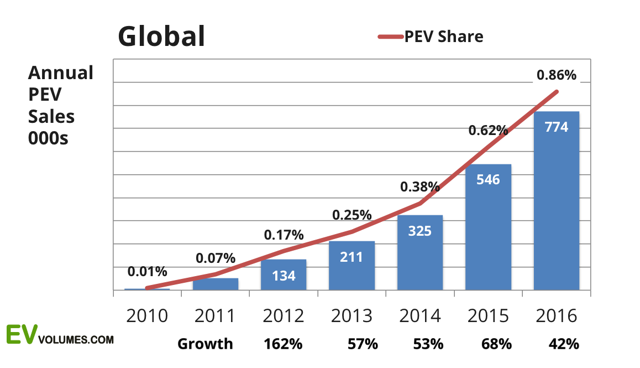 2016 PEV sales growth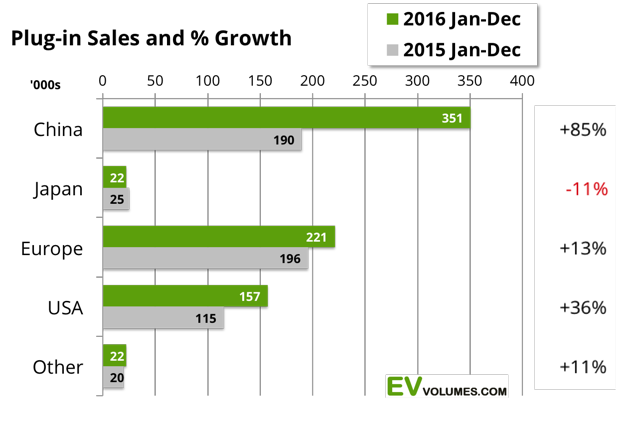 (Source: EV-Volumes.com)
Global EV sales - as of end January 2017
Global EV sales finished January 2017 at 39,000 for the month, up 2% on January 2016.
China had a very disappointing January 2017 with electric car sales of just 6,260, well below the 15,275 sales of January 2016. The reason is thought to be due to the 20% subsidy cut, is not totally unexpected, and should only be a short-term adjustment. Current subsidies are now being phased out, reducing by 20% in 2017, by 40% in 2019 and 100% by 2021. Of note, Bloomberg reported on January conventional car sales: "China car sales fall first time in 11 months after tax hike."
Europe performed very well with 19,000 electric car sales sold in January 2017, 31% higher than the same period in 2016.
US had a great January with over 10,000 electric car sales, up 70% on January 2016. US EVs now have 0.93% market share.
Global EV sales by manufacturer - to end January 2017 and YTD
(Source: EV Sales)
NB: Tesla (NASDAQ:TSLA) sales are estimated each month by EV Sales, and are then updated quarterly, as Tesla does not release monthly sales.
EV market news
I came across an Electrek report from October 2016 that stated, "China is pushing for ZEV mandate:8% of new cars to be electric by 2018, 12% by 2020." Certainly, it is much more aggressive than California's mandate of 3.4% in 2018, 6.9% in 2020 and 15.5% in 2025. You can read my recent (2017) article on this topic here.
Forbes reported in February, "China to add 800,000 charging points to support booming new energy vehicle (NEV) market... In late 2015, there were only 30,000 charging points in China. It was only in early 2016 that the government got serious about charging, and they seem almost fanatic now, setting the stage for a new phase of the NEV revolution." The article also quotes: "Last year 507,000 NEVs were sold in China and this year the country targets 800,000 units." Note, NEVs includes electric cars and electric commercial vehicles such as e-buses.
On February 6, The Guardian reported, "UK electric vehicle boom drives new car sales to 12-year high. The number of new cars registered in the UK hit a 12-year high in January, with electric vehicles taking a record share of the market. Alternative fuel vehicles, mainly electric cars, such as the Nissan Leaf, increased by a fifth to reach a record 4.2% share of new vehicle registrations, beating a previous high of 3.6% in November last year."
On February 7, The Guardian ran a story, "Power to the EV: Norway spearheads Europe's electric vehicle surge." They reminded us that "The government (of Norway) aims to phase out fossil fuel-powered EVs by 2025," and that "Today, Norway has the highest per capita number of all-electric [battery only] cars in the world: more than 100,000 in a country of 5.2 million people. Last year, EVs constituted nearly 40% of the nation's newly registered passenger cars." And "earlier this year, Norway opened the world's largest fast-charging station, which can charge up to 28 vehicles in about half an hour. The country, joined by Europe's No 2 in electromobility, the Netherlands, intends to phase out all fossil fuel-powered automobiles by 2025... The trailblazing achievements of the Norwegians and the Dutch are just one reason that many experts see 2017 as a crucial breakout year for electric mobility in Europe and beyond."
EVs are very popular in Norway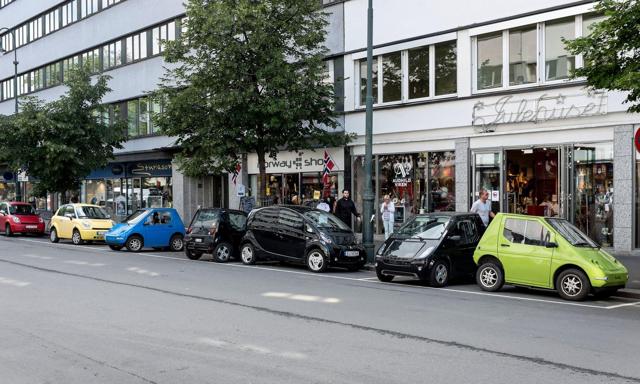 (Source)
EV Sales reported January 2017 electric vehicle sale in Norway were an incredible 37% market share, up 72% YoY.
EV growth 2015-2020, and cobalt demand by application
The graph below shows EV demand forecast to grow to 6.1 million sales by end 2020, similar to my forecast of 4.2 million with around 5% market share. Also, the chart below highlights that cobalt demand is very sensitive to EV demand, with 49% of cobalt demand in 2015 coming from lithium ion batteries. This helps explain the cobalt boom we are currently experiencing. Investors may wish to read my article "Top 5 Cobalt Miners To Consider." Also an excellent read by critical metals expert Chris Berry released just February 17, "The Cobalt Window Finally Opens Up." Chris notes in the article, "Almost 50% of cobalt chemical demand goes into the rechargeable battery business today and this is forecast to increase. Given the apparent shortage in available cobalt, it appears that a new long-term average price for the material will settle in the $20/lb range."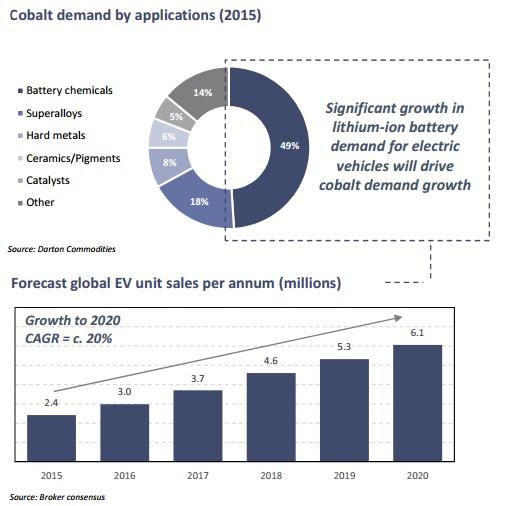 (Source: The Motley Fool)
On February 18, The Economist reported: "Electric cars are set to arrive far more speedily than anticipated... BNP Paribas, another bank, reckons that it could be more like 11% (by 2025)." I have been saying this for a year now, as you can read here. I expect more upgrades to forecasts each year. The graph below says it all.
Li-ion battery prices falling and EV market share forecasts rising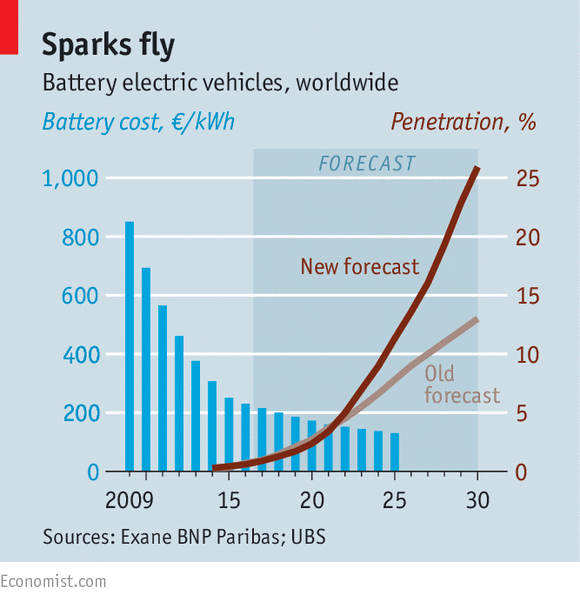 (Source: The Economist (and Exane BNP Paribas, UBS))
EV Company news
BYD Co. (OTCPK:BYDDY, OTCPK:BYDDF, HK:1211)
BYD had a terrible January sales month, which has led to many possible explanations. EV Obsession stated: "Rumors say that the Chinese manufacturer is preparing new batteries with a different chemistry (NMC?)... It seems BYD took this waiting period to make big changes and pause manufacturing."
BYD recently announced a plan to expand its Lancaster California electric bus and truck manufacturing plant. You can read more about it here.
On February 24, BYD announced, "BYD launches biggest e-taxi fleet in South East Asia. BYD has introduced 100 electric taxis in Singapore."
BYD e6 all electric taxis in Singapore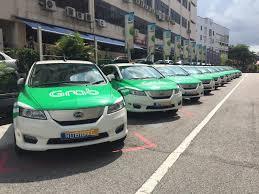 (Source)
On February 25, aaStocks.com announced, "BYD preliminary (2016) earnings of RMB 5.044b (~US$735m) in line with company expected growth of 77.1%-84.2%. EPS was RMB 1.87." Nice result.
Tesla Inc.
On February 22, Tesla announced 2016 earnings results:
"Q4, 2016 EPS of -$0.69, missing estimates by -$0.26.
Q4, 2016 revenue of $2.28B (+88.4% Y/Y), beats by $100m.
2016 revenue of $7 billion, up 73% from 2015."
The company stated: "We expect to deliver 47,000 to 50,000 Model S and Model X vehicles combined in the first half of 2017. The Model 3 and solar roof launches are on track for the second half of the year. Our Model 3 program is on track to start limited vehicle production in July and to steadily ramp production to exceed 5,000 vehicles per week at some point in the fourth quarter and 10,000 vehicles per week at some point in 2018. Later this year, we expect to finalize locations for Gigafactories 3, 4 and possibly 5 (Gigafactory 2 is the Tesla solar plant in New York)."
Regarding SolarCity, Tesla stated: "Specifically, we plan to reduce customer acquisition costs by cutting advertising spending, selling solar products in Tesla stores, and shifting away from leasing solar systems."
Certainly all systems go at Tesla, and are ramping up quickly to facilitate the EV, solar roof and energy storage booms. Hopefully, 2017 can be the year where EPS turns positive, especially given 2017 revenue should be near US$10 billion.
BMW (OTCPK:BMWYY)
As I reported earlier, BMW has risen to the number 1 spot for global EV sales, at least so far for January 2017.
On February 24, Green Car Reports ran a story titled "2018 BMW i3 preview (including battery rumors)." The 2017 BMWi3 has a 33kWh battery with a range of 114 miles, and the 2018 is rumored to get around 145 miles of range.
Renault-Nissan (OTC:RNSDF) (OTCPK:NSANY)/Mitsubishi (OTCPK:MSBHY, OTCPK:MMTOF)
On February 9, Clean Technica ran a story, "Renault-Nissan alliance extends electric vehicle sales record." Renault-Nissan itself said, "the Renault-Nissan Alliance, with Mitsubishi Motors, cumulatively sold 424,797 electric vehicles through 2016, making it the undisputed leader in zero-emission mobility."
Certainly, the Nissan Leaf has been very successful for many years now. Renault-Nissan is the most successful internal combustion engine (ICE) company in the EV space.
2017 Nissan leaf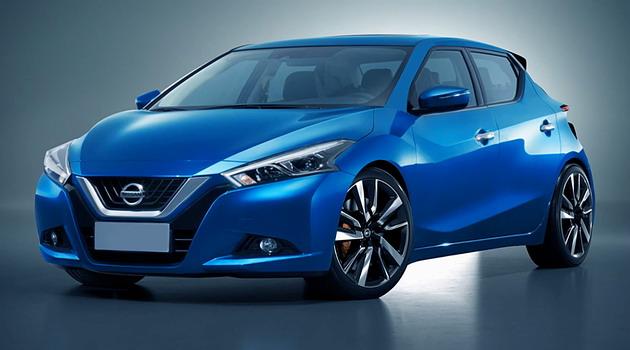 (Source)
BAIC (OTC:BCCMY, HK:1958), SAIC (CH:600104)
Beijing Auto also had a very poor January 2017 sales result compared to previous months.
In January, Shanghai Auto [SAIC] introduced a new SUV, the SAIC Roewe eRX5. Of interest was the Alibaba-developed software, YunOS for Car. Obviously the Chinese are following Tesla on this.
SAIC Roewe eRX5 interior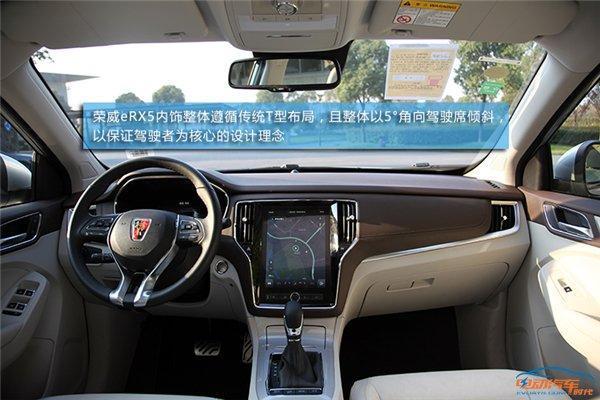 (Source)
Volkswagen Group (OTCPK:VLKAY), Audi (OTCPK:AUDVF), Porsche (OTCPK:POAHF)
On February 7, Automotive News reported, "VW of America launches electric vehicle infrastructure unit." They "will manage $2 billion in investments in zero-emission vehicle infrastructure and awareness programs over a decade as part of a court settlement over its excess diesel emissions."
General Motors/Chevrolet (NYSE:GM)
On February 26, Green Car Reports reported, "'Thousands' of self-driving Bolt EVs to be deployed next year: report." This is "in concert with Lyft" as GM attempts to gain market share in the taxi industry.
I noticed with interest that the hybrid GM Chevy Volt (1,611 sales) outsold the all-electric GM Chevy Bolt (1,162 sales) in January in the US. Most likely, this was due to heavy discounting of the Volt, but will be interesting to watch going forward.
Ford (NYSE:F)
It seems Ford CEO Mark Fields still does not get it - EVs, that is. On February 2, Green Car Reports wrote, "Emissions rules could cost 1 million jobs, Ford CEO tells Trump: what's behind that number?"
When I hear these reports, it reminds me that many of the ICE car companies are still fighting against EVs, and it makes me seriously question the company's 2015 claim, "Ford plans $4.5 billion investment in 13 new electric vehicle models by 2020." Fields was also quoted by Green Car Reports as saying, "Fields said there is no market for electrified cars, including hybrids, plug-in hybrids, and electric cars."
I guess this explains in 2017 why Ford still has no competitive EV, while GM and Tesla both have great long-range EVs that will sell great in 2017. Actually, Tesla has already taken deposits on around "nearly 400,000" Model 3 EVs. That does not sound like "no market" for EVs to me.
Geely Automobile Holdings Ltd (OTCPK:GELYY, HK:0175), Volvo (OTCPK:VOLVY), Kandi Technologies Group (NASDAQ:KNDI)
Geely and Kandi also had poor sales months in China this January. This is likely only temporary.
On February 21, Automotive News China reported, "Geely seeks stake, partnership with Malaysia's Proton."
Hyundai (OTCPK:HYMTF)
On February 21, Automotive China News reported, "Hyundai will build, sell Yuedong EV in China". The Yuedong is known as the Elantra in the US. Hyundai outperformed the market in China in January. You can read a review of the 2017 Hyundai Ionic here.
Kia (OTCPK:KIMTF)
On February 21, Automotive China News reported, "Kia plans to introduce three new models in China this year." Included are the "hybrid crossover Niro, and the Huaqi E300 electric car."
Other EV companies I am following include Daimler-Mercedes (OTCPK:DDAIF, OTCPK:DDAIY), Toyota (NYSE:TM), Honda (HMC, OTCPK:HNDAF), Mazda (OTCPK:MZDAY), Faraday Future (TW:3035), Lucid Motors (formerly Atieva) (private), and Mahindra (OTCPK:MAHDY).
Conclusion
January 2017 electric car sales were a strange month, with the former shining star, China, losing its luster - most likely just a temporary blip. Meanwhile, the US dramatically picked up its electric car sales (up 70% YoY), Europe continues to do well, and Norway at 37% market share in January continues to be in a league of its own. 2016 was China's year; perhaps 2017 will be the US's year to shine.
I still believe 2017 will be a strong year for EVs (despite China's poor start) due to many new affordable EVs hitting the market. You can read more in my recent article: "Electric Vehicles Set To Electrify The Market In 2017." You can also read about some of the new EV models coming in 2017 at EV Sales.
My highlight for February was Tesla announcing it plans to start "limited" Model 3 production as early as July - just 4 months from now. The second half of 2017 will be most interesting.
As usual, all comments are welcome, and if you have some EV news from January that I have not covered, feel free to add it in the comments section with a link.
Disclosure: I am/we are long BYD (HK:1211).
I wrote this article myself, and it expresses my own opinions. I am not receiving compensation for it (other than from Seeking Alpha). I have no business relationship with any company whose stock is mentioned in this article.
Additional disclosure: The information in this article is general in nature and should not be relied upon as personal financial advice.
Editor's Note: This article discusses one or more securities that do not trade on a major U.S. exchange. Please be aware of the risks associated with these stocks.