Blue chip paper product producer Kimberly-Clark (NYSE: KMB) is a dividend champion that has made investors wealthy via 45 straight years of dividend increases. However, the dividend growth rate has let up over the past decade, hovering around 5% for the past few years. Upon closer review, unfavorable currency exchanges and a struggle to grow revenues indicate that dividend growth may be tough to come by for the near future. The looming interest rate hikes and current valuations make shares a risky investment that is likely to disappoint investors expecting returns in line with historical performance.

Kimberly-Clark is a paper products conglomerate whose foundation brands include Huggies, Kleenex, Scott, Kotex, Pull-Ups, and Depend. These brands are among the market leaders in over 80 countries across the world (have you ever referred to "facial tissue" as anything other than a Kleenex?).
These brands have resulted in a long-term earnings escalator that has risen higher over decades.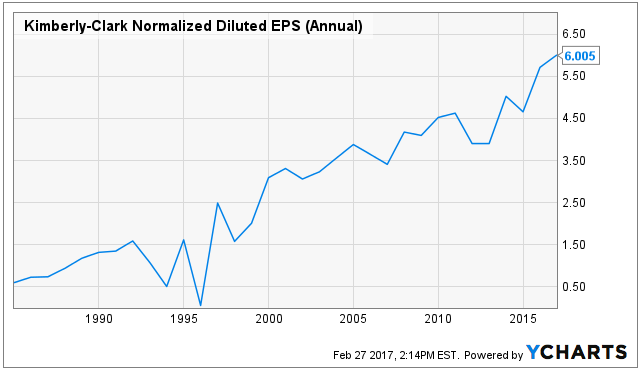 This has resulted in a dividend that investors have seen rise like clockwork every year for the past 45 years. When you have earnings and dividends growing consistently for long periods of time, the soils for wealth generation are fertile. A $10,000 investment into KMB stock in 1995 would be worth more than $80,000 today, a per annum return rate of 10.23% (with reinvested dividends).
However, over the past several years, the dividend growth rate has slowed some. The dividend growth rate going back 10 years is 7.1%, while the raises the past two years have been 4.6% and 5.4%. It may not seem like much, but that is a 25% reduction in dividend growth. With a dividend payout ratio of around 64%, there isn't much room to grow the dividend outside of actual earnings growth. This lines up with and makes sense of this year's most recent increase. The 5.4% dividend hike approved by management is just about in line with the company's full-year result of $6.03 per share - a 5% growth in earnings over 2015. With 2017 earnings forecasted to grow 3-5% over 2016 figures, investors can expect another dividend increase in the same range. What has caused this slowdown in dividend growth?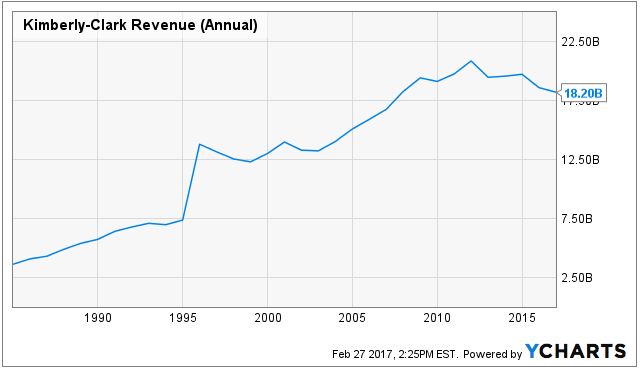 Kimberly-Clark has struggled for the past several years to grow the top line. This has been caused by a couple of issues. Kimberly-Clark has had to deal with a strong US dollar that accounted for a 4% hit to net sales in 2016. This tends to over shadow Kimberly-Clark's 2% organic volume growth. A factor such as this is important to take into account when evaluating companies that do a lot of international business. The strong US dollar has negatively impacted Kimberly-Clark's top line, but shouldn't be seen as detrimental to the business itself because the currency exchange is basically an "accounting figure" and has nothing to do with the performance of the business itself (in most cases). Yes, this negatively impacted Kimberly-Clark's ability to grow its dividend, but currency rates are fluid and will cycle over the long term. When the time comes for the US dollar to weaken, Kimberly-Clark will see the opposite take place in the form of a boost to earnings.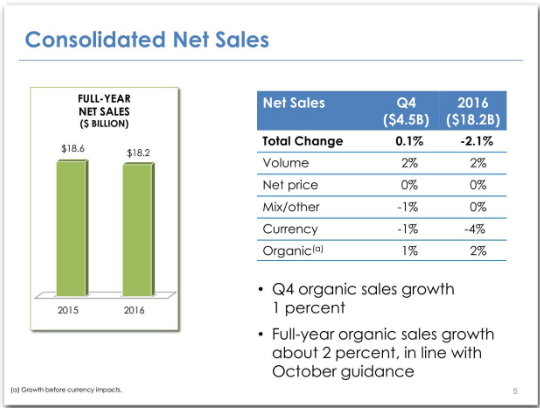 source: Kimberly-Clark
The other figure that jumps out to me - and is more concerning - is the failure of Kimberly-Clark to use pricing to boost revenues. Pricing had a neutral impact on 2016 sales. While the Kimberly-Clark brand portfolio is full of market leading names, there is the potential problem that paper products simply may not have the inelasticity that other products such as cigarettes or coffee may have. While Kimberly-Clark has coined its brand name "Kleenex" almost as a drop-in noun for facial tissue across the world, there isn't much difference (in the form of product quality, experience, etc.) for consumers opting for off brands to save money when it comes to paper products. The same can be argued for various brands throughout the portfolio. This is something that should be monitored moving forward. Pricing power is an essential tool as markets mature, and organic growth is harder to come by.
Luckily for Kimberly-Clark, the company still has growth opportunities in emerging markets. Diaper volumes are growing steadily in Eastern Europe, Russia, and China. Adult and feminine care products are seeing high single-digit/low double-digit growth throughout emerging markets. The North American market as a whole is performing with a 3% growth in consumer products. As previously mentioned, Kimberly-Clark needs to figure out a way to continue taking market share and building volume without sacrificing pricing power. Diaper sales in China were partially offset by price cuts, and management has admitted to competitive pressures providing challenges in Brazil. The growth of the brands will help Kimberly-Clark continue to eke out results, but it hasn't been enough to grow the top line in a meaningful way.
Without revenues growing, Kimberly-Clark has resorted to other means to drive earnings forward (at a diminished rate compared to what organic growth would provide).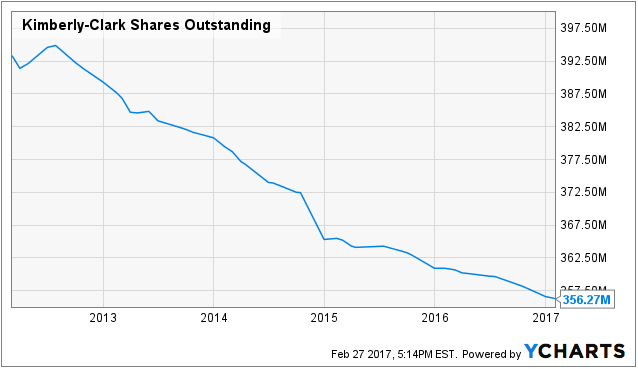 Management is buying up shares in order to help drive EPS growth forward. Over the past five years, management has reduced the amount of outstanding shares by approximately 10%. In addition, Kimberly-Clark has cut its cost of goods sold more than $400M via its self named "FORCE" initiative. This has boosted both gross margin (36.6%), and operating margin (18.4%) year over year. Through financial engineering, Kimberly-Clark has managed to "do more, with less." It has managed single-digit earnings growth from essentially flat revenues.
Until Kimberly-Clark can manage the pricing power and volume growth to generate 8-10% earnings growth - valuation becomes extra important. Shares currently trade at just over $132 per share, or 22X ttm earnings. This is simply too high for the growth you are getting from Kimberly-Clark. Before taking valuation into account, investors can expect annual returns of around 6-8% between earnings growth of 3-5% and the 2.75% yielding dividend. This is already a rate of performance trailing the S&P 500's average return rate over the past two decades of 8.7%. Now let's include valuation to look forward five years out.
The median P/E ratio of Kimberly-Clark going back 10 years is 18X earnings. Not even taking into account that much of that time was a low-interest-rate environment pushing investors into dividend-paying blue chips such as Kimberly-Clark, we will use this valuation as our guideline. Valuations cycle, and at some point shares of Kimberly-Clark will return to a valuation that fits its earnings growth rate. With talk of multiple interest rate hikes in 2017, and the first hike this year possibly coming up in March, perhaps that will take place sooner than later.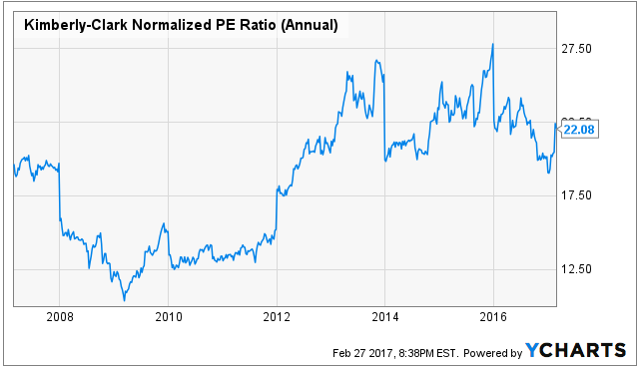 Assume that over the next five years, Kimberly-Clark continues to grow earnings at the high end of its forecast (5%), and shares return to a historical median of 18X earnings. In five years, Kimberly-Clark would be making $7.69 per share. At 18X earnings, shares would be trading at approximately $138.52 per share. Investors would have collected around (assuming 5% dividend growth to match earnings) $21.44 per share in dividends for a total return of $27-$28 per share, or a per annum return of only 3.81%. This is why valuation is so important when earnings growth is below the 8-10% threshold. A company growing at 8-10% or higher, can burn off a modest premium over time. Even though Kimberly-Clark offers various market leading paper product brands, it doesn't possess the pricing power it needs to get to that "next level" of earnings growth. Therefore, shares should only be purchased when priced attractively. In the case of Kimberly-Clark, that would be somewhere below 18X ttm earnings.
If you liked this article, please find my profile icon at the top of this page, and hit the "Follow" button. I enjoy engaging with those who comment, and am always looking for feedback that allows me to improve on the content I provide. As always, thanks for reading.
Disclosure: I/we have no positions in any stocks mentioned, and no plans to initiate any positions within the next 72 hours.
I wrote this article myself, and it expresses my own opinions. I am not receiving compensation for it (other than from Seeking Alpha). I have no business relationship with any company whose stock is mentioned in this article.