Recently, I wrote an article observing that market valuations seem pricey and raising the question whether I would be better off selling everything in my IRA but the Highest Quality ("HQ") stocks.
Readers of that article had a number of reactions to the question. A few readers suggested that it was a terrible idea to ever sell any stocks because weaker ones are most likely to revert to mean performance over time. More than one reader suggested just the opposite view, making the case that investors should ONLY own high quality stocks ALL the time.
The most common theme of the responses I got, however, agreed with me that the market is indeed pricey, but argued that trying to time the market is a fool's mission. Some of those same readers agreed with me that it is still not easy to sleep soundly at night when the market hits new highs almost every day. Several of the sleep-soundly strategists offered their own variations of my idea of only owning high quality stocks.
And that is the subject of this post.
One reader suggested I buy VanEck Vectors Morningstar Wide Moat ETF (NYSEARCA:MOAT). Another recommended PowerShares S&P 500 Quality ETF (NYSEARCA:SPHQ). No surprise, Warren Buffett and Berkshire Hathaway (NYSE:BRK.B) came up in the conversation as a sleep-at-night, all-weather investment.
As I evaluated those three alternatives, I decided it would make sense to compare their numbers with the total return of the S&P 500 (NYSEARCA:SPY) as well as Vanguard's Total Stock Market fund (NYSEARCA:VTI).
And just for good measure, since my recent article cited Yale professor, Robert Shiller's S&P 500 Cyclically Adjusted Price-Earnings Ratio as evidence of a pricey market valuation, I added to the comparison an investment he inspired, Barclays Shiller CAPE ETN (NYSEARCA:CAPE).
Let me be clear before going any further. This past weekend, investors were reminded once again that Warren Buffett is best in class over the long haul.
But is BRK.A or BRK.B always a solid choice for investors who fear market tops and would accept less volatility in return for a good night's sleep? Consider this: From January 1, 2008 to June 30, 2009, BRK.B fell in price by -37.1% compared to -34.1% for the total return of the S&P 500 (source: YCharts).
In recent years, a number of intriguing alternative stock investments have come to market in response to concerns about volatility. Unfortunately, not all of these alternatives have been around long enough to stand the test of time.
MOAT and CAPE performance data (as opposed to back-tested data) go back to only 2012. SPHQ came on the market in late 2005.
Therefore, I view this analysis as a starting point in my quest to choose stocks or funds that allow me to sleep soundly at night during periods of high market valuation.
Charts 1 and 2 compare the total returns of Buffett's BRK.B, Shiller's CAPE, Vanguard's VTI, Morningstar's MOAT, PowerShares' SPHQ, and the S&P 500 for two time periods: Since October 12, 2012 and for the past 12 months as of February 24, 2017. The October 2012 date was chosen because that is the date the newest of the investment alternatives, CAPE, came to market.
Chart 1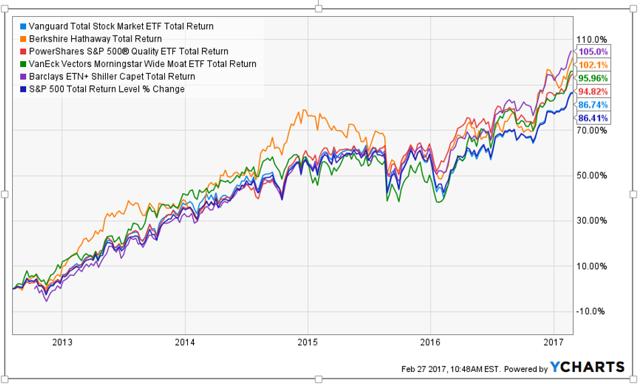 Chart 1 reveals that the best total return since October 2012 belongs to CAPE. For readers not familiar with CAPE, let me suggest a Seeking Alpha analysis written in 2012 by Ron Rowland: His write-up includes 10 years of back-tested performance data as well as a description of the ETN's investment tactics. Here is a quick summary of the tactics: CAPE monthly invests in 4 of 9 sectors based on a model that screens relative value and momentum.
It is worth noting that CAPE is an ETN, not an ETF. ETNs are not without risk as described by Larry Swedroe in 2014. ETNs bear counterparty credit risk. Since Barclays sponsors CAPE, investing in CAPE requires investors to assess not only Shiller's strategy, but presumably Barclays' creditworthiness. Perhaps this layer of complexity and risk explains why CAPE has only $57 million in assets (sources; YCharts and Morningstar) despite impressive performance since its launch. I welcome more details on CAPE from well-informed Seeking Alpha readers.
CAPE is not alone in beating the total return of the S&P 500 since October 2012. So too did BRK.B, MOAT, SPHQ, and VTI. Each created alpha.
What about over the past year?
As chart 2 shows, during the past 12 months, MOAT leads the way. The folks at VanEck Vectors issued an analysis in January of this year touting recent performance.
MOAT, BRK.B, and CAPE beat the total return of the S&P by more than 500 basis points. Vanguard's VTI was up 162 basis points over the S&P; the superior performance of VTI was driven by the hot returns of smaller cap stocks. In contrast, the high quality strategy of SPHQ lagged the overall market, falling short by 442 basis points. Although with a total 12-month return of 19.79%, SPHQ investors likely are not complaining much.
Chart 2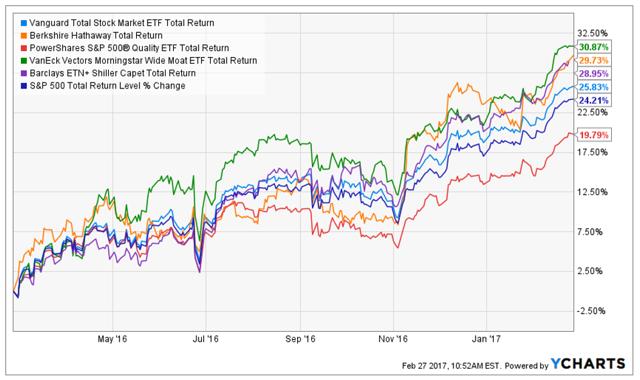 These past 12 months have produced blockbuster gains for stock investors. It is this fact plus the super high valuations that give me angst.
The analysis now shifts to monthly returns for the six investments since October 2012. An analysis of monthly numbers provides at least two insights. First, we can evaluate volatility of returns over time. Second, we can evaluate investment performance during months when the market went up or down. This second point is especially important since the goal of this post is to determine if certain investments provide better safety when the S&P 500 falls in price.
Chart 3 considers monthly total returns for the six investments for the past 51 months. The best average monthly return is CAPE (highlighted in green) followed closely by BRK.B. The lowest standard deviation in monthly performance is SPHQ - the high quality fund.
A third column is in chart 3: Coefficient of Variation (CoV) which is calculated by dividing the standard deviation into the average. CoV, in theory, is a simple means to identify the best risk-adjusted return. In truth, having only 51 data points limits our ability to draw too many conclusions about returns, but as said before, this is a start.
CAPE not only has the best average monthly total return since it was launched, but also the best average monthly return adjusted for volatility as noted by its leading CoV.
Chart 3 Monthly Average Total Return Nov. 2012-Jan. 2017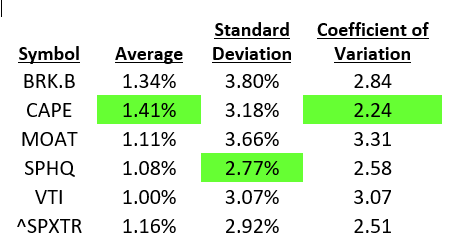 (Source: YCharts)
Chart 4 evaluates monthly performance during the 15 months of the past 51 when the S&P 500 total return was negative for the month. Here again CAPE leads the way when looking at absolute average performance; BRK.B is a close second and SPHQ is third best.
The worst performer during the 15 down months is MOAT which lost -2.46% on average a month. Further troubling for MOAT investors, MOAT also had the greatest volatility.
Chart 4 Monthly Average Total Return for 15 Months S&P 500 Negative Nov. 2012-Jan. 2017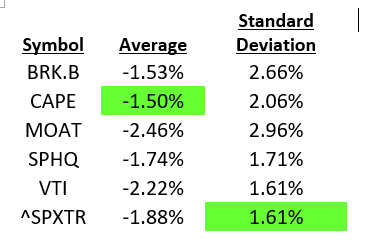 (Source: YCharts)
The analysis I did for my last post showed 21 high quality stocks trouncing the overall market during the four down years since 1995. It is interesting to observe that since late 2012, the performance of SPHQ does not show evidence of the superior performance of high quality stocks during a decline in overall market prices.
One explanation for the difference is that there are simply too few data points (15) to draw a statistically significant conclusion. Testing this idea, I went back and compared SPHQ monthly total return to the S&P 500 all the way back to January 2006 when SPHQ numbers first became available. The results are surprising.
The source for all returns and calculations is YCharts.
As of year-end 2016, the S&P 500 is up 94% over the past 10 years compared to 84% for SPHQ. The lower overall return may be perfectly acceptable if SPHQ avoids the spikes and especially the valleys of the S&P.
The average monthly total return for SPHQ since 2006 is .61% compared to .71% for the S&P 500. As for volatility (standard deviation), SPHQ is .60% vs. .73% for SPY. The coefficient of variances are .99 and 1.03 respectively. At .29% of assets (versus .10% for SPY or .05% for VTI), SPHQ expenses are low enough to make SPHQ a compelling alternative to SPY for the risk-averse investor.
But here is another factor for investors to consider: From January 1, 2008 to June 30, 2009, SPHQ fell -47.3%, underperforming the S&P 500 by more than 1300 basis points (source: YCharts). A track record like that raises serious questions.
The last chart in this analysis considers the performance of the six investments during the 36 months since November 2012 when the market was up. As chart 5 shows, once again CAPE leads the way and its CoV is nearly as good as the S&P total return.
Chart 5 Monthly Average Total Return for 36 Months S&P 500 Positive Nov. 2012-Jan. 2017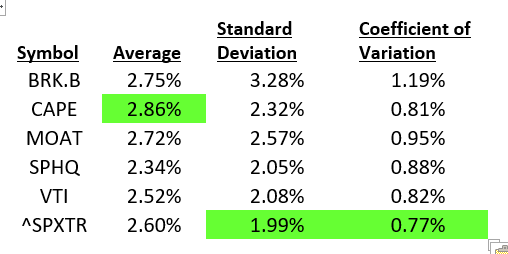 (Source: YCharts)
Conclusions
Readers of my prior post offered a number of ideas addressing my concern about investing in a market at nosebleed levels. Having considered several of their suggestions, I draw the following initial conclusions:
As many readers suggested in the last post, timing the market is difficult if not impossible; it seems possible, however, to remain invested while holding lower volatility stocks and ETFs to mute the risk of a material slide in the market.
Since late 2012, SPHQ is less volatile than the S&P, VTI, CAPE, BRK.B, and MOAT while delivering compelling total returns; while it seems SPHQ should be an effective holding for market tops, its performance in 2008-09 did not inspire confidence.
MOAT's performance over the past 12 months is impressive as are returns since its 2012 launch; while I am a big fan of Morningstar's rating system, MOAT's volatility is disconcerting and causes me to question whether it is yet a proven hedge against a big market drop.
BRK.B shares have had the greatest monthly volatility of the six investments evaluated since 2012 and it did not stand out in performance in 2008-09; but as noted earlier, Buffett is the best in the world through the ups and downs of markets. Got to own BRK.A or BRK.B.
CAPE is the most interesting of the group with superior performance during up and down markets since its launch; however, the ETN structure creates complications, and in my case, my primary investment firm does not even make CAPE available for investment. I plan to watch CAPE.
Time may prove CAPE, MOAT, and SPHQ as worthy risk-adjusted alternatives when markets are highly valued. But I am yet to be persuaded there is a better mousetrap for a pricey market than a combination of cash, a broad market fund, and the 21 high quality stocks identified in the last post. However, I greatly appreciate the insights shared by the Seeking Alpha community and admit without hesitation that I could be wrong.
Disclosure: I am/we are long BRK.B. I wrote this article myself, and it expresses my own opinions. I am not receiving compensation for it (other than from Seeking Alpha). I have no business relationship with any company whose stock is mentioned in this article.