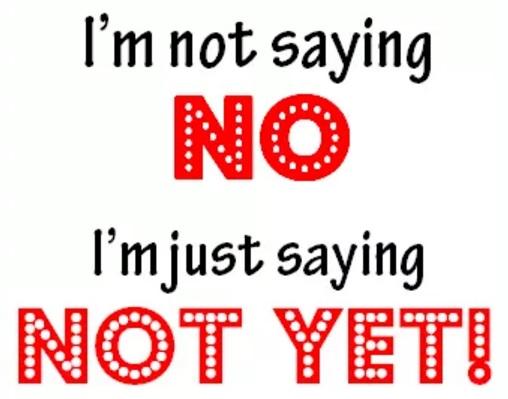 NVIDIA (NASDAQ:NVDA) was one of the hottest stocks of the last few years, thanks to the hype over its GPUs finding favor with companies that are revolutionizing the future of tech.
NVDA Total Return Price data by YCharts
However, thanks to an epic bull run over the past five years, shares of this semiconductor maker have run up way too far too fast. That's why, despite sensational fiscal-year 2017 results, shares have fallen significantly from their recent all-time highs.
Let's take a look at just how well the company is executing on its hyper growth plans, what investors can expect in 2017, what key risks you need to be aware of, but most importantly, at what price this promising dividend growth stock is actually worth buying.
Sensational Full-Year 2016 Results But Growth Is Likely To Slow in 2017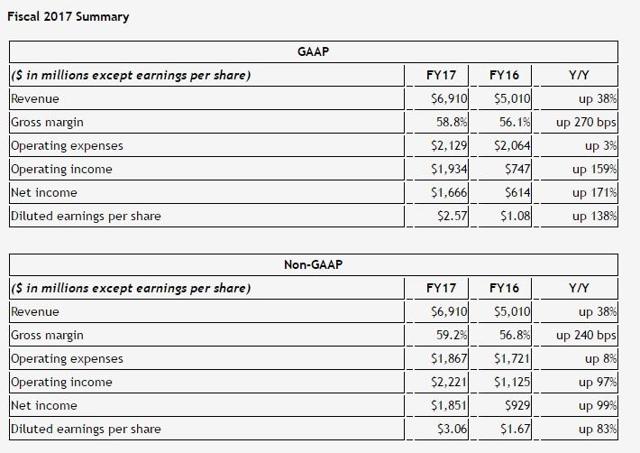 Source: NVIDIA earnings release
By any measure, NVIDIA's fiscal 2017 was a blockbuster, with strong top line growth, an improvement in gross margins, and astounding bottom line EPS growth.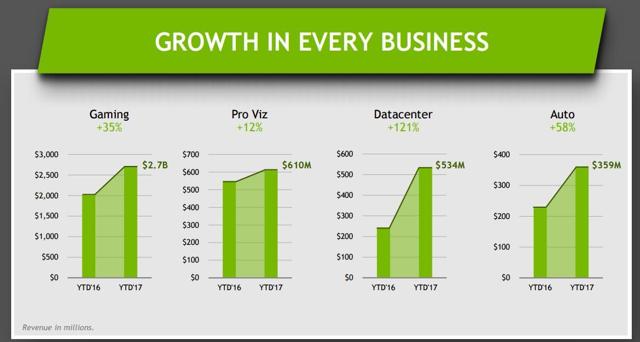 Source: NVIDIA earnings presentation
In fact, the company saw strong growth across all its business segments, but especially data centers, and automotive. That's due to major pushes into data center tech, including partnerships with Microsoft (NASDAQ:MSFT) for its Azure cloud computing service, the Department of Energy, The National Cancer Institute, and the unveiling of the DGX Saturn V AI supercomputer.
Meanwhile, the company is partnering with numerous automakers to help them in their quest to develop autonomous cars including Audi (OTCPK:AUDVF), Mercedes (OTCPK:DDAIF), and Bosch (OTC:BSWQY).
However, at the end of the day the company's revenue continues to be dominated by its bread and butter gaming segment, which made up 64% of its fiscal 2017 sales.
Fortunately, that segment saw strong growth courtesy of the launch of the GeForce GTX 1050 and 1050 TI mobile GPUs in over 30 gaming laptops.
In addition to excellent performance over the past year, management's guidance for Q1 2018 was equally great. Specifically NVIDIA expects sales growth of 36%, with gross margins rising to new record highs of 59.5%.
This combination of strong top line growth, plus improved margins is why analysts are currently expecting NVIDIA's EPS to grow by an incredible 82% this year.
Dividend Growth Prospects Remain Strong Making NVIDIA A Very Promising Dividend Growth Candidate...
| | | | | |
| --- | --- | --- | --- | --- |
| Company | Yield | TTM FCF Payout Ratio | Projected 10-Year Dividend Growth | Potential 10-Year Annual Total Returns |
| NVIDIA | 0.6% | 18.6% | 15.0% | 15.6% |
| S&P 500 | 1.9% | 39.5% | 5.9% | 9.1% |
Sources: Morningstar, Fastgraphs, Factset Research, Multpl.com, Moneychimp.com
As a dividend growth investor, what I care most about is the dividend profile, meaning current yield, dividend safety, and long-term payout growth potential.
As you can see, at the moment, NVIDIA's yield is rather weak, which means that the only way I can justify owning it is if I believe the ultimate payout growth potential is high enough to generate substantial total returns and market outperformance.
Thankfully, the company's rock bottom free cash flow or FCF payout ratio means that not just is the current dividend Volvo safe, but also capable of immense growth in the coming years.
In fact, I expect NVIDIA to quadruple the dividend in the coming decade, which initially may not seem all that great. After all, it would result in a yield on cost of less than 2.5%. However, keep in mind that NVIDIA's first duty is to reinvest in its business, and due to its enormous potential growth runway, that means having to plow its exponentially growing river of FCF back into R&D.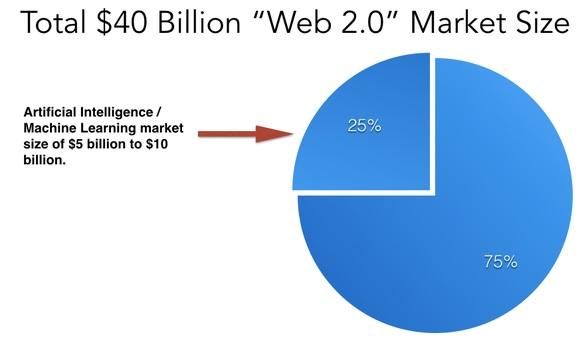 Sources: Goldman Sachs, Motley Fool
After all, NVIDIA's biggest growth market is in AI, and according to Goldman Sachs, the addressable market for the company today already stands at $5 billion to $10 billion. That's not even taking into account the immense growth potential AI will see in the coming decades.
That means that AI alone could potentially double or triple the company's current sales. That's especially true given that the company's Pascal chip is its first purpose built AI chip. Up until now, NVIDIA's GPUs have been the platform of choice for companies investing in AI because they were the state of the art in terms of brute force computing power.
However, in the coming years and decades, chip makers will be investing tens of billions into more specialized chips, specially designed to optimize machine learning. So NVIDIA will need to spend heavily if it's to keep its lead in the industry, and keep its data center and auto segments growing strongly.
The same applies to its other major growth market - self-driving cars. Right now, NVIDIA's Drive PX2 supercomputer is the industry standard in autonomous vehicle tech, with over 80 car makers and Tier 1 suppliers choosing it to help drive their driver-less car efforts.
However, rivals such as Intel (NASDAQ:INTC) and Qualcomm (NASDAQ:QCOM) are chomping at the bit to steal NVIDIA's market share in these fast growing industries, so the company will have to massively increase its R&D in coming years.
The same also applies to NVIDIA's core gaming segment, which saw growth of 66%, thanks to the launch of its Pascal-based GPUs. These are part of the company's big push into virtual reality or VR. However, that kind of growth can't be expected to continue in the long term, especially as rivals such as AMD (NASDAQ:AMD) launch its own state of the art GPUs to compete.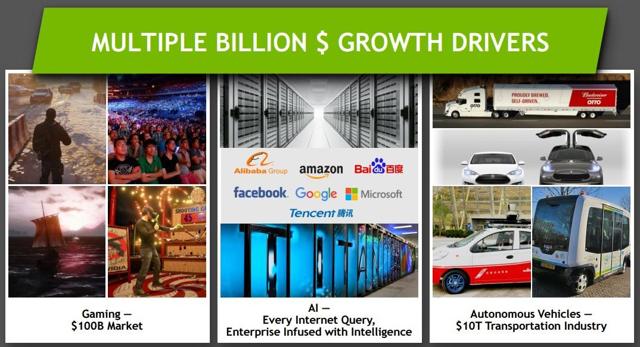 The bottom line is that NVIDIA is well positioned to take advantage of the hottest tech trends of the coming century (AI, VR, Self Driving Cars, Cloud Computing), but it will have to spend heavily in order to compete with its well capitalized rivals, and thus limit the amount it can return to shareholders.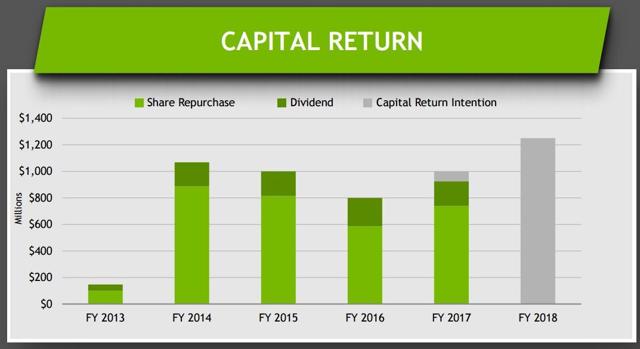 On the other hand, given how high the share price is now, I expect management to focus more on dividends relative to buybacks in the coming year, which bodes well for this year's payout hike.
...Just Not At Today's Absurd Valuation
NVDA Total Return Price data by YCharts
With shares having more than tripled over the past year, it comes as no surprise that NVIDIA's shares are trading at nosebleed valuations.
| | | | | |
| --- | --- | --- | --- | --- |
| Company | TTM PE | Historical PE | Yield | Historical Yield |
| NVIDIA | 52.7 | 21.7 | 0.6% | 1.5% |
| Industry Median | 24.4 | NA | 1.8% | NA |
Source: Gurufocus
As you can see, the current TTM PE ratio is more than double both the company's historic norm, as well as that of its peers. Meanwhile, the dividend yield is trading way below its historic median value, as well as below that of 92% of global chip makers.
| | | | | |
| --- | --- | --- | --- | --- |
| TTM FCF/Share | Expected 10 Year Growth | Fair Value Estimate | Growth Baked Into Current Share Price | Margin Of Safety |
| $2.12 | 10.3% | $49.44 | 21.9% | -108% |
| | 15.0% | $70.25 | | -44% |
| | 20.0% | $102.28 | | 1% |
Sources: Morningstar, Fastgraphs, Gurufocus
And even if we take a very long-term (20 years) look out at the company's massive potential growth runway things still look abysmal. After all, whether or not you believe the analyst consensus of 10.3% CAGR growth over the next decade, or are more optimistic, such as my 15% growth expectation (20% is a best case scenario), NVIDIA still looks very expensive.
In fact, at the current price shares are baking in 21.9% growth for the next 10 years. And while the company's penchant for blowing past expectations is the primary reason that its shares have soared so high, the fact remains that unless you think NVIDIA can continue to beat these highly optimistic growth expectations over the next decade, it simply doesn't make sense to buy shares at this time.
Further Risks To Keep In Mind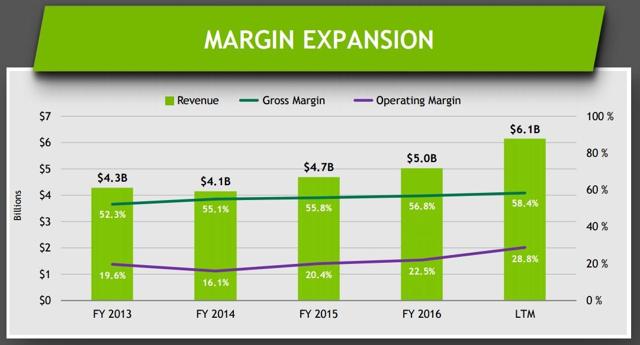 Thanks to exemplary leadership by CEO Jen-Hsun Huang, NVIDIA has been able to leverage its tech lead in GPUs into some very strong pricing power. This has led to growing margins over time and EPS growth that far outpaces its already impressive revenue growth (Q4 net income grew 216%).
However, despite the fact that the company's data center and auto segment has the potential for long-term 20% and 15% CAGR revenue growth, respectively, my concern is whether or not it can maintain those margins in a commoditized and no moat industry.
After all, with R&D budgets as much as 10 times that of NVIDIA's, rivals such as Intel, the leader in combined CPU-GPU processors, are likely to close the tech gap. That means that NVIDIA's gross margins may end up topping out at 59%, and potentially declining over time.
And we can't forget NVIDIA's success in data centers is mainly due to the success of winning key clients such as Facebook (NASDAQ:FB) and Microsoft, thanks to their fast growing cloud storage needs. But as such clients grow in size and scale they could easily demand price discounts in exchange for remaining loyal to NVIDIA's tech, eroding the 65% to 70% gross margins the company is currently enjoying for its data center chips.
With NVIDIA's shares currently priced for perfection, any decline in profitability could send shares crashing back to earth.
Bottom Line: NVIDIA MAY Own The Future Of Tech BUT Given The Ludicrous Valuation, This Remains A Watch List Stock For Now
Don't get me wrong, I love NVIDIA's potential, which is why I own it in my own diversified dividend growth portfolio. However, given the immense competition that it will face from major rivals, and thus the risks of margin compression, I view the current valuation as still way too high to consider buying shares.
With the market overdue for a correction, and NVIDIA's shares already heading downwards, I think that investors should be able to get a much better buying opportunity at $80 or even $70 in the coming year.
Disclosure: I am/we are long NVDA, QCOM, MSFT.
I wrote this article myself, and it expresses my own opinions. I am not receiving compensation for it (other than from Seeking Alpha). I have no business relationship with any company whose stock is mentioned in this article.