By Matthew Carr, Emerging Trends Strategist, The Oxford Club
Almost exactly one year ago, U.S. crude hit a low of $26.05 per barrel. At the time, oversupply had obliterated global prices. And there was an economic war between OPEC and the United States... OPEC wanted to drive our shale producers out of business. And to a degree, its plan worked.
Today, the price of WTI is more than $53 - a gain of a little more than 100% in the past 12 months. And we should be in store for more gains in 2017... All thanks to the same cartel that tried to crush the U.S. oil industry.
In November, for the first time since 2008, OPEC agreed to cut its output of oil. The deal was to cut production by 1.2 million barrels per day by January. Despite an initial bump in the U.S. crude price on the announcement, prices have since leveled... at least for now.
I say that because OPEC has no authority to force its members to comply with production cuts. And OPEC has historically produced more than the production ceiling it sets for members. But, flooring almost everyone, OPEC's members are adhering to the cuts... for the time being.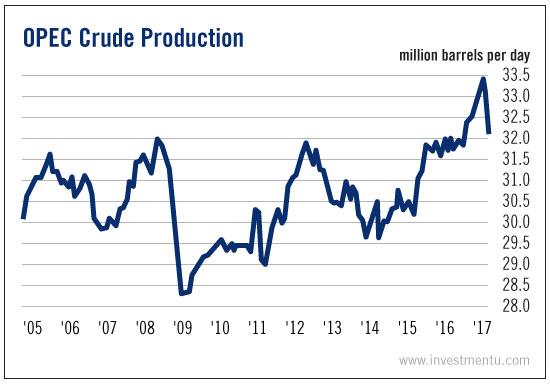 In January, OPEC production fell to 32.139 million bpd. That was a decline of 890,000 bpd. Now, this was 310,000 barrels shy of the production cut target. And it's also stepping back from an all-time high in daily oil flows. But OPEC is reducing output, with 90% of members complying.
According to the most recent "OPEC Monthly Oil Market Report," the cartel's production peaked in November.
So OPEC is adhering to the cuts. And this is almost always good news for crude prices and investors...
The Definition of "Frenemy"
In the last two decades, OPEC has announced production changes three other times: in 1998, 2001 and 2008. All of those were related to major economic disruptions resulting in the collapse in crude... the Asian financial crisis, the dot-com bubble collapse and 9/11, and the Great Recession. Tremendous downdrafts in the price of oil surrounded those disruptions. And OPEC had a hand in it all.

In 1997, right before the Asian financial crisis, OPEC raised its production ceiling by 10%. That caused an oversupply of oil that saturated the market and dropped the price of crude into the single digits.
In December 2001, after crude prices had fallen by a third, OPEC agreed to cut production by 1.5 million bpd. Mexico, Norway and Russia agreed to join in the cuts. That created a shortage in supply and inflated prices. Crude kicked off 2008 by crossing the $100 per barrel threshold for the first time ever. By July, its price was more than $145.
To boost supply and bring prices down, OPEC ramped up production. But by December 2008, the world was in crisis and crude was tanking. That month, OPEC agreed to cut production by a record 4.2 million bpd. Saudi Arabia represented 1.8 million bpd of reductions. This brings us to our current situation...
Even though crude prices collapsed more than 30% from June to November 2014, OPEC refused to cut production. Instead, it ramped up production to all-time highs. Over the 14 months that followed, crude fell another 64% to our low in February 2016.
Finally, after prices stabilized and doubled from those lows, OPEC announced cuts. Once again, Russia agreed to join it and cut production by 300,000 bpd.
Here's the upside...
Don't Look for Crude to Stall
When crude prices fell to $26 last year, I thought it was a gift. It took the $100 per barrel monkey off the backs of investors. For prices to double, crude prices just needed to get back to the $50s. And that's exactly what has happened. I don't think we'll see that $100 per barrel price for at least a couple years. But don't expect crude to stall in 2017.
Even though OPEC has had its hand in crude price declines, when it does announce - and adhere - to production cuts, crude prices rise.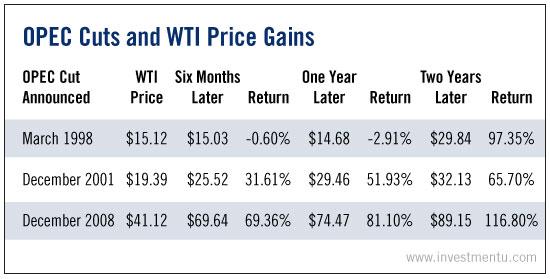 Realistically, I think we could see $75 per barrel crude in the next 12 months. That would be around a 50% return. This year, total global production in crude is projected to be 98.03 million bpd. Total global consumption - for now - is expected to be 98.09 million bpd.
Now, there is still crude in storage to burn through. But we always want to see demand exceed supply. And that's exactly what we're seeing now. And the supply-demand gap could widen if OPEC members stay the course or economic growth around the globe picks up speed.
For investors, look for crude to continue to push higher toward $75 over the next year. And you'll want to target U.S. producers seeking to fill that gap left by OPEC.
Disclosure: We expressly forbid our writers from having a financial interest in their own securities recommendations to readers. All of our employees and agents must wait 24 hours after online publication or 72 hours after the mailing of printed-only publication prior to following an initial recommendation. Any investments recommended by Investment U should be made only after consulting with your investment advisor and only after reviewing the prospectus or financial statements of the company.