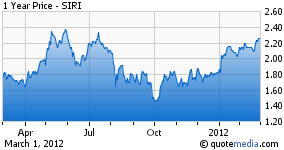 Maybe we can agree on just a couple of things at the outset, simply for the sake of argument. If you're not familiar with that way of expression, it basically means that, while you might disagree with the following points, you'll suspend disbelief to entertain what I think really matters in the Sirius XM (NASDAQ:SIRI) debate over the long run.
Because things can get passionate around here, I must mechanically state that these are the points and, for the sake of argument, you must accept them on faith as you comment on the remainder of the article:
No matter what happens this month with Liberty Media (LMCA), SIRI might temporarily pop or drop, but, at day's end, retail shareholders will not come out big winners or big losers.
Irrespective of how well Sirius XM has performed to date, any change in ownership or share structure portends the company making an attempt to take itself to the next level, whatever that will be, going forward.
I do not think these are illogical leaps to take to enter a discussion about what really matters - the future. They require both bulls and bears to make some rhetorical concessions.
For example, insider sales have dominated so much of the recent discussion. As a bear, I think this activity sends a signal to retail to sell into strength. These insiders must be selling for a reason? But I cannot go there. That will only bog down talk about the future. Same goes for testimonials of I'm a long-haul trucker and when I travel across the country the only way I can get the best music, sports, news, traffic, weather and talk all in one place, crystal clear, is from Sirius XM.
Additionally, I do not want to hear about NOLS and Reverse Morris The Cat Trusts or anything of the sort. I do, however, need you make an assumption: Liberty Media takes majority or sole control over Sirius XM.
Why This Would Be A Good Thing
Consider the following snip I pulled from Liberty's Website last year. It's gone now, but I do not think that means anything.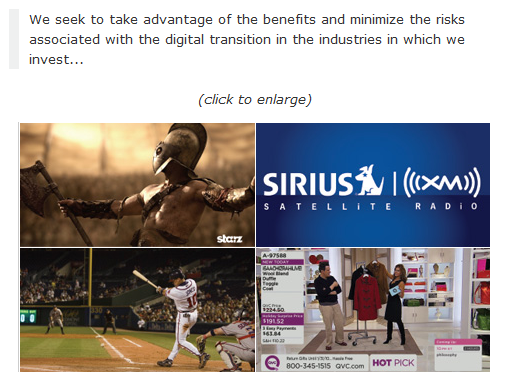 That article hit at around the time Liberty Media Chairman John Malone was looking at Barnes & Noble (NYSE:BKS) to, presumably, get his hands on the Nook tablet. While that deal did not work out as I had hoped, it shed light on Malone's strategy, which could only benefit Sirius XM and its shareholders over the term that really matters, the long-term.
... the digital transition in the industries in which we invest ...
Here's something else we could argue about all day, but it will get us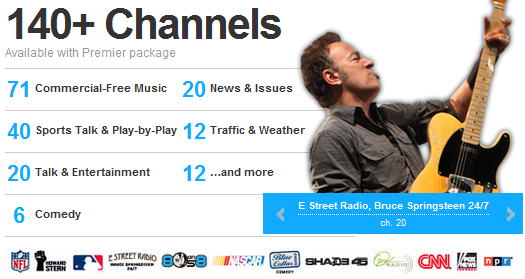 nowhere. I do not believe Sirius XM puts the notion of this digital transition at the forefront of its plans. I think it does digital basically because it has to. Mel Karmazin - and he's not crazy for doing this - appears to have all of his energy focused on positioning his company as an in-car broadcast radio alternative. While that's the company's bread and butter today, there's no way it can survive on that, and that alone, 5, 10, 15 years from now.
Take a look around you, it ain't too complicated and it's as clear as the swift shift from landlines to wireless. There's a reason why Disney (NYSE:DIS) is working to get its prime programming on as many devices as possible through partnerships with cable companies. There's a reason why Time Warner (NYSE:TWX) went ahead with HBO GO and continues to expand its reach. There's a reason why Reed Hastings sees Netflix (NASDAQ:NFLX) as part of cable television packages in the future and companies like Cablevision (NYSE:CVC) think that's a good idea. There's a reason why Clear Channel (CCMO.PK) continues to brand itself as a digital media company, not a radio company, as competitors agree to become part of the iHeart Radio platform.
I could pat myself on the back for predicting these partnerships - these synergies - last year, but, let's be honest, it was incredibly obvious. I am surprised more people were not beating the same drum.
Sirius XM must become a part of this mix. There is no way in the world satellite radio can survive as satellite radio over the long-term. It's not much different than the reality that broadcast radio cannot survive as broadcast radio over the long-term. We are at the entrance to an era where partnership and consolidation will happen because it absolutely must happen. Interestingly, this is not only consumer-driven, but it should benefit the consumer by giving them access to a wider range of programming, seamlessly, on any device they choose.
While Sirius XM seems, at the very least, somewhat hesitant to jump into this mix, it's clearly part of Liberty's plan. And John Malone not only owns properties he can leverage off of one another, but he has the ability to walk into a board room like Buffett and take plenty of companies over with the swipe of his platinum debit card.
We are witnessing the natural evolution of a company. (Or, at least, I hope we are). Mel Karmazin used his terrestrial radio background to get Sirius XM to the level where it is now. Now, it's time for him to step aside and let managers with a more progressive outlook for the business take over and take it to the next level. If you're truly "invested" in this company for the long-term, you should hope that this is exactly what's going down.
Disclosure: I am long TWX.
Additional disclosure: I am long NFLX June $40 put options.