Thesis
Hudson Technologies (NASDAQ:HDSN) is an underfollowed company that presents an exceptional growth opportunity. They have a low-risk balance sheet and a valuation that does not match their growth prospects.
About The Company
Hudson Technologies is a refrigerant company. They market refrigerants used in cooling systems and other industrial gas. They sell both reclaimed and virgin refrigerants. They also do the recycling; they are the largest reclaimer of refrigerants in the U.S. They also participate in carbon offset programs which is something I like to see as a custodian of Earth. Their company is broken down into two segments. This is shown in Figure 1.
Figure 1: Hudson Technologies Breakdown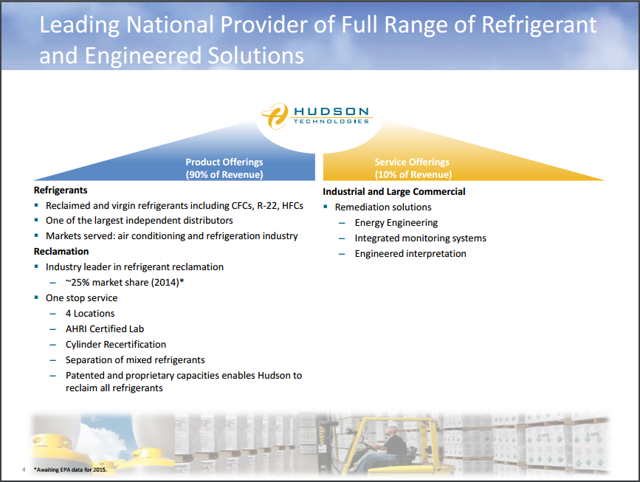 Source: Hudson Investor Presentation
What I Like
I like their extraordinary growth first and foremost. After achieving profitability in 2014, Hudson has grown at a breakneck pace since then. Quarterly earnings growth are 342% YoY while revenue is up 61%. In fact, the five-year revenue CAGR is 16.5%. They have expanded gross margins to 31% up from 24%. As far as valuation is concerned, Hudson has a P/E of 21.
This is on the high side of acceptable for me but it is below the average P/E of 25.5 for the Commercial Service Industry. Their PEG is at 0.76, which further suggests they are undervalued. I think that their valuation certainly does not match their growth. Management has also done an excellent job as determined by Return on Equity, Assets and Capital. This is shown in Figure 2.
Figure 2: ROE, ROA, and ROC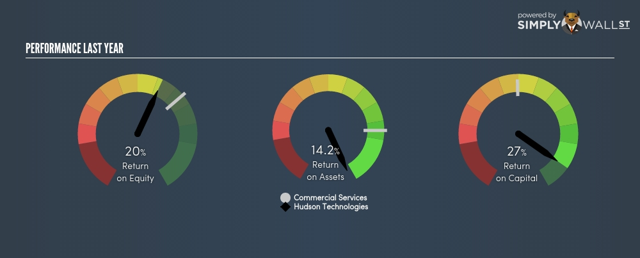 Source: Simply Wall St.
I also like how underfollowed they are. Insiders make up about 20% of the outstanding shares, which I always like to see, and institutions own 71% of shares. Their market cap is just over $300m and their daily trade volume is 350k (10-day average). Despite all this, they maintain an impressive balance sheet. They have a debt/equity of 30% and a current ratio of 3%. Finally, I like their commitment to sustainability. Reclamation of refrigerants is much better than producing more.
Opportunity and Drivers
Hudson identifies an opportunity in the global focus of eliminating gas with high global warming potential (GWP). Pound for pound, refrigerants have up to 4,000 times more GWP than CO2. In fact, there is a phase out movement underway across the globe to stop new production of a variety of refrigerants. This may sound like a bad thing but Hudson is positioned to take advantage of this refrigerant aftermarket. Refrigerants are necessary for operating existing chiller systems. There will be a need for reclaimed refrigerants. They currently control 25% of the reclaim market, which will only grow as production of new gas is phased out.
From a financial standpoint, last year, Hudson scored a DoD contract worth up to $400m. This is a five-year contract with a five-year renewal option for management and supply of refrigerants, compressed gas, cylinders, and related items to US Military, Federal Civilian agencies, and Foreign Militaries.
Analysts are certainly generous to Hudson Technologies. Profit and revenue are both expected to grow more than 50% in the next two years. They currently have a consensus rating of 1.67, which is a buy rating and a consensus target price of $9.75. This represents a 36% upside potential. Hudson also trades at an extreme discount to future cash flow. This is shown in Figure 3. If you abide by the future cash flow valuation mechanism, Hudson presents an extremely attractive opportunity.
Figure 3: Hudson Technologies Future Cash Flow

Source: Simply Wall St.
The final driver I would like to address is energy service and remediation. Energy services is mostly optimization of existing systems. Hudson quantifies energy reduction for customers, which results in lower CO2 emissions for which the customers then obtain carbon credits. Energy inefficiency in HVAC (heating, ventilation, and air conditioning) costs more than $20B annually. Hudson helps customers reclaim some of this lost money through their energy services segment.
Risks
I had to dive pretty deep into Hudson's 10-K to identify risks I considered substantial. The most obvious risks to me were competition and dependence on regulation. Hudson is currently the largest player in the reclamation market. This means they are also the target. A merger of two smaller players could create a challenger to Hudson.
Their business is also dependent on the current regulations of refrigerants to remain the way they are. They say: "failure by government authorities to otherwise continue to enforce existing regulations or significant relaxation of regulatory requirements could also adversely affect demand for our services and products." This is a definite possibility given the current administration.
Final Thoughts
I think that the benefits of Hudson Technologies greatly outweigh the risks. I think their growth will continue as refrigerants are already being phased out around the globe. I think Hudson is uniquely positioned to capitalize on their reclamation and energy efficiency services. I think they are underfollowed due to small market cap and low trading volume combined with high insider and institutional ownership. I believe their financials are strong and that they are an excellent small-cap growth opportunity.
Disclosure: I am/we are long HDSN.
I wrote this article myself, and it expresses my own opinions. I am not receiving compensation for it (other than from Seeking Alpha). I have no business relationship with any company whose stock is mentioned in this article.