As widely anticipated, Trump's address to congress was rich on populist rhetoric refraining the central theme of making America great, while lacking detailed framework on how to actually get there. Corporate taxes are high, yet we are not ready with alternative plan of action; Obamacare is a disaster, yet we don't have a better solution; regulations dampen the economic growth, yet no guidance is given for financial services deregulation; extraordinary resource is spent on military abroad, yet no action is taken. Overall, the speech hasn't delivered the now desperately needed answers to market participants. However, it most likely achieved its optimal goal to keep the consumer confidence at record-high level; leaving the impression that change is finally happening.
The winners and the losers
Despite the scarce information, there were a few commentaries that might translate into good long/short ideas.
Opposing the widespread consensus that Trump has softened its stance on immigration during the speech, the views for tighter control and necessity of "a great, great wall" on the southern border of the US were central in my opinion. A good portion of time and attention was dedicated to relatives of victims of crimes affiliated with illegal immigrants or terrorism. The implications are that the bullish momentum for GEO Group (NYSE:GEO) and CoreCivic (NYSE:CXW) should continue, fueled by recently-announced strong financial results and actions taken by the Justice Department. Other beneficiaries might be identity management businesses like the European Gemalto (OTCPK:GTOFF) (OTCPK:GTOMY).
Moving forward, the $1b infrastructure theme was reaffirmed; the foreign spending - shamed.
To launch our national rebuilding, I will be asking Congress to approve legislation that produces a $1 trillion investment in infrastructure of the United States, financed through both public and private capital, creating millions of new jobs.

This effort will be guided by two core principles: Buy American and hire America.
Unfortunately, no guidance on timeline nor particular projects were outlined (apart from the "great, great wall", of course). The industry experienced a sizable move on promises and the continuing lack of clarity and action might turn the impatient investors down. Companies worth watching include Installed Building Products (NYSE:IBP), United Rentals (NYSE:URI), Vulcan Materials Company (VMC), Tutor Perini (TPC), Manitowoc Company (MTW), Terex Corporation (TEX), Caterpillar (CAT), Fluor Corporation (FLR) and MasTec (MTZ). I believe the infrastructure projects are feasible and needed; possible dip might provide excellent entry opportunity.
On a side note, the "military will be given the resources its brave warriors so richly deserve" comment implies that while spending abroad might be limited, industry's prospects are not in jeopardy. However, depressed margins are the most likely outcome of the new administration. Last but not least, the Twitter factor should be accounted for: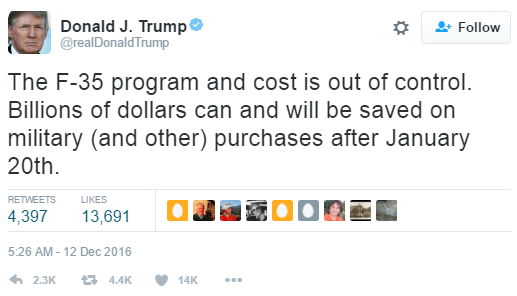 The Keystone and Dakota Access Pipelines were addressed, including that he has "issued a new directive that new American pipelines be made with American steel." Companies to watch: Sunoco Logistics Partners (SXL) (strong results, price slightly off peaks); US Steel (X) and the bulk of steel manufacturers.
We will stop the drugs from pouring into our country and poisoning our youth, and we will expand treatment for those who have become so badly addicted.
As far as I remember, this is new to his speeches. Relevant investments are BioDelivery Sciences International (BDSI), Insys Therapeutics (INSY), MediciNova (MNOV), Omeros Corporation (OMER), Heron Therapeutics (HRTX), American Campus Communities (ACC) and Acadia Healthcare Company (ACHC). Despite the lack of clarity surrounding the statement, it might provide the best buying opportunity out of the speech as Trump's stance is not priced at all.
Staying on the healthcare topic, Trump called the Congress to repeal and replace Obamacare. Two of his guiding principles grabbed my attention:
Fourth, we should implement legal reforms that protect patients and doctors from unnecessary costs that drive up the price of insurance and work to bring down the artificially high price of drugs and bring them down immediately.

(APPLAUSE)

And finally, the time has come to give Americans the freedom to purchase health insurance across state lines ...

(APPLAUSE)

... which will create a truly competitive national marketplace that will bring costs way down and provide far better care. So important.
Most of you probably recall what happened during Trump's first news conference. A much more innocent comment about the drug prices and bidding procedure knocked down the biotech and pharmaceutical indices. Since January 11, however, the prices not only recovered but reached 2015 highs. ETFs to watch include iShares Nasdaq Biotechnology (IBB) and SPDR S&P Pharmaceuticals (XPH).
Finally, I expect a sizable hit on the life insurance companies, especially small, local players like Kansas City Life Insurance (OTC:KCLI), Atlantic American Corporation (AAME), Independence Holding Company (IHC), Citizens (CIA) and FBL Financial Group (FFG) among others. The industry saw a strong momentum since election, implying a significant downside in case of hostile governmental actions or Twitter attack.
Disclosure: I/we have no positions in any stocks mentioned, and no plans to initiate any positions within the next 72 hours. I wrote this article myself, and it expresses my own opinions. I am not receiving compensation for it (other than from Seeking Alpha). I have no business relationship with any company whose stock is mentioned in this article.
Editor's Note: This article covers one or more microcap stocks. Please be aware of the risks associated with these stocks.