Yum! Brands, Inc. (NYSE:YUM) came across my radar because the stock's medium term sentiment levels are pretty oversold (lowest in a year) plus its momentum indicators are also below the 30 level (5 day RSI). The stock is currently trading at just over the $65 level which is well down from the $68.65 level it printed just a few short weeks ago. In fact from a technical perspective, the stock has now retraced 38% of the rally it has had since November (see below). Fundamentally I see this stock as an attractive long term play despite recent weakness. Its earnings multiple is just over 26 which may be slightly higher than the industry's average but this company looks like it has the recipe to seriously grow its earnings going forward. This is really what investors have to research in this space. McDonald's Corporation (NYSE:MCD) for example may be cheaper from an earnings perspective than Yum! Brands but analysts are not expecting similar earnings growth rates going forward from the Golden Arches.
Some investors may say that McDonald's is the safer play. It has a larger dividend, is a proven dividend aristocrat and has a proven business model with strong competitive advantages. This may be true but Yum! Brands (now with its $26 billion market cap) has illustrated that it is well able to compete and grow its earnings at the same time. The new franchise model that management has laid out is going to be lightweight (where capex is expected to drop to $100 million by 2019) and built for speed. When a company undergoes a speedy rollout of established brands such as Taco Bell, Pizza Hut, and KFC, and can combine the rollout with significant comps growth, it creates leverage - as McDonald's shareholders have been able to testify to over the years. Yum! Brands wants to be 98% franchised by 2018 so earnings growth could come at an even faster rate than some analysts are expecting. Here are other areas where the company may have leverage over competitors vying for more market share in this space.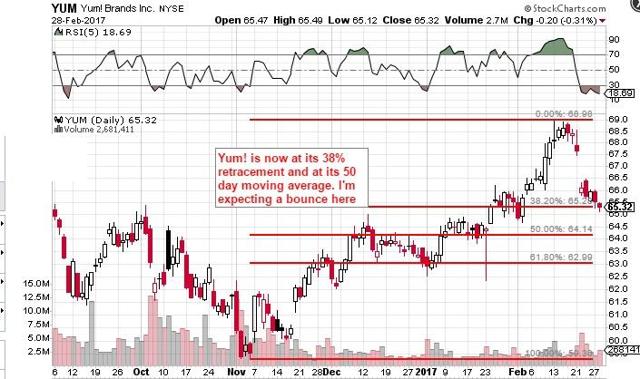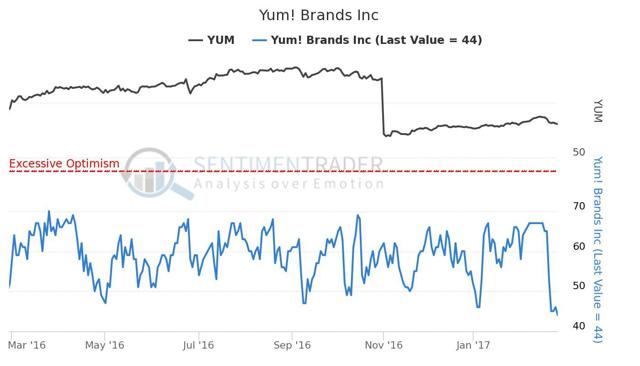 Source : Sentimentrader.com
First off to Taco Bell which continues to innovate by now offering a wedding package to its customers. This news is probably more about the publicity the chain will garner but it does show the restaurant chain will go to any length to get more customers through its doors. Furthermore the rollout of a possible all day breakfast, more menu additions, aggressive marketing and improving mobile fundamentals all illustrate to me that better times may be coming. Mobile ordering for example is growing rapidly and this is something new entrants into this space need to be aware of. Why? Because the established brands that have the scale are going to see the biggest uplift in digital ordering going forward not necessarily from their product but from sheer volume and constant marketing. As long as Taco Bell for example can work to create a seamless experience in mobile and reward its best customers through an attractive loyalty program, same store sales growth should grow meaningfully going forward. Other chains that simply do not have the scale or brand will struggle to keep up here. Furthermore all momentum and strategies can be shared across the group which definitely creates synergies over the long term.
Second, the strength of any restaurant system is the strength of its franchise model. As we have been seeing across the industry for a few years now, big chains have gone the franchise route which stabilizes cash flows and allows the entity to grow at scale. Some chains like Chipotle Mexican Grill, Inc. (NYSE:CMG) haven't gone this route stating that up until now they haven't needed to and that they don't want to give up control here. However I feel Yum! Brands has its finger on the pulse here on what it wants from its franchisees. Yum! definitely still has clout as can be seen from the continuing investments it is making into its KFC franchisees. Investors should take note here as many franchisees have been left to their own devices once taking on the business. Yum! knows its brand is only as good as its people working on the ground. I get the feeling the relationship here is very strong which means the company's brands can pivot at any time to respond to changing customer preferences.
Third, Yum!'s dividend with the recent correction is now 1.84% which is on par with the industry's average's 1.8%. Furthermore dividend growth rates have been robust too with the company's current 3-year dividend growth rate coming in at 11.2%. Many companies in this sector do not pay a dividend. Yes McDonald's pays a higher dividend but as mentioned earlier, McDonald's is trading at all time highs and has lower growth projections. Yum! is more diversified and looks set to gain inroads going forward and the strong growing dividend will only constitute another reason to get long this stock (especially if we see more weakness here)
To sum up, I like Yum!'s growth projections and sustained growth in Taco Bell & KFC. I see Pizza Hut eventually turning the corner as operational improvements should naturally come over time. I would be using weakness to get long this name
Disclosure: I am/we are long YUM.
I wrote this article myself, and it expresses my own opinions. I am not receiving compensation for it (other than from Seeking Alpha). I have no business relationship with any company whose stock is mentioned in this article.