Do you remember at what GAAP TTM PE level Bristol-Myers Squibb (NYSE:BMY) traded at before the company's blockbuster PD-1 inhibitor, Opdivo, received its first USA Food and Drug Administration or FDA approval in December 2014? In November 2014, the company traded at PE levels close to 36.0x.
Fast forward to June 2016 when Opdivo had established itself as a leader in second line non small cell lung cancer space. Investors and analysts were also expecting data from CheckMate 026 trial to demonstrate Opdivo's efficacy as first line lung cancer therapy. At that time, buoyed by investor expectations, the company traded at dizzying levels close to 77.0x.
But today, things have changed. There is intense competition in the PD-1/PD-L1 inhibitor segment for non small cell lung cancer or NSCLC, the most important of Opdivo's many indications. We have Merck's (NYSE:MRK) Keytruda, AstraZeneca's (NYSE:AZN) Tagrisso, and Roche Holdings' (OTCQX:RHHBY) Tecentriq vying for a share of the lung cancer market. And all these dynamics have pushed Bristol-Myers Squibb's GAAP TTM PE back to 21.40x, even lower the level the company traded at before commercial launch of Opdivo. It is as if the market intends to write-off this amazing drug and all the other associated immuno-oncology research programs. And this exaggerated reaction is why I feel the stock is definitely undervalued and hence an excellent buy opportunity.
Below I will present my rationale for favoring Bristol-Myers Squibb in 2017.
Bristol-Myers Squibb has started attracting activist investors, a sign that the stock is seriously undervalued.
When do smart billionaires like Carl Icahn pick up stocks of struggling companies? They do this when they see unexplored value. I believe investors should remember this while investing in Bristol-Myers Squibb. In a recent Dow Jones report, Carl Icahn was reported to have bought a stake in Bristol-Myers Squibb. Investors have responded positively to this news. On February 28, 2017, the stock closed at $56.56, around 21% higher than what the company closed at on January 26, 2017, the day of its recent earnings release.
Icahn is known to believe that Bristol-Myers Squibb's low market capitalization and robust research pipeline make it a very obvious takeover target. If this projection proves correct, it will definitely be a windfall gain for the company's shareholders.
But possibility of such a deal seems difficult, as there are very few contenders in the market with an appetite to acquire Bristol-Myers Squibb.
We can then explore the next possibility, of Bristol getting its game together. Remember, Carl Icahn is known to exert significant pressure on the company's management. Bristol-Myers Squibb's management also seems receptive to guidance. In 4Q 2016, Jana Partners LLC picked up a small stake in the company. Under the former's guidance, Bristol-Myers Squibb has already decided to appoint three new directors to its Board.
These developments show that activist investors may just manage to unlock Bristol-Myers Squibb's shareholder value.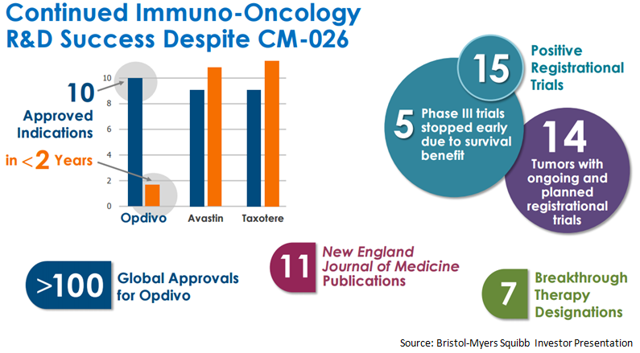 Bristol-Myers Squibb is aggressively defending its second-line NSCLC market
At the end of 2016, Bristol-Myers Squibb's share of the second-line lung cancer market in USA stood at 40%. Launched in USA in May 2016, Tecentriq has grabbed about 10 points market share from Opdivo in the second line space. Keytruda is also inching its way up in the lung cancer market. And these competitive pressures have been contributing to the panic that is currently surrounding Bristol-Myers Squibb.
While I will certainly not underplay the importance of lung cancer indication to Bristol-Myers Squibb, all is definitely not lost for the company. Here, we should let the numbers do the talking. In 2016, Keytruda reported revenues around $1.4 billion, Tecentriq with Avastin was close to 250 million Swiss francs or close to $ 250 million, and Tagrisso was $423 million. Opdivo, on the other hand, earned around $3.8 billion revenues in 2016. So while the second line lung cancer segment is definitely teeming with competition, it surely does not render Opdivo worthless. It is also imperative to remember that oncologists generally prescribe a whole course of a drug to patients. Hence, it is very unlikely for physicians to switch existing patients to new regimens in the middle of therapy. With this logic, most of the growth for the competitor drugs will stem from new secondline NSCLC patients. Hence, I feel that there is much ground for Keytruda and Tecentriq to cover before they dislodge Opdivo's market leading position in lung cancer segment.
Further, Bristol-Myers has also been witnessing some off label usage of its Opdivo-Yervoy regimen in first line NSCLC segment. However, in case Merck manages to secure approval for its Keytruda -chemotherapy combination regimen for first line NSCLC based on KEYNOTE-021 trial, Opdivo may suffer loss of these first-line NSCLC patients in 2017. This coupled with unfavorable foreign exchange movements is estimated to affect the company's 2017 full year earnings per share or EPS by close to $0.07. So back in October 2016, the company had projected its 2017 non-GAAP EPS to be in between $2.85 to $3.05. This estimate has been updated to $2.70 to $2.90 in the company's 4Q 2016 earnings release.
First line NSCLC segment might be a tough nut to crack for Bristol-Myers Squibb
CheckMate 026 trial became a turning point for Bristol-Myers Squibb's fortunes, albeit in a wrong sense. Investors who had expected Opdivo to rapidly capture first line lung cancer market were stunned as Opdivo monotherapy failed to meet its primary endpoint. To add insult to injury, Keytruda was approved by FDA as first line NSCLC therapy in October 2016.
But there is a marked difference with the way in which Bristol-Myers Squibb and Merck had designed their trials. Merck's trial only included first line NSCLC patients where tumors had high PD-L1 antigen expression. So as determined by companion diagnostic test, only those patients with tumors having 50% or greater number of cells expressing PD-L1 antigen, were enrolled in the trial. On the other hand, in its bid to chew off a larger bite of first line NSCLC market, Bristol had enrolled first line NSCLC patients with 1% or higher PD-L1 expression. Hence, the primary endpoint of Bristol-Myers Squibb was itself more challenging to meet than Merck's Keytruda.
With this context, it will be wise to say that the study results definitely do not establish superiority of one drug over other. It may be possible that Keytruda is actually superior to Opdivo or it just may be a case of poor study design by Bristol-Myers Squibb.
It, however, has to be accepted that Bristol Myers Squibb has paid and continues to pay dearly for this mistake. And with PD-L1 testing being currently opted for by about 70% first line NSCLC patients and numbers expected to reach to 85% in 2017, this may be a definite challenge for Bristol to place itself in first line NSCLC segment.
Further, in case of approval of Merck's Keytruda-chemotherapy combination regimen for first line NSCLC segment irrespective of PD-L1 expression, Opdivo may find it even more difficult to position itself in this segment.
But there is more to Opdivo than lung cancer opportunity in USA
Opdivo-Yervoy combination regimen is fast becoming a preferred regimen in first line metastatic melanoma segment. It currently accounts for around 40% share of the total first line melanoma market. The demand has lately been increasing at a slower rate as this involves behavioral change for physicians to prescribe Opdivo-Yervoy combination regimen instead of Yervoy monotherapy for melanoma.
Opdivo has also been making rapid inroads in the second line renal cell carcinoma or RCC space. While Exelixis (NASDAQ:EXEL) cabometyx is definitely a solid competition for Opdivo in RCC segment, Opdivo has managed to maintain its position. Currently, Opdivo is used by around 60% of the new second line RCC patients in USA.
In November 2016, Opdivo also secured FDA approval in head and neck cancer segment. In the short period of time post its approval for this indication, the drug has managed to capture 20% to 30% of the second line head and neck cancer market.
Then, on January 27, 2017, the company also announced that it had secured FDA approval for Opdivo as therapy for patients suffering with locally advanced or metastatic urothelial cancer. Though this area also has its own share of competitive pressures, it is expected to prove to be a major catalyst for Opdivo's future revenue growth.
Bristol-Myers Squibb is also evaluating Opdivo-Yervoy combination regimen for first line RCC as well as Opdivo monotherapy in gastric cancer. So there is definitely many more things to consider while evaluating potential of Opdivo, beyond lung cancer opportunity in USA. So although, around 60% of Opdivo's revenues have been from lung indication in 2016, the company expects to witness a more balanced 50% - 50% revenue contribution ratio for lung cancer and other indications in future years. This should be taken as a positive indicator, as Opdivo will be less reliant on lung cancer segment.
Opdivo is witnessing solid uptake in international markets
In 2016, Opdivo has managed to witness solid uptake in international markets, especially in France and Germany, as second line NSCLC therapy. Bristol-Myers Squibb has successfully secured reimbursement in these markets.
Even prior to completion of pricing negotiations, Bristol Myers Squibb had provided early access to second line NSCLC patients in France, through temporary authorizations for use or ATU program. These efforts seem to have paid offand Opdivo now accounts for around 80% of the PD-1 inhibitor market in the country. In Germany, the share of PD-1 inhibitor market is close to 70%. And Bristol-Myers expects Spain, Italy, Australia, Canada, and United Kingdom to be the next big international market opportunities for Opdivo in lung cancer indication.
Bristol-Myers Squibb has secured reimbursement in around 17 countries in Europe. Now, while Merck's Keytruda has received approval from European Medicines Agency, there will be some time needed for the drug to complete its price negotiations. And this is the time in which Bristol-Myers Squibb may just manage to grab significant share of the lung cancer market. With physicians less than willing to switch regimens for cancer patients, Opdivo stands to benefit from this strategy.
While I agree that Bristol-Myers Squibb can turn out to be a risky bet, I sincerely believe that Opdivo and the related immuno-oncology pipeline can prove to be major growth drivers for the company in 2017. Hence, it is definitely a stock that should be considered by investors with average to high risk appetite in 2017.
Disclosure: I/we have no positions in any stocks mentioned, and no plans to initiate any positions within the next 72 hours.
I wrote this article myself, and it expresses my own opinions. I am not receiving compensation for it (other than from Seeking Alpha). I have no business relationship with any company whose stock is mentioned in this article.
Editor's Note: This article discusses one or more securities that do not trade on a major U.S. exchange. Please be aware of the risks associated with these stocks.