The Dividend Champions spreadsheet and PDF have been updated through 2/28/17 and are available here. Note that all references to Champions mean companies that have paid higher dividends for at least 25 straight years; Contenders have streaks of 10-24 years; Challengers have streaks of 5-9 years. "CCC" refers to the universe of Champions, Contenders, and Challengers.
The Floodgates Open
As expected, dividend-increase activity surged in February, confirming its reputation as the busiest month of the year for those declarations. I expect this trend to continue through March and into April, when Annual Shareholder meetings "season" gets underway, although the pace may slow slightly. The next few months stand out not only in terms of extending impressive streaks of increases, but also in terms of new Challengers and Near-Challengers.
After the CCC universe expanded to a total of 788 companies at the end of January, that population surged to 813 companies in February, which featured 27 new Challengers, 2 deletions and one promotion. The Near Challengers listing also picked up 19 "NEW" notations (in Appendix B on the Notes tab), bringing the number of Near-Challengers to 115, sown from 120 last month, still well below the record of 281 companies in September 2014.
After January's action saw the average price of CCC stocks dip by 23¢, that figure rose by $1.23 in February. The average "age" of the dividend streaks declined from 13.8 to 13.6 years, reflecting the large number of new Challengers. Meanwhile, the average yield edged down from 2.66% to 2.62%, and the average of the Most Recent Increases moved from 8.41% from 8.37%.
As always, please use the CCC only as a starting point for more in-depth research. Feel free to leave any suggestions in the Comment area below.
Quick Summary
The Summary tab includes a table comparing the composite numbers from the latest update to those from the previous month and the end of the previous year. Below that is a summary of the latest month's activity, in terms of companies added, deleted, or promoted. That is reflected below:
Quick Summary:

2/28/17

Champions

Contenders

Challengers

Total

No. of Companies

109

230

474

813

Ave. No. of Years

41.4

15.7

6.3

13.6

Average Price

84.74

74.38

59.71

67.22

Average % Yield

2.31

2.65

2.67

2.62

Ave. MR % Increase

5.47

7.30

10.10

8.37

1/31/17

Champions

Contenders

Challengers

Total

No. of Companies

109

229

450

788

Ave. No. of Years

41.2

15.5

6.2

13.8

Average Price

83.03

72.77

58.41

65.99

Average % Yield

2.35

2.66

2.74

2.66

Ave. MR % Increase

5.90

7.39

10.00

8.41

12/30/16

Champions

Contenders

Challengers

Total

No. of Companies

108

227

433

768

Ave. No. of Years

41.3

15.6

6.2

13.9

Average Price

82.84

72.43

58.82

66.22

Average % Yield

2.33

2.64

2.67

2.61

Ave. MR % Increase

6.02

7.47

10.02

8.45

MR = Most Recent

Additions:

Alaska Air Group Inc. (NYSE:ALK) to Challengers

Amerisafe Inc. (NASDAQ:AMSF) to Challengers

Argo Group International Holdings Ltd. (NASDAQ:AGII) to Challengers

Armada Hoffler Properties Inc. (NYSE:AHH) to Challengers

Avnet Inc. (NYSE:AVT) to Challengers

Bank of Botetourt (OTCPK:BORT) to Challengers

Brookfield Property Partners LP (NYSE:BPY) to Challengers

Carter's Inc. (NYSE:CRI) to Challengers

Citizens Community Bancorp Inc. (NASDAQ:CZWI) to Challengers

CSG Systems International Inc. (NASDAQ:CSGS) to Challengers

CyrusOne Inc. (NASDAQ:CONE) to Challengers

Exponent Inc. (NASDAQ:EXPO) to Challengers

First Industrial Realty Trust Inc. (NYSE:FR) to Challengers

Guaranty Bancorp (NASDAQ:GBNK) to Challengers

Intercontinental Exchange Inc. (NYSE:ICE) to Challengers

Interpublic Group of Companies Inc. (NYSE:IPG) to Challengers

ITT Corp. (NYSE:ITT) to Challengers

Old Point Financial Corp. (NASDAQ:OPOF) to Challengers

P.H. Glatfelter Co. (NYSE:GLT) to Challengers

Peoples Bancorp of North Carolina (NASDAQ:PEBK) to Challengers

Power Integrations Inc. (NASDAQ:POWI) to Challengers

Ruth's Hospitality Group Inc. (NASDAQ:RUTH) to Challengers

Terex Corp. (NYSE:TEX) to Challengers

Twenty-First Century Fox Inc. (NASDAQ:FOXA) to Challengers

W.T.B. Financial Corp. (OTCPK:WTBFA) to Challengers

Xerox Corp. (NYSE:XRX) to Challengers

XL Group plc (NYSE:XL) to Challengers

Deletions:

GNC Holdings Inc. (NYSE:GNC) from Challengers

Spectra Energy Corp. (NYSE:SE) from Challengers

Promotions:

Brookfield Infrastructure Partners LP (NYSE:BIP) from Challenger to Contender
(Table from author; may include underlying data from FinViz.com)
Every Picture Tells a Story
As a bonus, I'm inserting one of Chuck Carnevale's F.A.S.T. Graphs below, highlighting one of the companies listed above. When the price line is in the green area, it suggests possible undervaluation.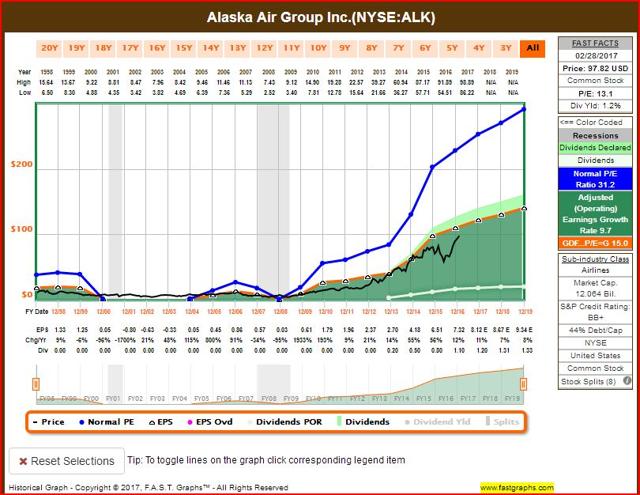 Disclosure: I/we have no positions in any stocks mentioned, and no plans to initiate any positions within the next 72 hours.
I wrote this article myself, and it expresses my own opinions. I am not receiving compensation for it (other than from Seeking Alpha). I have no business relationship with any company whose stock is mentioned in this article.
Editor's Note: This article discusses one or more securities that do not trade on a major U.S. exchange. Please be aware of the risks associated with these stocks.