Ares Capital Corporation (NASDAQ:ARCC) is overbought, expensive, and, thus, ripe for sale. Though the business development company more than covered its dividend payout with Net Investment Income in the last quarter, I think investors may want to gradually reduce exposure to the overbought high yield sector. Ares Capital's shares are also now selling for a premium to Net Asset Value, offering investors a good exit point.
High yield income vehicles have done extremely well over the last year, but especially since the U.S. election in November. Hopes for a major corporate tax cut, regulatory roll-backs, and the beginning of a high interest rate period have all added to the increase in valuations of high yield income vehicles. That said, the current rate of price appreciation in the high yield sector is unsustainable in my opinion, and the BDC sector is ripe for some profit taking (i.e. a correction). Smart investors buy low and sell high.
A BDC With Good Dividend Coverage
My opinion on high yield income vehicles including business development company Ares Capital Corp. has shifted profoundly in light of the surge in BDC valuations lately. That is not to say, though, that Ares Capital isn't doing a good job on behalf of shareholders. If you look at Ares Capital's 4th quarter earnings, there was little to dislike. Most importantly, the company's Net Asset Value remained stable in the 4th quarter, and the business development company again overearned its dividend rate of $0.38/share with Net Investment Income (Q4-16: $0.44/share). Ares Capital's dividend coverage has been robust, on average, for the last six quarters.

Source: Achilles Research
Ares Capital's average NII payout ratio over the last six quarters was 94 percent, theoretically leaving a little bit of upside in the dividend.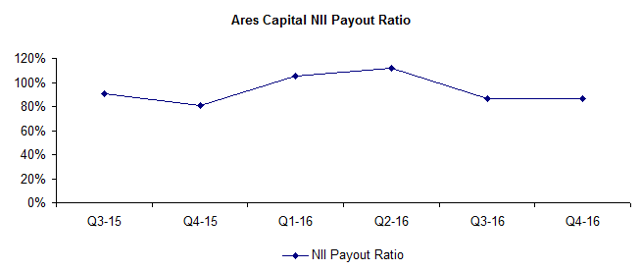 Source: Achilles Research
Overbought And Vulnerable To A Correction
As great as Ares Capital's 4th quarter earnings were from a dividend coverage point of view, the good results are unlikely to shield the business development company in the event of a shakeout in the BDC sector....And it will come. Ares Capital's shares have risen ~26 percent in the last year, and most recently hit one 52 week after another. Experienced stock market investors know what this means: The risk of a major correction in the sector has grown considerably in the last several months.
One thing is certain: Ares Capital's shares are no longer a bargain. A piece of the BDC's business today costs income investors ~1.08x Net Asset Value, and ~10.0x Q4-16 run-rate Net Investment Income. What's more, Ares Capital's shares are overbought, presenting income investors with an unfavorable long term reward-to-risk combination.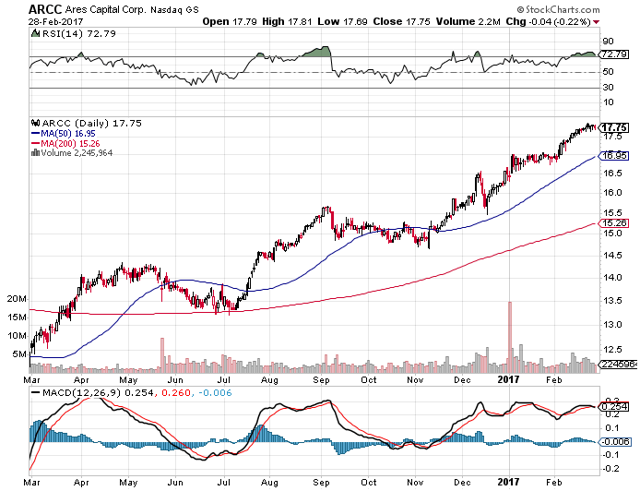 Source: StockCharts.com
Your Takeaway
Ares Capital's 4th quarter results were robust, from both a Net Investment Income (dividend coverage) and Net Asset Value perspective. That said, however, most business development companies including Ares Capital are overbought today, exposing shareholders to growing correction risks. Ares Capital's shares are now selling - after a very long time - for a premium to Net Asset Value, which I think is a good opportunity to realize capital gains. Buy low, sell high.
If you like to read more of my articles, and like to be kept up to date with the companies I cover, I kindly ask you that you scroll to the top of this page and click 'follow'. I am largely investing in dividend paying stocks, but also venture out occasionally and cover special situations that offer appealing reward-to-risk ratios and have potential for significant capital appreciation. Above all, my immediate investment goal is to achieve financial independence.
Disclosure: I/we have no positions in any stocks mentioned, and no plans to initiate any positions within the next 72 hours.
I wrote this article myself, and it expresses my own opinions. I am not receiving compensation for it (other than from Seeking Alpha). I have no business relationship with any company whose stock is mentioned in this article.