I'm not really buying the bearish arguments on Tesla Motors (NASDAQ:TSLA) and though I know it's going to anger many of you here on Seeking Alpha, I believe TSLA is merely a mirage designed to dupe the shorts into betting against the name, only to lose their entire bank account in the process.
Clearly, I must have missed something here, upon listening to the earnings call live, double checking the conference call transcript, and reviewing financial models published by eight other analysts.
I don't know how else to explain this to you, but I think the punditry is over-exaggerating the timing of CFO change, and expectation on another capital raise is already well understood by investors and institutions.
Research summary
I revised my financial estimates for FY'17 to be in line with consensus and reflect management commentary on my forward estimates, inclusive of implied CapEx needs for Gigafactory 3 onwards.
On net, I'm slightly more optimistic on revenues and slightly pessimistic on earnings when compared to consensus for FY'17. From FY'18 onward, I estimate Model 3 in line with management commentary, as I embed 5k weekly production in Q1'18 and 10k weekly production between Q2'18 and Q4'18.
I adjust my cost estimates to reflect these changes. Furthermore, I'm lowering TSLA from "high conviction buy" to "buy," and revise my price target to $306 from $347 to reflect accounting of leases, reduced estimates of Model 3 production offset by a slightly better growth ramp for Model S/X.
I believe risks over increased cash burn and CapEx deployment/ramp won't be well received when we exit FY'17, but will be offset by better-than-expected financial results, and revisions upwards on earnings results from FY'18 onwards once we get past the window of uncertainty on Model 3 supply chain in Q4'17.
These factors offset each other. Hence, I'm not pounding the table on TSLA shares, but still anticipate appreciable upside of appx. 24% to 25% following the share price drop back to $240 to $250 following the earnings report.
Buy the dip, and ignore short-term volatility seems to apply here.
FY'17 results and how it will impact shares
Elon Musk demonstrated very little conviction following TSLA's forward six-month guidance range on Model S/X sell-in of perhaps 47k to 50k units, as it was broadly disregarded by many members of the consensus. More than half the analysts discount execution on Model 3 and ramp-up of pre-existing car production car lines for both Model S/X.
But, when purely playing off a scenario where Model S/X ramp reaches those figures, I end up with a revenue estimate that's marginally higher than where analysts have revised earnings/revenue following the earnings call.
I fine-tuned my financial model to reflect lease accounting pertaining to resale value guarantees versus "actual" lease accounts, as such, I forecast revenue of appx. $10.71 billion for FY'17. This compares to consensus estimates of $10.65 billion for current FY'17, which implies that there's modest upside to results under a conservative scenario of 70.91K Model S shipments and 26.49K Model X shipments with zero Model 3 contribution.
Keep in mind that the consensus forecasted $9.89 billion sales in FY'17 prior to earnings announcement, so the financial outlook reset consensus expectations though there are nuances to this, as some analysts doubled-down on their bearish take, whereas bullish analysts were armed with only marginal positive financial data to justify their stance.
Clearly, the battle lines are drawn on TSLA. Some believe (like I do), but many simply don't (and use every opportunity to disregard/discount management and execution). Clearly, one could point to TSLA's historic track record of missing on guidance and say, ah-ha, this pattern will likely repeat itself!
Some continue to harp on battery cost, while others have mentioned that the capital plan could cause significant dilution, though I already model 31.28 million dilution of share outstanding from prior fiscal driven primarily by debt convertible securities.
Furthermore, I revised my estimate on GAAP diluted EPS from ($1.90) to ($1.65), which is a marginal improvement from my prior figures, and is slightly worse than consensus expectations of ($1.47). Though, keep in mind, the highest GAAP diluted EPS figure among consensus estimates is $4.19 whereas the lowest GAAP EPS is ($7.47), so the degree of variance is "huuuge."
Furthermore, some financial models exclude the impact of SolarCity, whereas others expect cash burn to continue at a ridiculous rate assuming TSLA builds up capacity and is unable to sell Model 3 into its retail channel. Basically, financial assumptions move across the boardwalk, so the only constant is that "us" experts really have no way of modeling within 5% of revenue and earnings "actuals," until the very end of the fiscal year. So, predictive models on TSLA is still a work in progress at every buy-side and sell-side desk. Therefore, expectations will likely move considerably over the next 12 months.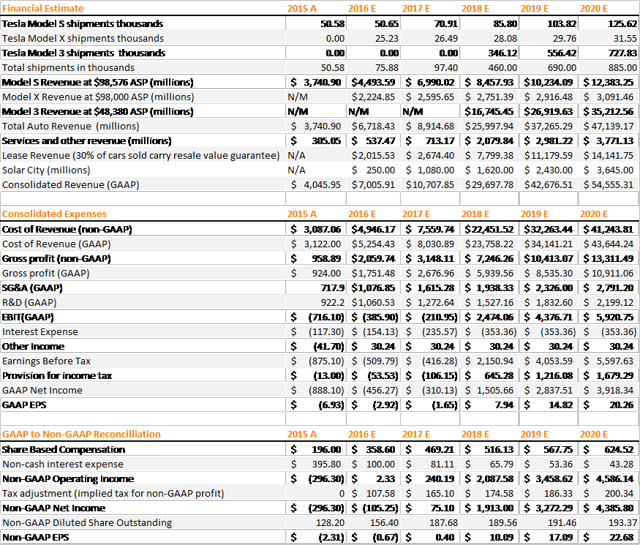 Source: Alex Cho, Tesla Motors Annual Reports
I revise my financial estimates lower, upon implementing a more modest assumption on car revenues due to lease accounting pertaining to resale value guarantees and actual car leases. That, in conjunction with readjustments to COGS (cost of goods sold) to reflect those adjustments reduces my GAAP diluted EPS figures for FY'17, FY'18, FY'19 and FY'20 from ($1.90), $10.62, $18.81, and $22.98 to (1.65), $7.94, $14.82 and $20.26, respectively.
My estimates on Model S/X shipments were revised higher, whereas my Model 3 deliveries/sales were moved lower in Q1'18, and revised to reflect production of 346k Model 3 units, which is driven by production of 5K per week in Q'1'18 and 10K per week from Q2'18 onwards.
I'm expecting TSLA to deliver on Model 3 volumes given simplicity in design, mass production of batteries, and reasonable efforts to prepare for significant volume production ramp. I'm expecting end-market demand to be less than 1 million units given concentration of Tesla's sales locations in North America, and build-out of the supercharger network.
The net ecosystem effects will take longer to materialize in emerging market, but notwithstanding, I'm certain that 1 million+ vehicle sales are contingent on international deployments of sales/charging locations and localization of manufacturing.
CapEx assumptions going forward
I'm expecting a capital raise to the tune of $7.5 billion over the next 12 months to fund construction of Gigafactory 2 & 3 plus car manufacturing facilities. The Buffalo facility that came with the SolarCity transaction will add to CapEx needs in 1H'17 as indicated by management on the conference call, with consensus analysts raising concerns over cash burn.
Colin Langan mentioned that management commentary implied $2.4 billion in cash burn over the next 12 months, with $1 billion in cash needed to maintain cash receivables and payables. So, the near term suggests a recap of $2.5 billion, so TSLA can continue to ramp up production in both its Nevada and New York facilities.
Going forward, TSLA is likely to combine both solar and storage production out of a single facility. Hence, investors should expect Gigafactory 3 onwards to consist of Silevo panel + battery production, which would tie into the announcement of needing to build out capacity once we exit current fiscal year.
Location for Gigafactory 3, 4 and 5 will be finalized by the end of 2017. My guess, TSLA's future generation plants beyond its second facility will be situated outside of the United States (perhaps China) with corresponding build-out of dealerships, locations, and various other retail components adding to these cost assumptions. I'm expecting TSLA to operate more efficiently with its second battery and manufacturing facility, which eases assumptions on CapEx on a per-unit basis.
Given the global nature of building a retail/charging network, and the need to deepen the global presence of the brand, I'm expecting CapEx and OpEx ramp to remain elevated for purposes of international expansion. The second tranche of capital raises beyond the Silevo facility and working capital needs adds $5 billion to my estimates over the next 12 months. Hence, my modeled share dilution of 30 million reflects these assumptions when assuming shares are valued at $250. I'm expecting future cash needs to be funded via a debt convertible offering. Obviously, I'm conservative on the dilution impact, as debt convertibles on shares are typically exercised at a much higher price than present market value.
For practical reasons, there are risks assuming a border-adjustment tax. Hence, the need to diversify the supply chain. Furthermore, TSLA would net huge savings on delivery cost of components in the auto-supply chain when building facilities outside of the United States for vehicle deliveries in foreign markets. Given the time frame of ramping production needed for 1 million+ Model 3 units (sometime in 2021), I'm expecting the second tranche of deployments will get us to a 2 to 3 million battery production rate, and 3 GW of total solar production from 2021 onwards.
I believe TSLA is looking to double-up on capacity at an assumed 50% CapEx efficiency improvement. While Elon mentioned on the call, "that they can spend 10% more to double up on capacity," I'm working with something like a 50% CapEx efficiency improvement for brand new facilities, with new technologies (better cell density) to account for the added cell density/panel efficiency needed to reach 3 GW of total panel production and 3 million cars.
For practical reasons, it's better for TSLA to recapitalize the balance sheet upon initial Model 3 volumes reaching consumers to demonstrate to lenders that added debt service can be funded out of North America operations, but given the timing issues of launching a second production line of batteries/panels, and the location of lithium supply situated in other parts of the world, I believe Tesla will move towards diversification of its global production chain in the months exiting FY'17.
Furthermore, the original Gigafactory broke ground in the middle of April 2014, and is expected to be at full capacity by 2H'17. This implies that TSLA would need to fund expansion of Gigafactory 3 sometime in Q1'18, so it can realistically ramp production out of this facility in the first half of 2021. Hence, I'm confident that TSLA will raise appx. $5 billion by the beginning of next fiscal year and bridge cash needs with a $2.5 billion debt convertible offering in 1H'17.
I'm expecting TSLA to double or triple capacity by the beginning of 2021, which implies share dilution of 30 million over the next 12 months to reflect cash burn/expansion needs. I'm expecting this to be the last round of meaningful capital raises, as TSLA can pay the debt service on the secured/mezzanine financing from FY'18 earnings, and use FY'18 - FY'20 retained earnings (net of interest cost) to fund capacity improvements for its 2022+ roadmap.
Incremental insights from the analyst consensus coming out of prior quarter
Oppenheimer & Co. opines that the Silevo solar deployments may slow in the interim to 675 MW (megawatts) of capacity, and 795 MW of capacity. I'm also expecting TSLA's next-gen factories to be inclusive of solar and battery production, and costs will remain elevated to fund expansion of production from 2021 onwards. Readers can review a summary of the analyst note here.
JPMorgan analyst Ryan Brinkman reasserted his negative case coming out of the report, but provided insights on gross margins, as he attributes the variance in margins because of the delayed auto pilot rollout. Hence, the analyst doesn't flow-through softer gross margins from Q4'16 for the duration of FY'17, and expects stable gross margins over the next 12 months. Review the summary here.
RBC Capital Markets, more specifically Joseph Spak revised his estimates on the Model 3 ramp to be in line with management commentary of perhaps 5K in production per week for Model 3 in Q1'18 and perhaps 10k per week following Q1'18. The analyst assumes the 5k and 10k figure is inclusive of total production, but I'm certain commentary on production was for the Model 3 line hence his estimate is still conservative and below management guide. That being the case, the consensus average estimate suggests production of 350k total units inclusive of Model S/X and Model 3 in FY'18, which I note here.
Adam Jonas from Morgan Stanley provided insights on CapEx ramp, and that perhaps $500 million from FY'16 was moved forward into FY'17, hence the $2 billion expected CapEx turned into $2.5 billion. Though CapEx trends are likely to remain elevated, the near-term headwind is a source of concern for investors. The analyst notes that this divergence in near-term cash burn was the "shock factor" coming out of the report, which I note in detail here.
Though guidance on Model S/X deliveries were positive, the mismanagement of investor expectations created incremental uncertainty following the earnings report. Though there are some analysts willing to forecast within mgmt. outlook of 450k to 500k total production, the analyst (Rod Lache) at Deutsche Bank cannot justify the current valuation of shares, as I illustrate here. Basically, using his method of computing value, he arrives at a price target of $215 despite his optimistic estimate of $12.5 billion revenue and GAAP diluted EPS of $4.19 for FY'17.
Rod Lache over at Deutsche Bank is optimistic on operating results, but extremely pessimistic on valuation. Other analysts are below management guidance but still optimistic on valuation like Joseph Spak and Adam Jonas from RBC Capital Markets and Morgan Stanley, respectively. Then, there are perma-bears like Ryan Brinkman, David Tamberrino and Colin Langan from J.P. Morgan, Goldman Sachs, and UBS, who are bearish on share valuation and forward management execution.
Some have even given up on valuing shares, like the folks at Oppenheimer & Co., and many have even avoided rating TSLA shares, i.e. Raymond James, Nomura, Credit Suisse, Wedbush and so forth.
The analyst consensus view is all over the place currently. Hence, the averaged assumption isn't really a barometer of what's likely to happen, but really the expectation hurdle that Tesla must overcome if it wants to deliver on earnings over FY'17.
Final thoughts
I felt Tesla reported an all-around solid quarter, though management could have communicated the cash needs better during the analyst Q&A session. Elon Musk's usual showmanship confidence at press events, and various product announcements was completely absent on the earnings call. Hence, investors were given good 1H'17 figures, but lackluster commentary on 2H'17, which forced investors to be more cautious on Model 3 ramp in FY'17 and instead plug-in assumptions of a six-month delay on 10K+ Model 3 deliveries into Q2'18 or even further beyond.
There's room for TSLA to deliver above estimates once we hit 2H'17, but investors should be aware of the risks of investing ahead of expected Model 3 contribution of sales/earnings. Furthermore, CapEx will remain concentrated in the next five years, as its investment strategy sounds more like Amazon (NASDAQ:AMZN), and less like Facebook (NASDAQ:FB).
Volatility of TSLA parallels that of Netflix (NASDAQ:NFLX), given the front-loaded investment needs that creates uncertainty over accounting disclosures, and whether the capital investment will be met with end-market demand, paired with elevated hype over competition.
This reminds me of when Netflix pundits were harping on Amazon Prime Video becoming the next "Netflix killer," or when Netflix expanded internationally, that the cash needs would swallow investors into a "snake pit" requiring a hyper-extension of investment into content creating issues over solvency.
Netflix has been through a volatile FY'16 given subscription churn due to pricing increases, and uncertainty over international subscriber additions. Underlying uncertainty in Netflix fundamentals drove shares sideways last year, before recovering, hence I'm a little less dogmatic on TSLA as the two scenarios seem comparable. Nonetheless, I expect patient investors in TSLA to generate outsized returns given enough time.
Buying the dip makes sense. Ignore the pundits who use excessive hyperbole over near-term solvency and fundamentals. This is starting to sound like one of the many instances where priced-in uncertainty is not necessarily indicative of forward earnings results.
I revise my price target lower from $347 to $306, and lower from high-conviction buy to buy. My revised stance reflects some of the near-term risks, but also suggests decent upside contingent on investors holding shares through a period of volatility.
About Cho's Technology Research
Cho's Technology Research is Seeking Alpha's premier technology research package that gives investors and traders an additional edge when investing into tech companies. It's a trade publication, research service and an idea generator. It includes short-term trade ideas that yield 5%+, long-term small-cap investment ideas that yield 25% and best-in-class data/news on tech sector themes.
Subscribers get an early preview on Cho's price target/recommendation changes. This service comes at a low annual subscription cost of $20/month. The promotional price period will end soon! Subscribers get a free two-week trial upon checkout and can cancel at any point in time. For more information click here.
Disclosure: I/we have no positions in any stocks mentioned, and no plans to initiate any positions within the next 72 hours.
I wrote this article myself, and it expresses my own opinions. I am not receiving compensation for it (other than from Seeking Alpha). I have no business relationship with any company whose stock is mentioned in this article.