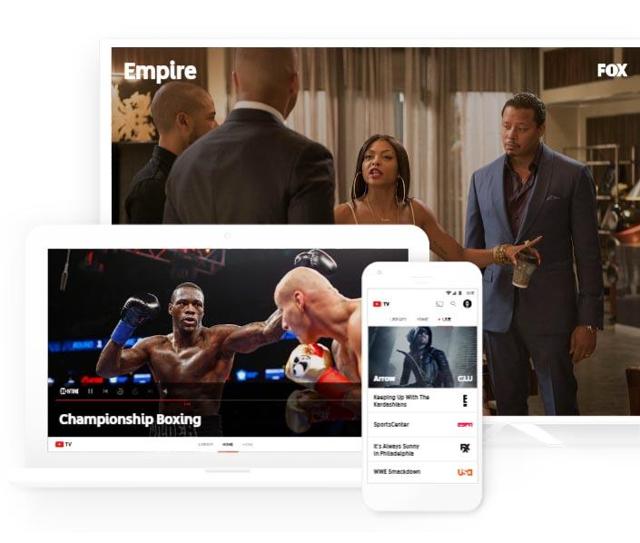 And then there was YouTube (NASDAQ:GOOG) (NASDAQ: GOOGL).
Following in the footsteps of Sony (NYSE:SNE), DirecTV and DISH, YouTube announced on Tuesday its big swing at taking on the increasingly crowded skinny bundle/streaming TV space. While a big step in the right direction, the service doesn't have all the boxes checked off, but then again, it may not necessarily have to just yet.
YouTube TV will launch at a $35 month price point sometime in the next few months. Included in that bundle are your national broadcast channels, unlimited DVR and the allowance for up to six accounts per user (but only three concurrent streams). That's a good deal, especially since that makes YouTube the first streamer to net all of the Big 4 broadcasters - including the elusive CBS (NYSE:CBS).
However, the service still has a few flags that may alienate just as many potential subscribers as it may interest. The reason is (of course) the channel lineup.
As I've said from the beginning, the streaming service that unites the Big 4 with local channels will win this race. Yet here there are a few unexpected caveats that may throw that theory a curb.
First, as Sony's PlayStation Vue is well aware, negotiating deals with local channels is tough, and as a result, while YouTube will have your local national affiliates, it won't have them all to start. Simply put, that means if YouTube can't offer you your local TV networks, they won't offer you the service just yet.
As a result, if you are not in a major city (or near one), you might be in for a wait and that could turn off customers that had been hoping for exactly this type of a bundle. It's the reverse of Sony which operates under the "come get your cable channels and we'll get to local when we can" model.
So what is in the packages if you're among the lucky ones where this will roll-out? Well there's your second curve because it is more impactful to list what ISN'T there. AMC Networks, Discovery Communications, Time Warner, A+E Networks and Viacom networks are missing - all notably cable channels without a broadcast network partner. Conversely, Fox News, ESPN, Bravo and The CW will make the cut as will Showtime if you want to pay extra.
In other words, those cable networks owned by the Big 4 get a slot (plus The CW). That basically makes YouTube the truest big broadcaster service. You want local channels and national programming (provided you live in range) that's what you'll get - no more, no less and no Walking Dead, Game of Thrones or CNN.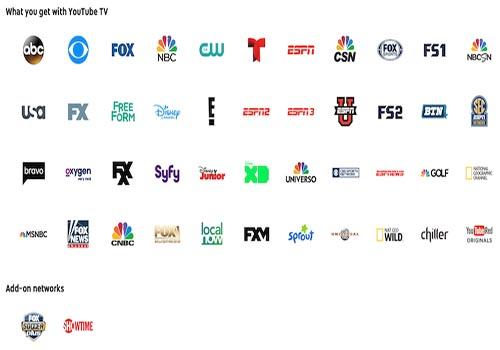 The service also has other quirks like while it promotes the fact it has an abundance of sports networks, the absence of TNT limits basketball (including a large chunk of the NCAA March Madness tournament), the absence of TBS put a serious crick in the plans of those who love baseball (and its playoffs), and you can't watch football unless it is on your TV because Verizon (NYSE:VZ) owns the mobile streaming rights.
On the surface, those are some big flaws, but I want to go back to that comment I made about the "truest form of broadcast TV," because that's important. The big shiny target for the streaming services are cord-cutters-to-be. People who like the idea of paying less but aren't quite there yet because they are holding out for their local channels.
That's what this is, an easy way to get ABC, CBS, NBC and Fox plus the benefits of their extended family. For some people, that may be enough, and throw in unlimited DVR, Google AI capabilities (i.e. recommendations) plus the reliability of knowing its service can handle large quantities of users and you could have a deal.
What I like about YouTube's approach is its more "message received" than just "message acknowledged." This is really (for now) a niche service and that's why it could work. You are talking a limited launch area, a limited roster and a true (non-fluctuating) pricing model. Combined that could be appealing to those who really just want that core grouping and don't want to deal with an over-the-air antenna.
I know some of the SA community love over-the-air devices, and if you're one of them, that's great, but I can tell you from personal experience they don't always work. They also don't have DVR capabilities, which are something a lot of people cord-connected enjoy. You can really think of YouTube's service as an enhance antenna.
Those who subscribe can also supplement their lineup off-service by subscribing to HBO's app or a content service like Netflix (NASDAQ:NFLX) or Amazon (NASDAQ:AMZN). While that adds to the price, it's still nowhere near the cost of a monthly cable deal and also comes without that annoying equipment rental fee.
Now, of course, all of this is in the eye of the beholder, and you need to pick the plan that best appeals to you. Though YouTube's service is intriguing and offers things its rivals can't, even if that means tradeoffs must be made.
And if none of these sound appealing, then you can always wait for Hulu, which should make its reveal sometime this year, as well as Apple (NASDAQ:AAPL), which is always lurking somewhere in the background.
Disclosure: I am/we are long CBS.
Business relationship disclosure: While the author has a business relationship with a subsidiary of CBS, it is with a seperate division. All opinions are my own and no compensation outside of Seeking Alpha is being received.