Ambarella (NASDAQ:AMBA) has become a profit machine, yet the stock hasn't gone anywhere in roughly 18 months. The HD video chip company produced another solid quarter, but the stock is trading down due to further struggles with a top customer.
Trading below $60, Ambarella is only worth about $1.9 billion now. The question is whether end market growth will provide the catalysts for a breakout in the stock.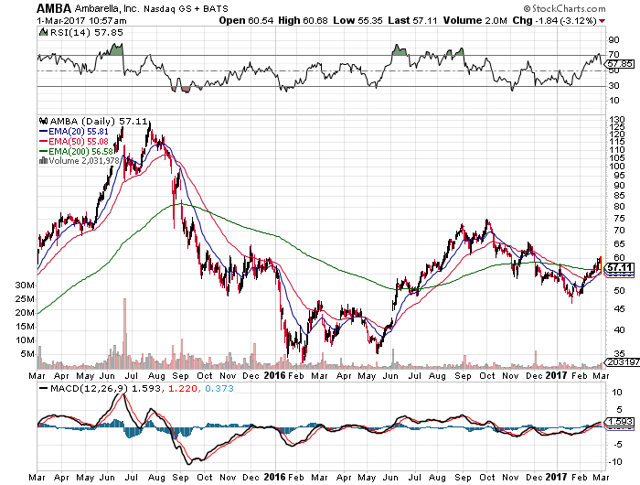 The company is still struggling from the disappointing numbers from the wearable camera market due to issues at top customer GoPro (NASDAQ:GPRO). The scenario though hasn't stopped the company from generating strong profits and cash flows.
For FQ4, Ambarella did the standard earnings smash and guide down for the next quarter. As the historical chart from Estimize shows, the company has constantly guided the analysts far below reality.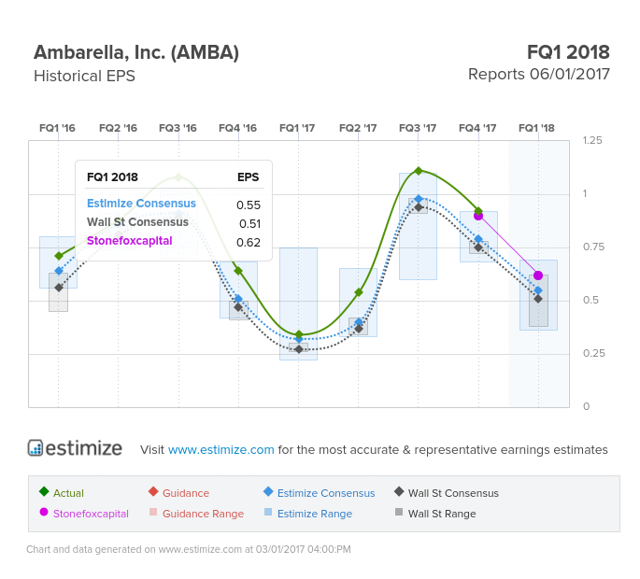 The latest quarter being a prime example where the company earned $0.92 while estimates were down at $0.74. Heck, even the Estimize community that typically adjusts better for constant low ball guidance still gets Ambarella wrong every quarter.
The best part of Ambarella is that despite the customer issues and the problems in certain end markets, the company is very profitable. The video chip company earns about a $3 EPS, if not for likely losing GoPro to a second source for the HERO6 the number might be higher.
Regardless, the video chip company has $405 million in cash and even spent $20 million on stock buybacks last year. With 34.5 million shares outstanding, Ambarella is now worth $1.9 billion. The stock has an enterprise value of only $1.5 billion.
All the stock needs is a catalyst trading at an EV multiple of 15x EPS estimates. The promise of IP security, drones and automotive that require advanced image processing and powerful computer vision processing could provide those catalysts.
The key investor takeaway is that if not for the issues with GoPro, Ambarella would be up today as other end markets are forecast to grow in excess of 20%. The company faces concerns over competition and margin pressures, but the stock is worth a gamble on dips.
Disclosure: I/we have no positions in any stocks mentioned, and no plans to initiate any positions within the next 72 hours.
I wrote this article myself, and it expresses my own opinions. I am not receiving compensation for it (other than from Seeking Alpha). I have no business relationship with any company whose stock is mentioned in this article.
Additional disclosure: The information contained herein is for informational purposes only. Nothing in this article should be taken as a solicitation to purchase or sell securities. Before buying or selling any stock you should do your own research and reach your own conclusion or consult a financial advisor. Investing includes risks, including loss of principal.