Shares of ServiceNow Inc. (NYSE:NOW) are up about 60% over the past 12 months, and this puts current and prospective shareholders on the horns of a dilemma. Should they take the money and run or should they let profits rise at this point? In my view, it makes sense to look upon this run-up in price as the result of mania and get out now and/or avoid the shares. The reasons are related to the fact that, as the company increases revenue, it increases its losses at a similar rate. Perhaps more important are the very optimistic expectations baked into the price at these levels.
The Financials: At What Point Do Rising Sales Turn This Company Profitable?
The negative relationship between revenue and net income at ServiceNow is one of the strongest I've seen. Since 2012, the correlation between revenue and net income has an r-value of -.958, which means that the more this company sells, the further net income falls. It's as close to a perfectly negative correlation between revenue and net income. It prompts a question: if rising revenue won't increase profitability, what on Earth will?
Comparing 2015 to 2016 demonstrates the tenuous relationship between revenue and net income quite starkly. Revenue rose by 38% between 2015 and 2016, but the net loss plummeted from $198 million to $451 million. Even if we give the company the benefit of the doubt and strip out the $270 million legal expense (as if that was paid with monopoly money), the net loss was only decreased by $16.6 million, in spite of the fact that revenue rose by more than $300 million.
It's strange, but I need to remind investors that we are compensated by net income. Rising revenues are nice, but the source of all sustainable investor returns from rising book value to dividends is net income. Without it, sooner or later the air will be let out of a stock.
Investors can take some consolation in the fact that earnings per share may not look as bad, as there are now about 90 million more shares outstanding than there were in 2012. Dilution is a problem most of the time, but it can hide the growing losses when investors focus in on EPS numbers.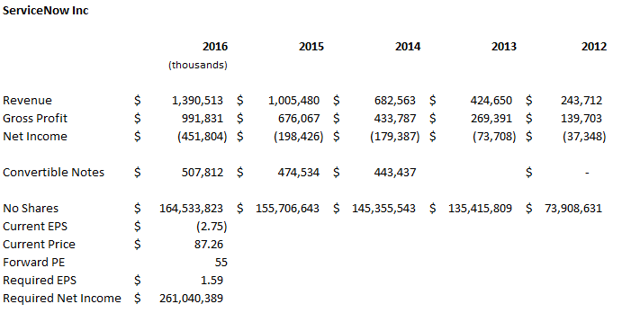 Stock-Based Compensation
Stock-based compensation is the reason for both the large and growing expenses and the dilution seen by shareholders over the last five years. Unfortunately, stock-based compensation is, in some sense, part of the DNA of this business and we shouldn't expect it to abate anytime soon.
In terms of specifics about how important stock-based compensation is for the ongoing existence of this business, consider the following. While revenue has grown at a CAGR of about 42% since 2012, stock-based compensation has grown at a CAGR of 62%. This has resulted in the massive dilution we've seen as well as the high level of lingering expenses. In order to understand management's motivations here, you need to look at the statement of cash flows. Since 2012, the company has generated about $750 million in cash flow from operations. This is impressive in a way, but it doesn't get to the cash generating capacity of this business. I want to see what will happen when the business can no longer use its own stock as a kind of ersatz currency. If we assume that the expenses covered by "stock-based compensation" had to be paid in cash, the company actually generated a negative $74 million in cash from operations. This is particularly troublesome because there's nothing on the horizon to suggest that this situation will reverse itself.

Depreciation
Although stock-based compensation is the reason for growing expenses and shareholder dilution, there are other problems here, obviously. The nature of this business is such that many of their assets become economically obsolete more rapidly than some other businesses. It's an economic fact of life that computer equipment has a much shorter useful life than, say, a railway locomotive. Thus, the depreciation expense imposed on this business is reasonable in that it suggests real economic deterioration and the need for nearly constant upgrade. If, in addition to striping out stock-based compensation, you additionally strip out the depreciation expense, the cash from operations numbers look even worse, obviously. Removing the (in my view, artificial) depreciation "add back" makes the negative cash from operations balloon from $74 million to just shy of $300 million.
The Stock
Modeling the stock's price is exceedingly difficult at this point, as there's no anchor on which to base a valuation. Economic losses mount the more the company sells, and shareholders get diluted as new shares hit the market at a CAGR of about 17%. In this environment, the only way I can model the stock price is by trying to unbundle what the market is expecting and use that as the basis of a judgment about the shares. If the market has reasonable expectations about the growth of this business, perhaps shares aren't overpriced. Unfortunately, that's not the case.
At the moment, the forward PE for ServiceNow is about 55. If we hold all else constant (including both price and the number of shares), that means that the market is forecasting EPS of about $1.59 from this company over the next 12 months. In order to do this, the company would generate net income of about $261 million of net income, up from its current $450 million loss.
This is theoretically possible, in the way that it's theoretically possible that I win the Boston Marathon next year. Theoretically possible is a far stretch from "likely" and thus I conclude that it's probably not going to happen. In my view, this expectation is extraordinarily optimistic, and optimism is, over time, punished.
Technical Snapshot
As per our ChartMasterPro Daily Price Model the trend for NOW turned Bearish on February 24 when the shares closed below the daily uptrend line which began on February 3. From here, we see the shares dropping to the $75.00 level.
Today, we will purchase the NOW 19MAY17 87.50 Put Options which will provide us with approximately 7x leverage on our SHORT trade. Our initial stop-loss exit signal for the trade will be a daily close above $90.00.
For investors in the shares, we recommend that you SELL to avoid any further share price depreciation.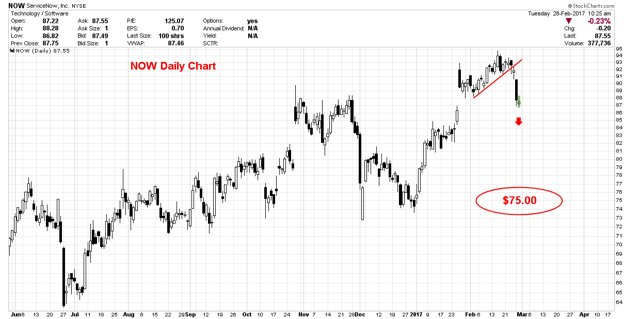 Conclusion
In order to justify the current stock price, investors have to assume a very rosy future for this company. They have to assume that ServiceNow will suddenly buck a five-year trend and turn rising revenue into rising net income. They must assume that management will actually stem dilution at some future point by buying back some shares.
Bulls continue to assume that revenue matters more than anything else, and that is faulty reasoning in my view. I'm waiting for the time when excessively optimistic investors only care about pro forma revenue, or they might eventually focus only on management guidance. Most probably, investors are excited about the nature of this business because it's more exciting or has some other properties that boringly profitable businesses lack. It is true that ServiceNow is more interesting than some businesses. The one thing many boring businesses do have, though, is the capacity to generate large and growing profits. Since profits are what we care about, and since this company shows no signs of being able to generate them, I recommend avoiding these admittedly interesting shares.
Disclosure: I/we have no positions in any stocks mentioned, but may initiate a short position in NOW over the next 72 hours.
I wrote this article myself, and it expresses my own opinions. I am not receiving compensation for it (other than from Seeking Alpha). I have no business relationship with any company whose stock is mentioned in this article.