To see the performance of financial markets today, juxtaposed with one of the most foreboding economic data reports we have received in a very long time, stokes memories of 1999. That was a year when promises and perceptions trumped a recognition of reality. It feels to me as though we are on the same path, and I have no idea how long it will take to travel or what will confront us at the end of it. For those that were in recognition of reality during 1999, I imagine it seemed like a road that would never end.
Last night President Trump gave a speech to Congress in which he listed his accomplishments to date and the objectives he has for our country moving forward. His tone was presidential and many of his goals are ones that all Americans share. He promised more jobs, higher wages, less crime and a better healthcare system. He said he expects to see new roads, bridges, trains and airports built across the entire country. He also proposed lower taxes for corporations and middle-class families.
His speech has clearly inspired investors today, as the "Trump rally" continues, sending the major market averages to new all-time highs. Investors are indifferent to the fact that they have no details behind any of the policy measures required to realize the President's long list of objectives.
They are also apathetic to the fact that many of his policies will never be implemented, even with a Republican Congress, and that the ones that are implemented may not accomplish the intended goal. Investors are throwing caution to the wind. Broadly speaking, it will be nearly impossible to spend more and tax less at the same time, but investors refuse to recognize this reality.
Additionally, investors are embracing the perception that a March rate hike is bullish for the economy and the markets. Last night NY Fed President William Dudley indicated that a rate hike was likely to be "fairly soon," claiming that recent economic data points suggest faster rates of economic growth.
Other Fed governors have voiced a similar position in recent days. In response, the probability of a March rate hike in the Fed Funds futures market rose above 75%. Perhaps a short-term rate increase is beneficial for the banking sector, provided the spread between long term and short-term rates widens, but it isn't necessarily beneficial for consumers or the economy at large. Still, this is fueling more investor optimism.
Then there was a dose of reality in this morning's consumer spending report that was completely overshadowed by the President's speech and comments from the Fed. Real consumer spending fell by the most in January since 2009. Let me repeat this for emphasis - inflation-adjusted consumer spending, which is used to calculate the rate of economic growth and accounts for approximately 70% of that growth, fell by the most since 1999!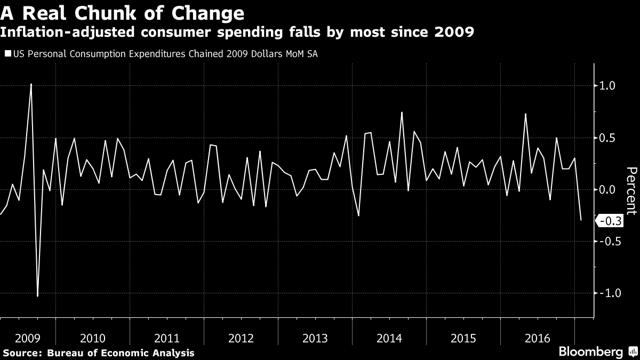 I have been forecasting such a decline based on the steady decrease in the rate of real-income growth over the past two years to what has been a decline over the past two months. Yet William Dudley sees the economy gaining strength, and investors are following his lead by further inflating the value of risk assets. A decline in real income growth leads to declines in real spending. The rate of economic growth is likely to slow substantially in the first quarter of 2017.
In my view, investors are embracing a perception that this economy is a lot stronger than the data dictates, promulgated by the Fed, and falling victim to empty promises that it will get even better by our well-intentioned President.
In 1999, investors fell victim to the perception that the soaring growth rates of technology stocks would be unending and the promises by Wall Street analysts and corporate leaders that the fundamentals were sound. I think investors now believe that massive tax cuts for consumers are going to reverse the downward trend in real income growth, lift the rate of consumer spending growth and result in faster rates of economic growth.
If we do realize a tax cut for middle-income households, who have the greatest propensity to spend, which also does not lead to a widening of the budget deficit, this is not likely to happen until 2018. Still, I see it as nearly impossible to balance increased spending with tax cuts, while at the same time managing the damaging effects of rising interest rates and stronger dollar on our economy. That is the reality, which is now being completely ignored, reminiscent of what we lived through in 1999.
Disclosure: I/we have no positions in any stocks mentioned, and no plans to initiate any positions within the next 72 hours.
I wrote this article myself, and it expresses my own opinions. I am not receiving compensation for it (other than from Seeking Alpha). I have no business relationship with any company whose stock is mentioned in this article.
Additional disclosure: Lawrence Fuller is the Managing Director of Fuller Asset Management, a Registered Investment Adviser. This post is for informational purposes only. There are risks involved with investing including loss of principal. Lawrence Fuller makes no explicit or implicit guarantee with respect to performance or the outcome of any investment or projections made by him or Fuller Asset Management. There is no guarantee that the goals of the strategies discussed by will be met. Information or opinions expressed may change without notice, and should not be considered recommendations to buy or sell any particular security.