As a long-term Berkshire Hathaway (BRK.A, BRK.B) shareholder, I enjoy doing a sum-of-the-parts valuation every year. One of the reasons for this is that it puts things in perspective when various parts of the company are in the news. For example, 2016 was a bad year for Wells Fargo (NYSE:WFC). Its phony accounts scandal was a nightmare, and John Stumpf is no longer chairman and CEO as a result. It is helpful to know how much of Berkshire's valuation comes from stock in Wells Fargo and other investments.
My 2015 Berkshire article had a single valuation number that combined liquidation and ongoing viewpoints. Every year, my thoughts seem to shift a little bit more away from the liquidation view and a little bit more towards the ongoing view. This year, we have a valuation range with a low end that captures some liquidation type thoughts and a high end that uses an ongoing view. The sum-of-the-parts pie chart for this year is based on the ongoing view. Thinking in terms of quantum physics, one can't really say that one view is right and the other is wrong. Still, I lean towards the ongoing view. Put another way, I think there are more universes where the ongoing view holds up and fewer universes where a black swan event makes the liquidation view more of a reality.
The 1996 letter to shareholders discussed the introduction of a table for estimating intrinsic value. The per-share ownership of investments and the per-share earnings from operating businesses are disparate and they need to be treated separately.
We use acronyms throughout the article:
Berkshire Hathaway Energy: BHE
Consolidated Financial Statements: CFS
Per-share figures used in this article apply to Berkshire's Class A shares. 1 Class A share = 1,500 Class B shares.
Key Numbers
Class A equivalent shares outstanding as of December 31, 2016: 1,644,321
December 31, 2016, share price: $244,121
Per-share book value: 2014: $146,186; 2015: $155,501; and 2016: $172,108
Per-share cash and investments: 2014: $140,123; 2015: $159,794; and 2016 estimate: $168,179
Per-share pre-tax earnings from operations: 2014 excluding underwriting: $10,847; 2015: $12,304; and 2016 estimate: $12,797
2016 amortization: $1.5 billion (80% non-economic)
Intangibles to be amortized in future years: $15.4 billion
2016 non-controlling interests: balance sheet: $3,358 million; and CFS Note 22 economic standpoint: $5,000 million
2016 float: $91,577 million
Investments
We get investment values from the balance sheet and notes to the CFS. Values are in millions of dollars:
Items from Balance Sheet

& CFS Notes

Value

in millions

Insurance cash & equivalents (Bal. Sheet)

$70,919

Rail cash & equivalents (Bal. Sheet)

$3,939

Finance cash & equivalents (Bal. Sheet)

$11,512

Insurance fixed maturity (Note 3)

$23,432

Finance fixed maturity (Note 3)

$33

Insurance equity securities (Note 4)

$120,471

Rail equity securities (Note 4)

$1,186

Finance equity securities (Note 4)

$375

Insurance other (Note 5)

$14,364

Finance other (Note 5)

$2,892

Fair value Kraft common (Note 18)

$28,418

Total

$277,541

Consolidated Items

Cash & equivalents

$86,370

Fixed maturity

$23,465

Equity securities

$122,032

Other investments

$17,256

Kraft Heinz

$28,418

Total

$277,541
*Note that the above cash row changes in our pie chart because it takes a deduction for some of the non-controlling interests.
*If one is looking at the balance sheet alone, then he or she should be aware of the fact that Note 4 to the CFS shows that the $1,186 million for rail/utilities equity securities is included in other assets.
The $122,032 in equity investments can be divided up as follows:
$27,555 Wells Fargo
$16,584 Coca-Cola (NYSE:KO)
$13,484 IBM (NYSE:IBM)
$11,231 American Express (NYSE:AXP)
$9,091 Airlines
$44,087 Other Stocks
-----------
$122,032 million
*Airlines in millions: Delta (NYSE:DAL): $2,702; Southwest (NYSE:LUV): $2,153; American (NASDAQ:AAL): $2,126; and United (NYSE:UAL): $2,110
**Delta and Southwest are from the annual report. American and United are from the 13-F.
Apple (NASDAQ:AAPL), Phillips 66 (NYSE:PSX) and U.S. Bancorp (NYSE:USB) are large holdings as well but not quite big enough for their own slices in our pie chart.
It is interesting to see airlines above; this is what the 2007 letter says about them:
The worst sort of business is one that grows rapidly, requires significant capital to engender the growth, and then earns little or no money. Think airlines.
It was said that railroads had a bad century, but then they started making more money by doing things like double stacking intermodal containers. Perhaps Buffett has prescient thoughts regarding some type of an inflection point with airlines that the market does not yet realize.
One of the reasons it makes sense to look at the operating companies and the investments separately is that the GAAP earnings from investing are drastically understated. Looking at the "Big Four" stocks, we can subtract dividends from economic earnings to see how much the proportional reported earnings are understated: 2013: $3 billion; 2014: $3.1 billion; and 2015: $2.9 billion. About 59% of the value of equity securities was in the "Big Four" in 2015. This is of huge importance, billions of dollars are left out of GAAP earnings because of accounting limitations with respect to investments. The 2016 annual report doesn't show dividends vs. economic earnings for the "Big Four" but it does say that they are about 56% of the equity securities value.
Much of the "other investments" number is made up of Bank of America (NYSE:BAC) warrants. The accounting treatment of the Bank of America warrants and other holdings in the "other investments" group may understate their intrinsic value. One of the reasons for this is that the warrant pricing model for long-term contracts like the Bank of America warrants can produce bizarre numbers and Buffett has done well betting against models in certain situations.
Using more of a liquidation lens, we can make deductions for float, deferred taxes, derivative liabilities and holding company debt.
Float Liability - Up to $13,737 million
Every year the annual letter to shareholders explains that the balance sheet float liability is substantially less than its economic liability. I think some investors with an ongoing view deduct $0 here and that's what we do for our pie chart. Others with some liquidation thoughts may deduct 15% or so, which is around $13,737 million or 0.15*$91,577 million.
Deferred Taxes Liability - Up to $27,669 million
Buffett has always tried to avoid dumb deals with respect to taxes. The 1983 and 1985 letters to shareholders show planning with respect to GEICO, Washington Post and General Foods:
1983 Letter to Shareholders

At GEICO's request, we tendered a quantity of shares that kept our ownership percentage the same after the transaction as before. The proportional nature of our sale permitted us to treat the proceeds as a dividend. Unlike individuals, corporations net considerably more when earnings are derived from dividends rather than from capital gains, since the effective Federal income tax rate on dividends is 6.9% versus 28% on capital gains.

1985 Letter to Shareholders

We have again reported substantial income from special distributions, this year from Washington Post and General Foods. (The General Foods transactions obviously took place well before the Philip Morris offer.) Distributions of this kind occur when we sell a portion of our shares in a company back to it simultaneously with its purchase of shares from other shareholders. The number of shares we sell is contractually set so as to leave our percentage ownership in the company precisely the same after the sale as before. Such a transaction is quite properly regarded by the IRS as substantially equivalent to a dividend since we, as a shareholder, receive cash while maintaining an unchanged ownership interest. This tax treatment benefits us because corporate taxpayers, unlike individual taxpayers, incur much lower taxes on dividend income than on income from long-term capital gains.
The 2014 letter to shareholders talks about exchanging stock for operating businesses with Phillips 66, Graham Holdings (NYSE:GHC) and Procter & Gamble (NYSE:PG). These tax efficient transactions are the way in which subsidiaries like Duracell are acquired.
Note 16 to the CFS shows details for the balance sheet tax liability:
$500 Current payable receivable
$86,784 Deferred tax liabilities
($9,825) Deferred tax assets
$485 Other
----------
$77,944 million
$27,669 million of the $86,784 million comes from investments, but we don't know how much of this is offset by the proportion of investments in the $9,825 million deferred tax assets. Investors with an ongoing view might not take a deduction here, and we do not take one for our pie chart. It wouldn't be unreasonable for an investor with a liquidation conscious view to deduct around $27,669 million from the investment valuation.
As for the rest of the deferred tax liability, we're using a multiplier valuation instead of a balance sheet valuation for the operating earnings.
Derivative Liability - Up to $2,890 million
Note 12 to the CFS shows a $2,890 million liability for equity put options. From an accounting standpoint, the Company values equity index put option contracts based on the Black-Scholes option valuation model. One of the reasons Buffett invests in options like these is that the Black-Scholes model is less than perfect for contracts that involve long time periods. I'm guessing that Buffett might see this economic liability as being closer to $0 than the $2,890 million accounting liability, and we don't take any deduction for our pie chart here. Still, some investors may deduct this in full.
Holding Company Debt - Up to $27,175 million
Note 15 to the CFS shows the insurance and other debt. Some of this debt is for the Precision Castparts (NYSE:PCP) acquisition, and we're doing a multiple valuation for Precision Castparts instead of a balance sheet valuation. It is hard to say how much of this debt is directly tied to the investment side of the Company as opposed to the operating earnings side. I'm guessing Buffett takes close to a $0 deduction here, but some investors may deduct it in full. We take no deduction here for our pie chart.
The sum of the four possible deductions above is $71,471 million.
Estimating $1 billion of non-controlling interests on the investment side and dividing by the share count gives us per-share estimates as follows:
Per-share low end: $124,714 = ($277,541 - $71,471 - $1,000)*1,000,000/1,644,321
Per-share high end: $168,179 = ($277,541 - $1,000)*1,000,000/1,644,321
*We take the above $1 billion estimate of investment non-controlling interests out of the cash slice of our pie chart. Again, our pie chart shows the high end number.
Operations
Note 23 to the CFS breaks down business segment data on page 75: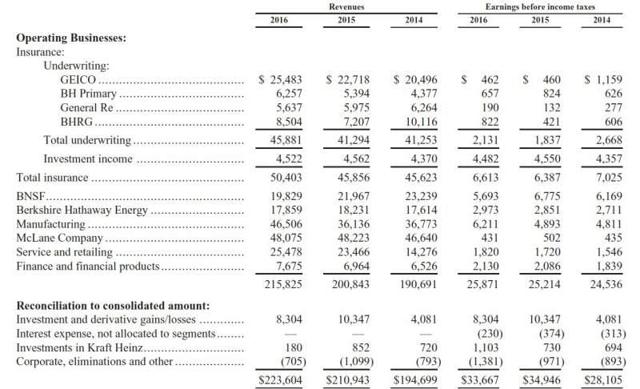 We already talked about the fact that GAAP earnings are understated on the investment side because only dividends are counted as opposed to owner earnings. We have some GAAP limitations on the operating side as well. The 2016 letter to shareholders reports that the 2016 amortization charge to GAAP earnings is $1.5 billion and only about 20% of it is an economic charge. This means GAAP earnings are understated by about $1.2 billion because of amortization. It goes on to say there are $15.4 billion of intangibles that are yet to be amortized by annual charges to earnings in future years.
Page 75 of the annual report shows that pre-tax earnings in 2015 were $25,214 million and that $4,550 million of this was investment income. Backing out the investment income and dividing by the December 31, 2015, share count of 1,643,393 gives us a per-share number of $12,574. The number Buffett gave that year was $12,304, so we can assume about $270 in non-controlling interests. That $270 per share times the 2015 share count of 1,643,393 comes to about $444 million of operating earnings belonging to non-controlling interests. Notes to the CFS have the total economic value for non-controlling interests at around $5 billion. We already deducted $1 billion in value on the investment side so we'll deduct $4 billion in value here on the operating side. We take $3 billion from BHE and $1 billion from insurance operations.
We can use the same type of 2015 framework for 2016. Pre-tax earnings were $25,871 including $4,482 of investment income. Backing out the investment income brings the pre-tax earnings down to $21,389 million. We'll circle back to our per-share number after we back out non-controlling interests.
Insurance Underwriting Operations - $20,810 million
GEICO, BH Primary, General Re and BHRG are all very important to Berkshire's future. The annual report notes that GEICO policies increased by 974,000 in 2016.
Buffett has told shareholders to bow to Ajit Jain. When Buffett eventually steps down, it will be important for people like Jain to keep the Company culture intact.
2016 insurance pre-tax earnings are $2,131 million. Using a multiple of 10x pre-tax earnings implies a valuation of $21,310 million. We deduct $500 million in value for non-controlling interests such that shareholder value is $20,810. The shareholder portion of pre-tax earnings ends up being $2,081 while the share for non-controlling interests is $50 million.
BNSF - $68,316 million
The 1980 letter talks about the preference for capital-light businesses at a time when inflation was more of a concern:
Our acquisition preferences run toward businesses that generate cash, not those that consume it. As inflation intensifies, more and more companies find that they must spend all funds they generate internally just to maintain their existing physical volume of business. There is a certain mirage-like quality to such operations. However attractive the earnings numbers, we remain leery of businesses that never seem able to convert such pretty numbers into no-strings-attached cash.
Inflation is no longer the same type of concern it was in 1980. Still, the use of the word mirage leaves a lasting impact on me. I am wary of companies that promise capex reductions in future years.
Many things changed with railroads by the time Berkshire bought BNSF in 2009. The letter from that year talks about capital-intensive businesses:
In earlier days, Charlie and I shunned capital-intensive businesses such as public utilities. Indeed, the best businesses by far for owners continue to be those that have high returns on capital and that require little incremental investment to grow. We are fortunate to own a number of such businesses, and we would love to buy more. Anticipating, however, that Berkshire will generate ever-increasing amounts of cash, we are today quite willing to enter businesses that regularly require large capital expenditures. We expect only that these businesses have reasonable expectations of earning decent returns on the incremental sums they invest. If our expectations are met - and we believe that they will be - Berkshire's ever-growing collection of good to great businesses should produce above-average, though certainly not spectacular, returns in the decades ahead.
Berkshire capital is fungible so BNSF tax liabilities can be used in ways that Union Pacific (NYSE:UNP) tax liabilities cannot. The 2016 Q3 10-Q shows that BNSF has $19,733 million in deferred taxes which is up substantially from the year-end 2009 number of $9,322 million. BNSF and BHE are a big reason why overall Berkshire cash taxes over the past three years have been a fraction of reported income tax expenses.
2016 pre-tax earnings for BNSF are $5,693 million. Using a 12x pre-tax multiple gives us a valuation of $68,316 million. This seems a little low when looking at Union Pacific whose 2016 year-end market cap was $84,374 million ($103.68*813,795,240 shares). BNSF does carry more debt having $21,309 million compared to $14,249 million for Union Pacific.
BHE -$32,108 million
The November 4, 2016, BHE 8-K filing from the 2016 EEI Financial Conference shows the importance of PacifiCorp, MidAmerican and other subsidiaries: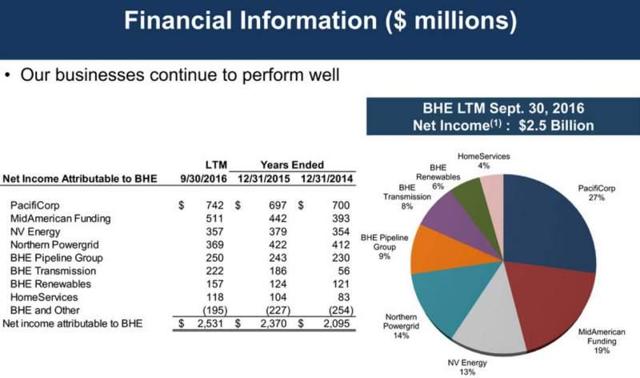 The real estate brokerage portion of BHE is growing nicely with respect to both EBIT and revenues: 2014: EBIT of $139 million on revenue of $2,161 million; 2015: EBIT of $191 million on revenue of $2,536 million; and 2016: EBIT of $225 million on revenue of $2,815 million.
The annual report shows that BHE's consolidated effective income taxes have declined in recent years: 2014: 23%; 2015: 16%; and 2016: 14%. Production tax credits from wind-powered electricity generation are cited for the decline.
Greg Abel seems to be a tremendous deal-maker and his presence might be more important than ever after Buffett steps down eventually.
BHE's 2016 pre-tax earnings are $2,973 million. The subsidiary is 90% owned, so around $297.3 million of this belongs to non-controlling interests. Using a 12x multiple on our $2,676 million share implies a valuation of $32,108 million for shareholders and a valuation of $3,568 for non-controlling interests.
Manufacturing - $74,532 million
The 2015 letter shows that the manufacturing, service and retailing companies earn nice returns on capital:
Viewed as a single entity, the companies in this group are an excellent business. They employed an average of $25.6 billion of net tangible assets during 2015 and, despite their holding large quantities of excess cash and using only token amounts of leverage, earned 18.4% after-tax on that capital.
Manufacturing is broken up into industrial products, building products and consumer products.
Having been acquired for $32.7 billion in January 2016, Precision Castparts is a new addition to the industrial products group per the annual report. The Precision Castparts 10-KT filing through January 3, 2016, shows $343 million in cash and equivalents along with $5,184 million in debt. This group has other key subsidiaries like Marmon, Lubrizol and IMC. All three of these subsidiaries are large enough to have individual slices in the valuation pie chart. However, this would be confusing for several reasons. One of which is that Marmon is split up such that part of its pre-tax earnings are here in industrial products and part of its pre-tax earnings fall under the finance umbrella. In the past there were non-controlling interests for Marmon and IMC, but those were pretty much eliminated by the end of 2013. Scott Fetzer is also part of this group, and it has a tremendous history with Berkshire belonging to the "Sainted Seven" subsidiaries in the 1980s.
MiTek, Johns Manville, Acme and Shaw are among the building products companies.
Consumer products companies include Duracell, Forest River and Fruit of the Loom.
Manufacturing pre-tax earnings for 2016 are $6,211 million and they are broken up as follows: industrial products: $4,209 million; building products: $1,178; and consumer products: $824. Using a 12x pre-tax earnings multiplier, we have values as follows: industrial products: $50,508 million; building products: $14,136 million; and consumer products: $9,888 million.
Retailing & McLane - $10,900 million
This segment shows the way in which Berkshire has changed over the years. Some of these subsidiaries have been well discussed in previous letters to shareholders, but they now make up a relatively small percentage of the overall valuation of the Company.
Some of the subsidiaries in this group are Nebraska Furniture Mart, RC Willey, Star Furniture, Jordan's, Berkshire Hathaway Automotive ("BHA"), Borsheims, Helzberg, Ben Bridge, See's Candies and McLane. See's was purchased for $25 million net of $10 million excess cash in 1972 when it had $8 million in net tangible assets. It has since generated vast dividends for Berkshire. The 2011 letter noted that from 1972 to 2011 See's brought in $1.65 billion in pre-tax earnings. These earnings funded many of the acquisitions we see in place today.
In discussing RC Willey, the 1995 letter talks about retailing being difficult:
Retailing is a tough business. During my investment career, I have watched a large number of retailers enjoy terrific growth and superb returns on equity for a period, and then suddenly nosedive, often all the way into bankruptcy. This shooting-star phenomenon is far more common in retailing than it is in manufacturing or service businesses.
Retailing & McLane 2016 pre-tax earnings: $1,090 million
Service - $11,610 million
Service subsidiaries include NetJets, FlightSafety, TTI and Dairy Queen.
Service 2016 pre-tax earnings: $1,161 million
Finance - $21,300 million
Marmon and Clayton make up most of the pre-tax earnings for this group. The Marmon components are railcars, containers and crates. Note that Marmon is split up such that leasing falls here while some of its other earnings fall under the industrial products portion of manufacturing.
Finance 2016 pre-tax earnings: $2,130 million
Summing up this group, we use a 10x pre-tax earnings multiplier for Insurance Operations, Retailing & McLane, Service and Finance. A 12x pre-tax earnings multiplier is used for BNSF, BHE and Manufacturing.
Again, we have pre-tax earnings of $21,389 million after removing investment income. We deduct $297.3 million from the non-controlling interests in pre-tax BHE earnings and $50 million for the non-controlling interests in pre-tax Insurance Operations earnings. This brings our pre-tax earnings down to $21,042 million or $12,797 million per share ($21,042 million/1,644,321).
Efficacy of Future Deployment
Two years ago, for the 2014 year, Buffett wrote both a regular letter and a special 50-year letter. Here is part of the 50-year letter with respect to the distribution of excess earnings:
Eventually - probably between ten and twenty years from now - Berkshire's earnings and capital resources will reach a level that will not allow management to intelligently reinvest all of the company's earnings. At that time our directors will need to determine whether the best method to distribute the excess earnings is through dividends, share repurchases or both. If Berkshire shares are selling below intrinsic business value, massive repurchases will almost certainly be the best choice. You can be comfortable that your directors will make the right decision.
It might be reasonable for Berkshire to pay dividends in as few as eight years. This is one of the reasons why we assign $0 to the Efficacy of Future Development element.
Intrinsic Value Relative to Book Value
The Company is willing to buy back shares at up to 120% of book value, so 120% is the low end.
The 50-year letter from 2014 said the following regarding the high end:
If an investor's entry point into Berkshire stock is unusually high - at a price, say, approaching double book value, which Berkshire shares have occasionally reached - it may well be many years before the investor can realize a profit. In other words, a sound investment can morph into a rash speculation if it is bought at an elevated price.
I take this to mean the high end might be around 190% of book value.
Shaving off 20% on each end, I'm guessing a reasonable value of the shares is often in the 140% to 170% range of book value. On December 31st, shares were around 142% of book value (($244,121 - $172,108)/$172,108)*100.
Valuation
When looking at investments with an ongoing view, we have a valuation of $276,541 million. Our operating earnings companies have a value of $239,576 million. This brings our total valuation to $516,117 million. The spreadsheet below shows how this works out on a per-share basis.
Note that an investor with more liquidation thoughts on the investment side may have a lower valuation closer to $445 billion or around $270,000 per share.
Spreadsheet and Pie Chart
Here are the Company segment values:
Segment

Value in

billions $

Value

per A share

Value

per B share

%

Cash & Equivalents

85

$51,918

$35

17%

Fixed Maturity

23

$14,270

$10

5%

Wells Fargo

28

$16,758

$11

5%

Coca-Cola

17

$10,086

$7

3%

IBM

13

$8,200

$5

3%

American Express

11

$6,830

$5

2%

Airlines

9

$5,529

$4

2%

Other Stocks

44

$26,812

$18

9%

Other Investments

17

$10,494

$7

3%

Kraft Heinz (NASDAQ:KHC)

28

$17,283

$12

6%

Insurance Operations

21

$12,656

$8

4%

BNSF

68

$41,547

$28

13%

BHE

32

$19,527

$13

6%

Manufacturing Industrial

51

$30,717

$20

10%

Manufacturing Building

14

$8,597

$6

3%

Manufacturing Consumer

10

$6,013

$4

2%

Retailing & McLane

11

$6,629

$4

2%

Service

12

$7,061

$5

2%

Finance

21

$12,954

$9

4%

Investment Sub total

277

$168,179

$112

54%

Operating Sub total

240

$145,699

$97

46%

Total

516

$313,878

$209

100%

*Sub totals don't always tie due to rounding
Here is the Pie Chart in Billions of $: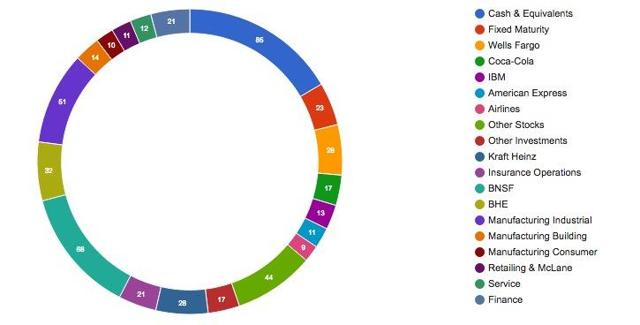 *Some of the pie chart colors look alike. It is less confusing if one starts at the top of the list and moves clockwise from 12:00.
Closing Thoughts
Charlie Munger's 50-year letter indirectly brings up some concerns for the future after Buffett steps down. It talks about the fact that over the years Buffett has chosen the CEOs of key subsidiaries and fixed their compensation. Munger understands the power of incentives. Once Buffett is gone, there is a risk that the next CEO will not do as well in terms of determining compensation such that subsidiary CEOs are properly incentivized. Having the right compensation is especially important for large companies like BNSF, BHE, Marmon, Lubrizol and IMC. In the 1985 letter, Buffett talks about some of the problems with using options as compensation. One key fact is that common share owners must weight upside potential against downside risk, but option holders don't have a downside. He says that if options must be used, then they should be priced correctly and they should have a retained-earnings or carrying-cost factor. Hopefully the next CEO does a good job setting compensation. This becomes especially important as huge companies like Precision Castparts are acquired.
Stocks don't seem cheap right now, and Berkshire doesn't appear to be as undervalued as it has been in the past.
Special thanks to Alex and Steph.
Sources: Berkshire Hathaway annual reports,13F and 10-Q filings; BHE 8-K, 10-Q and 10-K filings; BNSF CIK 934612 10-Q and 10-K filings; Precision Castparts 10-Qs and 10-Ks through March 2016 filing; Union Pacific 10-Q and 10-K filings.
Disclosure: I am/we are long BRK.A, BRK.B, UNP, WFC, VOO.
I wrote this article myself, and it expresses my own opinions. I am not receiving compensation for it (other than from Seeking Alpha). I have no business relationship with any company whose stock is mentioned in this article.
Additional disclosure: Any material in this article should not be relied on as a formal investment recommendation.