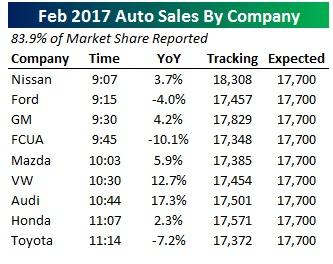 Nissan (OTCPK:NSANY) reported strong sales numbers ahead of the rest of the US auto industry this morning, but as we noted earlier on Twitter, Nissan hasn't been a good indicator of the overall direction for the industry. Ford's (NYSE:F) report brought the industry sales pace down to a bit less than 17.5mm. That would be a miss versus analyst estimates and a very small decline versus last month's numbers. Of course, it's still early; only two manufacturers representing 26% of the industry's volumes have reported. We'll be updating this post throughout the day as more numbers are announced by other auto OEMs.
Update 1 10:06 AM: Since Ford's report, we got strong numbers from GM (NYSE:GM) and Mazda (OTCPK:MZDAY) and a weak month from Fiat Chrysler (NYSE:FCAU). That brings the total tracking rate for the industry to 17.385mm with almost 60% of the industry reported. The last large manufacturer still to report is Toyota (NYSE:TM), but the smaller OEMs can also make a big impact in the afternoon so it's possible total sales won't miss still.
Update 2 11:07 AM: We still haven't heard from Toyota but Audi (OTCPK:AUDVF) and VW (OTCPK:VLKAF) did report in the middle of the morning, bringing the total tracked industry sales pace to 17.50mm SAAR by our count. Honda (NYSE:HMC) also delivered modest YoY growth in units of about 2.3%. With 70% of the industry now reported, it's getting less likely that the last third of reporting volume can get the total run rate above the 17.75mm estimated by analysts.
Update 3 11:26 AM: With results in from Toyota, we have now received February sales numbers from a bit more than 80% of the market. As shown below, with the 7.2% YoY NSA decline Toyota delivered for the month (versus expectations of a 4.8% decline) we are tracking 17.37mm SAAR sales pace on the month. If that number holds, it will be the weakest month of sales since August of 2016.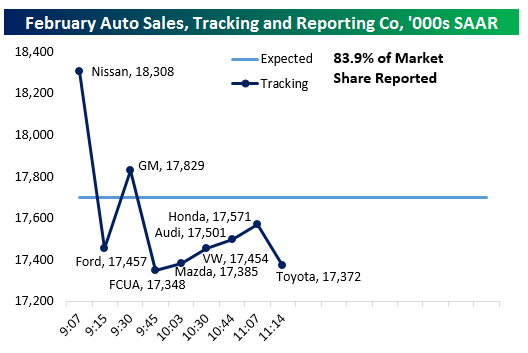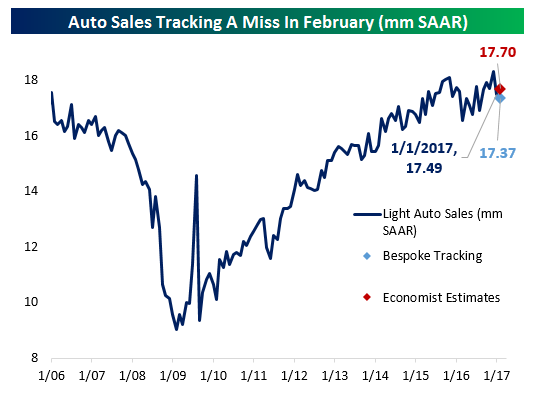 Thanks for reading the article. Follow our account to get our articles as soon as they're posted to Seeking Alpha. To get our full newsletter, sign up for Bespoke Newsletter PRO. Subscribers to that service get access to Bespoke's model stock portfolios, actionable data-driven insights, and in-depth analysis of everything that drives the markets, among other things.