We see the domestic production level released this week as the most significant part of the weekly report. Although, this is a modeled number and will be adjusted next week when the Short Term Energy Outlook is released, we think we can confidently say that domestic production is back above the 9mmbpd level. A symbolic threshold, of course, but one that send crude oil markets into a tailspin both in 2014 and early 2016.
Crude oil inventories increased moderately for the week, to push storage levels to a new historical high. Crude oil prices (NYSE: USO) dropped by about $0.50/bbl after the report was released.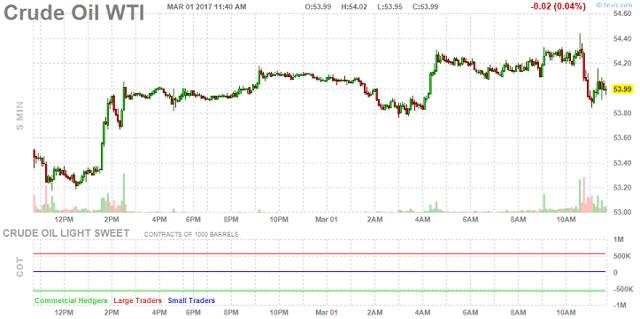 Source: Finviz.com
Stocks:
* Crude oil inventories increased by 1.5 million barrels.
* Gasoline inventories decreased by 500,000 barrels.
* Distillate inventories decreased by 900,000 barrels.
Although the magnitude of the stock increase this week was not that large, at current storage levels further increases are unsustainable. With net imports still well below normal levels, crude oil stocks reached another historical-high this week.
Gasoline and distillates, whose stock levels are also very close to historical highs, decreased on a combined basis by an amount large enough to offset the crude oil stock build, though as we mentioned above, in the context of net imports well below normal levels.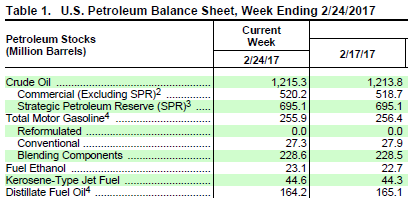 Source: EIA
Production and Refinery Utilization:
* Domestic production increased by 31,000 bpd and now is solidly above the 9 mmbpd level. This is about the same production level of a year ago and of that of late 2014.
* Production in the Contiguous United States (excluding Alaska) increased by 32,000 barrels per day.
* Net imports increased by 793,000 bpd and are still about 1mmbpd below normal levels, which helped to keep crude oil stocks in check this week. We note that some of decline in net import levels of the past three weeks has been driven by a sharp increase in exports (of crude oil, not of products).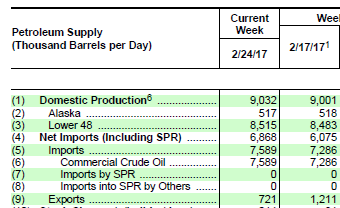 Source: EIA
* Refinery utilization increased 170 basis points. Still in the normal range for this part of the year.

Source: EIA
Cushing, Oklahoma:
* Cushing, OK inventories increased by 500,000 barrels. We still believe that Cushing is essentially at maximum operating capacity.
* Gulf Coast inventories increased by 2.3 million barrels. Also at historical highs.

Source: EIA
Conclusion:
Record crude oil stocks, production back to 2016 levels and rapidly increasing, product inventories close to record highs and the official start of the driving season still four months away don't seem particularly constructive towards oil prices.
Disclosure: I/we have no positions in any stocks mentioned, and no plans to initiate any positions within the next 72 hours.
I wrote this article myself, and it expresses my own opinions. I am not receiving compensation for it (other than from Seeking Alpha). I have no business relationship with any company whose stock is mentioned in this article.