Below is the one year chart for GDX, overlaid with GLD's price. Clearly, the two prices have diverged before.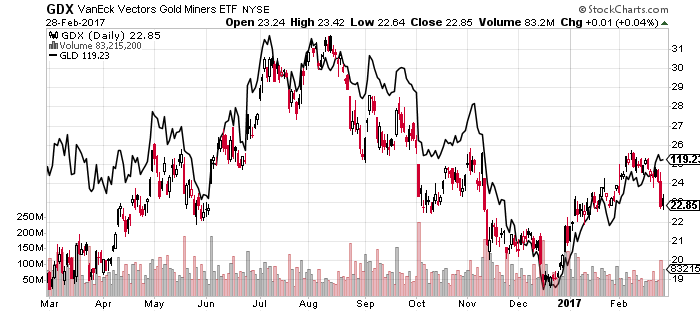 And it is not all that uncommon for divergences between related stocks and funds certainly to occur. However, the divergence between gold, (GLD), and (GDX), on Monday, was substantial. Meanwhile, gold went up, and GLD only was only moderately lower, GDX was down over 5% by the end of the day. A lot of people got burned. Now, it could have just been a fluke, or a product of internal price dynamics, but I am not convinced.
For one thing, the divergence seems to have started earlier than Monday. From the chart, it looks like GDX has been on a downward trend since the middle of the month, while GLD continues its upward trend.
Supports And Direction
As of Tuesday afternoon, GDX was sitting near support at roughly $22.60. The price was more or less flat for the day. While it is hard to which direction it will head, the next main support, if it breaks below its current one, seems to be at around $22, and then $18.70 - $18.80. After that, there really are no supports until roughly $14. Furthermore, looking at price history, a head and shoulders like pattern emerged between April and November of 2016.
Looking again to price history for the year, there is an apparent head and shoulders pattern that formed several months ago. It failed to break down, but the new lower peak which formed between December and February might be a signal of a new attempt to break beyond the $22 mark. Subtracting the distance, from the original shoulders to the top, from the current price, would bring GDX down to about $14.
Avoid GDX
Trump doubled down on his threat of a trade war during his congressional address on Tuesday evening. One of the hurdles to a BAT and other related protectionist policies has been a disagreement over extent. Congress wants a general BAT, while the White House has a Mexico specific plan. However, in the address, Trump mentioned other nations having import duties, suggesting that it is not a "fair market" since the United States generally does not tax its imports. This is a signal that the White House is becoming more willing to implement general measures.
In "The Potential For Divergence: How Politics Could Drive A Wedge Between Gold And Gold Stocks," I wrote about how protectionist policies might hurt gold stocks, even if they do drive up the price of gold itself. I stand by that assertion and caution those who are thinking of taking positions in (GDX) or even (GLD). That 5% drop on Monday may just have been a fluke, or it might be a canary in the gold mine.
Physical Gold and Gold Futures
Holding physical gold is definitely the most secure way to invest. However, to get anywhere near spot price, you have to buy a fair amount, and that gets expensive, fast. You also need a place to store it. And of course unloading it when you need cash is difficult. Holding onto physical gold is a very long term investment. It is something that sits in your safe to give you some peace of mind.
An alternative, which will only be affected by the price of gold, and not the added difficulty and costs that other funds and gold related companies would incur with added protectionist policies is (DGL). DGL is a futures based ETF. It does not hold physical gold. Now, that provides its own risk. There is nothing really backing the company up, but there is no worry about whether or not taxes, quotas, etc would impact their bottom line.
Below is the last year of price history for DGL, overlaid with GLD. As you can see, DGL and GDL follow each other very closely, and so it is a reasonable alternative, or addition, to having GLD in your portfolio.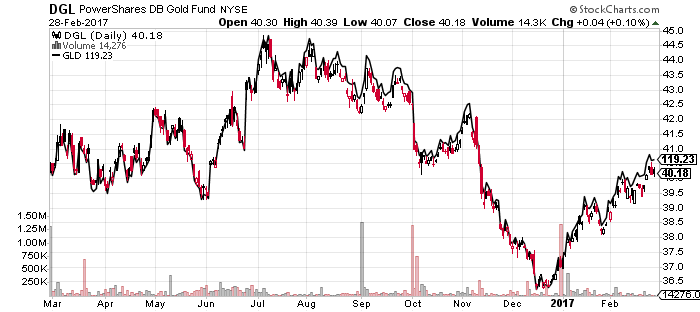 Of course, there is always direct trading of futures, but I focus on stocks, ETFs, etc. I will leave the futures market to other authors for now.
Disclosure: I/we have no positions in any stocks mentioned, but may initiate a long position in DGL over the next 72 hours.
I wrote this article myself, and it expresses my own opinions. I am not receiving compensation for it. I have no business relationship with any company whose stock is mentioned in this article.