Worthington Industries (NYSE:WOR) is a 62-year-old steel processing company. I believe the company is fairly priced for the long term (five-plus years), but short and medium-term investors are likely to lose money with WOR as the stock price may correct as the benefits the company has enjoyed as a participant in the oil boom concluding 2015 are passing through the earnings statements. Additionally, the stock company's earnings are threatened by an increase in the price of steel.
WOR occupies an intermediate position in the industry wherein the firm uses steel to manufacture a diversified portfolio of products such as pressure cylinders used in oil rigs. The boom in LNG ships has brought a lot of business to the Worthington Cylinders business. The slowdown in new LNG ship builds and the oil fields are impacting WOR's ability to generate new sales as evidenced by negative receivables growth.
I believe WOR is capping out as a cyclical high level of earnings and sentiment, at all-time highs, will reverse course and bring this company's stock price down over the short to medium horizon of 0-36 months. Therefore, the stock price today is fragile because this earnings reversal is on the horizon and the market is terrible at pricing this type of forward situation.
Long-Term Investment Potential
The company is domiciled in Columbus, Ohio, and owns dozens of manufacturing facilities in several U.S. states. Just 8% of sales are to foreign entities (in Europe), so this strong American company makes a great long-term holding for a few reasons, if only one could get in at a lower price. WOR is a great long-term holding because it has proven entrepreneurship in its industry; it has achieved growth through consolidation of smaller companies as well as joint ventures. In 2015, it purchased Cryogenics technology from bankrupted Taylor Wharton for $34.7M. These actions are evidence of active management and the most senior executive is John P. McConnell, holding the office since 1996, so he has plenty more years to work.
My positive viewpoint on the long-tenured CEO comes along with being positive about new management.
Overall, WOR is a great company which is fairly priced due to positive sentiment around the stock, which has propelled the price per share from lows of $29 per share in 2015 to today's $49.12. Substantial buyback activity has reduced share count by 33% since 2010 but, of course, the buybacks are priced in by now, or I would not call this company fairly priced, but underpriced.
WOR's stock price is fragile to any diminishment in its long streak of strong earnings, and earnings are threatened by competitive pressures, the slowdown in new oil builds and any economic setbacks afflicting new building construction. Therefore, I rate WOR as fairly priced and a sell at this price level today.
Stock Valuation
Worthington Industries
(Source: Faloh Investment, YCharts)
DCF Model Result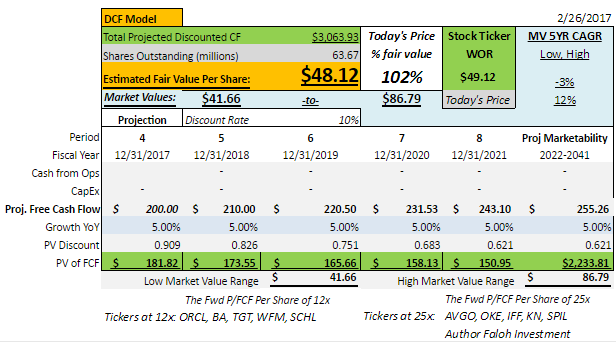 The model supposes the company is fairly valued but the it does not take into account the potential for periods of negative earnings in the future, as the company's track record has demonstrated is a real possibility when the firm is coming off of cyclical business highs.
FCF Chart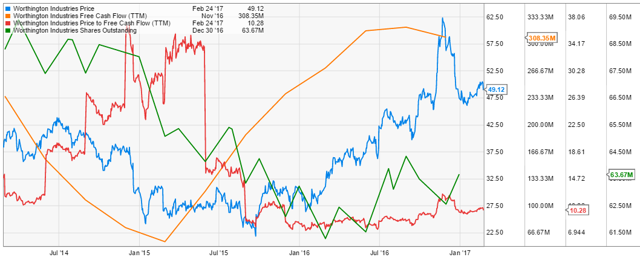 This chart's green line traces the notable decline in outstanding share count at Worthington, and in gold, the all-time high free cash flow generated in recent periods. Earnings may exhibit regression to the mean in forthcoming earnings reports and disappoint recent market sentiment.
Disclaimer: This article represents the opinion of the author as of the date of this article. This article is based upon information reasonably available to the author and obtained from public sources that the author believes are reliable. The author does not guarantee the accuracy or completeness of this article. This presentation is the author's interpretation of the information contained in the article. The author may close his investment position at any point in time without providing notice. The author encourages all readers to do their own due diligence. This is not a recommendation to buy or sell a security.
Please click the + icon next to my user name and follow me, Faloh Investment, as I work to keep you informed on further developments as the market continues to present major value opportunities.
Disclosure: I/we have no positions in any stocks mentioned, but may initiate a short position in WOR over the next 72 hours.
I wrote this article myself, and it expresses my own opinions. I am not receiving compensation for it (other than from Seeking Alpha). I have no business relationship with any company whose stock is mentioned in this article.