Thesis
Whirlpool (NYSE:WHR) is undervalued and presents an excellent buying opportunity. I believe that the company makes an excellent addition to a long-term portfolio. Its combination of superb financials and a housing resurgence will lead to exceptional growth for Whirlpool.
About The Company
Whirlpool is the number one major appliance manufacturer in the world. Products range from laundry appliances, refrigerators and cooking appliances to dishwashers and mixers. It targets 90% of consumers across the globe and has a brand portfolio full of household names. These include KitchenAid, Maytag, and obviously, Whirlpool.
What I Like
I like almost everything about Whirlpool. Let's start with value. The company currently trades at a P/E multiple of 15 and a forward P/E multiple of 10. This is arguably very low with the S&P trading at a whopping 26x earnings. Its PEG is 1, which doesn't bake in any growth at all. The company actually trades at a discount to sales with a price-to-sales multiple of 0.64. I am forecasting growth, so this appears to me as an opportunity. Finally, it trades at a substantial discount to future cash flow. This is shown in Figure 1:
Figure 1: Whirlpool Future Cash Flow

Source: Simply Wall St.
As far as growth is concerned, analysts predict earnings will grow 52% over the next three years. They also predict cash flow to grow by more than 50% over the next two years. In fact, the consensus earnings estimate for full-year 2017 is $13.54. Assuming its P/E multiple remains at 15, this gives a price of $203 or roughly a 13% return excluding its dividend. Analyst estimates are shown below in Figure 2:
Figure 2: Whirlpool Past And Future Earnings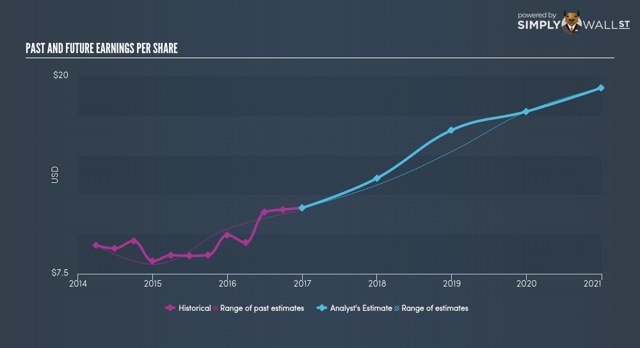 Source: Simply Wall St.
Whirlpool's balance sheet leaves something to be desired. It has a debt/equity of 78%, which is higher than I like to see. However, it has a nice dividend with a stable history. Current yield comes in at 2.23%. Its payout ratio remains low at 33%. It also has a share buyback program, and in 2016, Whirlpool repurchased $525m of common stock.
Opportunities And Drivers
Whirlpool identifies an opportunity domestically and in emerging markets. For every 1% of household penetration in Asia, Europe, and Latin America, Whirlpool does $140m, $115m, and $145m in sales respectively. The company is planning on driving growth in these regions through 2017 and is predicting operating margin expansion, which is shown in Figure 3.
Figure 3: Whirlpool Regional Sales And Margins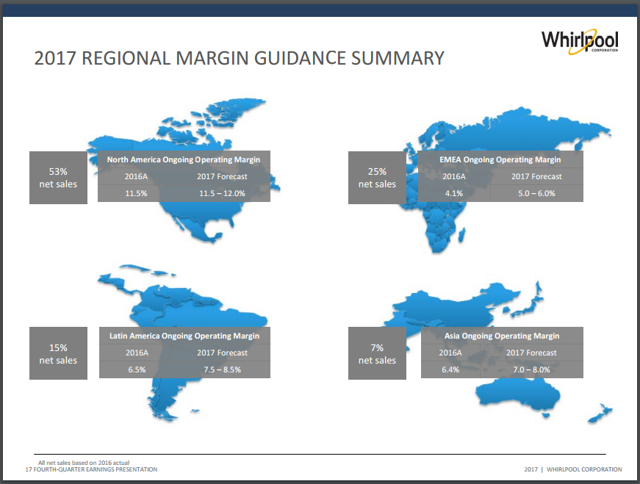 Source: Whirlpool Q4 Earnings Presentation
I see opportunity in housing. Just this morning I read an article about mortgage applications surging. I recently wrote about homebuilders and identified opportunities for them as well. I believe this favors Whirlpool immensely. When all those new houses go up, they have to be filled with appliances. I also think Whirlpool presents an attractive entry point after its Q4 post earnings drop. I also look for opportunity away from the spotlight. With 94% of outstanding shares held by insiders and institutions, Whirlpool is an excellent candidate.
Whirlpool's 2017 guidance is exceptional. Management predicts GAAP diluted EPS to increase between 15% and 24%. It predicts free cash flow to grow by a whopping 59%. This tells me there is potential for dividend and share buyback increases. Finally, it is predicting a sixth consecutive year of record performance overall. The financial guidance is shown in Figure 4.
Figure 4: Whirlpool 2017 Guidance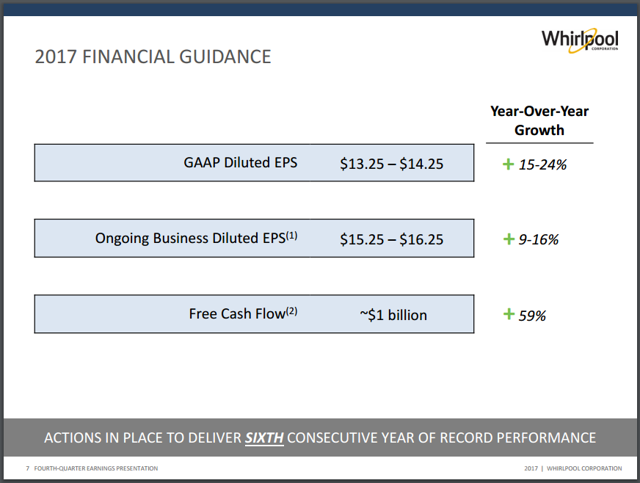 Source: Whirlpool Q4 Earnings Presentation
Risks
Whirlpool does have its risks. The first is the whole import/export border tax risk. One of its main drivers is emerging market expansion, and any sort of trade war or border tax would not be great for Whirlpool. Also, its Return on Equity, Assets, and Capital are less than great. Last year, it underperformed the consumer products industry as a whole with ROE and ROA at 16% and 5% respectively. Its ROC matched consumer products as a whole, but was only 11%. I would like to see this improved and believe it will be. A final risk would be an underwhelming performance for the economy as a whole. People typically buy new appliances when things are great. New homes are usually built when the economy is humming along. This poses a potential double-edged sword for Whirlpool as any sort of economic decline would likely impact it harder than others.
Final Thoughts
I see a bright future for Whirlpool. Its growth is exceptional, its value is cheap, and the company has a strong, stable dividend. I believe it is currently presenting an attractive buy point with its Q4 post earnings dip. I believe the tide is turning in its favor, and I believe that Whirlpool is an excellent stock to buy for a long-term portfolio.
Disclosure: I am/we are long WHR.
I wrote this article myself, and it expresses my own opinions. I am not receiving compensation for it (other than from Seeking Alpha). I have no business relationship with any company whose stock is mentioned in this article.