The Skinny
Rogers Corp (NYSE:ROG) stock has a demonstrated history of large price swings as the market struggles to price this specialty manufacturer. ROG is consistently challenged by competitive pressures from entities more local to their customers in Asia as well as the regular obsolescence of their products, which must be made up for with by continued innovation. Technological innovation is both unsure and expensive - the company is not guaranteed to come up with the next big thing in their industry despite growing R&D expenses.
On the horizon for ROG are continued earnings growth to be reported in the next financial statements issued, as 2016's $133M acquisition of DeWAL adds approximately $50M in sales to the top-line. Yet growth through acquisition can't forever boost earnings each reporting period.
This is a tricky position for short and medium term investors in ROG because while the company trades at all-time highs, it is impossible to forecast whether or not the market will give additional credit to the company with its next (likely) positive earnings report.
Addressing Rogers History Of Successful Sales Growth
ROG has grown its revenue by 50% since 2007 and net income has increased by 120% during that time. These are good results but there is an offsetting caveat.
I detected a strong correlation between periods of high gross margin and all-time record prices in the stock. Today, the company is reporting the highest gross margin rate in the available financial data going back to 1990.
The following chart tells the story - notice how the company's margins fluctuate and the high gross margin rates appear to portend massive drops in ROG's price per share. The gross margin rate's flux is primarily due to competition, new product introduction, old product obsolescence, and changes in commodity input prices.
As gross margin regresses toward its long-term mean nearer 30% profitability at the firm will shrink and likely lead to disappointed investors selling shares, pressuring ROG's price downward.
As a research, development, and manufacturing firm with high share price volatility ROG reminds me a lot of Caterpillar (NYSE:CAT) which I wrote about here. ROG is just operating at a smaller scale in terms of product size (components versus giant machines) and sales volume (hundreds of millions annual revenue versus dozen of billions at CAT).
Gross margin & price per share: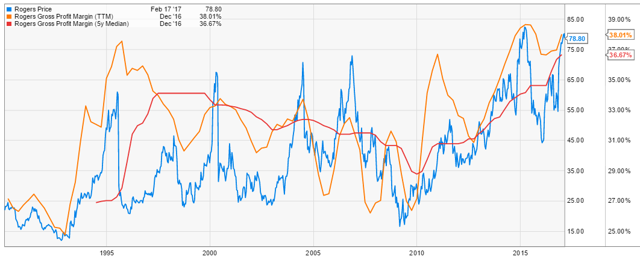 Source: Faloh Investment, YCharts (leads to a ycharts affiliate link)
Summary
Rogers is a great company. They're going through a period of rising costs as they invested in two new multi-million dollar technology offices where they will focus on producing new products. These expanded product development efforts will have their effects felt on the bottom line before they are productive of any profitable new product.
In the short-term, ROG is overpriced and today's level is highly fragile to market developments affecting their business. Gross margin rates are likely to regress toward their long-term mean nearer 30% and substantially harm incomes. Gross margin fluctuates because new products command higher premiums, existing products become outmoded or obsolete, and changes in commodity input prices.
ROG faces additional challenges as 75% of net sales are made in Asia, where competitors have superior locality (lower distribution cost) and lower costs at their HQ and often at the point of manufacture. ROG produces several products in the USA and ships them to overseas customers. Advancing Chinese capabilities in manufacture must be constantly contended with, which suppresses profit margins.
Final Word: Today, ROG is overpriced and likely to enter a drawdown phase as gross margins return to their mean levels. Therefore, the stock price is fragile. I rate ROG a sell.
Appendix:
Roger Corp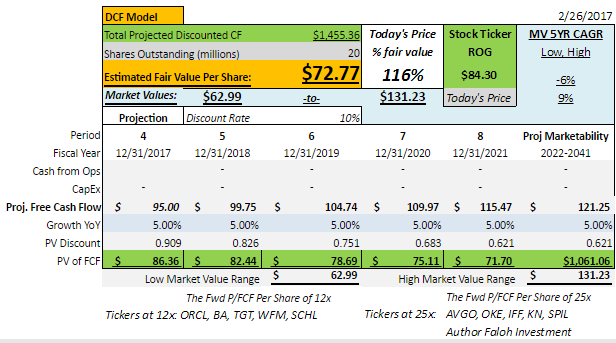 ROG's actual shares outstanding were last reported at 18.04M, I use a figure of 20M in the DCF model (which reduces the company's estimated fair value) because the long-term trend at the company has been to expand share count.
Trial YCharts (leads to a ycharts affiliate link) and make charts like these.
Author's note: Click +Follow next to my user name and get real time alerts when new research is published.
Disclaimer: Opinions expressed herein by the author are not an investment recommendation and are not meant to be relied upon in investment decisions. The author is not acting in an investment, tax, legal or any other advisory capacity. This is not an investment research report. The author's opinions expressed herein address only select aspects of potential investment in securities of the companies mentioned and cannot be a substitute for comprehensive investment analysis. Any analysis presented herein is illustrative in nature, limited in scope, based on an incomplete set of information, and has limitations to its accuracy. The author recommends that potential and existing investors conduct thorough investment research of their own, including detailed review of the companies' SEC filings, and consult a qualified investment advisor. The information upon which this material is based was obtained from sources believed to be reliable, but has not been independently verified. Therefore, the author cannot guarantee its accuracy. Any opinions or estimates constitute the author's best judgment as of the date of publication, and are subject to change without notice. The author explicitly disclaims any liability that may arise from the use of this material.
Disclosure: I/we have no positions in any stocks mentioned, but may initiate a short position in ROG over the next 72 hours.
I wrote this article myself, and it expresses my own opinions. I am not receiving compensation for it (other than from Seeking Alpha). I have no business relationship with any company whose stock is mentioned in this article.