Government investment at all levels accounts for only about 15 percent of gross fixed investment in the United States, but its economic significance is greater than that modest share suggests. Government investment affects investors in private industry in several ways through its impacts on growth of the economy as a whole, on suppliers of construction services and materials for government investment projects, and on users of government infrastructure. Negative trends in government investment raise concerns for all of these reasons.
Three charts reveal the extent of these negative trends. The first chart takes a long-term look at gross investment in fixed assets at all levels of government. It shows that total government investment has fallen by about half since the 1960s. Investment at the federal level and at the state and local levels contribute roughly equal shares of the total, but the federal share has fallen more rapidly. Federal gross investment in fixed assets as a share of GDP in 2015 was just a third of its 1961 peak value.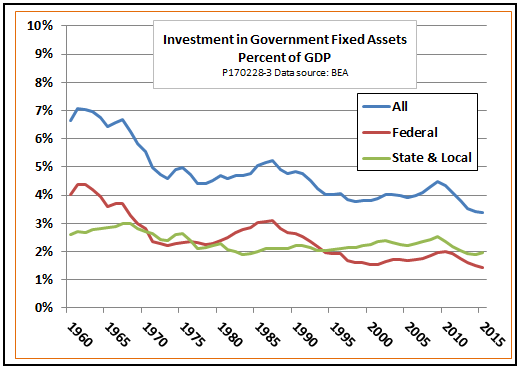 The second chart focuses on the federal component alone, dividing it into defense and nondefense components. Both components rose during the early 2000s and reached a peak at the height of the stimulus program early in the recession. Since then, both have fallen steadily. Nondefense investment is back down to its level of 2000, and defense investment is not much higher than in 2000.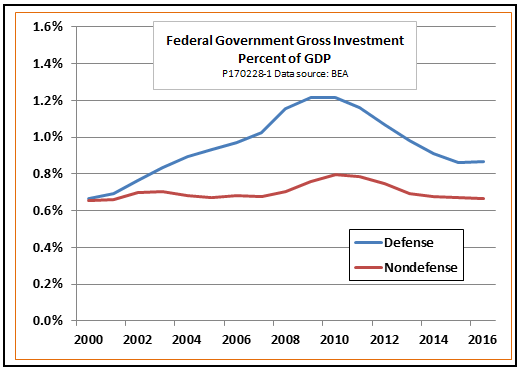 The third chart looks at net defense and nondefense investment, that is, at the amount by which new investment exceeds or falls short of what is necessary to make up for depreciation and obsolescence of fixed assets. Nondefense net investment has fallen slowly but steadily, and is now less than one-tenth of one percent of GDP. Defense net investment has been much more volatile. Total net federal investment has been essentially zero since 2014.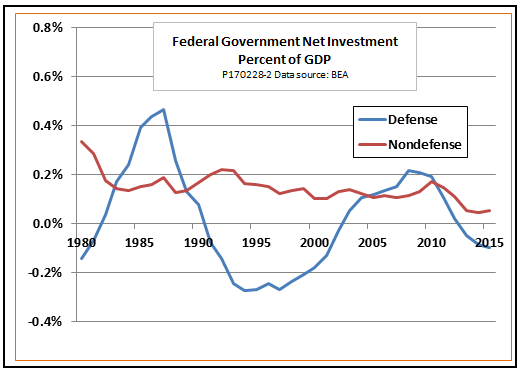 What are the prospects for reversal of these negative trends in government investment? The process of developing a budget for the first fiscal year of the Trump administration has only just begun, but the plans revealed so far give an idea of what investors need to watch for.
First, it appears likely that defense investment will follow its historical pattern of rising during Republican administrations and falling during Democratic ones. If investment gets its equal share of the proposed ten percent increase in the Pentagon budget, it would return to a level of about 1 percent of GDP, a little below its peak at the end of the George W. Bush administration.
Second, according to early OMB proposals, nondefense discretionary spending would decrease by 10 percent from its current levels. If investment took a proportional part of that hit, nondefense gross investment would fall by about 0.7 percent of GDP. Since that component is now about 0.5 percent of GDP, that would mean a negative value for nondefense net investment for the first time in more than half a century. That estimate does not take into account any indirect effects on state and local investment budgets from a tightening of the federal budget.
Third, keep in mind that nondefense net investment is the part that matters for growth of the economy as a whole. The Trump administration is still holding out hope for some kind of grand push for infrastructure investment, but it is hard to see where there will be much room for anything of the sort in the federal budget. Infrastructure plans call for some as-yet undefined partnership drawing on private as well as public funds to rebuild the nation's roads, dams, and power grid. However, the private component of any such program is likely to come, at least in part, from a reduction in non-infrastructure investment elsewhere in the private sector. If so, the impact on economic growth would be reduced.
Finally, we should keep in mind that the whole structure of the budget is premised on getting the growth rate of real GDP up from its current rate of around 2 percent to 3 percent or more. In an earlier post, I explained that demographic headwinds will already make it harder to reach 3 percent growth than when such rates were achieved in the late twentieth century. Further decreases in federal nondefense investment will make hitting those ambitious growth targets harder still.
Disclosure: I/we have no positions in any stocks mentioned, and no plans to initiate any positions within the next 72 hours.
I wrote this article myself, and it expresses my own opinions. I am not receiving compensation for it (other than from Seeking Alpha). I have no business relationship with any company whose stock is mentioned in this article.