Barclays (NYSE:BCS) is still in restructuring modus which is why profitability is low because of additional charges and the shares are still trading below tangible net asset value which is currently 290p.
International operations
Barclays international benefits from the weaker British pound which makes its revenues which are primarily is USD look stronger. This benefit will continue for most of next year when quarterly results will be compared.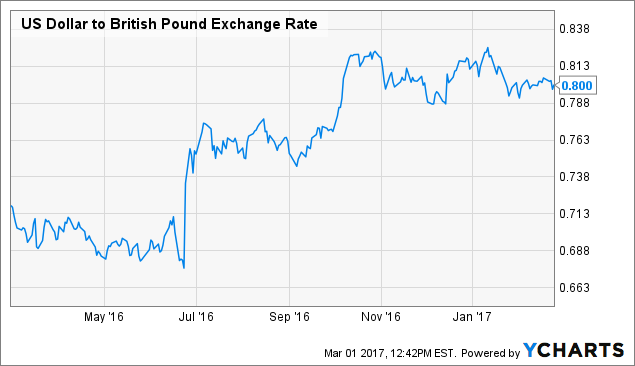 US Dollar to British Pound Exchange Rate data by YCharts
The problem however is that in 2016 profit of international operations did not grow in line with revenues as expenses increased faster due to higher impairment and operating expenses growing at 12%. What is important to note is that 52% of Barclays assets is tight up in its international business. Profits for this division are mediocre and that Barclays could not benefit from the lower valuation of the British Pound. An investment in Barclays is thus primarily an investment in the turnaround of Barclays International. Since it mediocre profitability but possible improvements going forward. It is fair to value Barclays International at 90% of tangible equity for a valuation of £23B at 11.7 times earnings.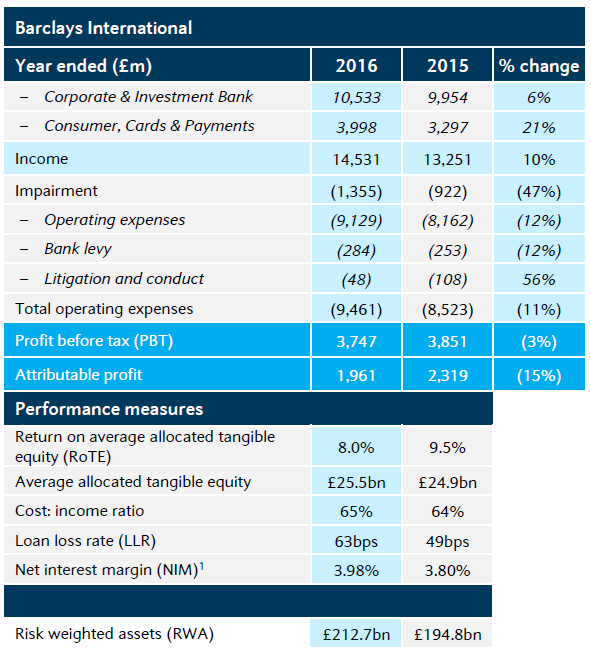 Source: Barclays presentation
Strong UK retail bank with good profitability
Barclays has a strong position in the British retail market with a dominant position in the attractive payment segment with Barclaycard. Barclays processes 33% pounds spend goes through Barclaycard which helps it profitability and adds a steady source of income. but profitability did decline significantly in 2016 due to higher impairments. Still return on allocated capital was strong What is important though is to realize that only £8.9B is allocated to the retail bank making it roughly 18% and a relatively small part of Barclays total allocated Capital of £49.0B. Declining housing prices give some risk to the retail business but because it more stable payments revenue and strong return on equity I would value the UK operations at almost 10 times earnings for a valuation of £16.5B.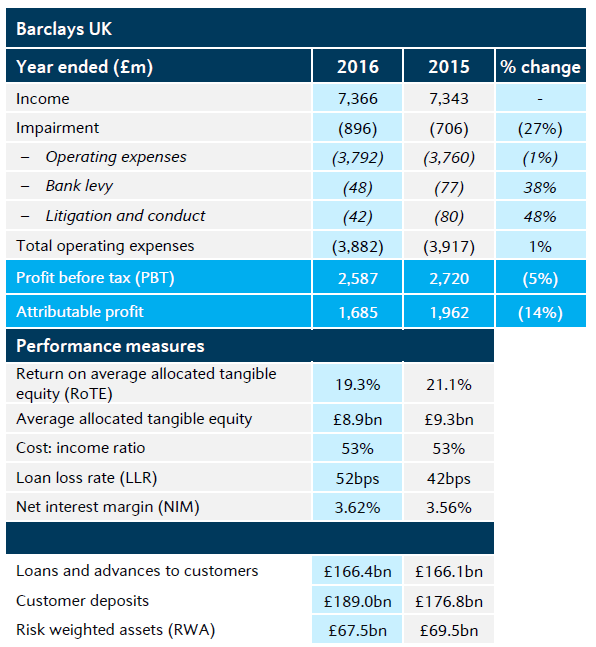 Source: Barclays presentation
Non-core
Cost of non-core operations increased significantly while the reduction is RWA's was accelerated. Still £32.1B in RWA's remain which will most likely lead to more future losses. Attributed equity decreased significantly to £5.4B at year's end but is still 11% of equity. Valuing non-core assets is difficult but given the fact that a 40% reduction in RWA's lead to a loss of £2.7B. I would expect winding the rest of the RWA's could cost another £4.0B. Giving the non-core assets a residual value of £1.4B. This could easily be too optimistic since non-core assets which are more easy to sell are probably sold first.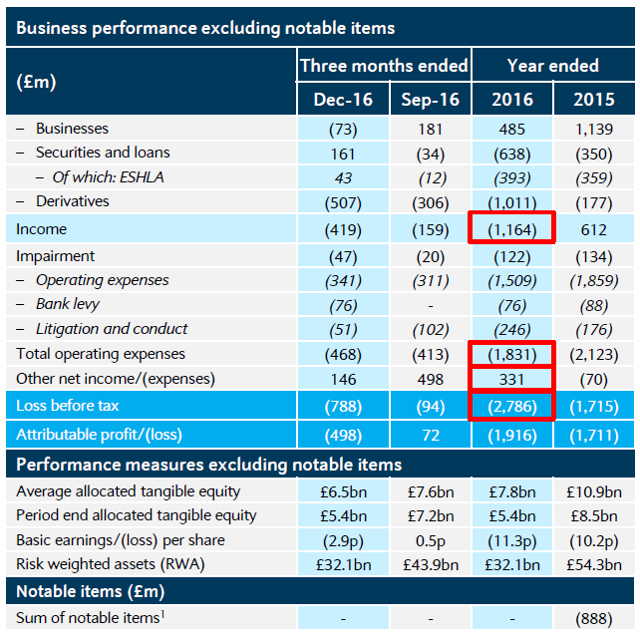 Source: Barclays presentation
While the remaining amount £6.8B is tied up in its home office and its African operations. While the African unit has potential Barclays decided to sell it to reduce its size. The price that Barclays may get for the African unit is somewhat uncertain but could certainly give Barclays a boost. Given the losses incurred when selling of other operations like Italy additional losses are a real possibility for all the other assets under head office. Therefore I would value these remaining assets at £6.8B.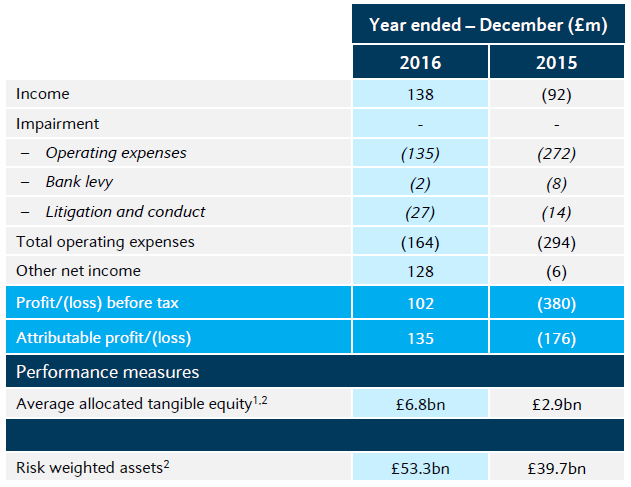 Source: Barclays presentation
Tangible Net Asset Value of 290p
The increase in TNAV per share was 19 pence when including the 4 pence dividend distribution. 22 pence however was because of currency translations attributed to the fall of the Pound and cannot be attributed to Barclays operations. This means that Barclays in fact did not increase TNAV per share in 2016 through its operations.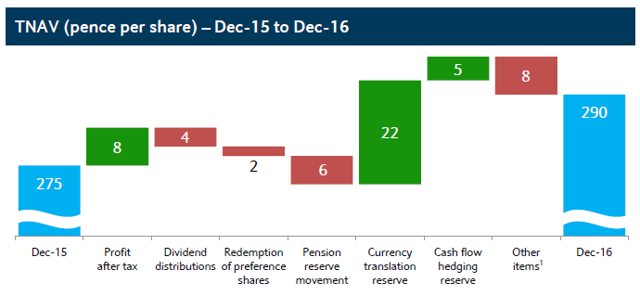 Source: Barclays presentation
Risk
Investment banks performance is mediocre and has some risks going forward. Cutting investment bank can be dangerous since cutting unprofitable services might lead to a decline in clients lowering profitability of other services resulting in a negative spiral. Which is what happened at Deutsche Bank and Credit Suisse. The best thing Barclays can do is to improve its operations and hope that the market recovers. Which is not unlikely given the increased stock prices lately. Brexit is an additional risk which may inflict further pain on Barclays investment operations. The UK retail bank is in great shape but could be harmed by housing prices and economic shifts leading to more bankruptcies among its clients. Note that Brexit may have beneficiaries but most of these benefits will go to equity holders of the respective companies while firms which are negatively affected could default on their obligations.
Conclusion
While its UK retail and card operations are profitable and attractive they only account for a small part of Barclays. The majority of its capital is tied up in its mediocre investment & corporate business while the non-core unit has still significant size and could generate additional losses. Barclays trades at a significant discount to TNAV but the profitability of its core investment bank is low and could be further harmed by Brexit. Adding up the different values I come to a price of £37.7B. A slight discount to its market value of £38.7B. If you want to invest in a UK retail bank I would advise Lloyds (NYSE:LYG) which does not have the non-core assets or the investment bank troubles. When you want a European based bank with a significant investment business I would look at French banks like BNP Paribas (OTCQX:BNPQF) or Societé Générale (OTCPK:SCGLF), which however have their own difficulties but have higher dividend yields and dealt with their non-core problems.
Disclosure: I/we have no positions in any stocks mentioned, but may initiate a long position in LYG, BNPQF over the next 72 hours.
I wrote this article myself, and it expresses my own opinions. I am not receiving compensation for it (other than from Seeking Alpha). I have no business relationship with any company whose stock is mentioned in this article.
Editor's Note: This article discusses one or more securities that do not trade on a major U.S. exchange. Please be aware of the risks associated with these stocks.