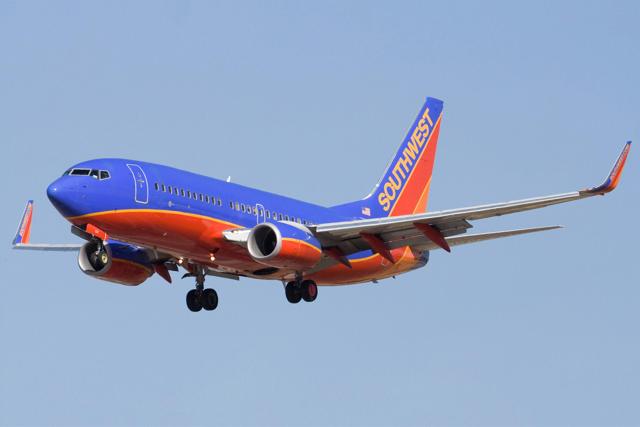 Image Source: Southwest
The airline industry is changing for the better. Oil is expected to stay cheap, airplanes are becoming more efficient, and technological improvements are helping airlines increase revenue and utilization. This is precisely the reason Warren Buffett is now buying airline stocks, including Southwest (NYSE:LUV), and so should you.
Even with recent price run-ups, airline valuations are still attractive. Southwest currently trades at 16.5 times earnings, which is well below the S&P average of 24.8. This is a premium to its peers, but as you'll see by the points I've listed below, there's many reasons to add Southwest to your portfolio.
1. Historical Operating Trends
For 2016, Southwest set records for revenue, net income, cash flow and earnings-per-share. Southwest has also operated profitably for 44 consecutive years in a row, a pretty impressive feat that most other airlines can't claim.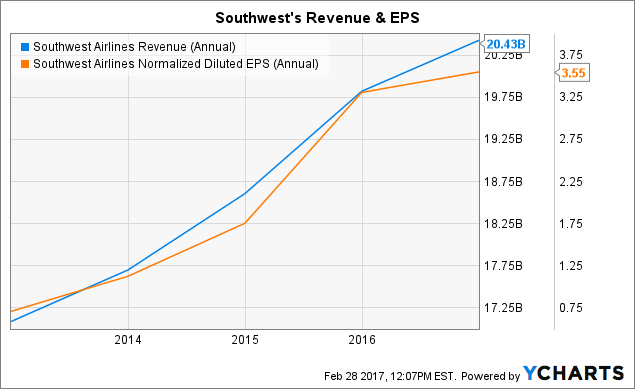 LUV Revenue (Annual) data by YCharts

Revenue & Net Income figures presented in millions
Southwest has also beat Wall Street earnings expectations the last 5 quarters. Better yet, these trends are expected to continue. According to MarketWatch, analysts project earnings to be $3.88/share (FY 2017) and $4.68/share (FY 2018), which equals forward price-to-earnings of 15.07 and 12.59.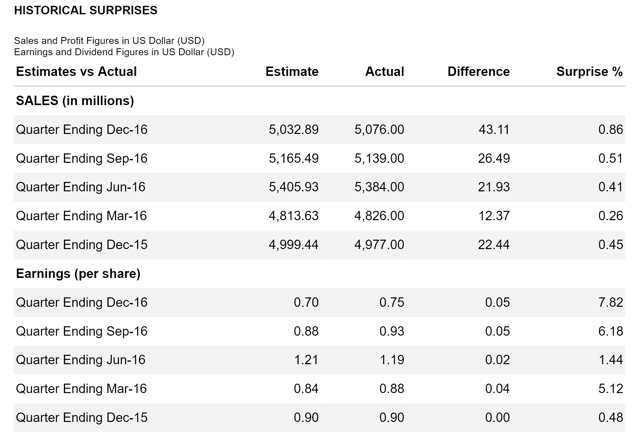 Source: Reuters
2. The Cost of Oil
The profitability of airlines is closely linked to the cost of oil. As the price of oil increases, airlines pass on a diminishing amount of this cost to passengers, which causes profitability to shrink. The inverse is true when the price of oil drops. Airlines don't drop ticket prices to match their cost-savings, they simply just profit more.
The good news is the price of oil is expected to remain reasonably priced for the next couple of years. The U.S. Energy Information Association forecasts Brent crude oil prices to average $55/barrel in 2017 and $57/barrel in 2018, which is comparable to current prices. This should help Southwest continue producing record profits.
3. Warren Buffett is Buying Airline Stocks
Warren Buffett has recently been loading up on airline stocks (Southwest, American (NASDAQ:AAL), Delta (NYSE:DAL), & United (NYSE:UAL)). These purchases point to a very important underlying factor. The airline industry has vastly improved and is different than it was 10 years ago when Buffett consistently detested airline stocks. The truth is, there's been considerable consolidation in the airline industry with mergers and bankruptcies. Approximately 80% of the U.S. air traffic is controlled by Southwest, Delta, American, and United. In short, this has been bad for consumers and profitable for airlines. There's now less competition and airlines have much more pricing power.
4. Increasing Market Demand
Both U.S. and world air traffic is expected to continue increasing. According to IATA, U.S. air traffic is expected to increase by 3.3% annually through 2034. Demand is expected to increase based on improving living standards, increasing population, and airlines continuing to add new routes in underserved markets.
5. Southwest's New Booking System
For the last 30 years, Southwest has operated on a clunky reservation system that left it technologically behind other airlines. In 2017, Southwest will now have the scheduling techniques that rival airlines have been using for years.
According to Southwest's CEO, "In December, we began selling domestic itineraries in the new Amadeus platform. We remain on track to move to a single reservation system on May 9, 2017, with significant incremental profits expected to begin in 2018. The first release deployed in December, provided booking capabilities for travel on and after May 9, was virtually flawless."
This new software will allow Southwest to do the following:
Red-eye flights will be added.
Right now, Southwest has to fly the same schedule Sunday through Friday in its domestic network. This really hurts low-demand days like Tuesday and Wednesday when Southwest schedules the same amount of flights as it does on a Friday. The new software will allow Southwest to fly different schedules any day of the week, which will increase network planning, flexibility, and increase revenue.
Southwest will be able to dynamically price ancillary goods like seat assignments, extra baggage, rebooking, etc. if it chooses to do so.
The expectation is that the new booking software could boost Southwest's annual profits by $500 million by 2020. That's significant and could boost income by over 20%.
6. The International Market
Southwest currently flies a few international routes, most of which are a result of the AirTran acquisition. Historically, staying away from long-haul European & Asian destinations has been positive for Southwest. Purchasing and operating wide-body airplanes is expensive and is one of the reasons Southwest has outperformed the other major American carriers. However, airplane technology continues to improve and wide-body planes are no longer needed to fly to Europe. The new Boeing 737 Max can fly from the U.S. to Western Europe. The trans-Atlantic market is highly competitive, but could be a future growth driver for Southwest and they could keep their directive of having an all 737 fleet.
7. Average Fleet Age
In general, newer airplanes equal greater fuel efficiency and lower operating costs. This equals greater profit margins. I used data from Airfleets.net to compile the average fleet age of the 4 major U.S. carriers. While Southwest certainly doesn't have a young fleet, they are still 2nd out of the 4 major U.S. airlines, and have a significantly younger fleet than both United and Delta.
American Airlines - 10.4 years
Southwest - 11.8 years
United - 14.1 years
Delta - 17.2 years
Southwest will also benefit once it does replenish its existing fleet. The new Boeing 737 Max burns 14% less fuel than its predecessor.
8. Valuation
Southwest currently trades at a premium relative to other airline stocks, but is still reasonably valued given their historical performance and growth prospects. According to Reuters, Southwest has a long-term growth rate of 10.5%, which compares favorably against United, American, and Delta.

Southwest also trades at a significant discount to the S&P average P/E of 24.8.
9. Wall Street Agrees
According to MarketWatch, 11 out of 19 analysts recommend Southwest as a buy (none recommend it as a sell). The average target price is $61.25 per share. Given the current stock price of $58.29, that's 5% upside.
Conclusion
Stable oil prices, more efficient airplanes, technological advancements, and increasing market demand will be catalysts for Southwest to continue performing well. Even though Southwest trades at a premium to other airlines, its price is still attractive given a LTG forecast of 10.5% and there's few stocks on the market that have performed as reliably as Southwest has. I'd recommend purchasing the stock ahead of the next earnings release given their track record for beating Wall Street expectations so long as there isn't a significant run-up in the price of the stock.
Disclosure: I/we have no positions in any stocks mentioned, and no plans to initiate any positions within the next 72 hours.
I wrote this article myself, and it expresses my own opinions. I am not receiving compensation for it (other than from Seeking Alpha). I have no business relationship with any company whose stock is mentioned in this article.