There seems to be significant disagreement about how the potential border adjustment tax, or BAT, would affect REITs. I will offer no political commentary as to whether I think it is a good or bad idea, but rather take an objective look at what its impact would be. Enactment of a BAT is not certain, but plausible, and investors should be prepared for the implications. This article will cover how a potential BAT could impact various subsections of the REIT world.
BAT Information
While the actual phrasing of a BAT could vary, we will assume it makes imports no longer tax deductible (through cost of goods sold) and it makes exports tax free. This is the version proposed by House Republicans and championed by Kevin Brady (below).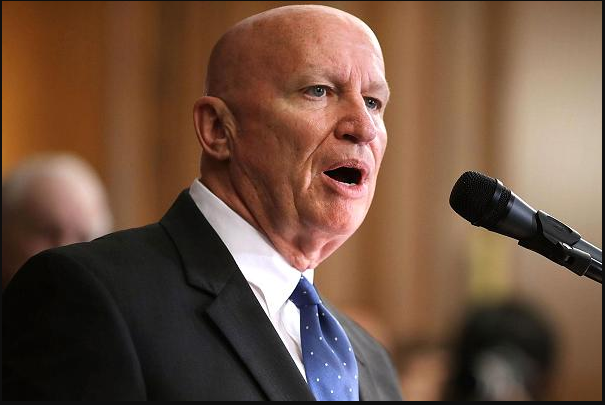 The benefits of a BAT are overstated by supporters, and the downsides are exaggerated by opponents. In reality, it is a tax that has influence at the margin. It increases the economic viability of domestic production and exports while decreasing the economic viability of imports and outsourcing. It will not shift ALL production to the US as there are still some things that are simply not realistic to make here. However, it will make products and services that are currently almost economically viable here fully viable, causing an overall decrease in imports and an increase in exports.
First, let us cover the REIT sectors that would be adversely impacted.
Victims
Shopping center REITs and mall REITs would not be impacted directly, but a BAT could hurt their tenants, thereby reducing demand for retail REIT space over time. Most retailers import more products than they export, making them net importers, so a BAT would cause them to pay more taxes. I believe the impact of this is greatly exaggerated as there are mitigating factors.
Currencies adjust: If the BAT causes an additional 20% tax on imports, for example, a portion will be made up for by the offsetting strengthening of the dollar caused by the implementation of the BAT. With a stronger dollar, cost of imported goods will go down, but they will have to pay taxes on it. While I do not anticipate this to fully counteract the extra taxation, it will materially reduce the net impact.
Fungibility of products: The common assumption is that retailers will just buy the same products and be forced to swallow the extra taxes. This is not fully true. While for some products there is no American made replacement, a portion of imports can be shifted to domestic production at a slight extra cost that is well below the anticipated 20%.
Stimulated demand: Over time, the BAT is designed to bring manufacturing and assembly jobs back to America. More jobs means more shoppers with money in their pockets.
Not all retail imports: Progressively more retail REIT space is taken up by entertainment or food destinations which either don't import or import materially less than apparel retailers. We anticipate that the grocery anchored shopping center REITs would be less impacted than other retailers.
To be clear, these mitigating factors are just that. The BAT would still be a net negative for retailers and retail REITs, but the magnitude is not as large as the headline number would suggest.
Another potential victim of a BAT would be hotel REITs. The corresponding increase in dollar strength would moderately stifle inbound travel, reducing demand from tourism. We have not been able to identify any material offset for this, so we are inclined to think it is a net negative for hotels.
Indifferent
Multifamily, office, healthcare and self-storage REITs should be largely indifferent to a BAT. We do not see any material impact to their businesses.
Beneficiaries
The primary REIT beneficiaries of a BAT would be industrial, farmland, and Canadian REITs with US properties.
Among industrial REITs, the non-coastal properties would benefit more. Coastal warehouses would have the increased export volume benefit offset by a decreased import volume. In contrast, warehouses located in middle America near manufacturing hubs should have materially increased demand without any incremental loss in demand. We anticipate this benefit will not be immediate. It will take a few years for domestic manufacturing to ramp up, but it should materially improve the long-term growth rate for the industrial REIT sector.
DCT Industrial Trust (NYSE:DCT) has some good exposure to the rust belt, so it may be disproportionately advantaged. Stag Industrial (NYSE:STAG) and Duke Realty (NYSE:DRE) also have well-located properties for a BAT. Rexford (NYSE:REXR) and Terreno (NYSE:TRNO) have mostly coastal properties and will likely benefit less.
A larger and more direct beneficiary is farmland. Presently, row crop farmers are struggling to maintain profitability as supply has been so large due to multiple years in a row of bumper crops. With tax-free exports, American farmers could have a higher realized price which would greatly benefit profitability. Unlike industrial REITs, the farmers would get an immediate benefit, and since leases with farmland REITs are often very short in term, the REITs would grow FFO in the first year.
Gladstone Land (NASDAQ:LAND) may get some tax benefits, but the United States mostly exports row crops like corn and soybeans, so Farmland Partners (NYSE:FPI) is the real play when it comes to the BAT. FPI is already quite cheap, trading at a discount to NAV, so if the BAT passes, it should be a great opportunity.
Finally, we see the Canadian REITs with significant US real estate exposure experiencing a positive shock due to the currency effect. Since Pure Multi-Family REIT (RUF.UN) (OTCQX:PMULF) and Slate Retail (SRT.UN) (SRRTF) get almost all of their revenues in USD and pay dividends in USD, the Canadian stock price should adjust up proportionally with the dollar. I own these stocks through their foreign ordinary tickers PMULF and SRRTF for Pure Multi-Family and Slate, respectively, so I will not get any of the currency benefits. A stronger dollar should be nearly irrelevant to the foreign ordinary stock prices.
Conclusion
A BAT is neither doomsday nor instantaneous greatness for America, but it has material implications. If enacted, consider buying some industrial and farmland REITs and Canadians should consider getting into US real estate ahead of the decision as the currency adjustment is likely to be swift.
Disclosure: 2nd Market capital and its affiliated accounts are long STAG, LAND, SRRTF, RUF.UN and PMULF. I am personally long STAG, PMULF, SRRTF and short TRNO. This article is for informational purposes only. It is not a recommendation to buy or sell any security and is strictly the opinion of the writer. Investing in publicly held securities is speculative and involves risk, including the possible loss of principal. The reader must determine whether any investment is suitable and accepts responsibility for their investment decisions. Dane Bowler is an investment advisor representative of 2MCAC, a Wisconsin registered investment advisor. Commentary may contain forward looking statements which are by definition uncertain. Actual results may differ materially from our forecasts or estimations, and 2MCAC cannot be held liable for the use of and reliance upon the opinions, estimates, forecasts and findings in this article.
Disclosure: I am/we are long PMULF, STAG.
I wrote this article myself, and it expresses my own opinions. I am not receiving compensation for it (other than from Seeking Alpha). I have no business relationship with any company whose stock is mentioned in this article.