Every week after the EIA releases their Weekly Petroleum Status Report I download the updated files, consolidate them, and ultimately link them to a simple excel dashboard file which you can download for free at Excel-Data-Junkies.com. Open it up to follow along below, then let's discuss it in the comments section below. For a methodology review take a look the intro "Data Download".
Headline: Total Petroleum Stocks Up 0.3 Million Barrels
Two weeks ago we had an 11M bbl inventory gain followed by an 11M bbl decrease in inventories last week. This week we get a small 0.3M bbl increase. Put it all together and inventories have essentially been flat for going on 4 weeks now. It will take more than 4 weeks of stability to offset a glut that took more than 2 years to build but the bull case is starting to get some data to support their thesis. As demand builds going into the summer and the OPEC cuts finally start hitting US shores it is starting to look like we could start whittling down the ~250M bbl of excess stocks at a rate of 3-5M bbls a day by the end of May. I'm not predicting that will happen, just pointing out that it no longer looks like such a long shot. With oil (USO) steady at around $54 and trending steadily up for a while now the market appears to have a fair degree of confidence that OPEC has cut production and will continue to act in a unified manner to support oil prices going forward.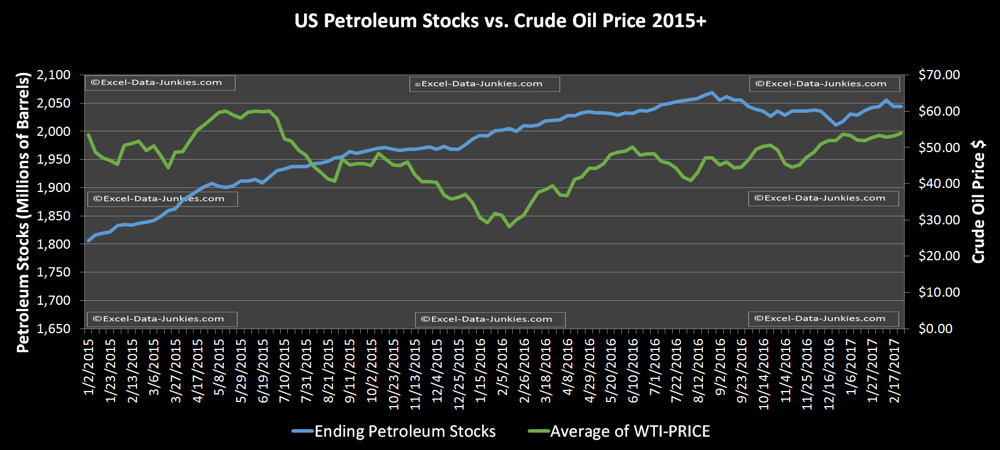 OPEC Imports:
US imports from OPEC were up over last week but still under 3M bbls a week which was the 2016 average. It has been 8 weeks since production was cut so including transit time we are right around the cusp of when we should start to see material and sustained drops in OPEC imports especially from Saudi Arabia, but also looking at Iraq and Kuwait. The total cut I am looking for is about 400k bbls a day bringing the OPEC average to ~2.6M bbls a day starting in March. We will still likely see large week to week variations but by April we really should start seeing the 4 week average level out.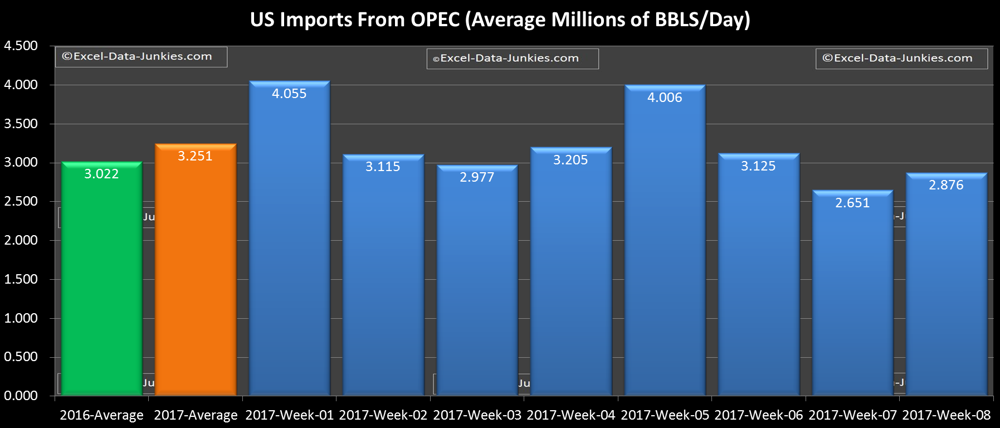 For The Bulls:
Has the bleeding finally stopped? As soon as I make that claim I'm sure we will see a 10M bbl stock build but for now the data is starting to confirm that the massive stock builds we were seeing in January are over and that the OPEC product cuts are finally resulting in lower US crude imports. Even primary oil stocks (crude+gasoline+Jet Fuel+Distillate) which had been setting new records every week has fallen a little and stabilized over the last few weeks. This wasn't unexpected given the seasonal trends but it's nice to finally see the glut stop growing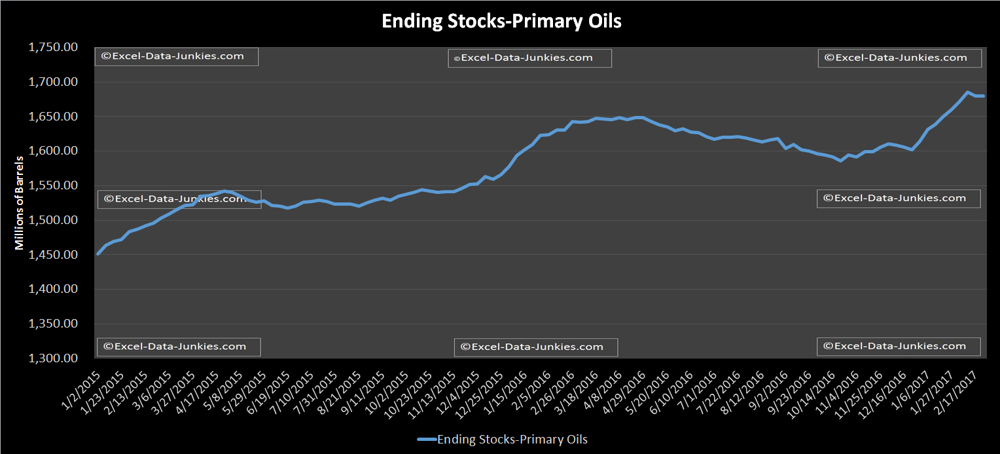 The bulls have made it this far without a price collapse so now is time to deliver on the expectations that have so far kept oil over $50.
OPEC must follow through and keep US imports materially under 3M bbls a day
US consumption needs to pick up.
At some point this spring inventories must start coming down. It doesn't need to be particularly fast, a steady ~3M bbls a week burn rate for a few months should be enough to solidify a $50 near term floor for oil.
For The Bears:
The bulls may have had a few good weeks but we still posted a build and inventories are still just a hair under all-time highs. Bulls need a lot of things to go right just to keep oil where it is while the bears just need one stumble to initiate a collapse like we saw last year. A year ago oil was at ~$30 and inventories were 35M bbls under where they are today. US consumption was increasing and US production was decreasing. Today, the fundamentals are worse, with higher inventories, increasing US production, and stagnant consumption. Be patient and let OPEC humiliate itself.
Gut Feeling:
Based on fundamentals alone, oil should probably be under $40. This price level would signal consumers to consume more and producers to produce less, ultimately burning through this record glut and setting up a solid recovery by 2018. That's how a free market would work, but for better or worse, with a cartel controlling 1/3 of global production there is nothing free about this market. After a long slumber OPEC has decided to once again act like a proper cartel and start restricting production to prop up prices, which they have had considerable success doing in the last 3 months. Kudos to them, everyone should take heed. If OPEC can prove over the next few months that they really are in control of this market by complying with their agreement and ultimately pulling down global inventories $60 is possible by the end of the year. If on the other hand this devolves into squabbling, low compliance, and inventory builds, the cartel will have to cede power back to the market later this year to do the dirty work. I can't predict what will happen but I am confident that either way we will see it in the data.
If you enjoyed this analysis and the supporting Excel files follow me for real-time updates and notifications when new articles are posted.
Disclosure: I/we have no positions in any stocks mentioned, and no plans to initiate any positions within the next 72 hours.
I wrote this article myself, and it expresses my own opinions. I am not receiving compensation for it. I have no business relationship with any company whose stock is mentioned in this article.