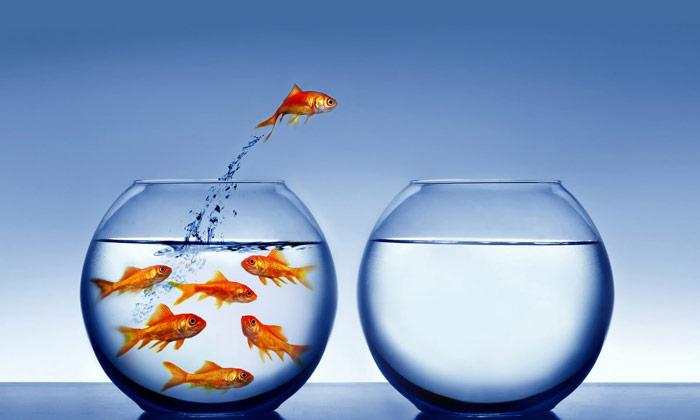 Palo Alto Networks (PANW) missed on revenue while narrowly beating on earnings. In a quarter when most competitors profited from the huge holiday spend, Palo Alto's miss doesn't bode well for the future of cyber security.
According to the report:
Q2 2017 results – revenue $422.6M (+26.3% Y/Y, $7.12M below estimates), EPS $0.63 ($0.01 above estimates), billings $561.6M (+22% Y/Y), deferred revenue $1.5B (+61% Y/Y), net income $59.6M (vs. $39.5M Y/Y), cash flow from operations $214.3M (+39% Y/Y), free cash flow $169.6M (+24% Y/Y)
An early channel check indicating huge demand for PANW's products amongst resellers raised optimism that the security company had no choice but to overshoot on key growth drivers. This led to the priced-to-perfection risk I warned about in my earlier thesis.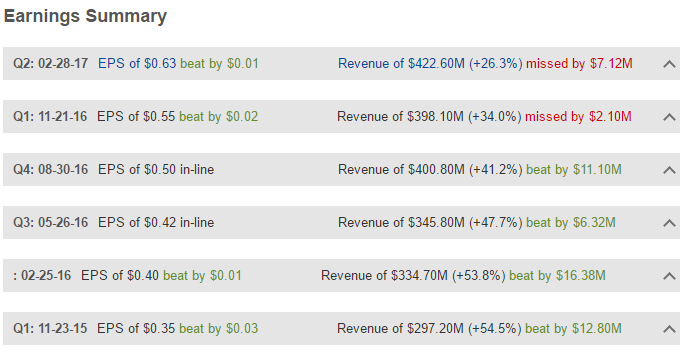 Source: Seeking Alpha
For some unexplainable reason, the Street likes to give PANW the benefit of the doubt. However, the last two quarters has left a bad taste in the mouth of investors, and it's about time PANW trades closer to its intrinsic value.
Firstly, management is showing signs of weakness, blaming the miss on sales execution and subpar efficiency. Fortinet (FTNT) had the same excuse some quarters back and has since rebounded. It appears the aggressiveness to win market share is dying.
Also, I won't be surprised if the miss was also aided by the discounting activities of competitors to gain/keep market share.
Alas, it appears Palo Alto can't keep swiping market share while charging a premium for firewalls that are offered at a huge discount by competitors.

Source: Seeking Alpha
A closer look at the income statement shows a flat growth in product revenue. Since products drive subscriptions, this is indicative of an uptick in churn rate. While subscription revenue grew YoY, it wasn't sufficient to meet the Street's expectation.
Going forward, Palo Alto has acquired Lightcyber for $105 million. Lightcyber is a behavioral analytics platform that leverages machine learning to detect the propagation patterns of sophisticated cyber threats.
I don't expect the deal to be accretive to earnings in the short term. Regardless, I expect it to drive sales conversion.
The announcement of the share repurchase leaves little to imagine. Right now, it appears that Palo Alto is finding it hard to acquire or develop products that will improve profit margin. By spending more on the share repurchase relative to its latest acquisition, it appears that Palo Alto will be more focused on tackling the cost bucket in coming quarters.
I project more focus on earnings growth and FCF compared to the more aggressive market share gain in the future. As a result, the Street will have to re-rate for a lower revenue growth rate in coming quarters.
This will set a limit on the marginal upside as investors try to decipher management's approach to growing EBITDA and FCF which facing the challenges of reducing pricing power fostered by discounting, orchestration and automation of key threat detection/preventing processes.
Moving to macro trends, the cyber security landscape will benefit from new cyber security policies that will drive an increase in federal security budget. This will be led by president Trump's resolve to protect the American people from terrorist attacks and other nation state threats to the union.
In Europe, I expect minimal growth due to general currency weakness relative to the dollar. This will be driven by volatility, which will stem from the coming election in Germany and France as the EU is overhauled and rebuilt along new trade lines and policy measures which will take investors some time to digest. This currency weakness will result in inflation, making it hard for premium goods to sell in volumes recorded in times past.
I expect emerging markets to also record minimal upsides as investors digest the impact of a protectionism measures aimed at stifling globalization and free trade.
I believe these trends will drive an overall moderate to flat growth in discretionary spend with organizations allocating cyber security budgets more akin to what we had in 2016.
Valuation
The upsides are heavily capped as management struggles to get a grip on the sliding growth thesis. The acquisition of Lightcyber appears to be a panic buy in my opinion. Also, the announcement of a share repurchase program indicates management's inability to find an investment with huge ROIC in the cyber space. For a reason, I want to believe the expensive equity market and premium valuation of cyber companies is forcing management to hold on to the joker.
I blame myself for my poor conviction in my last thesis. As much as I wanted to warn investors of the dangers inherent in the bloated valuation of PANW, I feel I was unable to present a strong catalyst to back up my argument.
The mistake stemmed from the difficulty of being a contrarian. I basically worked my model to the bones when the market moved from my initial PT of $125 to $155 while testing variables to find the fault inherent in my model.
Turned out it was all market euphoria.
I asked a lot of questions and found few answers. I must confess the rally tested my emotions as a true contrarian with a few bulls questioning my judgement. At the end of the day, the big lesson for me was discipline.
Palo Alto plays in a fast-growing segment of the tech industry making a short thesis hard to sell given its growth momentum while it took market share from competitors.
At the end of the day, I realized that the entry price for each individual investor was more important than the gains from short term rallies. Provided that the fundamental thesis remained intact, there was no reason to campaign for investors to abandon their positions. However, it was important to warn investors who were making fresh bids to beware of downside risks.
Conclusion
Palo Alto is a hold due to the minimal catalyst to drive new heights in the short term relative to the growing number of moving parts (fueling increasing uncertainty) that needs to be preset to transition Palo Alto to a stable profitable investment.
Management's low guidance has caused the stock to plummet heavily as investors scramble away, making it a lot cheaper than I expected in the case of a miss/reduced guidance.
I will rerate my model and keep you updated on an attractive entry point in the coming week.
If you like my article and would like to stay up-to-date on the next one, you can click the "Follow" button next to my profile.
Disclosure: I/we have no positions in any stocks mentioned, and no plans to initiate any positions within the next 72 hours.
I wrote this article myself, and it expresses my own opinions. I am not receiving compensation for it. I have no business relationship with any company whose stock is mentioned in this article.