The U.S. stock market is absolutely on fire. A day following the President's address to a joint session of Congress and emphatic series of winks and nods from the U.S. Federal Reserve about an interest rate hike in the coming weeks, stocks were sent exploding to the upside to kick off March. It seems that there is no end in sight to how high stocks can climb in the current market environment. And while it remains worthwhile to continue participating in the stock market party, it's also prudent to consider a splash or two of cold water to keep things in perspective.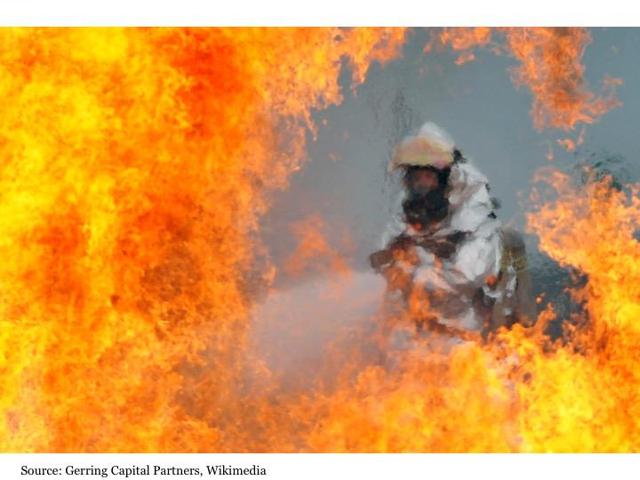 Need More Firewood
The performance of stocks since Election Day has been remarkable. We have had 75 trading days since the votes were counted back on November 8, and the S&P 500 Index (NYSEARCA:SPY) is higher by nearly +13% over this short time period. The Dow Jones Industrial Average (NYSEARCA:DIA) has done even better, gaining over +16%. And not to be outdone, the small-cap Russell 2000 Index (NYSEARCA:IWM) has jumped by nearly +19%. These are remarkable moves by the major market indices over what has been a relatively short period of time.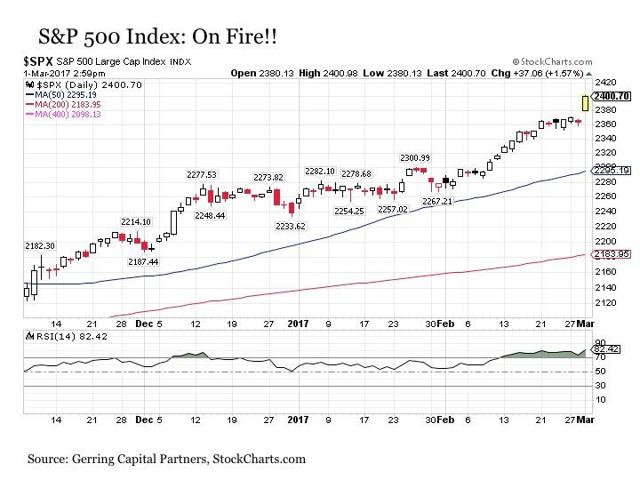 While I have been invested in stocks over this time period and have enjoyed the rally along with the rest of the market, here is what gives me pause.
First, stocks were already starting from the high perch of premium valuations. Consider the following. On November 8, the S&P 500 Index closed at 2,139.56 as America's votes were being cast. At the time, S&P 500 Index as reported earnings for the 2016 Q3 reporting season were coming in at $89.60 per share while the latest projections for 2016 Q4 earnings were at $99.80 per share. Thus, the P/E ratio for the S&P 500 Index at the time was 23.9 times trailing 12-month earnings based on 2016 Q3 results and a projected 21.4 times 12-month earnings incorporating projections for 2016 Q4.
These are expensive valuations for the market on Election Day. Historically, they were already on the very high end.
In the 75 trading days since, the S&P 500 Index has more than +250 points to the upside, reaching as high as 2,400 during Wednesday's trading. This is the good news. The not so good news is that corporate earnings have not kept up with the pace of the advance in what was already a very expensive stock market. In fact, estimates for corporate earnings have notably fallen at the same time that the S&P 500 Index has exploded higher. S&P 500 Index as reported earnings for 2016 Q3 ended up finishing the quarter at $89.09, which is -0.56% lower than the latest estimates on Election Day. And the latest reading on 2016 Q4 earnings through today are now at $95.71, which is down -4.09% from Election Day.
In short, the S&P 500 Index has increased by nearly +13% in price, the numerator in the P/E ratio, at the same time that the underlying earnings, the denominator in the P/E ratio, on the S&P 500 Index have fallen by more than -4%. This has left us with a market that is now trading at 27.0 times trailing 12-month earnings based on the most recently completed quarter in 2016 Q3 and 25.1 times earnings based on the current 2016 Q4 reporting season that has included an annual earnings advance of 7.43% on a quarter-over-quarter basis that is still solid, but notably less than the 11.38% advance projected on Election Day.
Put simply, the entire run-up in stock prices since Election Day has been based exclusively on valuation expansion and has come fading earnings estimates. And while there is nothing that says the stock market can't keep this valuation expansion up indefinitely, it would be much more reassuring if we were seeing more support underneath the market on the earnings front. After all, a fire burning on wood is much more sustainable than one simply filled with paper and tinder.
But the stock market is a forward-looking indicator, right? Indeed, and while forecasted earnings for the 2017 calendar year have already been revised lower by around -5%, earnings gains for the year are still projected to be strong, at least based on current estimates.
This, of course, is where the second splash of water comes into play.
Potential Extinguisher
The U.S. Federal Reserve seems to have finally gotten the market's attention. Coming into Tuesday, the markets according to the CBOE Fed Funds futures were pricing in the odds of a 25 basis point interest rate hike coming out of the Fed's next meeting on March 14-15 a roughly one-in-three. But by the end of the day on Tuesday, this same probability had spiked to two-in-three after the Fed spent the day beating the market over the head with podiums and microphones effectively insisting that a March rate hike was absolutely on the table.
I enthusiastically applaud the Fed for stepping up and looking to make a decisive move in March. The time to get more aggressive was several years ago now, so the sooner they take action to build a buffer to combat the next economic slowdown, the better. And clearly, the unstoppable stock market is more than demonstrating that it can handle just about anything the Fed throws at it, at least for the moment that is.
Whether the Fed actually follows through with a rate hike in March remains to be seen. After all, years have been spent where investors get all ready for a well telegraphed rate hike that never comes to pass. But for the moment, one can be hopeful.
But here is the potential challenge for the stock market today given this new development from the Fed. The stock market has risen sharply since Election Day, supposedly on expectations for pro-growth fiscal policies helping to accelerate economic and corporate earnings growth in the future. The timing of when any such legislation might actually take place remains unknown, however. But it is a reasonable assumption that it will likely come to pass later, perhaps years later, rather than sooner.
At the same time, the Federal Reserve appears to be accelerating its pace of interest rate increases including bringing its next 25 basis point increase forward from June to March. And the thing about interest rate hikes is that they have the effect of slowing economic and corporate earnings growth.
In short, we have a market flying high on expectations for growth that might happen at some point in the future that may end up getting dampened if not extinguished before it ever gets started by forces from the Fed that will much more likely constrain economic and corporate earnings growth in the meantime. And if a market that is already expensive whose recent enthusiasm is built on policies and growth that fails to materialize or come in well below current expectations, this has the potential to become a recipe for real trouble for the U.S. stock market.
The Bottom Line
The stock market fire blazes on. Investors remain well served to stay by the fire and bask in the warmth of stock gains that remain ongoing day after day with no apparent end in sight. But do not become complacent. This is a fire that is burning not on firewood at this point, but instead on tinder. And a historically overvalued stock market that may soon meet the dual forces of an economic and earnings outlook falling short of expectations at the same time that liquidity is being drained from the system is something that runs the risk of leaving a lot of investors badly burned before it's all said and done.
Disclosure: This article is for information purposes only. There are risks involved with investing including loss of principal. Gerring Capital Partners makes no explicit or implicit guarantee with respect to performance or the outcome of any investment or projections made. There is no guarantee that the goals of the strategies discussed by Gerring Capital Partners will be met.
Disclosure: I/we have no positions in any stocks mentioned, and no plans to initiate any positions within the next 72 hours.
I wrote this article myself, and it expresses my own opinions. I am not receiving compensation for it (other than from Seeking Alpha). I have no business relationship with any company whose stock is mentioned in this article.
Additional disclosure: I am long selected individual stocks as part of a broadly diversified asset allocation strategy.