This article series documents my journey as a young father of two towards my eventual retirement. The goal of my portfolio is to generate a growing income stream for my wife and I during our golden years. In an ideal world this will not require selling of assets to fund our desired lifestyle.
For anyone interested in seeing changes in real time, I have my portfolio and dividends tracked on Dividend Derek.
Notes From This Month
You may be wondering about the title of this month's article. I am going to jump right to the "Oh, Was I Blue." I, very unexpectedly, spent a week in the hospital during February.
To take a step back, I'm 31, I am (normally, ha) in very good health. I eat well (I love that chicken, brown rice, and broccoli), I lift weights and exercise quite often.
So imagine my surprise when after a few days of not feeling quite right, I rush myself to the ER with a case of appendicitis. As it would turn out, my appendix was too inflamed and had a perforation. The perforation had sealed itself up but essentially surgery was not the best course of action, the odds of further damage to surrounding organs was fairly high. Instead I spent my time with IV antibiotics, slowly recovering.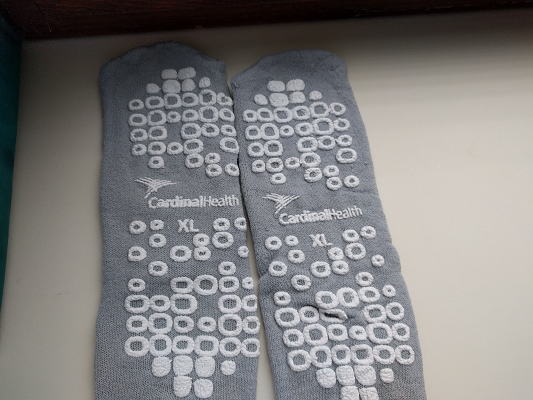 Here are my official Cardinal Health (NYSE:CAH) socks, in fact many of my toiletries were Cardinal branded. (In case you were wondering, they were very comfortable and the grips worked very well.)
My story still isn't complete — I have to still rest for a few weeks before they can pop out the appendix.
Why mention all this? I thought of two important points to cover: taking notice of investment ideas outside of your normal realm, and the importance of a portfolio that truly lets you sleep well at night.
Anecdotally (but I see this referenced often) it's easy to fall in love with the stocks of companies whose products or services you see or use all the time.
Consumer stocks are very familiar to all of us, so it's easy to become attached to them. It may be harder to have that bond for companies that you don't see often or at all. I don't have much affinity for iron ore (BHP Billiton) or for a regional utility in a region in which I don't live (Duke Energy).
Being in a hospital, usually for a better reason like a child being born, gave me a chance to take notice of the healthcare companies I either follow or own. In this case I noticed many of my items were Cardinal Health.
Secondly and more importantly, I saw first hand the importance of a portfolio designed to let you sleep well at night. Turns out, I was pretty sick. Yes, in a tight pinch, I could have made some trades. But being not of the clearest mind or being in a worse condition would have made any management impossible.
That's why my portfolio is full of investments, not trades. There are no commodity trades, futures, options, forex, any of that. Just solid companies that (mostly) pay me growing dividends.
2017 Goals
I want my holdings to have a weighted 1-year dividend growth rate of at least 5%.
By the end of 2017, I want to have a projected dividend income of at least $5,800.
I aim to suffer no dividend cuts.
Right now I have a growth rate of 11.80%. This month saw great double digit increases by Home Depot (NYSE:HD), Corning (NYSE:GLW), Gilead (NASDAQ:GILD) and Cisco (NASDAQ:CSCO).
For my second goal, I'm sitting at a projected income of $5,247, so I am on my way.
To recap, here's how I came to $5,800:
| | |
| --- | --- |
| Starting Income | $5,000 |
| 5% Organic Dividend Growth | $250 |
| Maxing 401(k) New Money | $540 |
| End of 2017 Income | $5,790 |
I started by rounding my starting income to $5,000 ($4,993 is close enough for me). From there I added 5% average organic dividend growth.
Next is the money coming from maxing my 401(k) contributions. The cap was not changed for 2017, so I can contribute a maximum of $18,000. For the sake of this exercise, I won't consider employer matches. I am also assuming the money buys an average of a current 3% yield.
That brings us to the $5,790 figure, which I then am rounding up to $5,800.
Portfolio Strategy
Buying Criteria
These are the general guidelines I will review to see if something is worthy of adding to my portfolio or whether I will add to an existing position.
Being a member of the CCC list; obviously a longer streak is preferred.
No one individual holding should be weighted >7% of the portfolio's total cost or weighted >7% of the portfolio's total dividend income.
Investment grade holdings >BBB+ should generate 95% of the portfolio's dividend income.
I want to see steady earnings growth over time - this will generally remove commodity-based companies
I like cash cows, good profit margins (> 10%) are appreciated though not required if the company has a wide moat due to its business
I like to see shareholder friendly management, a healthy and rising dividend and willingness to buy back shares, though in practice the buybacks aren't always done at opportune times
Though a small part of my portfolio, I do have some non dividend paying stocks like Facebook (NASDAQ:FB), Google (GOOG, GOOGL) and Amazon (NASDAQ:AMZN).
Perhaps most importantly, the valuation needs to be right per Fast Graphs. The stock should be trading at fair value or better for an appropriate timeline (12+ years if possible).
I will also use Simply Safe Dividends and the information provided by Brian on his site. Amongst a plethora of information available, he has a dividend scorecard where companies are ranked in terms of dividend safety, growth and yield. I aim to pick companies that are in the 80+ safety range, though not always.
A lot of times I will start to find candidates either through seeing articles here or on a simple screener from Finviz. Basically, start with large dividend paying companies, sort them by how close they are to a 52-week low and then start diving into some of the names left.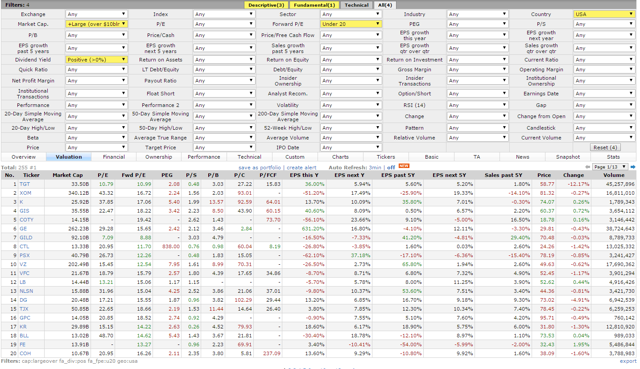 Some of the names that seem worth further research are Target (NYSE:TGT), Exxon Mobil (NYSE:XOM), Kellogg (NYSE:K), General Mills (NYSE:GIS), General Electric (NYSE:GE), Gilead, Verizon (NYSE:VZ), and V.F. Corp (NYSE:VFC).
Selling Criteria
There are only a few reasons I'll sell a stock, though any of these events is not a guarantee I'll do so.
Dividend cut
Company degradation, this could be things like deteriorating balance sheets, loss of competitive advantage, loss of credit ratings
Wild overvaluation - this becomes a bigger factor if there is something at a fair valuation that I wish to purchase with proceeds
Position size wildly outgrows the rest of the portfolio.
Portfolio Changes
New Positions (My Something New)
Verizon (VZ)
With 45 minutes remaining in the trading month, I started a position in Verizon.
I recently wrote an analyis covering both Verizon and Target. While the wheels on the Target bus just fell off during earnings (perhaps I should have waited for the full year picture before writing), I was a little more impressed with Verizon (so were the commentors).
I added 80 shares which will bring me $184 in dividends (not including reinvestment and a prospective raise).
I'm including a FAST Graph here of adjusted earnings even though I will later take a look at the GAAP side of things.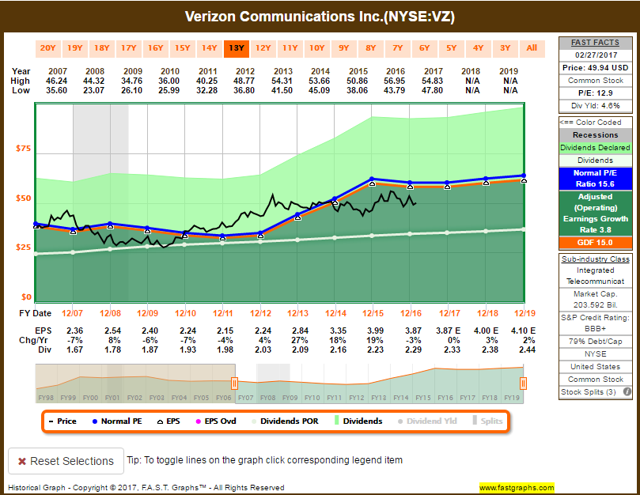 As I had noted, the company was near its 52 week low and trading at a reasonable valuation. The telecom sector has enormous barriers to entry so I like the "moaty" aspect of it. I don't expect it to generate enormous total returns but it will deliver nice income. In general as a data delivery company, I expect to play this trend as they control the pipes to deliver the data whether at home, business or mobile.
One area I noted some discrepancy, especially in light of reading the most recent Berkshire letter, is the difference between "adjusted" or "as-reported" earnings versus GAAP earnings. Warren Buffett is much harder on CEOs that try to adjust away anything bad, I at least want to see what is being adjusted away.
I found a few nuggets regarding the charges they took during the year inside of the Q4 transcript.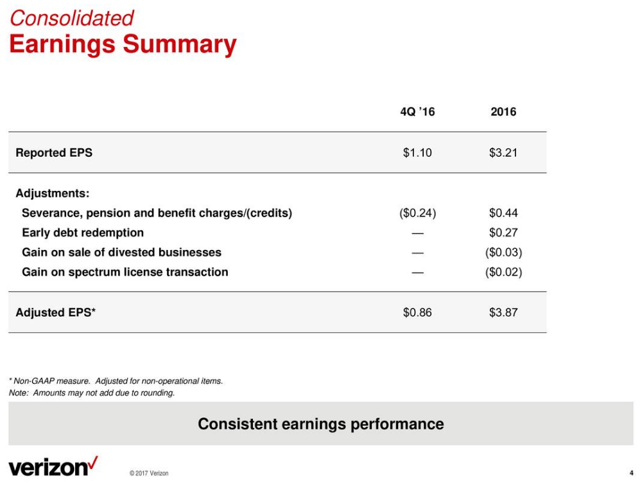 The company is trying to adjust away severance and early debt charges.
Regarding the debt:
During the fourth quarter, we generated cash proceeds of about $2.4 billion from on balance sheet securitization for a total of $5.0 billion during the second half of the year. Our balance sheet is strong and provides us with financial flexibility to grow the business. We ended the year with $108.1 billion of gross debt, which comprised of $103.1 billion of unsecured debt and $5 billion of on balance sheet securitization.

Our year-end unsecured debt balance was lower by $6.6 billion than the prior year. We remain on track to return to our pre-Vodafone credit rating profile by the 2018 to 2019 timeframe.
In layman's, they are trying to pay down debt early in order to boost their credit rating. These charges almost certainly will continue for the next few years so I find this one a little hard to adjust away.
Secondly, regarding the severance charges:
Selling, general and administrative expense increased during 2016 primarily due to severance, pension and benefit charges recorded in 2016 as compared to severance, pension and benefit credits recorded in 2015 (see "Other Items"), an increase in costs as a result of the acquisition of AOL on June 23, 2015...
Again, this looks like the beginning of some write downs on the AOL merger. I fully expect we will see these charges in the next few years as the Yahoo merger is completed (and bearishly I will say subsequently written down).
That aside, I'm comfortable buying Verizon at 15x earnings, the long term historical market multiple. So if you see a 12x multiple I wouldn't get too excited just yet. These charges appear they may be showing up again and I find it a little hard to justify something that will not be a one-time charge. If they end up truly being one time, then consider that a boost if the multiple drops.
The last thing I'll keep an eye on is free cash flow. It dipped this past year which put the dividends paid out above free cash flow but this "hopefully" is not any kind of trend.

Here's a FUN Graph mapping the relation between free cash flow per share and dividends paid per share on a yearly basis. Overall, dividends have been healthily covered by free cash flow with the exception of 2008 and now 2016.

Here is a snapshot for Verizon from Simply Safe Dividends. High safety, high current yield, low growth. Perfectly fine for me.
Existing Positions
None
Sells (My Something Old)
Wal-Mart (WMT)
I decided to sell my Wal-Mart shares on February 21st when the company announced earnings. The company reported a slight beat with $1.30 EPS for the 4th quarter of 2016.
For the year, they reported $4.33 EPS which was down from $4.63 reported at the end of 2015 for about a 6% earnings decline. The company also announced another anemic 2% dividend increase, I believe the 4th in a row.
I have not been thrilled with the business performance of the company. General retail also has the 800-lb gorilla known as Amazon (AMZN) in the room as well. I believe that over 16x earnings the company is overpriced. Its stable (for the moment) yes, but I am looking for better earnings growth going forward.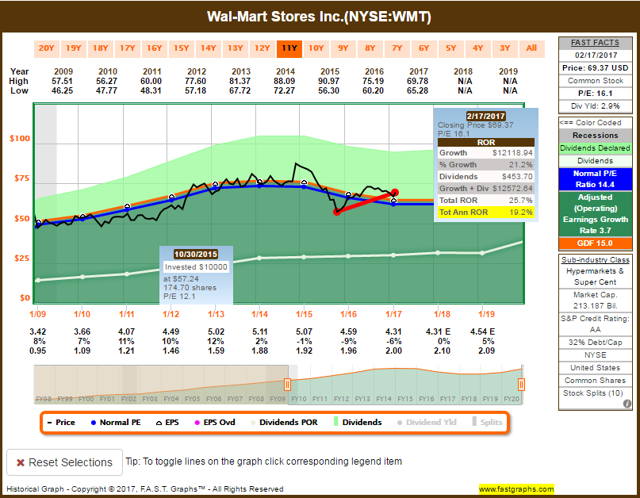 I first picked up shares when the market panicked after the company announced it had a multi year plan for increased capex to grow its e-commerce business. At the time shares were trading around 12x earnings.
Ultimately, as it often happens in the market, there has been a disconnect between business performance and expectation performance. The multiple expansion granted by the expectations market, in my opinion, overshot the expected business performance.
For what has essentially been a bond surrogate, I'd rather taken a higher current yield with similar dividend growth rates.
With the proceeds I can either add to an existing holding, be it an individual stock or an ETF, or start a position in another undervalued company.
Dividend Increases
Cisco boosted its quarterly dividend 11.5% to $0.29.
Prudential quarterly dividend is boosted to 7.1% to $0.75 per share
Gilead Sciences declares $0.52/share quarterly dividend, 10.6% increase from prior dividend of $0.47.
Corning declares quarterly dividend of $0.155 per share (14.8% increase)
T. Rowe Price (NYSE:TRP) declares $0.57/share quarterly dividend, 5.6% increase from prior dividend of $0.54.
Wal-Mart declares $0.51/share quarterly dividend, 2% increase from prior.
Home Depot declares 29% increase to $0.89/quarter
Corning declares $0.155/share quarterly dividend, 14.8% increase from prior.
Dividend Cuts
None!
New Rules
None
Notes
I now have a 4.3% yield on cost on Cisco. I haven't had the stock yet for a full year but with a simple equation of:
High Initial Yield * High Growth Rate = High Yield On Cost.
Stocks I'm Watching
Last month I introduced Custom Stock Alerts (seriously, check it out) and I've been using it extensively to keep track of both buy and sell side indicators for stocks I own.
Here is a sample of some stocks I want and the price I'd really be interested at. Obviously my targets may be very far away from current levels, but that's the reality in this market environment.
Those are just my price alerts, I have several setup for companies near their 52 week lows also.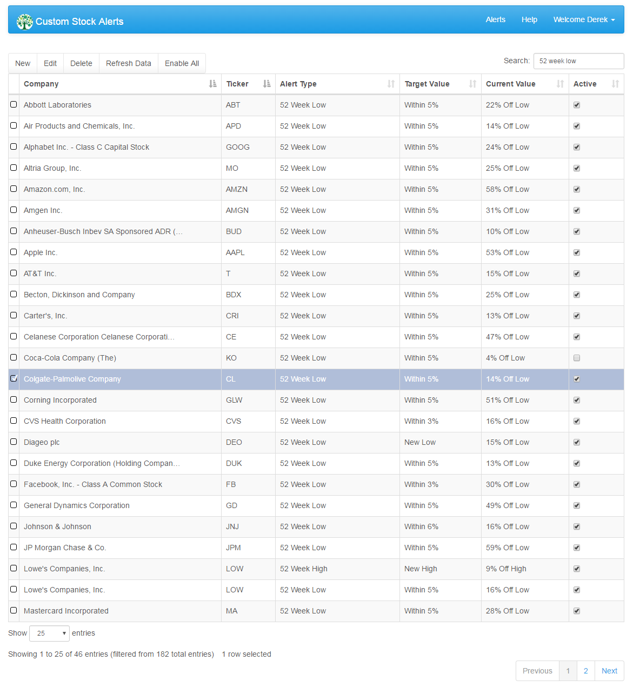 None of this is a guarantee I'll make a move, but I like to stay on top of everything without constantly watching the market. I'll get a text if something hits.
Please come check it out and let me know what you think. I have some DGI-centric features I'd like to develop in the future.
Charts and Graphs
2017 Dividends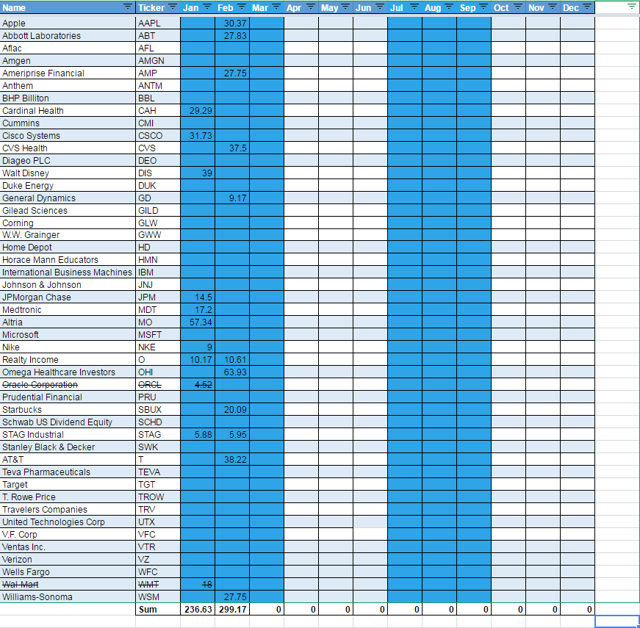 I decided this month also step up some of my portfolio tracking. Available now, are both my dividends received and portfolio itself in real time. I've already made a change (writing this section March 1st) in March. I migrated my Excel based sheet over to Google Sheets, part of this ability to have things dynamically available and some other functionality I saw with the Google Finance API.
To highlight, in February I received $299 in dividends! I added $103 from my November total which was the last comparable month (second month in a quarter). I received first time dividends from Abbott (NYSE:ABT) and Williams-Sonoma (NYSE:WSM). I also received additional dividends from CVS Health (NYSE:CVS) (I had added to my stake during this time frame).
I'm trying to take the advice I heard about making only one purchase for a given company in a given year. I did that in February with my only purchase being about $4,000 in value. I have a number of stocks that I started with either a 1/2 or 1/4 position only to see the stock take off and me wishing I had made a conviction buy if the time was right.
Growth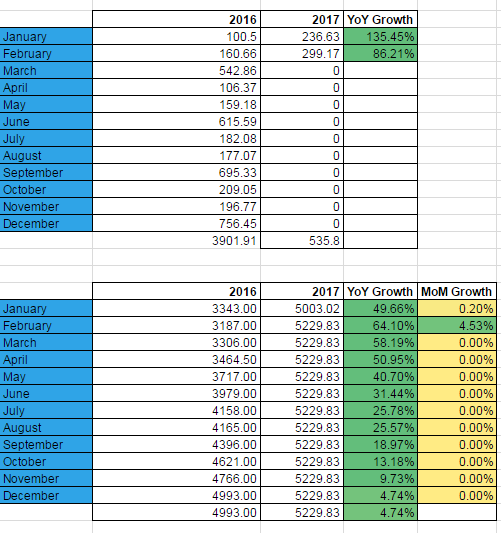 This time last year I had $160 in dividends which I very nearly cracked $300 just a year later. That's good enough for 86% growth year over year.
The lower chart is my forward looking dividend income based on my best estimate of what I may receive this year. Monthly it grew 4.5% through a combination of adding a more income from Verizon than Walmart was giving me. I'm on my way to my $5,800 goal.
From that forward looking perspective this time last year I was expecting $3,306 of dividends so my current value is good for 64% year over year growth.
The Portfolio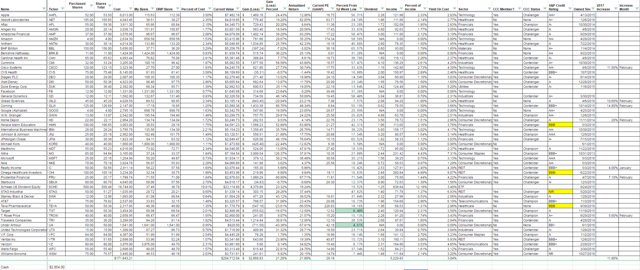 You will need to expand the image to see all the data contained, apologies in advance for the wide tabular data. This is my overall portfolio, this now represents all my positions that I have. Until this point this did not show my non-dividend paying companies as I had nothing interesting to show with no current value.
Through use of the Google Finance function and importing some data from Yahoo finance I have some additional columns with dynamic data.
Here are the column definitions for the ones that may not be evident:
Purchased Shares: The shares I actually bought
Shares Total: Total shares after dividend reinvestment / splits
Cost: My transaction cost including fees
My Basis: "Cost" / Purchased Shares
DRIP Basis: "Cost" / Shares Total
Percent of Cost: "Cost" / sum(All Costs)
Current Value: This will use the GOOGLEFINANCE function to get the price for the ticket * "Shares Total"
Gain (Loss): "Current Value" - "Cost"
Gain (Loss) Percent: "Gain (Loss)" represented as a percent
Annualized Return: ("Gain (Loss) Percent" * 365.25) / (NOW - "Owned Since"). It won't be perfect because each tax lot will have a different return but it's close enough.
Current PE (GAAP): This is another GOOGLEFINANCE call to pull the PE, I haven't decided if I'll keep this but it's interesting
Percent From 52 Week Low: Using all GOOGLEFINANCE calls, this substracts the 52 week low from the current price to determine the percent away, this can make a stock more interesting to me if it's been hated by the market.
Dividend: The annualized dividend, this is sourced dynamically from Yahoo Finance. This code will be specific for Google Sheets but if anyone wants it, use this: =IMPORTDATA(CONCATENATE("finance.yahoo.com/d/quotes.csv?s=";,INSERT_TICKER_HERE,"&f=d"))
Income: Dividend * Shares Total
Percent of Income: Income / Sum(All Income)
Yield On Cost: Income / Cost
CCC Member: Is it part of the Dividend Champion, Challenger, Contender list?
I would like to get the dividend increase percent mapped in here and some other values could be useful also. I want the dividend growth figure to be automatically mapped so I don't have to keep track of it.
I may create an API to allow this data to be pulled and host it on Custom Stock Alerts. There's the potential I could pull and store David Fish's CCC list and provide API access to it for anyone that uses Excel or Sheets to manage their portfolio. This could then automatically populate the CCC status, 2017 Increase and Increase Month.
Current Total Balance: $204,510 (up from $196,221)
Current Cash: $2,854 (down from $4,240)
My yield on cost technically dropped this month as it's now including the cost basis for my non dividend payers in the denominator.
The yellow indicators on the credit rating just keep me informed of the holdings I have that are below my desired threshold. Horace Mann Educators (NYSE:HMN), the aforementioned Omega Healthcare Investors (NYSE:OHI), STAG Industrial (NYSE:STAG) and Teva Pharmaceuticals (NYSE:TEVA) are all below. This is another field I would like to have automatically populated for when ratings change.
Visualizations
Simplywall.st provides my infographics which are very pretty and something I have been looking for. I have my transactions loaded into their system, the only thing missing is having it calculate dividend reinvestment but it gives a really close representation of my actual portfolio.
You can check out my portfolio here.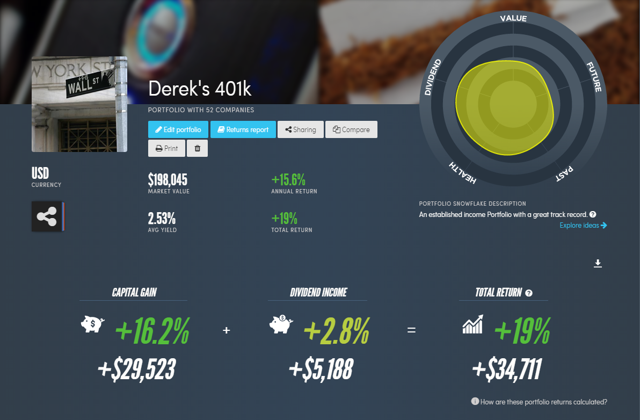 The numbers they show in terms of gains, dividend income and total return are pretty close to what I'm tracking. Like I said, if dividend reinvestment was in there then we would be golden.
Performance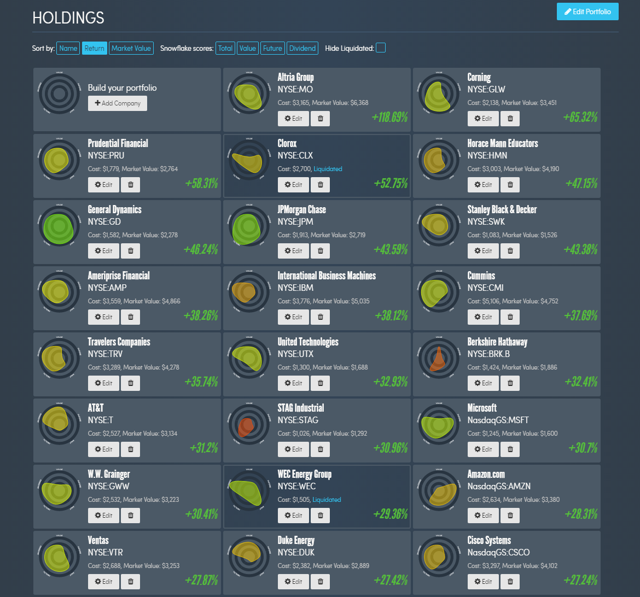 Here are my top performers, it's nice seeing some great holdings doing so well.
Altria continues to absolutely kill it but with a 7.3% yield on cost they'll have to pry my shares from my cold, dead hands.
So again, not only do I have fantastic capital returns but my yield is incredible as well. Feels good to be a dividend growth investor.
Most of those holdings in that picture I've only owned for 12-18 months and they are handily beating the market.
Diversification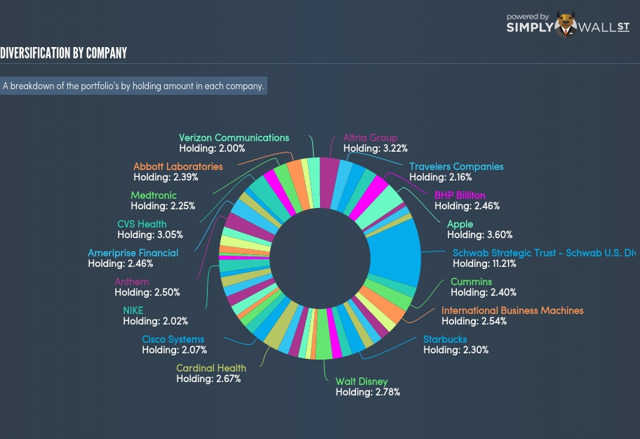 For anyone who has followed my articles, it should be no surprise that diversification is an important tenet for me to follow. That is readily visible in this graphic via the many different small colored slices that make up the whole pie. The biggest slice is SCHD, my dividend ETF which itself is diversified.
Income by Sector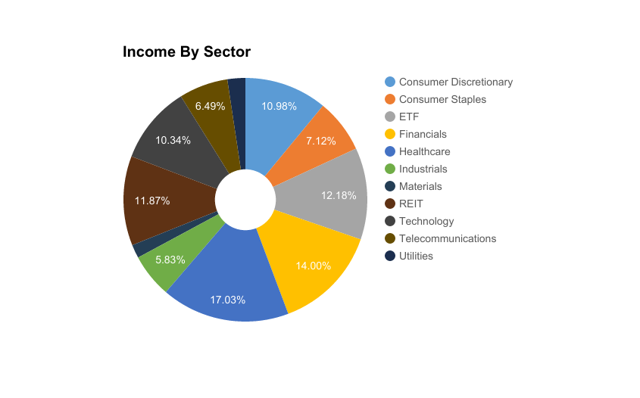 Last month I made the following comment
I could stand to use a little more in the way of telecom and utilities this year. Maybe given that, Verizon may be worth a closer look here.
Funny how that turns out, took the whole month and an article covering the company but I got my position.
At this point I'd be interested if more utilities had a steep decline but I'm not sure when that'll happen. Industrials are also hot right now, oh what am I saying, everything is hot right now.
Champion, Contender, Challenger View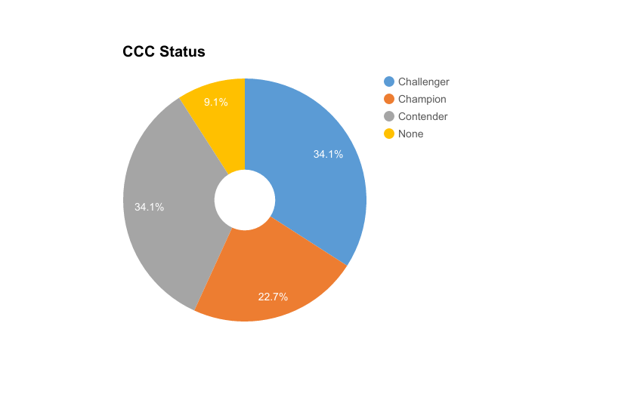 Now that I have my entire portfolio listed above I need to point out that this view of data does not include any non dividend payers. The "None" category here is specifically to classify dividend paying companies that have either not hit (or have lost) the classification.
Other Notes
With all of my hospital time this month I was able to start and finish The Devil's Financial Dictionary by Jason Zweig and The Little Book of Common Sense Investing: The Only Way to Guarantee Your Fair Share of Stock Market Returns by John Bogle. Both of these will be very high level summaries of the books.
The Devil's Financial Dictionary covers, in dictionary fashion, terms you will hear all throughout Wall St. but with highly cynical definitions (perhaps just extremely truthful). The book is also factual with the origins of many words we use today, like bulls, bears, shorts, longs, etc. One example, apropos here:
Buy-And-Hold, v. and adj. - To hang on for the long term in an asset like stocks - thus infuriating most market "experts", who advise frequent trading in and out in response to actual or imagine risks and opportunities. At its best, buy-and-hold investing is stupefylingly boring. At its worst, during bear markets, it feels like a failure. Therefore, critics are constantly declaring that "buy-and-hold is dead." They never offer persuasive evidence, however, that any alternative has worked better over the long term. If buy-and-hold is dead, what is alive?
John Bogle's book goes into incredible detail explaining why (most everyone) should be invested into a low cost S&P 500 index fund. Diversification, low turnover, passive tracking, tax efficiency are all major reasons to follow this investment advice.
He also explains, at length why money managers are doomed to trail the market while taking your hard earned money with them.
His sentiments have been echoed many times by Warren Buffett as the surefire way to make sure you get your fair share of the returns provided by our companies, including in his most recent shareholder letter.
The one actionable item for me to review is my use of SCHD in a taxable account. The problem, from a taxable account perspective is that the increased dividends (compared to a standard S&P fund) will enjoy higher taxes. Additionally, the underlying index has a portfolio turnover rate of 22% which may trigger capital gains taxes that could have otherwise been mostly avoided by following a passive index. I may spin off this conversation into its own article as there are more details to cover.
I enjoyed the reads, check them out if you haven't. No, I'm not being paid or anything to write that.
The Portfolio
The portfolio now contains the following companies: Abbott Laboratories (ABT), AFLAC (NYSE:AFL), Altria (NYSE:MO), Amazon (AMZN), Ameriprise Financial (NYSE:AMP), Apple (AAPL), Amgen (NASDAQ:AMGN), Anthem (NYSE:ANTM), AT&T (NYSE:T), Berkshire Hathaway (NYSE:BRK.B), BHP Billiton (NYSE:BBL), Cardinal Health (NYSE:CAH), Cisco Systems (NASDAQ:CSCO), Corning (NYSE:GLW), Cummins (NYSE:CMI), CVS Health (CVS), Diageo (NYSE:DEO), Disney (NYSE:DIS), Duke Energy (NYSE:DUK), General Dynamics (NYSE:GD), Gilead Sciences (GILD), Facebook (FB), Google (NASDAQ:GOOG), Home Depot (NYSE:HD), Horace Mann Educators , International Business Machines (NYSE:IBM), Johnson & Johnson (NYSE:JNJ), JPMorgan Chase (NYSE:JPM), Medtronic (NYSE:MDT), Michael Kors (NYSE:KORS), Microsoft (NASDAQ:MSFT), Nike (NYSE:NKE), Oracle Corporation (NASDAQ:ORCL), Omega Healthcare Investors (OHI) , Prudential (NYSE:PRU), Realty Income (NYSE:O), Schwab U.S. Dividend Equity ETF (NYSEARCA:SCHD), STAG Industrial (STAG) , Stanley Black & Decker (NYSE:SWK), Starbucks (NASDAQ:SBUX), T. Rowe Price (NASDAQ:TROW), Target (NYSE:TGT), Teva Pharmaceutical (TEVA), Travelers Companies (NYSE:TRV), Under Armour (NYSE:UA), United Technologies Corporation (NYSE:UTX), Ventas Inc. (NYSE:VTR), W.W. Grainger (NYSE:GWW), Verizon (VZ), V.F. Corp. (VFC), Wal-Mart (NYSE:WMT), Wells Fargo (NYSE:WFC) and Williams-Sonoma (WSM).
Conclusion and To Do
February was another solid month, strong dividend income and strong dividend growth were seen. I also really lived the importance of a sleep well at night portfolio. Since I referenced the Warren Buffett shareholder letter, here was a paragraph that I absolutely loved, emphasis mine:
Some years, the gains in underlying earning power we achieve will be minor; very occasionally, the cash register will ring loud. Charlie and I have no magic plan to add earnings except to dream big and to be prepared mentally and financially to act fast when opportunities present themselves. Every decade or so, dark clouds will fill the economic skies, and they will briefly rain gold. When downpours of that sort occur, it's imperative that we rush outdoors carrying washtubs, not teaspoons. And that we will do.
As the market rallies higher and higher, I suspect that cash will begin to accumulate (presuming nothing compelling comes along). I can only hope that when the sky fills with dark clouds I will be able to channel the same intestinal fortitude and be willing and able to take advantage.
With that in mind, I am still reviewing some of my holdings, particularly those that are of insignificant size or those that do not add any diversification benefit.
Let me know your thoughts on my portfolio and write up and also check out Custom Stock Alerts.
Disclosure: I am/we are long ALL STOCKS MENTIONED.
I wrote this article myself, and it expresses my own opinions. I am not receiving compensation for it (other than from Seeking Alpha). I have no business relationship with any company whose stock is mentioned in this article.