This article turns its attention to how you might take a position in quantum computing, as once this growing area really gets off the ground, it is likely to shake things up substantially. Whilst there are no publicly listed pure plays at present, there are ways to increase your exposure. This includes BDC investments and a targeted buy. In this article, the former is considered in the shape of the long-beleaguered Harris & Harris (TINY) and the Canadian listed Pender Growth Fund (OTC:PNDDF) [PTF:CN] whilst a consideration of the latter approach takes in two well-known stocks: Microsoft (NASDAQ:MSFT) and Intel (NASDAQ:INTC).
Vern Brownell, CEO of D-Wave, on his company's quantum computing opportunity.

Source: The Guardian
According to MarketWatch, the quantum computing market is projected to top $5bn by 2020, not quite the big leagues yet. That said, from fintech, to big data, to hardware design, cybersecurity, general analysis services, information and systems modelling, biotechnology, and a host of other sectors, once quantum computing gains sufficient traction, we seem to be looking at, alongside AI, the face of the next wave of disruption. In investment terms, there are host of quantum computing companies with significant VC support, but few are backed by public companies. Three buck this trend: D-Wave, backed by, amongst others, Harris & Harris, Canada-based Pender Growth Fund, and Goldman Sachs (NYSE:GS), Post-Quantum, supported in part by London's Barclays (NYSE:BCS), and 1QBit, which have received support from CME Group (NASDAQ:CME) and the Royal Bank of Scotland (NYSE:RBS). In terms of already listed IT giants making moves in the quantum world, Intel is not alone, IBM (NYSE:IBM), Microsoft, and Google (NASDAQ:GOOG) (NASDAQ:GOOGL), for instance, are also increasing their quantum investments.
All the publicly listed companies listed in this article with exposure to quantum computing.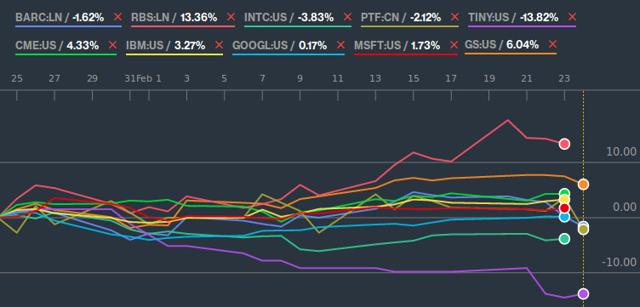 Source: Bloomberg
The Companies
Intel
Intel's Five-Year Share Price Performance

Source: Bloomberg
Intel's significant investment and its individual and adaptive approach to producing quantum hardware make it an interesting way to increase your exposure to the quantum computing sector. The Santa Clara-based company needs little introduction to investors, but suffice to say the company with a $171bn market capitalisation, which has seen its share price grow by 25% over the past year, and offers dividends of 2.87% is the world's largest semiconductor chip manufacturer based on revenue. Its fundamentals are positive, with revenues up year on year, and analysts including those of Credit Suisse, Jefferies Group, and Needham suggest that Intel's share price ought to rise by around 20% over the year. Contrastingly, others, such as Morgan Stanley (NYSE:MS), offer a more conservative estimate of 5%. A consensus price target, taken from MarketBeat's compiled list of analysts' predictions, is $40.35, or a 10.52% increase.
Intel Financials (Revenue + Net Income)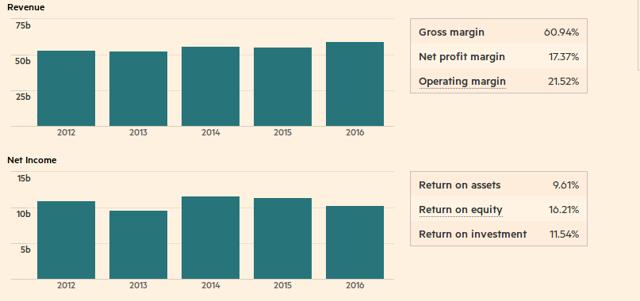 Source: FT
In terms of quantum computing, Intel has made multiple investments into the area of late, including a partnership formed two years ago with Delft University, from which QuTech has sprung, and positive progress has been made with regard to silicon-based qubits. The company has been more than honest in expressing that it believes it needs to change to move past the Moore's Law era, whereby processing speed would incrementally grow, and its quantum investments are one such change. According to Brian Krzanich, CEO, Intel is "investing heavily" in quantum and neuromorphic (mimicry of biological processes) computing. Furthermore, the company has an approach that does not necessarily require the reinvention of the wheel, as Intel's partnership with Delft and its own research aim to re-purpose many of the existing fundamentals of silicon-based systems in order to house and support potentially significantly faster quantum systems.
If you are interested in backing a company with the resources and the ambition to make a go of quantum computing, and one which is also successfully pursuing expansion in several likely key sectors in the future, from data centres, to cloud computing, and the Internet of Things, then Intel might be worth considering. The drawback insofar as quantum computing is concerned as it is with the below considered Microsoft and others like IBM and Google is that their exposure to quantum computing, as a percentage of their overall turnover, is essentially minimal. This means for quantum computing to have a meaningful impact on their bottom line, they'll need to produce a "gamechanger." The positive side of this argument, which holds for many of the technology giants involved, is that even if they don't, you still have your hands on a solid stock.
Microsoft
Microsoft - Five-Year Share Price

Source: Bloomberg
Microsoft needs even less introduction than Intel; from its 1975 inception to the present day, the Washington-based company has for the most part grown from strength to strength. Its market capitalisation is a cool $496bn. It offers dividends of 2.43%. Its one-year share price performance is up a solid 29%, and the company is up 3% in the year to date. From lows near the end of 2013 around the $26.5 per share range, MSFT is now valued at just under $64 a share, meaning in the past four years, the share price has climbed just over 240%; a fine performance by any measure. As with the aforementioned Intel et al., Microsoft is perhaps as far from a quantum pure-play as you can get, given how its other business interests dwarf its quantum investment; however, the company does have some interesting investments in the sector.
Peter Lee, the corporate vice president of Microsoft Research, at the Structure Data Conference in San Francisco, 2016:

For the past decade, Microsoft has funded research and development in its Station-Q partnership with the University of Santa Barbara. In addition to this, the company is also involved in partnerships with Purdue University, and it supports the QuArC project in Redmond, and QDev in Copenhagen, amongst others. Excitingly it is also blending advances in deep learning and the development of AI with work in the field of quantum computing with the hope of accelerating development. Its work in helping to develop a standardized approach (QCoDeS) to quantum data acquisition also brings to mind, for those over a certain age, Microsoft's involvement in the personal computer revolution. Indeed, Todd Holmdahl, corporate vice president of the company's quantum programme, believes, quite promisingly, that Microsoft is "at an inflection point […] [and] [r]eady to go from research to engineering." It also stands the company's research in good stead that its focus is both on developing hardware and software whilst its broad technological reach and expertise ought to be of significant benefit.
Microsoft Financials (Revenue + Income)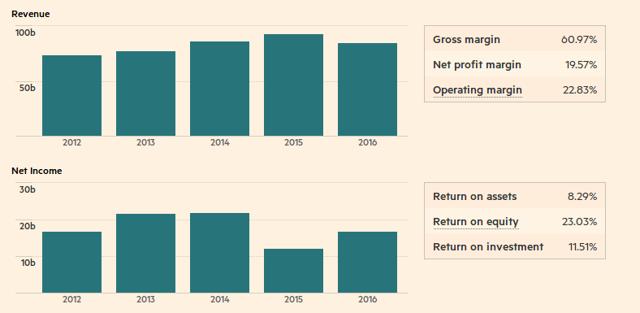 Source: FT
In terms of its broad performance, MSFT is a solid stock, and its aforementioned performance over the past several years is not, so to speak, to be sniffed at. Revenues are down; it is true (-8.83%), however, net income rose in 2016 by a very positive 37.77%. Cash flows are up, as are cash reserves, which rose by 16.35% to $113.17bn. The company's total assets rose last year, yet so did its debt, pushing the total debt to capital ratio over the 55% mark, and both dividends and earnings per share also rose by 14.88% and 41.91%, respectively. The consensus target price for 2017 for MSFT according to MarketBeat data is $67.35 (up 4.85%), with the higher end of predictions including Piper Jaffray's $80 (+25%) and Morgan Stanley's $72 (+12.5%). Forecasts from the analysts polled by the FT broadly match MarketBeat's data, with the outlier being that some predict rises of up to 40% to $90 a share. If you're interested in making an investment in a company with an interest in quantum computing, which also has a wide exposure to the technology sector at large, Microsoft could certainly be worth adding to your portfolio.
The BDCs
In companies like Harris & Harris and Canadian-listed Pender Growth Fund, you have an opportunity to take a stake in a company with VC exposure to the quantum sector, and as discussed in a previous article, Technology BDCs: A Pair To Hold?, there are positives and negatives to such an investment, and risks can be quite high. If you look at the performance of these two stocks over the past five years, one thing becomes apparent before considering each individually: their wildly differing performances.
In the past five years, Canadian-listed Pender's share price has risen from being a real terms penny stock, CAD .06 per share in 2012 to CAD 3.38. This is rather a large climb in percentage terms. TINY, over the course of five years, has followed the opposite trajectory, falling from just under $4.50 to $1.27. What makes these two companies investments that could increase your exposure to the quantum computing market is their investment in D-Wave, a company long mooted to be considering an IPO, but with it always seemingly around the next corner. D-Wave has interested investors for some time, with the British Columbia-based company selling high-cost quantum computers to a host of clients, including Google, Lockheed Martin (NYSE:LMT), and NASA. Its supporters include Harris & Harris, Pender, Goldman Sachs, In-Q-Tel, Bezos Expeditions, and BDC Capital. A further positive sign for the 18-year old quantum computing company at the forefront of commercializing the technology is its consistent stream of patent applications, 16, for instance, in 2016. This seems to imply that something must be going right in R&D.
TINY - Five Years

Source: Bloomberg
PTF:CN - Five Years

Source: Bloomberg
Harris & Harris
Now, whilst D-Wave is an interesting company, and a quick search will reveal several reasons that you might want to get excited, not least its first-mover advantage in hardware sales, Harris & Harris' stock is a different story. The $38.492m market capitalised stock has a performance beyond disappointing. Its yearly return is yet again in the negative, and -32% over the last 12 months, and -7.97% in the year to date, and it hardly makes one scream recovery from the rooftops. Some might suggest that TINY may be in line for a turnaround; however, for the most part, analysis suggests that the company is not in line for any significant near-term resurrection. That said, if you want a stake in D-Wave, TINY might be an investment for you to consider (16% of Harris & Harris' NAV is in D-Wave), as long as you have your eyes open to potentially heavy losses, and the need for a long-term hold until the D-Wave IPO is announced, and you quickly cash in. Harris & Harris is a significant risk, given its history, and a hefty dose of realism ought to be considered before taking the plunge.
Pender Growth Fund
In stark contrast, as noted, with Harris and Harris, is the Pender Growth Fund, which has seen steady rises in its valuation over the years, and a more recent spectacular climb. In the past 12 months, the fund's value has risen by 385%, according to Bloomberg, and the year-to-date figure is also positive at 11.18%. The fund has a market capitalisation of $14m CAD, and has approximately $1.2m worth of shares in D-Wave, if valued at cost, or $2.5m as per analysis from nanalyze.com. The latter assessment values Pender's D-Wave holdings at 15.7% of the fund's total NAV. This offers fairly significant exposure to the quantum computing sector if still far from a pure play.
Obviously, prior to considering any investment, the fund's other holdings ought to be considered, with these including networking company Tantalus, cloud-media company Espial (OTC:ESPAF), and software company one45. Pender has performed strongly in recent years, and whilst an investment might prove volatile, if you're considering adding exposure to D-Wave to your portfolio, at the present moment, Pender certainly seems a safer bet than Harris & Harris. That said, with Harris & Harris' value lower, but with a similar level of exposure to D-Wave, a pre-IPO holding in the latter might prove to be more rewarding than one in Pender. As with every investment, risks and rewards must be measured, and the decision tailored by your investment strategy.
(Oisin Breen, Research Analyst)
Disclosure: I/we have no positions in any stocks mentioned, and no plans to initiate any positions within the next 72 hours.
I wrote this article myself, and it expresses my own opinions. I am not receiving compensation for it (other than from Seeking Alpha). I have no business relationship with any company whose stock is mentioned in this article.
Additional disclosure: CFDs, spread-betting and FX can result in losses exceeding your initial deposit. They are not suitable for everyone, so please ensure you understand the risks. Seek independent financial advice if necessary. Nothing in this article should be considered a personal recommendation. It does not account for your personal circumstances or appetite for risk.
Editor's Note: This article covers one or more microcap stocks. Please be aware of the risks associated with these stocks.