Marcato Capital, run by former Bill Ackman protege Mick McGuire, is taking on Deckers Outdoor (NASDAQ:DECK) with a 6% stake, the maker of such brands as UGG, Teva and Sanuk. The warm weather has put a damper on sales for the last few winters. Shares are now down nearly 50% from the 2014 high and trading at roughly 14x next year's earnings. A hefty discount to the likes of Nike (NYSE:NKE) - at 22x. Still, Marcato will likely look to make this a quick campaign at the $1.7 billion market cap company.
The big thesis will be a quick shakeup of management and the board. Marcato has until June to nominate members, and the board isn't classified, meaning all members are up for reelection.
However, we might not even make it that far, assuming Marcato is already working on forcing DECK into a sale. The sooner the better, as fiscal 2017 sales are expected to fall 5%. DECK's direct-to-consumer, e-commerce and retail expansion strategies are faltering. The upside is that margins are on the rise with lower input (sheepskin) prices and improved supply chain.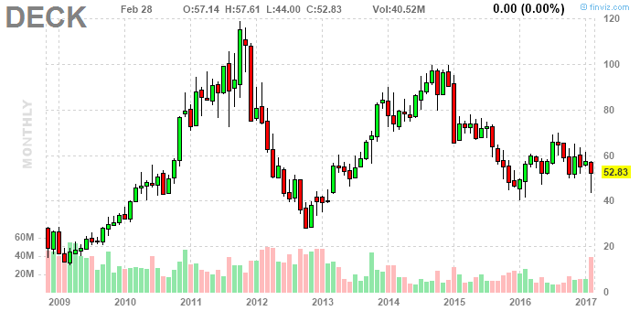 DECK has been blaming unseasonably warm weather but this is possibly the new normal. As well, its retail strategy isn't going well as store traffic is lackluster. Its investments in rolling out retail stores look to have been another mistake. The millions of dollars invested have been counter-intuitive to what most retailers are doing (i.e. lowering footprints).
Certainly, look for Marcato to push the company to scale back the retail expansion. This could include some diversification of revenues, where UGG makes up over 80% of total sales. Marcato will also likely push for a sale of underperforming brands like Sanuk and make Deckers a pure-play on UGGs (for better or worse). The idea would be to raise some capital for buybacks. But there again, selling off its other brands might be best served in private markets.
Marcato won't be waiting around for a turnaround. Rather, an overhaul of management could help bring in an operator that knows how to manage cost and capital, and that will promise to scale back the previous retail expansion strategy. Only then can it reconsider expanding internationally.
The big worry.
The run-up in DECK shares is short-lived as based on the hope of a buyout. However, Marcato is invested at a cost of around $46 a share and has already made 15% on its shares. And without a large part of its portfolio invested in DECK, if the company doesn't orchestrate a sale soon, Marcato could move on relatively easily. The activist hedge fund took advantage of DECK's big miss of quarterly (fiscal Q3 2017) earnings to buy up shares. However, if we don't see a buyout within the next month or so, look for Marcato to take its gains and move on. The risk-reward scenario isn't very compelling for Deck.
Disclosure: I/we have no positions in any stocks mentioned, and no plans to initiate any positions within the next 72 hours.
I wrote this article myself, and it expresses my own opinions. I am not receiving compensation for it (other than from Seeking Alpha). I have no business relationship with any company whose stock is mentioned in this article.