Palo Alto Networks (NYSE:PANW) has breached its 52-week lows following the dismal guidance released for fiscal 3Q17, and may reach two-year lows any moment now.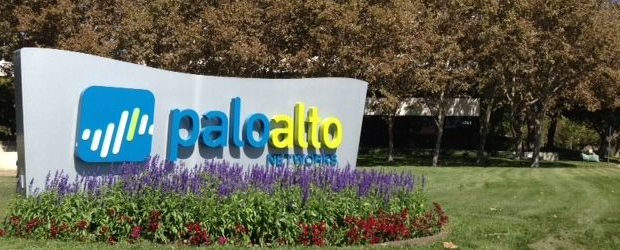 Credit: Computerdealernews.com
A weak fiscal 3Q17 outlook, the main driver of a 24% drop in share price today, was the reflection of what CEO Mark McLaughlin is calling "some execution challenges, which [management is] moving quickly to address".
This is perhaps the main problem with betting on high-growth tech names like PANW - or others like Workday (NYSE:WDAY) and Salesforce.com (NYSE:CRM): once top-line growth loses momentum, the bottom falls off and confidence that the company will reach scale and justify a bloated cost base wanes fast.
But amid the carnage, potential good news could emerge. Most importantly, after trading above 100x non-GAAP earnings as recently as about one year ago, PANW is finally valued at sub-50x levels (which, to be fair, will likely go up after FY17 EPS estimates are revised downward). See chart below: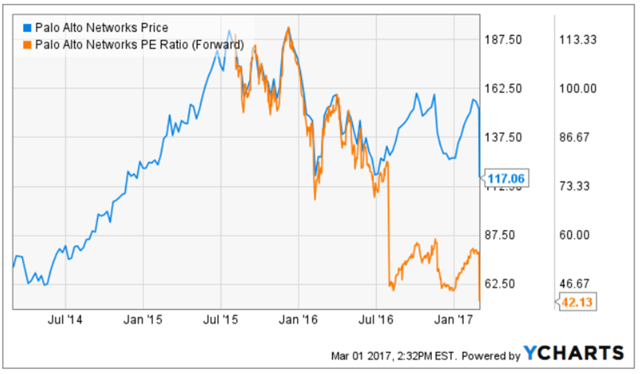 Source: YCharts
The sharp valuation compression that took place in the past 12 months means that investing in PANW has de-risked quite a bit, as the bar is finally set lower for the Palo Alto-based company.
But the question of whether the pullback warrants a buy recommendation on the stock depends on whether Palo Alto Networks can climb out of the hole and continue to gain scale in the longer term.
The problem seems to be structural with the company's sales model, and not simply the result of a rogue wave likely to dissipate soon. Palo Alto Networks' CEO explained as follows:
Our initial analysis is that we over complicated our go-to-market motion with a lot more territory splits and segmentation than we have done in the past. This appears to have been too much too fast as we changed the coverage model for many customer relationships resulting in lower productivity and less accuracy in forecasting.
It seems clear that the company's pain is largely self-inflicted. One might see it as bad news, as the downturn reflects poorly on management's ability to grow the company to the $5 billion-per-year or so levels that I believe it needs to reach in order to be sustainably profitable and for the stock value to be justifiable. Conversely, it can also be seen as good news, as the solutions are likely to be found in-house, and not depend on external factors such as an improvement in the macro landscape.
Which side of the argument investors will choose to line up behind will determine whether buying PANW at 45-50x forward non-GAAP earnings today might make sense or not.
A closer look at the fundamentals
The company continues to produce FCF (free cash flow) at a run rate of over $700 million per year, which suggests a price-to-FCF valuation of only 15x. Cash flow growth is likely to decelerate in the near term as sales slow down, but Palo Alto Networks' net cash holdings of $1.6 billion (15% of market cap) is unlikely to be depleted any time soon. This is good news.
I also believe that the drop in the company's equity market value could attract acquirers with deep pockets. Take Cisco (NASDAQ:CSCO), for example. The San Jose-based company has been very satisfied with the growth rate of its $2-billion security business for a few quarters now. I bet Cisco would not mind poking around for more inorganic growth in a space that it considers to have a very promising future. Add to this argument the fact that Palo Alto Networks has nibbled away at some of Cisco's accounts, as CEO McLaughlin announced during yesterday's earnings call, and one might see a compelling argument for an acquisition bid.
Juniper (NYSE:JNPR), a company that has kicked itself for missing out on the early days of the security business ramp up, might also be interested in pulling together its resources to place a bid on Palo Alto Networks. With its equity valued at $10.7 billion and only $2.6 billion in gross cash, however, the Sunnyvale company might find PANW to be too big of a pill to swallow.
On the other hand, as the graphs below illustrate, the growth rates of Palo Alto Networks' revenues and billings have been decreasing at a fast pace, particularly this year. And to make matters worse, GAAP OpEx continues to represent an uncomfortable proportion of total revenues - 86.5% in the first half of fiscal 2017, not much lower than FY15's 87.3%. With the recent developments, I grow even more skeptical that the company will be able to reach scale any time soon.

Source: D.M. Martins Research, using data from company reports
My take
If you have been following me for a bit, you probably know that I am not much of a growth investor, nor too big of a risk taker. Given Palo Alto Networks' inflated operating cost base, I find it hard to justify an equity investment that relies so much on revenues continuing to grow as fast as they have in the past 3-5 years.
But investors who used to feel uncomfortable with nothing but PANW's stratospheric valuations may finally find a reason to buy shares at a discount. I cannot guarantee good or bad results from such an investment decision. But I bet the ride will be bumpy to say the least.
Follow me as I build a risk-diversified portfolio designed and back-tested to generate market-like returns with lower risk. I call it the Storm-Resistant Growth portfolio. The very early results have already exceeded my expectations. Take advantage of the 14-day free trial, and get immediate access to the content and the community.
Supporting Documents
Disclosure: I/we have no positions in any stocks mentioned, and no plans to initiate any positions within the next 72 hours.
I wrote this article myself, and it expresses my own opinions. I am not receiving compensation for it (other than from Seeking Alpha). I have no business relationship with any company whose stock is mentioned in this article.