Netflix (NASDAQ:NFLX) represents an intriguing short opportunity. Netflix is valued with an immense premium for its disruptive history and its international growth potential. However, with growing costs for content (original and licensed), a saturating domestic market, and financing needs, Netflix represents a compelling short candidate over the next 24 months.
The Original Story
Netflix is at the forefront of disrupting the linear TV industry quickly growing to just under 100M subscribers after launching its stand-alone streaming service over five years ago. The company has rapidly adapted from a domestic DVD mailing service to a global leader in Internet television. Hastings' vision is to capture as much user's leisure time as possible via television stories. As a result, the company has been building out its content library at a blistering pace, all while offering the service to consumers at a reasonable price, ~$9.99/month. The value proposition is highly compelling to the user driving consistent subscriber growth domestically and internationally. Netflix users in turn expect a significant amount of content consumption all for a low price, creating a virtuous cycle of new users funding additional content for the base.
Chart A: Paying Subscribers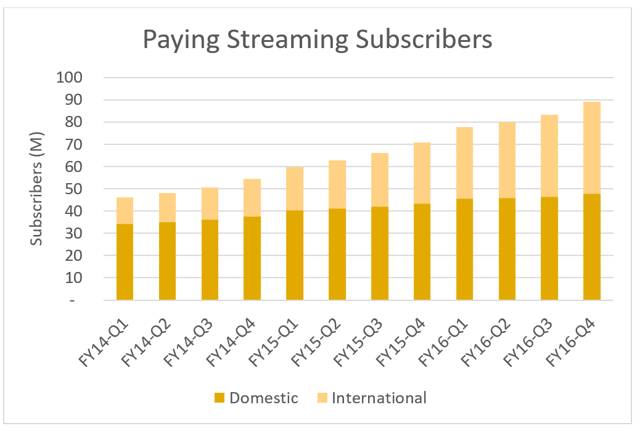 Source: Company Earnings Releases
The Unoriginal Story
Episode 1: Cash Flow
Netflix is a growth company with revenues (trailing 12 months) growing 30% YoY while showing little scale on the cost side. R&D and G&A collectively have grown 27% to $1.3B, and marketing 20% YoY to $1.0B. While these lines have grown slower than revenue, cash content spend has rocketed higher, growing 49% to $6.8B. The result of this has been a free cash burn of -$1.7B for 2016 growing significantly in H2 of 2016. Further management guided cash burn improving sequentially in Q1, but growing YoY to roughly -$2.0B for 2017. This implies continued content spend growth into 2017 (estimated 24% YoY growth). Even with curtailing spend growth post 2017, my base case estimates that cash burn will continue until 2020.
In the meantime, the financing of content spend may weigh on the company's stock performance particularly if subscriber growth disappoints investor expectations. I am estimating the company will need to raise ~$3.5-4.0 billion over the next two and a half years to meet its content obligations and investments. Each $1B raised represents a $50M drag on PBT (assuming a 5% coupon) which can be significant given low operating margins and negative cash flow. Given numerous comments from the management team about the need to grow content investments, it seems unlikely that the absolute spend will decline given the desire to expand on original content targeting ~50% mix of original content. In addition the firm evaluates its debt load by comparing it as a percentage of the overall enterprise value. This is a very odd method to determine a company's capital structure, particularly given the volatility of Netflix's equity value, significant cash burn, and lofty market valuation. In fact, the very belief in the market's equity value may encourage overspending in the near-term (via raising debt) in belief of the long-term value prescribed by the market.
Chart B: Free Cash Flow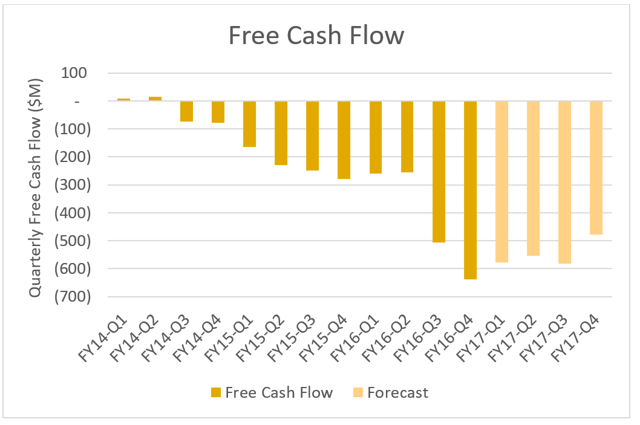 Source: Company Financials and Estimates
Chart C: Trended Content Spend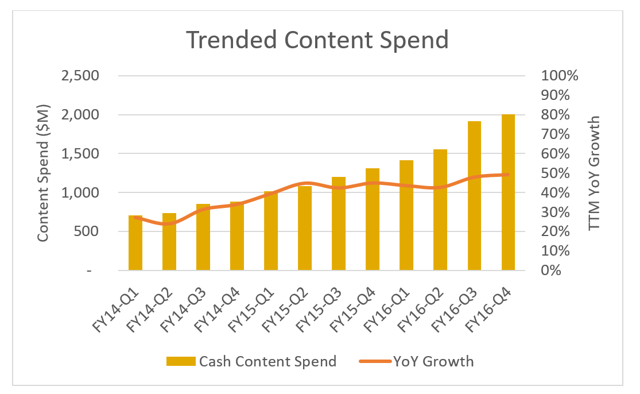 Source: Company Financials
Episode 2: Economic vs. Accounting Profitability
Despite the cash burn and rapid content spend, there has been steady growth in domestic segment margins and overall operating profit growth. Operating margin for the year was 4.3%, and 6.2% in Q4. Operating profit growth has been driven by leverage against operating expenses and slowing amortization growth (not to be confused with the actual cash outlay). The difference between amortization and cash spend continues to grow following increasing investment in original content, accelerating a balance sheet build. This certainly represents P&L risk into 2018 and 2019 as the amortization starts to catch up to content spend. This gap will mathematically narrow over time as growth rates slow and as original content mix changes level out. Growth in the amortization gap can be thought being driven by three main factors: growing mix of original content spend which has a structurally higher upfront cost, growing overall content amount in originals and new markets, and inflation in the costs of licensing and producing content.
Understanding the cost inflation of content is critical when analyzing Netflix's reported amortization. Bidding for content is highly competitive, and this should continue as competition for content is only increasing with Google (NASDAQ:GOOG) (NASDAQ:GOOGL) announcing an OTT service and Apple (NASDAQ:AAPL) producing original video content. The following are recent examples of competitive and inflationary bidding for content: record cost of original content (The Crown $130M, The Get Down $120M), landing new comedy specials (Chris Rock $40M two specials, Dave Chappelle $60M three specials), or bidding on independent films at Sundance (Manchester by the Sea $10M, Mudbound $12.5M).
The exact level of cost inflation is difficult to estimate, but let us illustrate the impact on Netflix with some assumptions. First, let us assume the average life of content on Netflix's balance sheet is 1.9 years. This is estimated by taking quarterly total content assets and dividing by an annualized content amortization. Next, let us assume that a comparable cost to produce and license content has grown in a range of 5-15% CAGR over the last few years. The table below illustrates the impact grossing up amortization cost, assuming the content was all purchased at today's market rates (a theoretical maintenance level of spending to run the business). Even assuming a 5% inflationary rate would result in operating income dipping below zero. At 10-15%, OI would move from +$0.2B to between $(0.5B) and $(1.1B). This example helps illustrate how operating income can be so dramatically different from free cash flow simply because of the lagging nature of amortization. There is risk that investors are overestimating the level of investment Netflix is making to grow the content base versus the negative impact of rising content costs.
Table 1: Amortization Inflation Impact

Source: Company Financials and Estimates
Netflix discloses three operating segments: Domestic Streaming, International Streaming, and Domestic DVD. Within these segments contribution profit is defined as revenue less costs of revenue (primarily streaming content amortization) and marketing expense (mainly advertising expenses). Under this definition, the domestic streaming business is demonstrating consistent margin growth to 36% of revenue while the international segment continues to operate at a loss at -10% margin. Outside of segment profit at a global level, the opex is split into two reporting lines. The first, Technology and Development at $852M, growing 31% YoY primarily consisting of headcount growth (+20% YoY) supporting improvements in the streaming service and the international expansion. The second, G&A at $578M growing 42% from headcount growth (+39% YoY) supporting international expansion and production of original content. The reporting structure buries these costs (17% of total revenue) below segment profitability. The headcount in G&A supporting the original business skirts the segment profitability all together. In a licensing deal, this cost would be carried by the studios as a part of their production cost.
With international roll-out and expanding original content, the company has shown a limited capability of scaling these costs even as it approaches 100M subscribers. Without a proper allocation of heads to staff who directly support a market, it is very difficult to assess Netflix's margin profile in its mature markets versus developing, and the levels that it is directly investing in these markets.
Chart D: Amortization Gap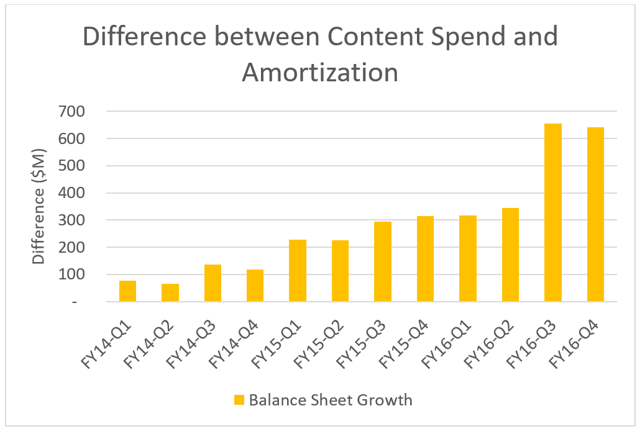 Source: Company Financials
Chart E: Content Assets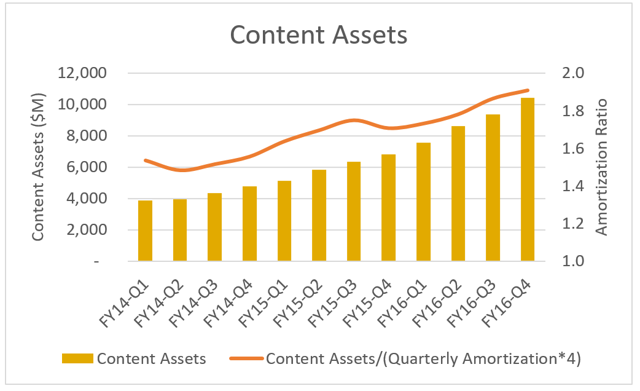 Source: Company Financials
Episode 3: Valuation
The final pillar of the short thesis is Netflix's valuation. As of last Friday (2/24/17), Netflix's equity is valued at $61 billion and enterprise valued at $63 billion. In comparison, Netflix produced $13 billion of revenue and a free cash flow margin of -19% in 2016. On a forward basis, the enterprise trades at 5.4x sales and 9.0x EBITDA. EBITDA is a nice way of isolating the profitability of the enterprise before factoring into account content spend and interest expense. With forward EBITDA of $6.8B and capex and content spend of $8.7B, EBITDA would need to grow 28% just to meet this year's capital needs. As content spend slows and subscribers continue to grow, I am forecasting free cash flow to turn positive during 2020. Of course, this forecast is highly dependent upon subscriber growth and content spend, so this assumes a subscriber base of 155M (12% CAGR) and content spend growing to $9.3B at a 3% CAGR post 2017.
My subscriber assumptions consider a slowing domestic business reaching 61M by 2020 while international subscribers continue adding at recent run-rates over doubling to 94M by 2020. Under these assumptions (and some others) the cumulative cash burn is $4.4B through 2020 then shifting positive thereafter to $2.2B in 2022. Using a terminal growth rate of 8% and WACC of 11% yields, an intrinsic value of $26.53 per share. Valuation of Netflix relies very heavily on the assumptions around the terminal value of the company, however, it is important to note the company's ability to produce cash for shareholders is far away. Performance of the stock price and the business model (given spending commitments) requires significant subscriber growth over the next 3+ years. Decelerating subscriber growth would present tremendous opportunity (and asymmetrical risk/reward) for a short position.
Table 2: Relative Value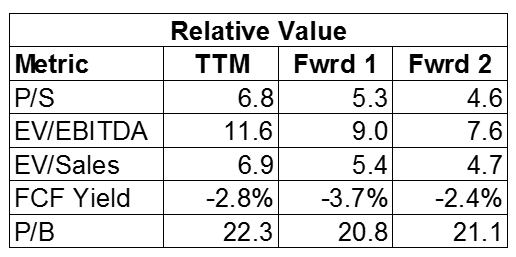 Table 3: DCF Model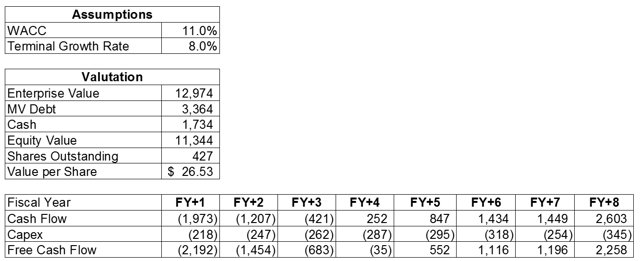 Table 4: Income Statement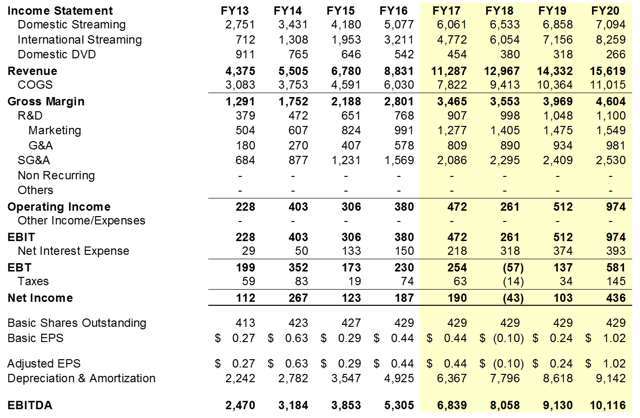 Table 5: Balance Sheet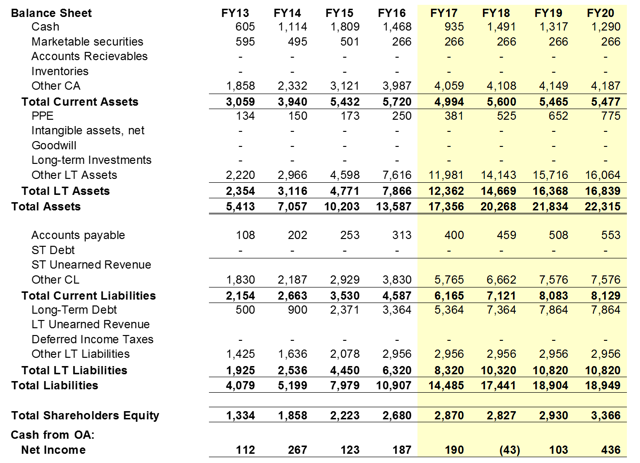 Table 6: Statement of Cash Flows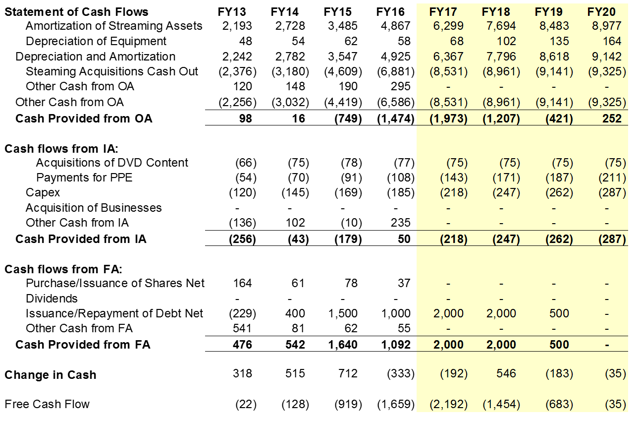 Source: Company Financials and Estimates
Disclosure: I am/we are short NFLX.
I wrote this article myself, and it expresses my own opinions. I am not receiving compensation for it. I have no business relationship with any company whose stock is mentioned in this article.