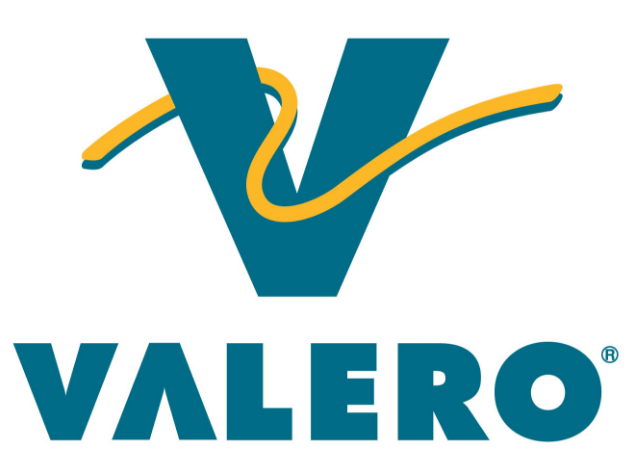 Valero (NYSE:VLO) is the world's largest independent refiner, and has had a strong performance this last year. The company is currently trading nearly 50% off of its lows, but I think it still represents a strong prospect for energy exposure. Strong cash flows, dividend growth and a leading position should reward shareholders for years to come.
Valero's fourth quarter was better than expected. Net income rose 23% YOY, bringing the 2016 total to a 43% decline from 2015. Although this sounds awful, 2016 was an awful year for nearly every company in the energy sector, even the refiners. This is to be expected in a cyclical industry. During the down cycle, companies trim costs and regroup while waiting for the inevitable recovery.
A notable headwind further holding back results is that of the government renewable fuel blending requirements. Refiners are mandated to mix in a certain amount of biofuels, like ethanol, into the gasoline or purchase renewable identification numbers. These cost Valero $217M in the fourth quarter alone. This is $60M higher YOY, and the $750M in 2016 was $309M higher YOY. Management expects similar levels in 2017, so the headwind will likely continue. However, many companies are petitioning the government to move the point of obligation further downstream. Whether this occurs or some kind of change to the rules happens is unclear. It's worth noting, however, that renewable fuel RIN prices have dropped significantly since President Trump was elected. A couple of days ago it was reported that President Trump is considering an Icahn-submitted plan to shift the point of obligation away from the refiners, which would save Valero millions of dollars.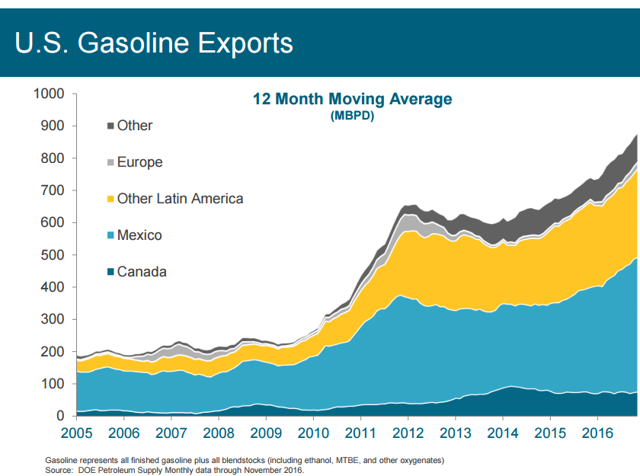 Source: Analyst Presentation
Valero holds a leading position in Gulf Coast capacity. The newest markets absorbing excess American crude have been in Central and South America, giving Valero an edge in the export market through capacity and proximity. U.S. exports of gas have reached new highs recently, and Valero is likely the best suited to take advantage going forward.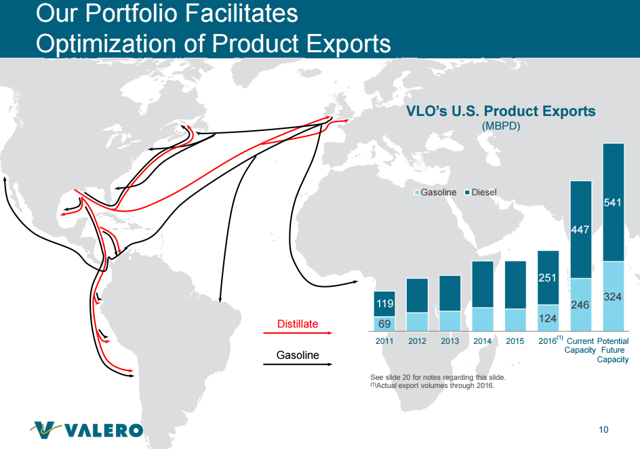 Source: Analyst Presentation
Valero has continued to maintain strong investment into future growth. Capex last year totaled $1.28B, comprising 26% of operating cash flow. Management has been a good steward of capital, shown through the best ROIC of its peers at 9%, compared to a 6% median. Additionally, Valero's profitability and debt levels are best-in-class and the dividend is very safe and a generous 4.2%.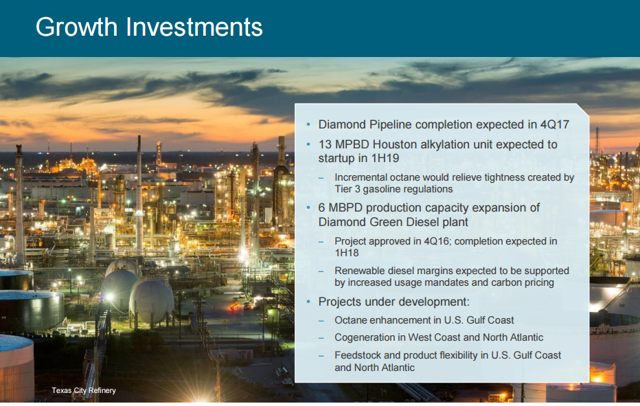 Source: Analyst Presentation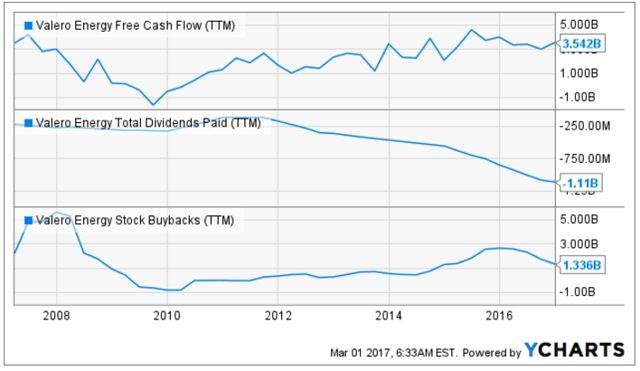 Valero's free cash flow of $3.5B provides strong coverage to the $1.1B paid out in dividends. Additionally, as discussed above, management has been good at allocating capital, and thusly when projects won't provide sufficient returns has been more than willing to buy back shares. Dividend growth has been outstanding over time, as shown below, and the most recent dividend increase was 17%, announced last week. Though this is a down part of the cycle, management is showing its confidence in the earning power of the company. Total debt stands at $8B, which is reasonable, and cash on hand sits at $4.8B. I would expect continued strong dividend growth going forward, even with the already generous yield.

Source: Dave Fish's CCC List, Chart by author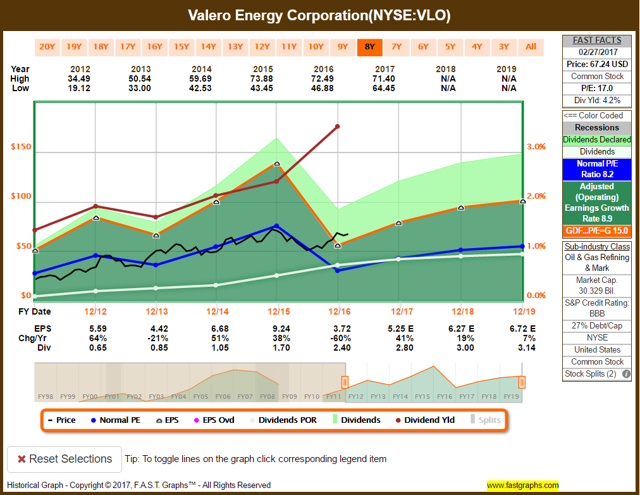 It is difficult to eyeball a valuation on a cyclical company when compared to a consistent earner. Because of the drop in earnings, Valero looks overvalued here. However, it is currently yielding higher than it has in recent years. I would prefer to look at the projected rate of return below.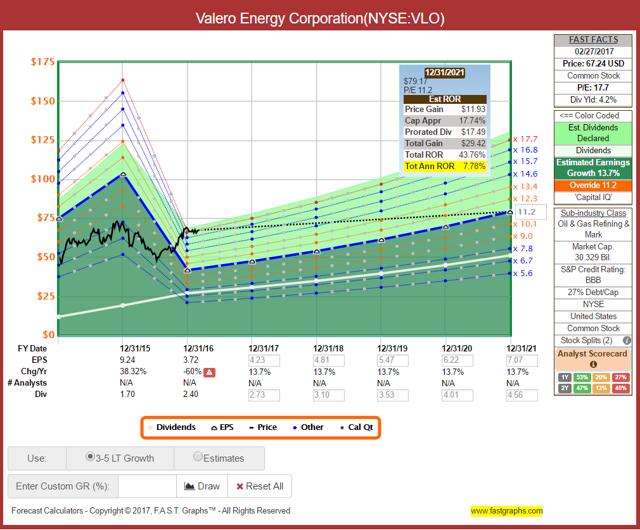 Looking at the projected rate of return based on analyst estimates and a return to the long-term average valuation, the total return for an investment today would be ~8%. However, I could easily see Valero trading at a higher multiple than 11X in the future. For investors looking for energy exposure, Valero is a strong choice, and I believe today is a reasonable entry point.
If you liked this article, and would like to read more like it, please click the "Follow" button next to my picture at the top and select Real-time alerts. Thanks for reading.
Financial statistics were sourced from Morningstar, with the charts and tables created by the author, unless otherwise stated. This article is for informational purposes only and represents the author's own opinions. It is not a formal recommendation to buy or sell any stock, as the author is not a registered investment advisor. Please do your own due diligence and/or consult a financial professional prior to making investment decisions. All investments carry risk, including loss of principal.
Disclosure: I/we have no positions in any stocks mentioned, but may initiate a long position in VLO over the next 72 hours.
I wrote this article myself, and it expresses my own opinions. I am not receiving compensation for it (other than from Seeking Alpha). I have no business relationship with any company whose stock is mentioned in this article.