The decline in PepsiCo's (NYSE:PEP) Q4 profit (on the back of foreign exchange translation losses and macroeconomic challenges) was able to tank the stock at market open on 15th February, 2017, soon after which it was seen driving headwinds, touching levels of $108.17 and $108.24 in the next two days.
For a company formed in 1965 with the merger of Pepsi-Cola and Frito-Lay, PepsiCo has come a long way and has diversified into new areas like non-carbonated drinks, juices, and food processing. It has expanded its distributions across 200 countries, and made profits of $5.4 billion on revenue of $63 billion in the year 2015.
Industries Served
| | |
| --- | --- |
| Beverage | Pepsi, Mountain Dew, Sierra Mist, Gatorade |
| Snack | Doritos, Cheetos, Lay's |
| Food | Rold Gold, Quaker Oats, WBD |
PepsiCo has 22 brands, each generating revenue of more than $1 billion. Overall, it sells around 100 different brands.
A unique thing about PepsiCo is that it is a highly diversified company. Most of its brands can be substituted for each other. For example, if a product like Cheetos does not satisfy a customer's taste, they can go for Lay's, Ruffles, Doritos, etc. Therefore, compared to competitors, PepsiCo is well protected in the times of changing customer tastes. Further, with the rise of health consciousness among customers, the company has diversified into healthy juices, energy drinks, packaged water, etc.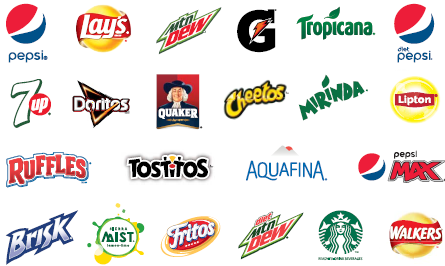 (Source: PepsiCo Annual Report 2015)
Fundamentals
The Growth Path
Despite a setback to investors this quarter, PepsiCo was able to grow organically at 3.7%. Also, analysts are projecting free cash flows of more than $7.1 billion this year. Valuations using these cash flows peg the company much higher than where the market perceives it to be currently. PepsiCo has the financial firepower to acquire and grow inorganically, but hasn't found its gem yet. If required, the company can get cheap funding (on the back of strong credit ratings) to swallow any fish in the pond.
What DCF Valuation Has to Say
Taking discounting factor as 6.5% and a terminal growth rate of 2.1%, intrinsic value of PEP stock is calculated as $116.73.
At its current price of $109.83, the stock shows a potential upside of 6.28%. Free cash flows to the firm at present value are obtained using WACC as the discounting factor.
What the Dividend Discount Model Has to Say
The company has been paying dividends consistently (with a growth in dividend each year). Expectations are that it is going to provide DPS of $3.96 by 2020 (DPS for FY 2016 being $2.96)
Taking the discounting factor as 6.4% and the continuing growth value for dividends as 4%, intrinsic value of the stock is calculated as $134.05. This shows upside potential of 22.05%.
What Relative Valuation Has to Say
P/E Ratio Comparison for PepsiCo and the Beverage Industry
Except for the years 2005 and 2010, the company's price-to-earnings ratio has remained well under that of the beverage industry. Having a lower P/E than the industry average makes this stock a better buy for the long run.
The forward P/E estimations for 2016 and 2017 are 22.19 and 20.61 respectively (from Bloomberg). If these estimations come true, PEP will provide more earnings per share.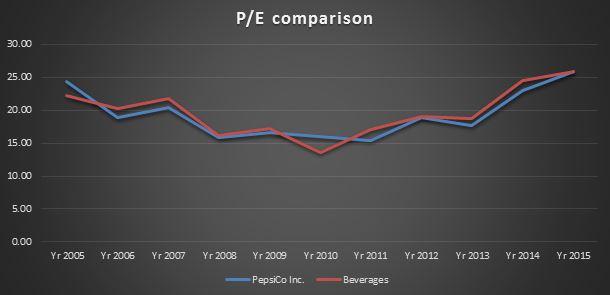 (Source: Data taken from Bloomberg)
EV/EBITDA Comparison for PepsiCo and the Beverage Industry
Enterprise value for the company is 16.03 times its EBITDA. The sector average of 16.04 suggests the stock is undervalued, and that an escalation in price may follow soon. The company's EBITDA declined consistently from 2013 to 2015. While EV rose from 2011 to 2014, it decreased slightly in 2015.
Ratios
Debt-to-Equity Ratio
Even though the company's debt-to-equity ratio has soared in the recent past, this is nothing to be worried about. We can say this because not only rising levels of debt but also growing levels of equity have contributed to this increase in debt-to-equity for the company. PepsiCo has completed $22 billion worth of stock buybacks from 2010 to 2015, which have consistently decreased the amount of shares in the open market. Also, the company has consistently been paying dividends (with a gradual increase each year), thereby reducing the equity portion further.
Given this, the probability of PepsiCo going bad on its debt obligations is low.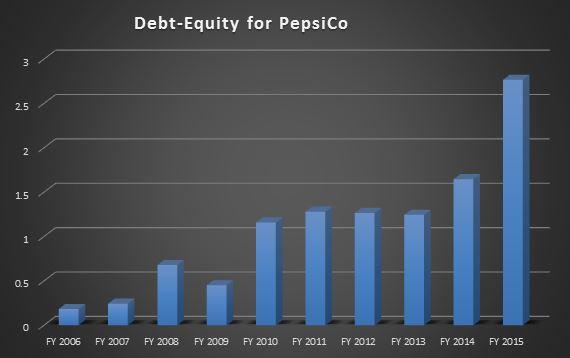 (Source: Data taken from YCharts)
Dividend Payout Ratio
A decent hike in DPS to $3.22 for the next year is surely going keep investors keen on the stock. Throughout the years, PepsiCo has been paying dividends to shareholders in an incremental manner.
With the company's profits soaring each year (except a little decrease in FY 2015), dividends paid to long-term holders of the stock are going to increase.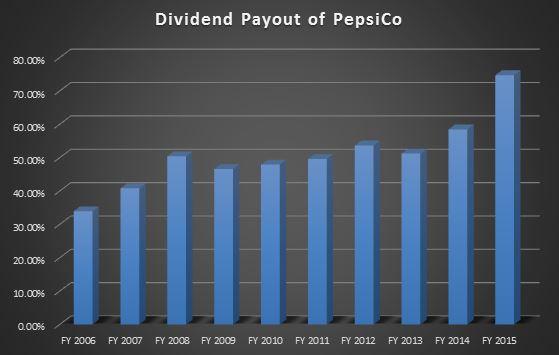 (Source: Data taken from YCharts)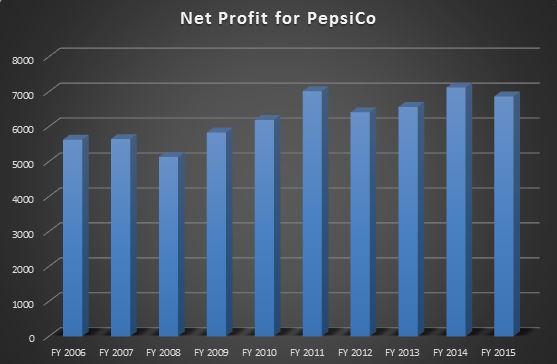 (Source: Data taken from YCharts)
Comparison of Cumulative Total Shareholder Return
Below is the stock performance graph showing $100 invested in each of the following for a comparison: PepsiCo, S&P 500 Index and the S&P average of industry groups (assuming all the dividends are reinvested). Even though, PepsiCo has not outperformed the S&P 500 since 2010, it has been on a steady rise, as well as following the index closely. This makes PEP a stable stock and surely a stable earnings provider.

(Source: PepsiCo 2015 Annual Report)
What Technical Indicators Have to Say
Short interest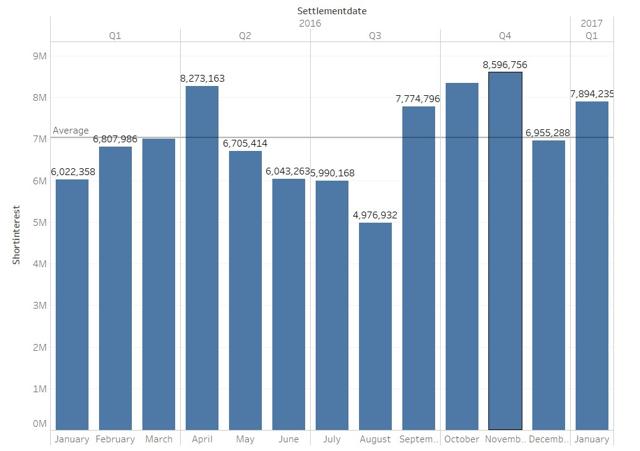 (Source: TINO IQ)
For the month of January, the short interest was 7.89 million shares. With 1.42 billion float shares in the market, the short interest as a % of float is 0.55%, which is quite low and shows not many investors are ready to sell the stock at this time. The sentiment shows a potential upward movement in the stock price.
Quantum Analysis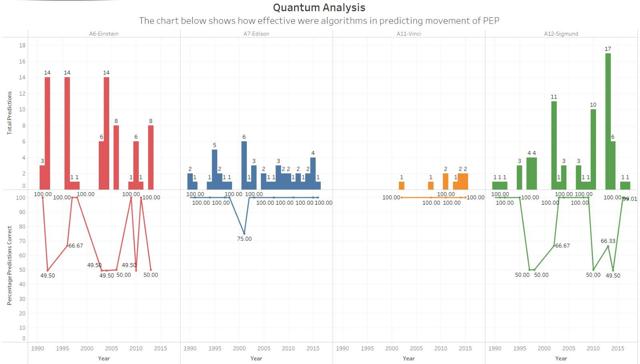 (Source: TINO IQ)
In a quantum analysis, as shown in the chart above, algorithms A7 and A11 were able to explain short-term movements in the stock. The analysis also shows that the stock has predictable behavior, especially when it's being artificially manipulated (as exposed by algorithms). So if you are a long-term investor, don't worry about short-term fluctuations, as those are created (for someone) to take a position in a stock at a favourable price.
Popular Indicators
While indicators like MACD and BB point towards buying the stock, RSI is providing a sell signal.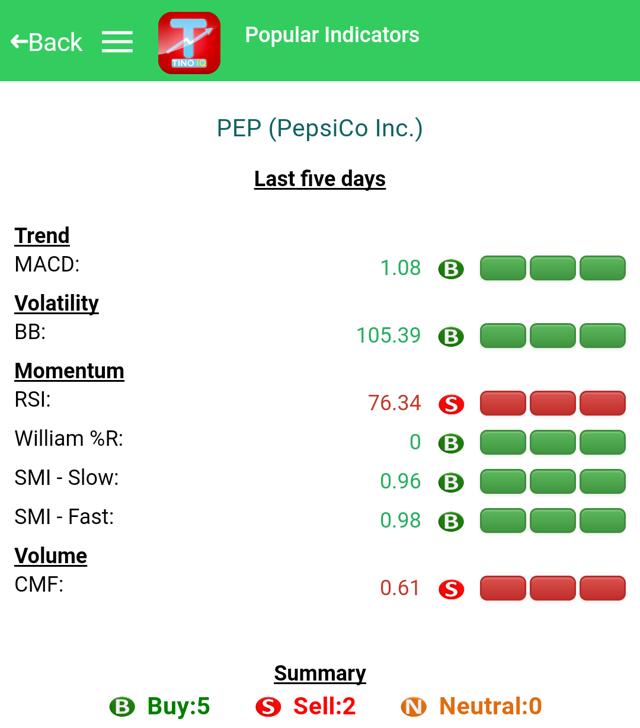 (Source: TINO IQ)
Conclusion
Factors like the absence of non-cash tax benefits (those available in the previous year), foreign exchange translation losses, and macroeconomic factors leading to a decrease in the quarter's earnings are likely to have made investors jittery, but there is no need to panic.
Almost all the techniques used to evaluate the stock have given a positive signal to go long PEP. The analysis has made it evident that the stock is going to offer both price appreciation and a healthy dividend flow.
Disclosure: I/we have no positions in any stocks mentioned, and no plans to initiate any positions within the next 72 hours.
I wrote this article myself, and it expresses my own opinions. I am not receiving compensation for it (other than from Seeking Alpha). I have no business relationship with any company whose stock is mentioned in this article.