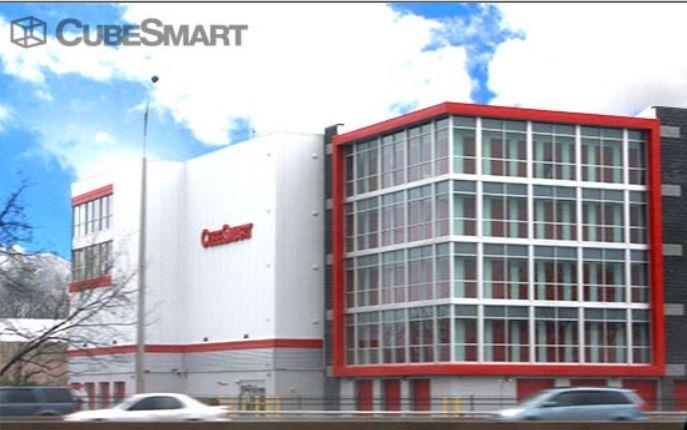 Self-Storage REIT CubeSmart (NYSE: CUBE) is one of the "Big 4" publicly traded self-storage REITs, along with blue-chip Public Storage (NYSE: PSA), total return favorite Extra Space Storage (NYSE: EXR) and re-branded Life Storage (NYSE: LSI), the former Sovran Self Storage (Uncle Bob's).
Folks began to feel that this sector would continue to deliver outlandishly high returns forever, and these REITs became momentum stocks. The high-flying self-storage REIT sector had been bid up to frothy multiples by mid-2016, after tremendous back-to-back total return performances in 2014-2015.
The record high occupancy, rental rates and same-store NOI growth could not continue forever. These REITs fell out of favor and began to sell off in 2H2016. I tipped off SA readers when Mr. Market's pricing pendulum had swung too far back in mid-January when I wrote: Self-Storage REITs In Full Retreat - Time To Buy?
There is one more piece of the puzzle. My top pick for the sector since late 2015 has been National Storage Affiliates (NYSE: NSA). NSA continues to hit new all-time highs as it executes on its unique business model. (Read more: Self-Storage REIT: National Storage Announces 8th 'PRO' Prior To Earnings)
I was unable to listen to the NSA earnings call live due to a problem accessing the website (which happened to coincide with the Amazon Web Services US-East-1 outage). I plan to update NSA soon for SA readers, so stay tuned.
Another way for investors to profit from self-storage growth is with the Jernigan Capital (NYSE: JCAP) "loan-to-own" business model. Notably, JCAP CEO Dean Jernigan is a former CubeSmart CEO, and his company just reported another strong quarter.
Tale Of The Tape - February Rebound
Self-storage REITs began to catch a break from a six month-plus buyers strike in February. Solid results from CubeSmart helped to lead the way, but Extra Space and Life Storage have bounced back faster.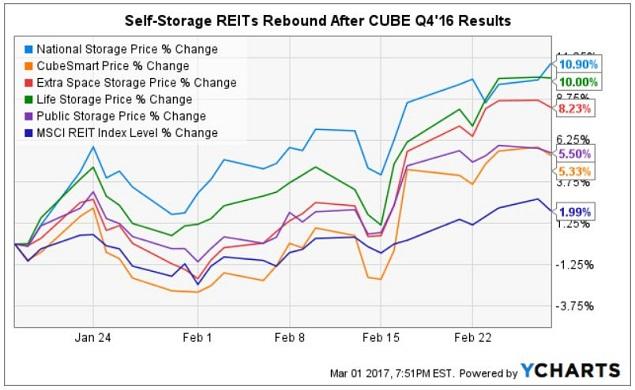 While CubeSmart has bounced nicely off its lows, it fell a bit further, so it still appears to be attractively valued.
F.A.S.T. Graph - Valuation Analysis
It's time to use the F.A.S.T. Graphs tool to check under the hood. The black line is price. It is a visual comparison relative to the blue line, which is "normal" P/FFO for the selected number of years. The red line corresponds to the dividend yield on the far right of the chart.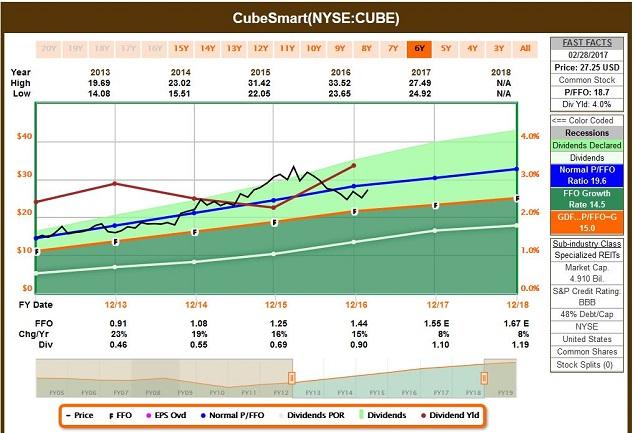 Right off the bat, the chart indicates that CubeSmart is attractively valued both on a historical and absolute level given its projected FFO per share average growth rate of 14.5% and 4% yield.
The white line shows that there is plenty of room to raise the dividend going forward, as the FFO payout ratio is still just 62.5%.
When you combine the FFO growth rate with the low payout ratio, it creates a perfect storm going forward to create a DGI juggernaut.
CubeSmart – Overview
Here are a few slides - hot off the press - from the most recent CubeSmart conference presentation.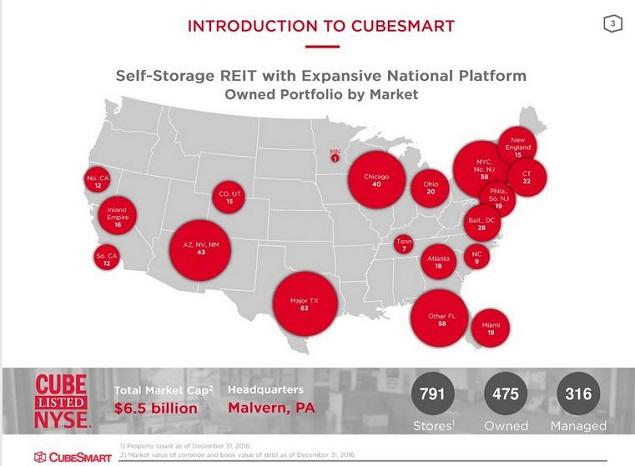 CubeSmart and the other publicly traded REITs have a huge marketing and technology advantage over the private mom-and-pop storage operators.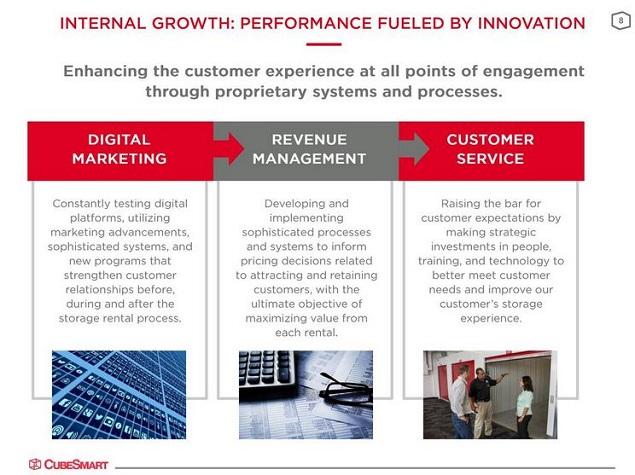 In addition to other metrics, the chart below illustrates that a current ~4% yield is much higher compared with any of the years during this decade.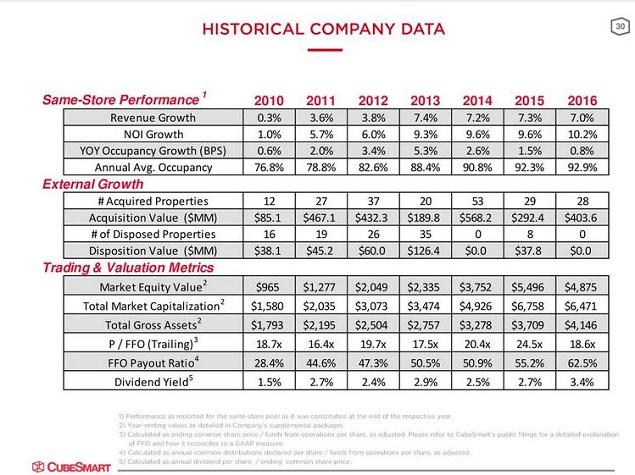 Source: CubeSmart March 1, 2016, presentation (all slides)
Occupancy is at an all-time high of 92.6%. However, it is still below that of some of its Big 4 peers, which means there is room for the sophisticated revenue management to do its magic.
The highly fragmented self-storage industry provides ample opportunity and runway for CubeSmart to grow accretively through acquisitions.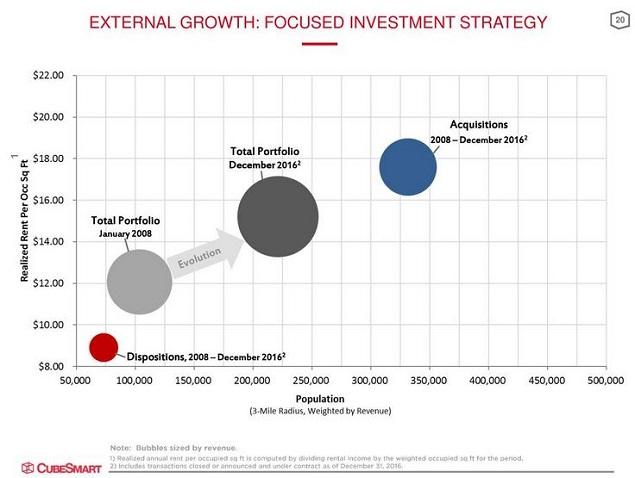 Strategic "puts and takes" over the past decade have upgraded portfolio quality and contributed to the strong same-store NOI and FFO per share growth.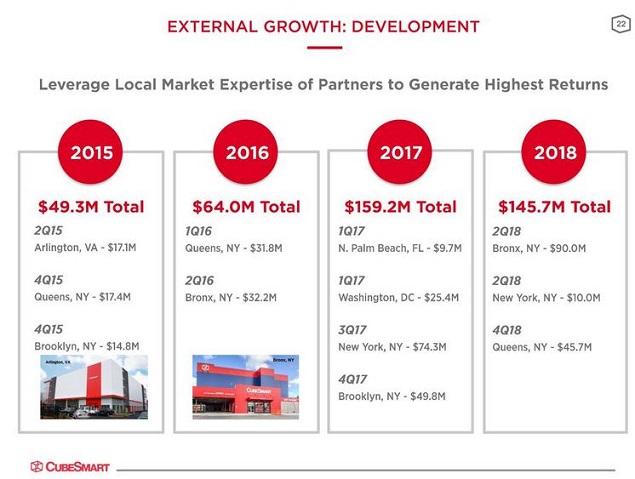 There is plenty of visibility and a clear runway for future portfolio growth.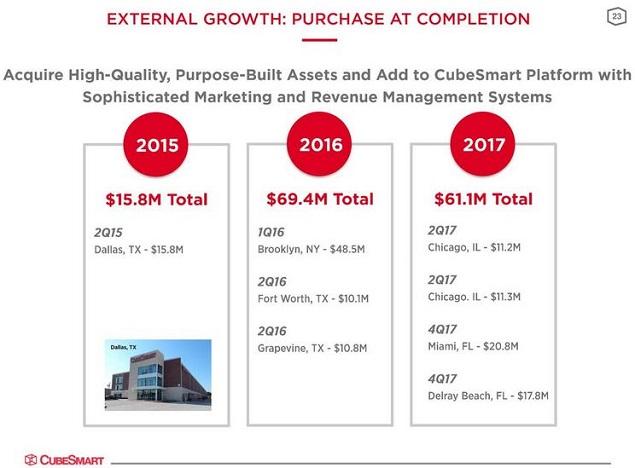 The purchase at certificate of occupancy pipeline can be used to sharpshoot opportunities in high-barrier-to-entry markets, while using valued partners to take on the development risk.
Meanwhile, the third-party management platform generates fee income, while providing another acquisition pipeline at the same time.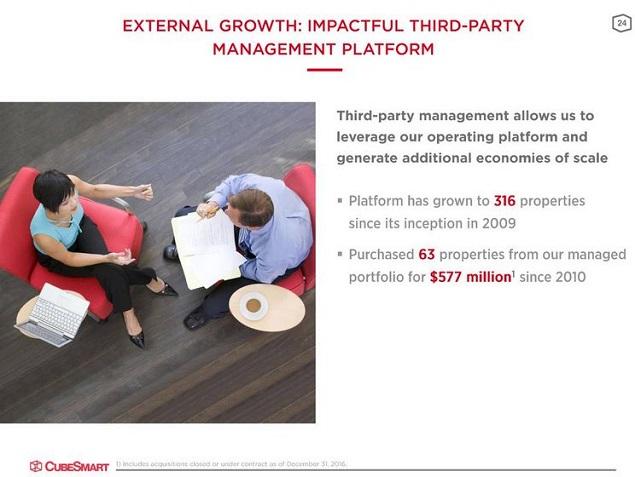 Notably, CubeSmart added 115 properties to its third-party platform last year alone. The owned portfolio is 475 stores, so the third-party pipeline has the potential to become quite significant as an engine for future growth.
Investment Grade Balance Sheet
Most serious dividend growth investors pay attention to credit ratings. While credit agencies are not infallible, retired investors need to keep this risk-adjusted return factor on their radar screens.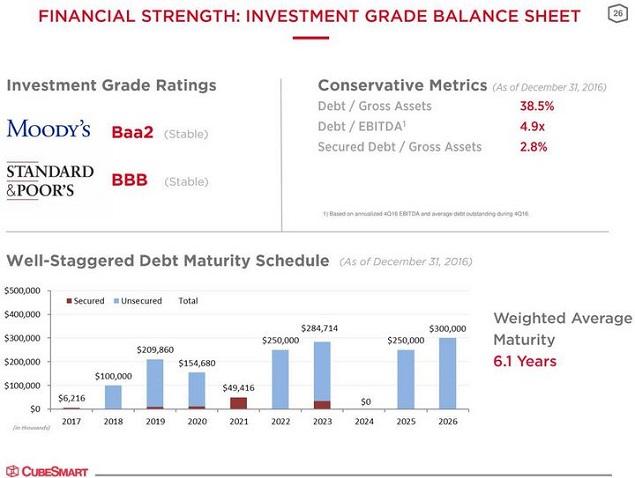 This is an area where CubeSmart shines in comparison to recent IPO NSA, and even 10-year total return leader Extra Space Storage.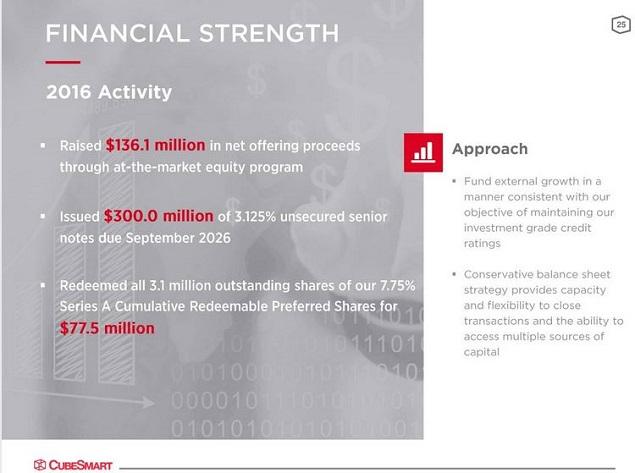 In addition to the DGI juggernaut factors already mentioned, CubeSmart still only has a $4.9 billion market cap. This helps to provide perspective on how the acquisition and third-party management pipelines will be able to move the growth needle.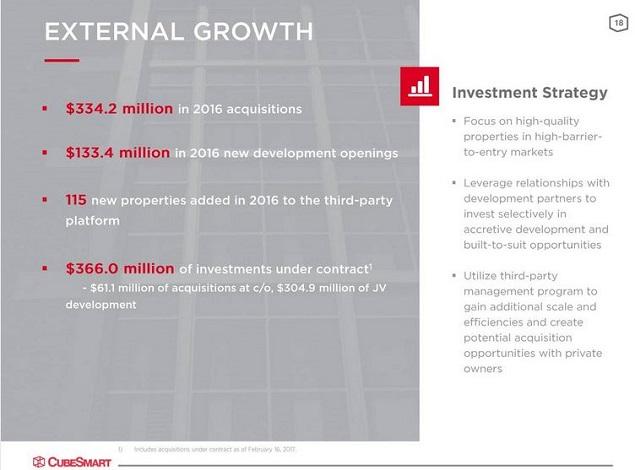 Of course, the heavyweight champ and ultimate dividend investor comfort food is found in the "A" rated self-storage pioneer Public Storage's balance sheet. However, this mega-cap REIT blue-chip is not going to be able to deliver the potential growth investors would have owning CubeSmart.
Investor Takeaway
A current 4% yield, low FFO payout and mid-double digit FFO per share growth combine to make CubeSmart a solid place to park some cash and let the DGI compounding machine do its magic.
Remember that the drivers for self-storage do not go away in a slow economy. However, in an economy that is projected to grow faster, the monthly rental rates can be dialed up in the case of price inflation. This is in stark contrast to other REIT sectors like net-lease, healthcare and office/industrial.
I am contemplating whether to launch a Seeking Alpha Marketplace Premium subscription service. I would appreciate any feedback from readers who may be interested. Feel free to share them in the comment thread below, or send me an Inbox message.
I relentlessly hunt for diamonds in the rough and rising stars, in addition to closely following data centers, covering REIT blue-chips, and breaking news. Please consider following me as a Seeking Alpha author if you would like to be notified when my future articles are published.
Disclosure: I/we have no positions in any stocks mentioned, but may initiate a long position in CUBE, NSA, EXR, over the next 72 hours.
I wrote this article myself, and it expresses my own opinions. I am not receiving compensation for it. I have no business relationship with any company whose stock is mentioned in this article.
Additional disclosure: Members of my household own NSA in a retirement account.