In what wasn't a huge surprise, Shake Shack (NYSE:SHAK) missed Q4 comp sales targets. After all, the sector is littered with restaurant concepts that reported negative comps over the holiday period.
The stock was down a minimal 4% in after hours to around $34.50. The question now is whether Shake Shack is back into a range to attract buyers?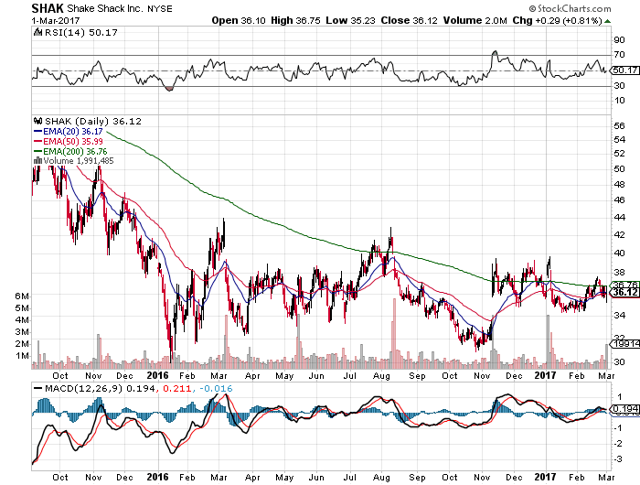 For Q4, Shake Shack missed estimated Same-Shack (comp) sales by about half the rate expected by analysts. The company only produced a minimal 1.6% comp sales growth in the quarter despite total sales surging 43.5%.
The growth rate was mostly due to adding 20 new company-operated units during 2016. My investment thesis has long held that the stock likely wouldn't reach bottom until the double-digit comps from 2015 were lapsed and replaced with easier compares.
The other issue to watch is the average weekly sales figures. Shake Shack only grew average weekly sales 1.1% in the quarter to $90,000. Instead of using a regional to national expansion plan, the premium burger joint is moving directly to the prime locations. Expansion will naturally lead to less favorable locations that produce lower weekly sales figures.
Other than those concerns, Shake Shack continues knocking the quarterly results out of the park. Despite being a fast growing restaurant concept, the company generated restaurant margins of 28.3% for the year.
Whereas most new concepts hardly breakeven, the burger joint is highly profitable having generated a profit of $16.8 million for the year or $0.46 per share. The declining margins forecast for 2017 are a concern with anybody expecting the stock to rally this year. Shake Shack forecasts a dip of 130 basis points to 27.0% this year.
The stock is still worth $1.3 billion even after the after hours dip. It's hard to say the stretched valuation issue is resolved even after the stock has traded flat since the start of 2016. At 2017 revenue guidance of $350 million, the stock trades at roughly 3.6x those revenues.
Lots of questions exist on whether the stock offers any value over buying Chipotle Mexican Grill (NYSE:CMG). Shake Shack probably deserves a premium valuation, but the number appears stretched in comparison offering limited upside.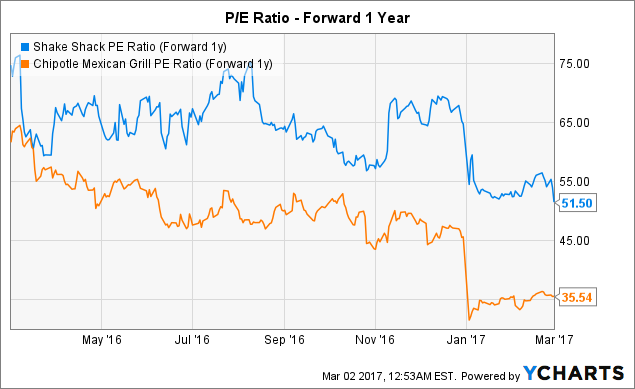 SHAK PE Ratio (Forward 1y) data by YCharts
The key investor takeaway is that Shake Shack produces the growth and margins supportive of premium valuations. The only problem is with the stock is that the value is still too rich.
Disclosure: I/we have no positions in any stocks mentioned, and no plans to initiate any positions within the next 72 hours.
I wrote this article myself, and it expresses my own opinions. I am not receiving compensation for it (other than from Seeking Alpha). I have no business relationship with any company whose stock is mentioned in this article.
Additional disclosure: The information contained herein is for informational purposes only. Nothing in this article should be taken as a solicitation to purchase or sell securities. Before buying or selling any stock you should do your own research and reach your own conclusion or consult a financial advisor. Investing includes risks, including loss of principal.