Company Introduction
Marathon Oil Corporation (NYSE:MRO) is an oil and gas exploration business and the company has disappointed in recent years. In fact, Marathon has reported five straight losing quarters, though it has finally broken even in net profits the most recent quarter. However, Marathon is not totally out of the woods as it cannot reach profitability even at $56 Brent and oil will likely not advance anytime soon. As a result, investors should avoid Marathon Oil Corporation and search for more attractive and profitable options, such as ConocoPhillips (NYSE:COP)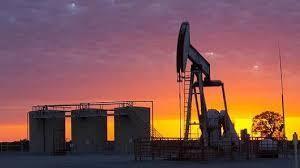 Company Facts
Share price: $15.85 per share
Market cap: $13.22 billion
Liquidity: $2.5 billion cash on hand, in addition to $1.0 billion in receivables
Total current liabilities: $2.24 billion
Company Cash Flow and Forward Earnings
Marathon Oil Corporation, like all its competitors, depend on a healthy price for oil to be profitable and survive. Fortunately for the company, the price of oil risen significantly since it bottomed in the first quarter of 2016. As a result, Marathon's cash flow situation improved significantly and reached positive territory. Refer to the chart below for details of Marathon's net income.
| | | | | |
| --- | --- | --- | --- | --- |
| Quarter | Q1 2016 | Q2 2016 | Q3 2016 | Q4 2016 |
| Net Income | (598M) | (152M) | (203M) | 53M |
Figure 1: Summary of Marathon's earnings. The rise in oil price recently has nearly eliminated Marathon's cash flow deficit.
Going forward, Marathon's earnings will likely stay at its current levels, as the oil price increase runs out of gas. However, the company is likely to increase its capital spending, thereby straining its financial position again.
Capital Expenditure and Production Volume
During 2017, Marathon Oil Corp. expects to spend $2.2 billion for its capital expenditure program, which is double the amount ($1.1B) it spent in 2016. This increased spending will help the company maintain a ~10% compound annual growth rate (OTCPK:CAGR) for the next few years in terms of production. However, the spending will likely hurt shareholders in the short term as it will most likely push the company's net income to negative. In fact, the company could only break even with its lean spending in 2016, and it could not possibly make a profit or break even in 2017.
Summary of Oil Prices and Its Current Environment
Currently, oil is trading near $56.50 for Brent and $54.00 for WTI. Fortunately for the company, oil prices have increased significantly from $47 from a few months ago thanks to the OPEC decision and action to cut production by 1.2MBPD. However, an additional oil advance in the next 12 months is expected to be limited, and oil is expected to stay between $55 and $60 per barrel for 2017.
Supporting this view are NYMEX future prices and the U.S. Energy Information Agency's prediction for oil prices for the next 12 months. The image below shows the predicted future price curve stalling around $56 to $60 for the next year.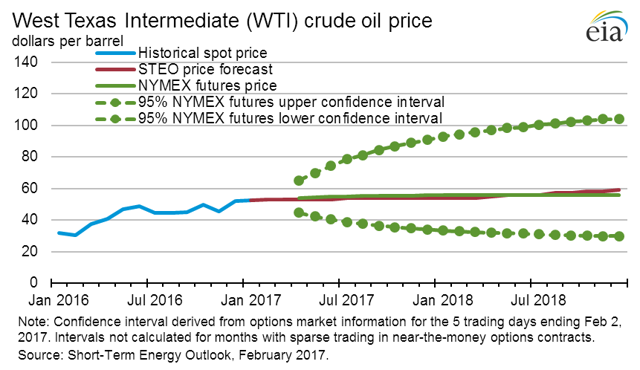 Conclusion
All in all, Marathon Oil Corp (NYSE:MRO) is in a fragile financial situation as it cannot produce profitable results even though oil has reached $56.50. In closing, Marathon does not looks like an attractive purchase as it cannot produce profit in the current environment.
Disclosure: I/we have no positions in any stocks mentioned, and no plans to initiate any positions within the next 72 hours.
I wrote this article myself, and it expresses my own opinions. I am not receiving compensation for it (other than from Seeking Alpha). I have no business relationship with any company whose stock is mentioned in this article.