European and South American telecoms powerhouse Telefonica S. A. (NYSE:TEF) announced Q4 results that generally pleased the market. The company's position in South America should be seen as a net positive for its future prospects.
Worries remain concerning the company's efforts to reduce its heavy debt load. The previously high dividend payout was the best reason to hold the stock. As my article in November pointed out, however, the reduction in dividend payout was a shock for investors. For some, it called into question the competency and openness of senior management.
Q4 Results
The chart below illustrates the basic details and trends: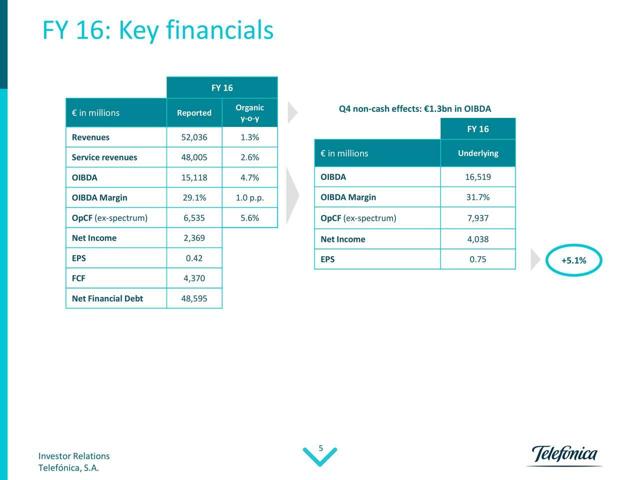 The organic increases of 2.7% in revenues and 9.4% in OIBDA were positive signs. Underlying profit rose by more than 14%. For the coming year, the company has forecast steady revenues and a further improvement in OIBDA margin. All the major telecoms operators are struggling to improve revenues in Europe under the watchful eye of EU telecoms regulator head Margrethe Vestager. Telefonica is Europe's largest fiber-optic broadband network provider.
Through its Movistar brand in Spain, the company is pushing sports broadcasting and electronic gaming, and these look quite promising. For instance, Movistar is closely involved with Spain's La Liga football championship, probably the best league in Europe.
The performance in South America was noteworthy, as per the print from the company below: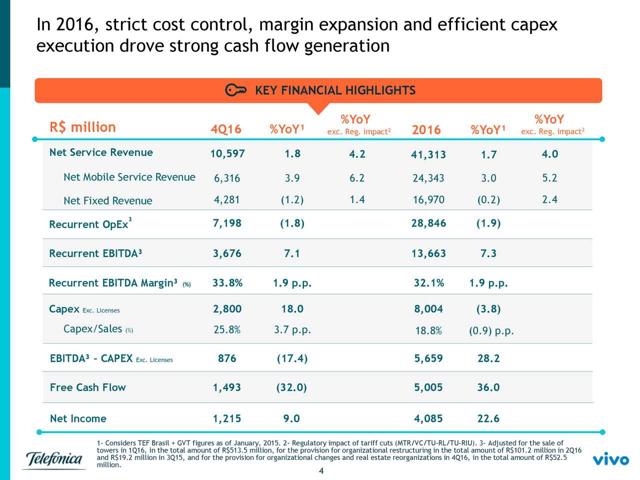 Telefonica Brasil S.A. (NYSE:VIV) is Brazil's leading operator under the "Vivo" brand name. The company's strong position in South America stands to benefit from an expected pick-up in the economies there, particularly in Brazil under the new reforming president, Michel Temer. This gives the company an edge over its main European counterparts.
In Europe, profitability is likely to remain tight due to fierce competition and regulatory pressure from the EU, as explained in my previous article. The difficult situation there will be further exacerbated by a pending abolition of cross-border roaming fees.
In December, Telefonica made an interesting move in Mexico to co-operate with rival America Movil SAB (NYSE:AMX) on a nationwide mobile roaming service. This follows a previous agreement with AT&T Inc. (NYSE:T). Telefonica's subsidiary in Mexico, Movistar, is the second-largest operator in the growing market of Mexico. It has about a 20% share of the market.
At the results briefing, the company was very confident about Argentina and optimistic about operations in Colombia and Chile. Peru remained a challenge for Telefonica, while Mexico showed improving margins after a difficult period. Management expressed confidence about Brazil. It expects mobile data and fixed ultra-broadband revenues to improve there.
Brazil represents over 30% of the company's EBITDA. This can be seen as either a positive or a negative, depending upon one's perceptions of a recovery in Latin America. Bearing in mind the macro factors in Europe, I think it should be seen as a positive catalyst not enjoyed by others.
Debt
Telefonica has been attempting to cut its substantial debt position. At the end of 2016, this stood at euro 48.6 billion (US$51 billion). So far, it has been fortunate to live in this low interest environment. Under Mario Draghi at the ECB, this may continue for a while, but most indications are for a rise in interest rates worldwide in the medium term.
The company has, however, been able to reduce the effective cost of its debt during 2016. The graphic below shows this: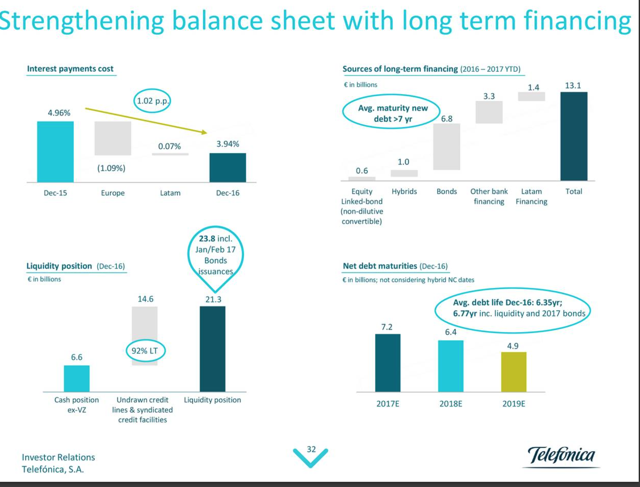 2016 saw a limited success in reducing net debt, as shown in the graphic below: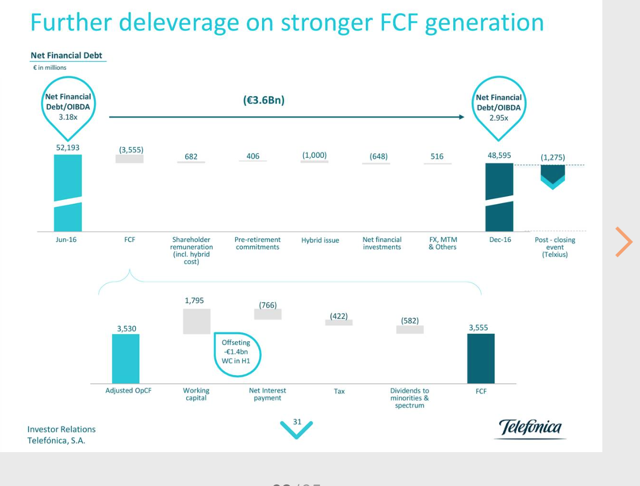 The net debt figure of euro 48.6 billion (US$51 billion) represents a reduction of euro 3.6 billion (US$3.78 billion) during the course of the year. This brings it down to 2.95x net debt-to-OIBDA.
There has been a long-running on-again, off-again saga in the company's efforts to sell or IPO its cell tower and undersea cable business, Telxius. Management has come in for quite a lot of criticism in its efforts here. EU regulators had stymied its efforts to sell Telxius to competitor Hutchison Whampoa (OTCPK:HUWHY).
Now Telefonica seems to have secured a deal in February to sell 40% of Telxius to private equity firm KKR. After so much effort, this sale seems a positive step.
It is likely to raise about euro 1.3 billion (US$1.36 billion). This would bring the net debt-to-OIBDA figure down to 2.85x. Some market observers are surprised Telefonica still wants to retain a majority stake in the business.
Late last year, the company raised a reported US$345 million when it sold its television business in Argentina to Viacom (NASDAQ:VIAB). Telefonica Argentina, however, is investing in its core competencies in the country. Economic prospects are seen as promising due to the more open policy under President Mauricio Macri.
Telefonica's debt reduction plans were badly hit last year when regulators turned down its plans to sell O2, the company's U.K. operations. That sale would have raised over £10 billion (US$12.3 billion).
The 1-year chart below illustrates some improvement in the stock price in recent months: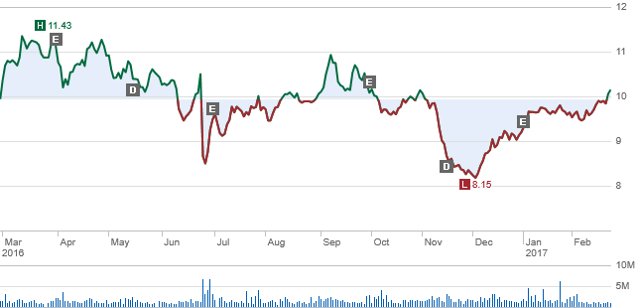 The 5-year chart below illustrates how the stock has not been kind to long-suffering stockholders: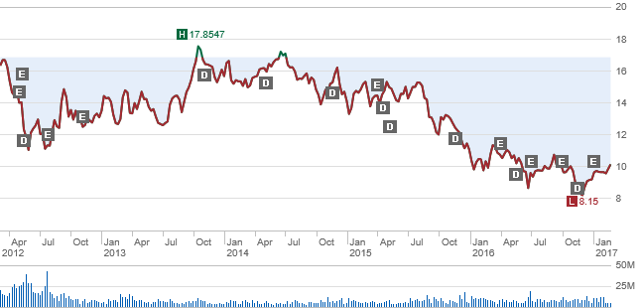 Dividend
My article in November gave details of the up- and down-swings of the company's dividend payout. The graphic below illustrates the declining position:

Blue = regular dividend; Black = special dividend; Grey = extra dividend
Whatever you call the dividends, though, they have been on a downward spiral.
Investors have been deeply disappointed by what many see as a lack of transparency on the part of management. The original promise of a payout of euro 0.75 per share for 2016 was reduced to euro 0.55. The payout for 2017 had been cut to euro 0.40.
At the results briefing, what was omitted was more revealing than what was stated. Management confirmed the 2016 dividend payout. Euro 0.20 will be payable in Q4 2017, and euro 0.20 payable in Q2 2018. This seemed to be represented as an achievement rather than a highly reduced payout.
It is very difficult for large telecoms companies to suddenly increase free cash flow. Company management expects improved free cash flow on the back of a decline in capex. At the results briefing, management appeared confident that an improvement in free cash flow would have a meaningful impact on future debt reduction. Telefonica's dividend yield is likely to rely on future debt reduction more than increased profitability.
In general, there are secular problems for telecoms players, as they need to find new revenue sources away from their traditional one of selling data packages.
In a potentially interesting new development, Telefonica has just announced a cognitive intelligence system called "Aura". This would essentially give collected data back to the customer. It is seen as a new way for a telecoms company to interact with customers. Telefonica thinks it will lead to less customer churn. However, this is still probably about a year away from implementation.
Conclusion.
Chairman and CEO José Maria Alvarez-Pallete stated, at the results briefing:
"Looking at 2017 we have set clear strategic priorities. First, growth in main P & L headlines and cash flow. Second, as a platform and data-driven company, we will make targeted investment in ultra-broadband and 4G. Third, cash preservation and organic deleverage complemented with a transversal asset review, leading to improved balance sheet."
In other words, that might be seen as "steady as she goes". However, "steady" has not been so kind to shareholders. Potential investors might have to take a bit of a leap of faith in the competency of management to see any very radical improvement in the stock price or a return to previously high levels of dividend payout. How the company manages to reduce debt will be key to short-term fortunes.
Disclosure: I am/we are long TEF.
I wrote this article myself, and it expresses my own opinions. I am not receiving compensation for it (other than from Seeking Alpha). I have no business relationship with any company whose stock is mentioned in this article.