The greatest mistake any statistician can make is to confuse correlation for causation. It is quite natural to do so, of course - a limitation not limited to modern society, where information can at times seem limitless. There are also cases where you are left with little other alternative. But operating within them requires even more robust evidence and more thorough examinations, not less.
Arthur Conan Doyle once wrote through his fictional creation Sherlock Holmes that "once you eliminate the impossible, whatever remains, no matter how improbable, must be the truth." Economists these days find themselves in that very quandary, wondering still how a recovery could vanish, or never really materialize, in such a way that they just cannot explain. In fact, the lack of recovery was itself thought be among the cohort of the impossible, and it was only the events of the past few years which have proven the case sufficiently to the gazing incredulity of the mainstream (most of which has yet to catch on).
Because they cannot explain it, they are left, economists believe, with less-than-appealing options. There are Baby Boomers and a "skills mismatch" - possible, plausible explanations for why productivity might be so low as to reduce so drastically the supply side (trend or potential). Skills mismatch is, like everything else these days, a euphemism - a polite way of describing Americans that number too far into drug addiction. It is difficult to make these assertions, for central bankers would have to admit their best shots of QE well into the trillions were thwarted by heroin addicts.
As improbable as it sounds, that's all there is on that side of the intellectual divide. Economists believe they have eliminated all the possible explanations, leaving them with Larry Summer's unappealing secular stagnation in one form or another.
Conan Doyle's formulation, however, is quite conceited when used outside the realm of detective fiction. The mainstream has been led to believe in a process of elimination, including "stimulus" itself, but we know of one area which central banks have never, nor will ever, examine - money. In the US, this situation is more backward than any other place, for the Fed discontinued its incomplete and woefully inadequate broad money statistic (M3) just a year before crisis would erupt in the very place that statistic - had it been used instead as a starting point - would have focused on.
Having made this supreme error, there is no way the Fed is ever going to go back to it by choice. No matter how many times in 2011 (and how many others after 2011 we will yet discover) the FOMC exclaimed global illiquidity in exasperation of then $1.6 trillion in bank reserves, Federal Reserve officials have anyway excluded the dollar from the economic conversation - to the point of intensifying irrationality.
And it is absurd no matter how much appeal to authority is placed upon it, of which there has only been more. It is preposterous to propose that all of a sudden heroin and opioid use skyrocketed at just the time the recovery was about to start; that rather than join the looming labor opportunities, too many Americans were allured instead by abuse. Are we really supposed to believe that faced with the (simplified) choice of jobs or drugs, a great deal of our fellow countrymen chose the latter, and that is why the economy has suffered and continues to do so?
For some, it is that simple. Not only are these Americans drug addled, they are supposedly lazy, too. Rather than move to a new place where all these recovery opportunities do exist, they say, potential labor instead stayed in place and turned to escapism despite it.
I have a great deal of trouble buying it, not the least of which was because of the timing. Even without considering that factor, however, it just doesn't make sense because it reverses causation. Move to a new place and a better life, or start taking heroin? Americans have always been migratory in nature, so it stretches the bounds of common sense that this would have started coincidentally during a period of high unemployment.
The other side of high unemployment is, of course, few additional labor opportunities. It is far more likely that caused (or severely contributed to) the drug crisis rather than the other way around. A new paper published by the NBER lends some statistical (the language and frame of all reference for Economists) credence to what is, again, common sense.
We contribute new evidence to the literature by examining how severe, adverse outcomes related to use of opioid analgesics (hereafter abbreviated as opioids) and other drugs vary with short-term fluctuations in macroeconomic conditions... We find that as the county unemployment rate increases by 1 percentage point, the opioid death rate (per 100,000) rises by 0.19 (3.6%) and the ED visit rate for opioid overdoses (per 100,000) increases by 0.95 (7.0%). We also uncover statistically significant increases in the overall drug death rate that are driven in most specifications by increases in opioid deaths. These results hold when performing a state, rather than county, level analysis.
We have to infer causation from correlation, but it doesn't seem at all likely that unemployment rises because drug addiction does. Rather, it is very likely that drug abuse has risen in total because the economy never recovered. (I want to stress this is not a conclusion reached by the authors, it is my own inference beyond their scope.) The Fed, unsurprisingly, has it all backward.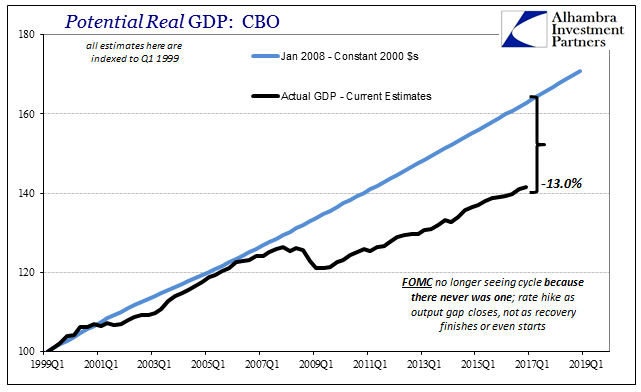 A more helpful way of putting it would be to say that the American heroin epidemic rose as did the unembellished output gap. Escapism would be quite logical and consistent with an economy going nowhere, as one might follow the other, not create it.
If you eliminate the purview of central bankers from the list of possible explanations for a global lost decade, then you will be stuck with only the absurd, should it turn out that the cause all along resided within the purview of central bankers. It would be further highly likely that if that were the case - and all evidence points in that one direction - central bankers would be the last people to cop to it. From their view, drug addicts make a far better story than derelict economists.