Wow!
The Dow Jones Industrial Average (NYSEARCA:DIA) broke $21,000.
The Dow increased 15% and the S&P 500 (NYSEARCA:SPY) increased 12% since the U.S. Presidential election. That's over a year's worth of gains (based on the market's long-term average gain of 10% annually) that took place in under 4 months. Investors are optimistic that new tax cuts will be implemented along with relaxed regulations, which could be conducive for growth.
With such strong gains in the market and no corrections since the beginning of 2016, the market is certainly due for a pullback or a correction, which could by triggered by unexpected negative news. However, solid fundamentals are also driving the market in addition to the optimism for favorable new legislation. So, I think that the market is rising on rational exuberance.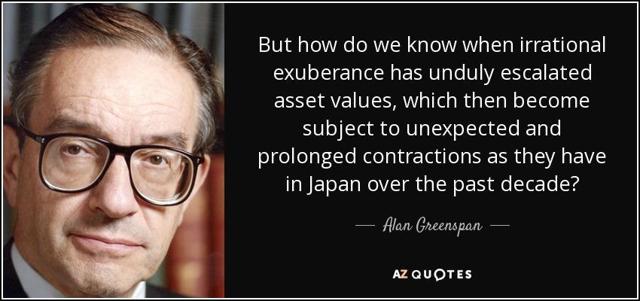 Image source: azquotes.com
Optimism for Favorable Legislation
The market's rise since the Presidential election is a result of optimism for business-friendly legislation. For example, the Trump administration is expected to implement tax cuts for corporations and for personal incomes. The administration is also expected to loosen certain regulations to stimulate economy growth.
Trump's plans to cut the federal corporate tax rate from 35% down to 15% will significantly reduce the motivation for companies to invert. However, the 15% rate may turn out to be 20% based on compromises from House Republicans. Whatever the actual rate turns out to be, lower tax rates are likely to make the U.S. more competitive.
Companies in the U.S. have been acquiring or merging with companies located in countries with lower tax rates such as Ireland. These companies incorporate in the countries with lower taxes to benefit from the lower rates. The result is that large quantities of tax money leaves the U.S. and goes overseas. Therefore, by lowering the corporate tax rate, U.S. companies will be motivated to remain U.S. corporations.
Lowering the U.S. corporate tax rate is likely to stop the flow of U.S. companies moving their domicile abroad. This will allow the U.S. to keep more tax revenue instead of losing it to inversions. It is also likely to reduce job losses as a result of inversions, keeping more U.S. workers employed. From an investment standpoint U.S. corporations will become more profitable as a result of having lower tax bills and they will have more incentive to expand and grow here.
Favorable legislation can also come in the form of loosening regulations that are constricting economic growth. Of course, there are some safeguards that may need to stay in place. However, some regulations can have a net negative effect on growth. Regulations extract a total of over $2 trillion from the economy every year.
One regulation that could be beneficial to repeal is the EPA Clean Power Plan. While the intentions of the plan sound good on the surface by cutting 870 million tons of carbon emissions by 2030, the reality is different. The amount of new carbon in the atmosphere increases by 50 billion tons per year. So the net effect of the plan is only a 0.017% annual decrease in emissions. The plan's cost of $7.2 billion per year could be significantly reduced. Reducing this regulation could help drive more robust growth in the energy industry.
Another potential set of regulations that could be cut are the Dodd-Frank financial regulations. These regulations cost $4.7 billion in 2015. Some parts of Dodd-Frank place a burden on mortgage lenders where they are required to report 45 data points about each mortgage applicant. That is just one example, but there is certainly opportunity to scrutinize and eliminate wasteful regulations. This would help the banking/financial companies.
The potential for lower taxes and for less regulation is being weighed by stock investors. Investors have been enthusiastically buying stocks since the election with the hope that the economy can thrive more than it has in recent years. For example, U.S. GDP growth consistently exceeding 3% on an annual basis would be a welcome change. U.S. GDP growth struggled to exceed 2% for the past 2 years on an annual basis. With the potential for lower corporate and income taxes and less costly regulation, the economy has the potential to make stronger gains. Therefore, this shows that investors are acting rationally.
Fundamentals Driving the Market
The fundamentals as measured by economic indicators are pointing towards investor rationality. There are multiple positive indicators showing that the economy is on solid footing.
Total construction increased 3.1% in January 2017 over January 2016. The February PMI index increased 1.7% to 57.7 over January. That marked the 93rd consecutive month of economic growth. Manufacturing is showing strength with 17 out of 18 manufacturing industries reporting growth in February.
New home sales increased 5.5% in January 2017 over January 2016. Existing home sales increased 3.3% in January 2017 over last year. These increases are likely to have a positive ripple effect for the economy as home owners need large ticket items such as appliances and furniture for those homes. Some of the existing home purchasers may need to refurbish older or outdated rooms.
These indicators demonstrate the economy's growth. However, there are some challenges. One of the disappointing indicators has been GDP as I mentioned earlier. If Trump's policies such as tax cuts and less regulation can produce GDP growth consistently over 3% or at least over 2.5%, then the bull market is likely to continue.
Conclusion
Overall, I do think investors have acted rationally since the election. The optimism for tax cuts and a loosening of certain regulations accelerated the pace of the market's rise. The economic indicators are positive and further justify the increases that we've experienced.
I think that a good portion of the optimism is already priced into the market. However, there aren't any negative catalysts to trigger a correction. So, we could see a minor pullback or some sideways movement without a negative catalyst over the next few months. That might not happen until May through the summer months when the market tends to lag.
We could see a sell the news reaction when the actual tax cut plans are announced. If the market continues to rise at the same pace for the rest of 2017 that it did since the election, then investors would be acting irrationally, but so far the move looks rational.
Disclosure: I/we have no positions in any stocks mentioned, and no plans to initiate any positions within the next 72 hours.
I wrote this article myself, and it expresses my own opinions. I am not receiving compensation for it (other than from Seeking Alpha). I have no business relationship with any company whose stock is mentioned in this article.
Additional disclosure: If you like my analysis, click on FOLLOW at the top of the article near my name. That will allow my articles to display on your homepage as they are published. The article is for informational purposes only (not a solicitation to buy or sell stocks). I am not a registered investment advisor. Investors should do their own research or consult a financial advisor to determine what investments are appropriate for their individual situation. This article expresses my opinions and I cannot guarantee that the information/results will be accurate.