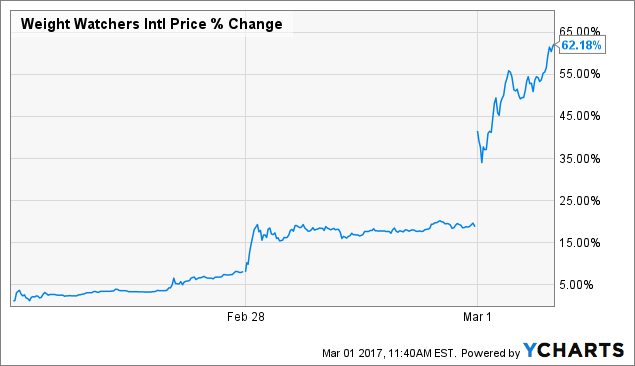 Figure 1: Weight Watchers International Inc's Stock Price Has Gone Up by 62.18% Since Releasing Their Q4 2016 Financial Results
Since releasing their Q4 2016 and full year 2016 financial results, the stock price of Weight Watchers International Inc (NYSE:WTW) has gone up to $19.55 per share, which represents a 62.18% increase compared to the opening price of February 27, 2016.
A high consecutive member recruitment growth in the four quarters in 2016 has made investors optimistic about the coming year. The bullishness of the stock price was further fueled by a strong guidance for the year 2017. Especially, in the short run, closing down operations in Spain and strong member growth in Weight Watchers International Inc's key market in North America was the driving force behind this week's strong bullish momentum.
After carefully reviewing Weight Watchers International Inc's financial performance in 2016, we believe their stock price has the leg to reach much higher in the coming months.

Figure 2: Weight Watchers International Inc Has a Median Price Target of $28.00 Per Share
Currently, Weight Watchers International Inc has a median price target of $28.00 per share. Based on the current market price of $19.77 per share, it offers secondary investors an additional 41.63% upside potential in the next 12-month period.
We are firmly recommending that secondary investors consider increasing their exposure to Weight Watchers International Inc as there is a strong possibility that the median price target would be reached within the next four quarters.
Takeaway from Weight Watchers International's Recent Financial Performance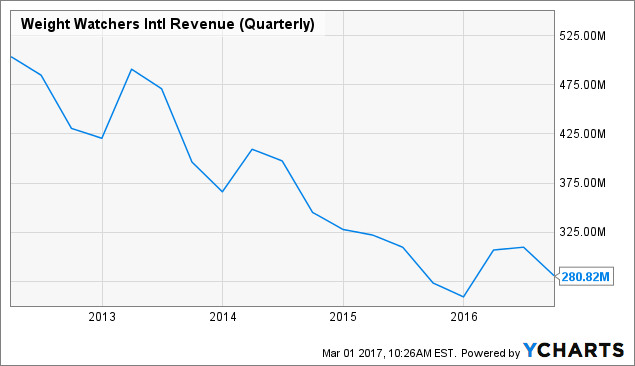 Figure 3: Weight Watchers International Inc's Q4 2016 Revenue Came Out at $267.4 Million
On February 28, 2017, Weight Watchers International Inc released their Q4 2016 financial result, which showed that the company had earned a total $267.4 million revenue for the quarter. Compared to $259.24 million revenue in Q4 2015, Q4 2016 revenue went up by 3.15%. They also posted the full year revenue for 2016, which came out at $1.16 billion.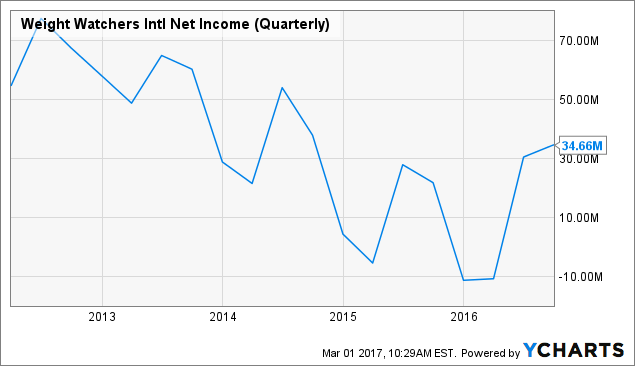 Figure 4: Weight Watchers International Inc's Q3 2016 Net Income was $34.66 Million
By contrast, compared to -$-11.29 million net loss in Q4 2015, Weight Watchers International Inc's net income came out at $$13.3 million, a vast improvement. However, the $13.3 million net income in Q4 2016 was still a lot worse than the previous two-quarters, Q2 and Q3 2016, when they posted a net income of $30.49 million and $34.66 million, respectively.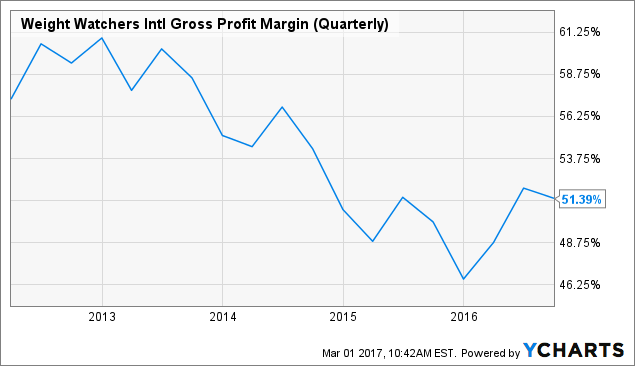 Figure 5: Weight Watchers International Inc's Q4 2016 Gross Profit Margin Came Out at 48.8%, Slightly Better Compared to 46.6% in Q4 2015
We were particularly impressed by Weight Watchers International Inc's effort to increase efficiency, which is evident from their improving gross profit margin over the last one year. Although their gross profit margin continuously declined over the previous five years, in Q4 2016, it came out at 48.8% compared to 46.6% in Q4 2015. However, as shown in figure 5, the uptrend is pretty clear as their gross profit margin remained above 50% in Q2 and Q3 in 2016.
Weight Watchers International Management Has Reasons to Be Optimistic
During the Q4 2016 earnings call, Nicholas P. Hotchkin, the Chief Financial Officer and Member of the Interim Office of the Chief Executive Officer of Weight Watchers International Inc, sounded optimistic while he talked about the 2017 guidance.
"We expect revenue momentum to build throughout the year with Online growing faster than Meetings leading to full year revenue in 2017 to be approximately $1.25 billion," he said. Compared to the $1.16 billion annual revenue in 2016, if his prediction comes true, then it would represent a year-over-year revenue increase of around 7.76%.
During the earnings call, we learned that Weight Watchers International Inc was able to maintain profitability in all of their continental European markets, except Spain. Spain represents the smallest market in Europe for Weight Watchers International Inc, which generated only $5 million revenue. However, it seems that management has failed to "identify a clear path to growth or profitability" in Spain and as a result, they have decided to quit from this geographic market altogether in 2017.
Mr. Hotchkin mentioned that this withdrawal from Spain would likely to have a positive impact on the Q1 2017 earnings per share.
Conclusion
Over the last one year, Weight Watchers International Inc management was able to deliver positive member recruitment growth in every quarter. Hence, when Thilo Semmelbauer, a Director of Weight Watchers International Inc, said that "with the strong momentum of winter season, we're well positioned for growth throughout 2017," he had ample reasons to back his claim.
In fact, Q4 2016 turned out to be Weight Watchers International Inc's fifth consecutive quarter of positive member recruitment. As a result, by the end of Q4, their total subscribers figure reached as high as 2.6 million, where Meeting Subscribers were up 10% to 1.1 million, and Online Subscribers were up 9% to 1.5 million.
As we anticipated, Weight Watchers International Inc's subscriber growth was led by their largest market, which is the North American geographic segment. The growth momentum also proved that their transformation strategy is finally working as the company has at last ended the three consecutive years of revenue declines in 2016.
Disclosure: I/we have no positions in any stocks mentioned, and no plans to initiate any positions within the next 72 hours.
I wrote this article myself, and it expresses my own opinions. I am not receiving compensation for it. I have no business relationship with any company whose stock is mentioned in this article.