In this article, I will briefly look back at my January 29, 2016 call that Foot Locker (NYSE:FL) was my best short idea for 2016 and transparently admit that I got it wrong. Then I will draw the comparisons and explain why Foot Locker's remarkable success is another positive data point that provides me with more comfort that GNC Holdings, Inc. (NYSE:GNC) can successfully execute a turnaround.
Moreover, in my recent piece Ulta Beauty, Inc. vs. GNC, I was accused of cherry picking Ulta (NASDAQ:ULTA) and that Ulta is the one notable exception immune to the foregone conclusion that brick and mortar retail is toast. Lo and behold, Foot Locker is another example of why the narrative that retail is dead is simply misguided and lazy thinking.
Enclosed below is a snapshot of my Foot Locker article. I wrote up the idea as a short, at $67.56, using its January 29, 2016 closing price. Curious readers can find the link above if they are so inclined and learn why my short thesis proved to be wrong. That said, from a trading perspective, I was briefly correct, as shares traded down to as low as $53 in June 2016, only to rebound smartly and recently closed above $76 after blockbuster Q4 2016 results.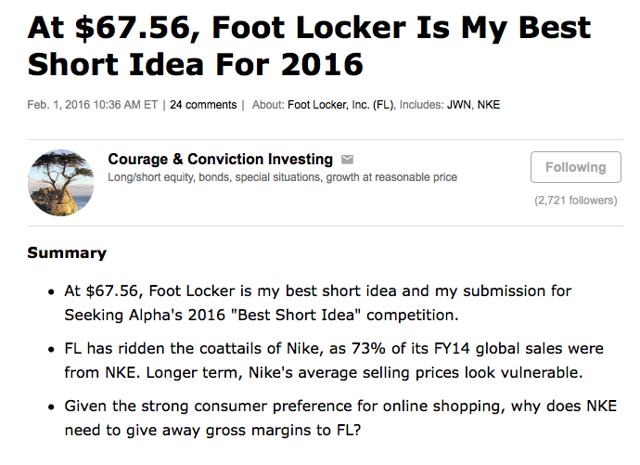 Here is the chart displaying Foot Locker's financial performance. As you can see, the stock is up 16.55% since I made the inaccurate short call (excluding cost to borrow and dividends).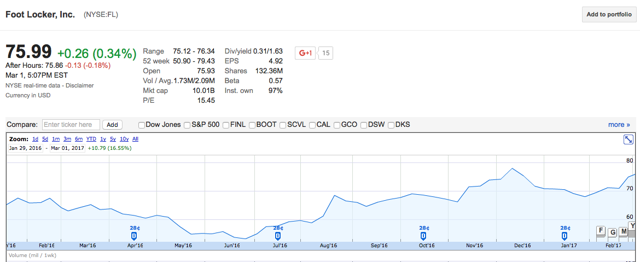 Source: Google Finance
Next, let's look at constructive feedback from my new SA friend, Suhail Capital. I appreciate Suhail's expertise as a successful hedge fund manager, and he/she (I don't know his or her real name) provided the following feedback and suggested that I am cherry picking Ulta Beauty and that Ulta is the one exception in Brick and Mortar retail. As my regular readers know, I take an open kimono approach and I have nothing whatsoever to hide.
Therefore, enclosed below are Suhail's counterarguments, fully on display, to my Ulta Beauty, Inc. vs. GNC piece. So as you can see, I am not misquoting or mis-characterizing Suhail. Suhail's comments make it crystal clear, at least in Suhail's mind, that I am cherry picking Ulta Beauty, and therefore, my theory that Brick and Mortar retail isn't dead is poor logic and a "one-off."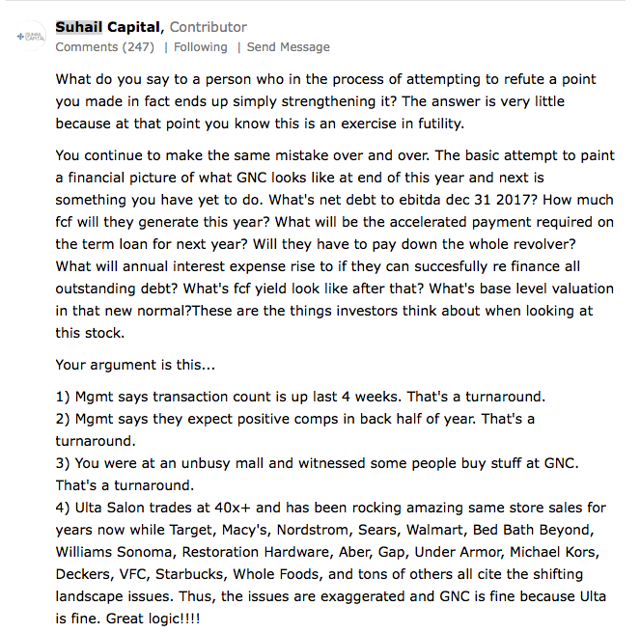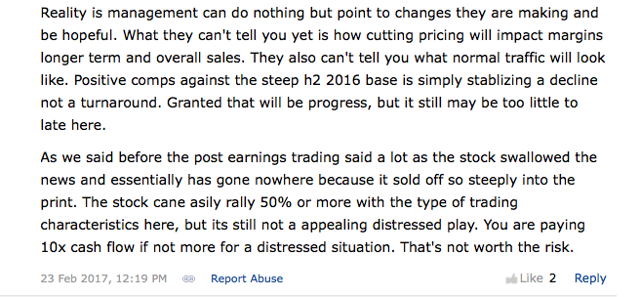 If I am cherry picking then how do you explain Foot Locker's incredibly impressive FY16 revenue (up 4.8%), earnings (up 27.9%), and comps growth (up 4.8%)? Last time I checked, Foot Locker has 3,363 store across the globe and over 13 million (gross) square feet of physical selling space. Moreover, they have a significant mall presence, where we read on the daily that foot traffic is in perpetual decline.
Store Count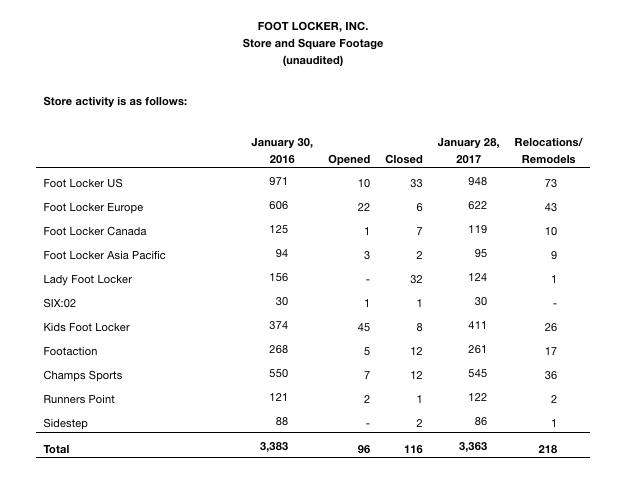 Foot Locker square footage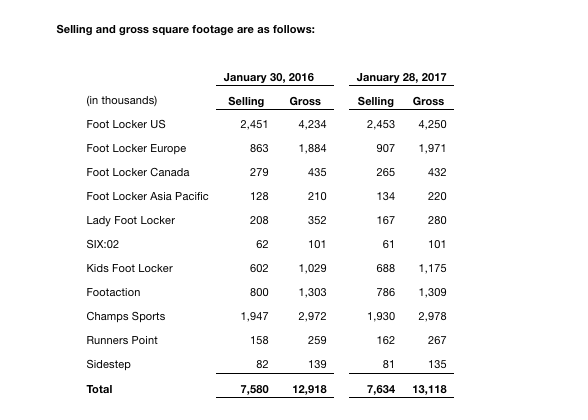 Again, last time I checked, Foot Locker is simply a retailer that sells third party sneakers and apparel. They are not vertically integrated, like GNC, and they have a major presence in shopping malls. When I was brainstorming for a great retail short idea for last year's "Best Short Idea For 2016" contest, of course, I was aware of the challenging headwinds facing brick and mortar retail. That premise and the intellectual temptation of trying to slay dragons (translation correctly call the inflection point where a once great business turns down) led me to Foot Locker.
After all, with Amazon's (NASDAQ:AMZN) now 66 million Prime members and the ubiquitous "free shipping and returns" offerings by other major retails that sell athletic footwear, surely, Foot Locker would get pulled into the undertow and stuck in the unavoidable race to the bottom trying to maintain market share against the mighty Amazon.
Moreover, I incorrectly surmised that FL's ridiculously overpriced signature basketball shoes (north of $235 for some per pairs) and high-priced running shoes would prove unsustainable, as the narrative the consumer is tapped out and dead is another folklore told like a childhood game of telephone by lightweight financial journalists that write catchy headlines containing two paragraphs and 100 word pieces that are intentionally designed to ensnare gullible readers into their "click nets."
If we look at page 17 of Foot Locker's FY15 10-K, we see that athletic footwear accounted for 82% of FL's revenue.

If we look at Foot Locker's high-level results, we see that FL absolutely crushed it in FY16 (see this clip). Yikes, EBIT was up 19.6% or $165 million YoY. The operating leverage for this business is excellent as top line growth drops straight to the bottom line at a much faster pace than SG&A and FL had 33.9% gross margins in FY16, which was actually up from 33.8% in FY15. Oh dear, no gross margin pressure here.
Analysis
This is the perfect segue into my analysis as to why Foot Locker has such a great moat. My view is that Foot Locker's significant buying power and relationships with the majors (think Nike (NYSE:NKE), Under Armour (NYSE:UA), Adidas (OTCQX:ADDYY)/Reebok, etc.) enable them to gain and secure exclusive access to the most coveted new marquee basketball and other product launches.
This marketing buzz drives traffic and enhances Foot Locker's brand cache in the mind of consumers. Moreover, due to Foot Locker's expansive global footprint, from a business decision perspective, it is advantageous for the likes of Nike, Under Armour, and others to sell their product in FL stores rather than investing the capex and encountering the innate headaches associated with managing physical retail stores.
In other words, the major athletic footwear makers find it more profitable to push their product through FL's vast brick and mortar retail network. So clearly, I underestimated these key nuances in what proved to be a faulty January 29, 2016 FL short thesis. The other factor that benefits FL is that their retail employees earn low wages, but are offered product discounts. Therefore, if you have a "sneaker head" addiction and can only find a relatively low-paying retail job at this point in your life stage then why not work for FL and get product discounts as a perk.
As I have argued ad nauseum, here on SA in prior pieces, GNC's travails are mostly self-inflicted and not solely due to competition. Pre Robert Moran leadership was fat, dumb, and happy taking all of GNC's then robust free cash flow and buying back (and issuing debt for buybacks) for what proved to be expensive stock. The past management team completely dropped the ball and defined the concept of inertia in spades. In this competitive landscape, you have to reinvest some of your cash flow back into product innovation, marketing, and most importantly, signing exclusive product deals.
Although Foot Locker and GNC sell different products, they both have the benefit of competing for an overall market pie that is growing. And I would argue, given the demographic trends of the baby boomers, GNC could be entering a super cycle as the number of unhealthy consumers seems to increase every year and GNC's array of products can help people.
So given the tailwind of increasingly favorable demographics and increased purchasing power in a "Brave New Trump Economic World," a 3% GDP growth is once again being whispered, as DJT whips up the animal spirits of the dynamic U.S. economy (and by the way, this isn't a full-throated endorsement of #45).
Back to GNC, Robert Moran fully "gets it" and he understands that GNC's vertical integration and vast physical retail network is woefully underutilized and just waiting for someone of his high caliber to reinvigorate this once great brand.
If GNC's current business development team can't go out and find exclusive product deals that will drive store traffic then find or cultivate a new team that will proselytize the "good word" as to why it benefits product innovators to launch their next hit exclusively at GNC. The opportunities here are endless, as GNC could charge for its valuable sell space like the savvy grocery chains or offering compelling terms to product innovators in exchange for the lift it will garner in foot traffic.
Moreover, talented SA contributor, Simply Safe Dividends penned a recent GNC piece that contained these two excellent charts. I lifted them and reposted them below as they are powerful.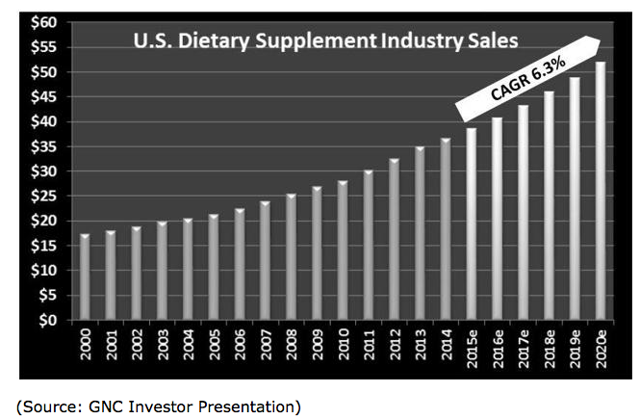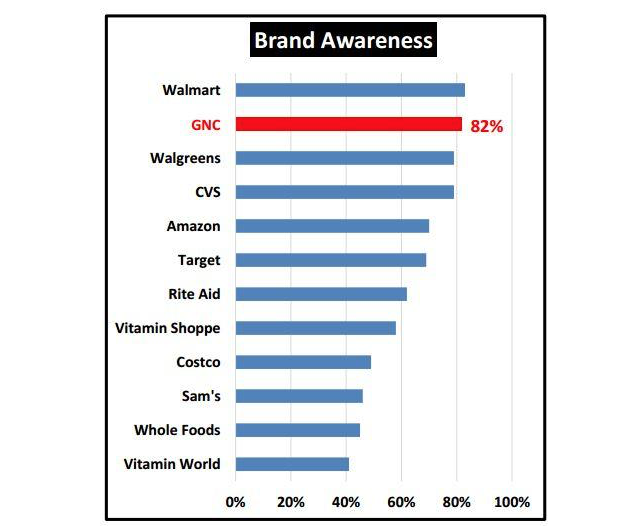 Takeaway
In closing, I will do the unthinkable and invoke the famous phrase officially introduced by Michael Lewis in his classic book, Liars Poker, "B.S.D." If I were a "B.S.D." I-Banker then would either advise one or a small group of private equity firms to launch a hostile bid for GNC at $12 per share or the team and me would traverse the globe and find a farsighted dance partner with a stronger and less levered balance sheet that could integrate and exploit the synergistic characteristics of GNC's strong brand name, vertical integration, and massive global footprint.
Supposedly, the Masters of the Universe at Goldman Sachs were tasked with that assignment, yet, not only did they fail, perhaps they intentionally didn't have enough imagination to get a deal done. My view is that if GS pretended to orchestrate a deal it then this created a short-term pop in GNC's stock price that was then exploited by GS's powerful hedge fund clients by shorting the stock, but I digress and this is unproven theory on my part.
Based on what I have seen and from reading Robert Moran's last three conference calls, multiple times, I am convinced that his plan will work as management presented tangible evidence of early signs of a turnaround (green shoots anyone as spring is only three weeks away). If we didn't have two young children, then I would have already flown to Pittsburgh and demanded a meeting with management as concerned shareholders.
And by the way, coming off my recent coup calling the Weight Watchers (NYSE:WTW) short squeeze (on December 22nd, at $11.50 per share, and exclusively here on SA), emboldened, we bought another small block of GNC shares.
And by the way, the #Courage to Change YouTube video is up to 16.7 million views. Yet somehow, the sell side lacks the imagination to connect the dots that maybe, just maybe, a percentage of people that viewed the ad spot visited a GNC and bought something.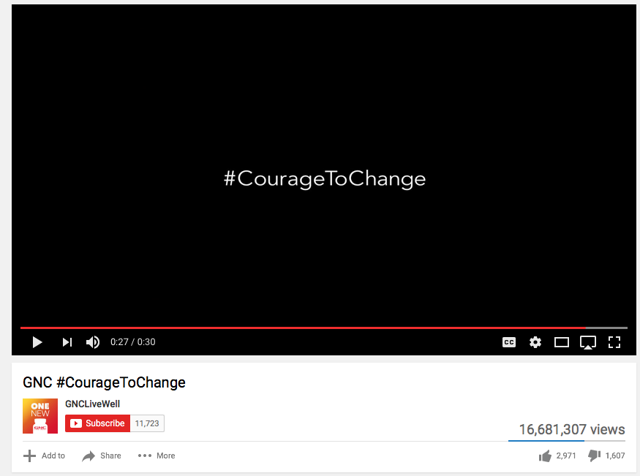 Disclosure: I am/we are long GNC.
I wrote this article myself, and it expresses my own opinions. I am not receiving compensation for it (other than from Seeking Alpha). I have no business relationship with any company whose stock is mentioned in this article.