We engage in few selling operations of call/put options, the last one we made was related to Coca-Cola (NYSE:KO), read here, where we wrote call options, which will soon expire, at a strike price of $4/share.
This time, we wrote call options at a strike price of $155/share for McDonald's Corp. (NYSE:MCD). We believe, the stock price has reached its medium-term maximum level, and it's highly unlikely that the stock price will surpass the calls' strike price, for the following reasons.
Technical Analysis shows short-term correction
We follow candlestick patterns to expect reversal points. The "Doji Candlestick", means that the market is in "uncertainty mode", with bulls and bears not taking control over the market.
This candlestick, when found at tops or bottoms, accompanied with high volume, means a near term reversal in the trend is highly likely. This is how the Doji Candlesticks look like.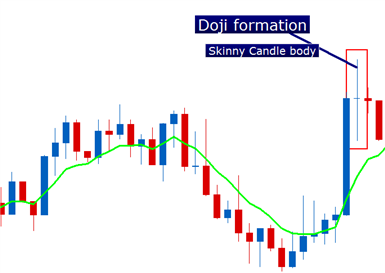 And this is how it's formed in the McDonald's stock chart.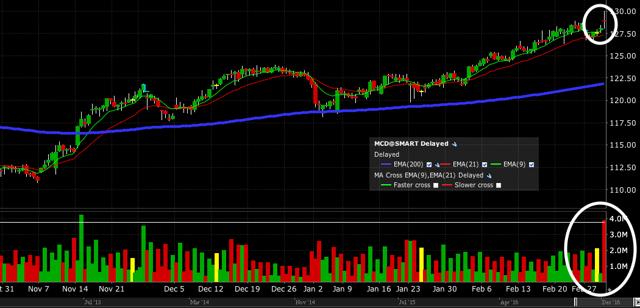 A volume of 4 million daily traded shares, was approximately double the average trading volume for the last 10 trading days. Add to that, the volume was high due to MCD's management releasing its target for the long-term growth rate of 3% to 5% for all of its restaurants in its system (not McDonald's Corp. revenues), which is considered high for restaurants which each generate more than $2 million in annual revenues.
So, if the bulls couldn't take control at the end of the trading day, which witnessed positive news for the stock, this means that the bulls' force is limited at current price, which paves the way for a likely reversal for the trend in the coming months.
Fundamental Analysis shows a limited upside for the stock
This section will provide a discounted cash flow analysis for the long-term, assuming that the long-term targets for McDonald's management are met.
In its latest earnings report, McDonald's management stated that it has a long-term target for its portfolio. Its target is to have 95% franchised restaurants, and only 5% owned restaurants. This will be a result of the company's efforts to refranchise its owned restaurants.
This means, going forward, McDonald's cash from operations will slightly decrease (we calculated the approximate decrease below), due to the shift to a slightly-lower margin business. And, its capital spending will substantially decrease, since the franchisees will be the ones who pay for the new opened restaurants.
So, let's calculate by how much will McDonald's operating profit change, a result of the company's shift towards franchised restaurants.
McDonald's currently owns 5,669 restaurants, and its franchise business includes 31,230 restaurants. Assuming management's target of having 95% of MCD's restaurants franchised is met, it means that 1,844 restaurants will be owned, and 35,000 restaurants will be franchised (we will include the growth rate of these into our model).
The average revenue per owned store for McDonald's is $2.7 million, and it's $296,000 for each of the franchised restaurants.
Thus, McDonald's total annual revenue after its long-term target is met, will be $10.37 billion.
In addition, McDonald's management guided for a decrease of its SG&A expenses, from nearly $2.38 billion to $1.938 billion, in the long-term.
Assuming MCD's operating margins remain stable, the company's operating profit will decrease nearly 4% (from $7.745 billion to $7.362 billion), a result of the company's strategic shift.
We created the following table to simplify our analysis.
| | | |
| --- | --- | --- |
| | Before Hitting LTM Target | After Hitting LTM Target |
| Number of owned rest. | 5,669 | 1,844 |
| Number of franchised rest. | 31,230 | 35,000 |
| Revenue per owned rest. | $2.7 Million | $2.7 Million |
| Revenue per franchised rest. | $296,000 | $296,000 |
| Total Annual Revenue | $24.62 Billion | $15.37 Billion |
| Company-Operated OpEx. (83% of sales) | $12.69 Billion | $4.15 Billion |
| Franchise-Operated OpEx. (18.5% of sales) | $1.71 Billion | $1.92 Billion |
| SG&A Expenses | $2.38 Billion | $1.93 Billion |
| Operating Profit | $7.745 Billion | $7.362 Billion |
As a result of the 4% decrease in operating profit, we assume that McDonald's CFO will also decrease by 4%.
The company guided for a 3%-5% long term growth rate for the whole restaurants in the system, knowing that 33% of the franchisee revenue for McDonald's consist of royalty fees (the others are related to renting fees), this means the following:
McDonald's revenue will increase by 1.09% over the LTM, if total system sales increased by 3% (0.95 x 0.33 x 0.03 + 0.05 x 0.03).
McDonald's revenue will increase by 1.45% over the LTM, if total system sales increased by 4% (0.95 x 0.33 x 0.04 + 0.05 x 0.04).
McDonald's revenue will increase by 1.81% over the LTM, if total system sales increased by 5% (0.95 x 0.33 x 0.05 + 0.05 x 0.05).
After we estimated the decline of CFO after MACD's strategic shift, we should estimate the LTM Capex spending.
The current Capex spending is $1.7 billion, however, management said that nearly one-third of that spending belongs to modernizing current restaurants. Thus, it's healthy to assume that $1.2 billion belongs to necessary expenditures for growth.
The third stage in calculating the long-term value for McDonald's shares is including the buyback program into the intrinsic value calculation. Management announced that it will buyback between $22 billion and $24 billion worth of stock.
Taking the midpoint, this will result in a decrease of 21.7%, for the number of shares outstanding.
The fourth stage involves adding the benefit of corporate tax rate decrease. MCD's effective tax rate is currently 33%. If we assume that 20% will be the new corporate tax rate, then, MCD's CFO will get a boost of nearly 13%.
The final stage involves entering the weighted average cost of capital. According to GuruFocus, which uses the CAPM model, MCD's WACC is currently at 7%.
For simplicity, we created the following table which includes our inputs for the DCF analysis.
| | |
| --- | --- |
| First Year CFO after the Strategic Shift (SS) | $6.622 Billion |
| Tax Rate Decrease Boost | 13% |
| Share Buybacks Boost in # of shares | 21.7% |
| Capital Spending after SS | $1.2 Billion |
| WACC | 7% |
| Long Term Growth Rate for MCD (taking midpoint) | 1.45% |
| Long Term Growth Rate for MCD (taking high end guidance) | 1.81% |
| Long Term Growth Rate for MCD (taking low end guidance) | 1.09% |
| Net Debt | 24.6% |
Entering these inputs into our model, we got the following:
| | |
| --- | --- |
| High End Share Value | $138.25/share |
| Low End Share Value | $117.27/share |
| Midpoint Share Value | $127.13/share |
| Current McDonald's Share Price | $129/share |
As a result of all the analysis above, we believe that McDonald's is trading near its most optimistic scenario. Thus, we believe that writing calls of $150/share strike price, expiring in the coming 6 months, is safe. Especially when technical analysis shows a highly likely, near-term reversal.
Happy investing to all.
Disclosure: I/we have no positions in any stocks mentioned, and no plans to initiate any positions within the next 72 hours.
I wrote this article myself, and it expresses my own opinions. I am not receiving compensation for it (other than from Seeking Alpha). I have no business relationship with any company whose stock is mentioned in this article.
Additional disclosure: We wrote MACD call options, $150/share strike price and September 2017 expiration date.