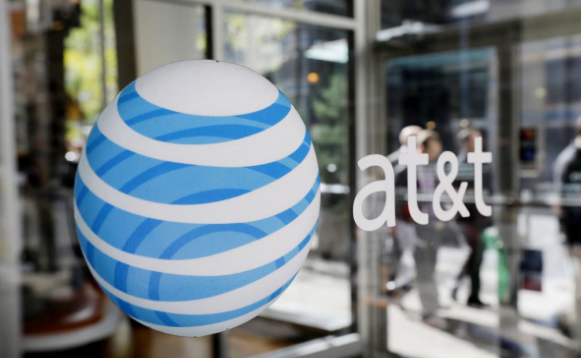 AT&T (NYSE:T) has long been a dividend investor's dream as it pays out a huge, utility-like yield. That kind of stability is certainly attractive but in recent years, T's ability to raise its dividend has been hampered by a lack of growth in free cash flow, and with the Time Warner (NYSE:TWX) deal pending, it seems that may get worse before it gets better. While the final implications and indeed, even the very structure of the deal are still up in the air, T's dividend looks to be taking a back seat to its plans to try and jumpstart some sort of growth. So what does that mean for the dividend, the most important piece of this stock?
Note that I'll be using data from Morningstar throughout.
Dividends are normally framed in reference to net income or earnings which makes logical sense, except that earnings are an accounting measure and nothing more. You can't spend "earnings"; you can only spend cash. And as dividends are paid out in cash - ignoring their accounting treatment - I'm not sure why one would examine a company's ability to pay a dividend in reference to an accounting metric instead of its ability to sustainably produce cash over time. That's how I view dividends and as such, we'll take a look at T's FCF over the past decade in relation to how much it owes shareholders via the dividend every year to see what investors can expect going forward.
To that end, we'll begin with this simple chart that shows T's FCF generation each year in the context of what the dividend has cost over the same time period.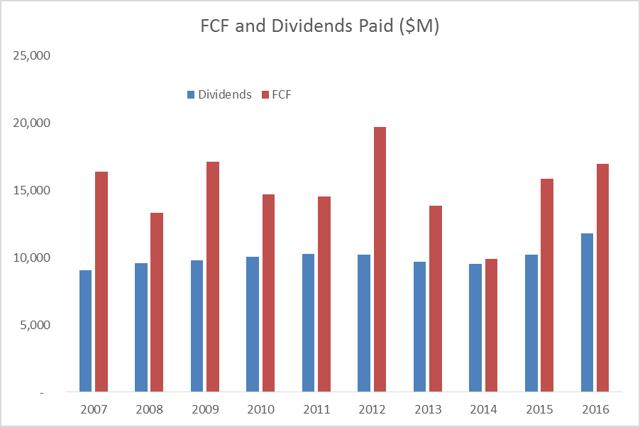 We can see that T's dividend outlays have been pretty flat with the exception of the past couple of years, when T's share count has risen meaningfully. The dividend itself, as we know, is usually bumped by 2% annually so it isn't like shareholders are reaping the benefit of the higher dividend outlay; it is just because T is paying the dividend to more shares each year. The outlay was kept pretty steady for a long time as the buyback reduced the float but that simply hasn't been the case in the recent past.
With T looking to issue half of the purchase price for Time Warner in stock, obviously, the dividend is going to cost a bunch more than it does now. T will be able to use Time Warner's FCF generation to offset some of that but it is worth mentioning that T's dividend outlay - should the deal go through - is going to be substantially higher than it is right now. T said the deal would actually improve its dividend coverage via Time Warner's FCF and if that's true, it is great news. T needs the ability to meaningfully improve the per share payout of its dividend because right now, it doesn't.
This chart shows the same data as above but it takes the company's ability to pay its dividend with FCF and converts it into a ratio to give us an idea of just how much of available FCF is being used on the dividend.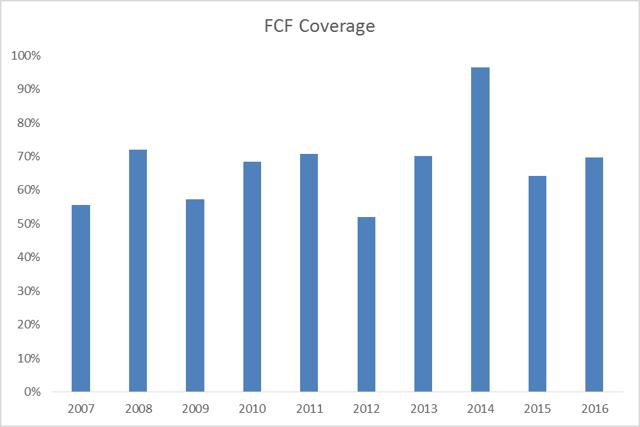 These numbers really aren't bad for a mature dividend payer like T and if Time Warner really is accretive to FCF, we should actually see an improvement. But hovering around the 70% level is fine as T can continue to boost the dividend at 2% basically forever. If, however, it wants to raise further than that, we may see a situation where the dividend begins to eat into FCF too much and T's ability to service its enormous debt and borrow further become eroded. We can't be exactly sure what the Time Warner addition will do to FCF and the dividend but management seems confident it will be a net positive; we shall see.
One area where T could certainly use some help - and where it seems it will get it with the Time Warner deal - is with respect to capex. Obviously, T's capex expenditures are huge and that prohibits it using cash for servicing debt, raising the dividend and other things it would like to do. Time Warner's capital intensity is very low so that should help, and if we look at T's capex spending, it is easy to see why.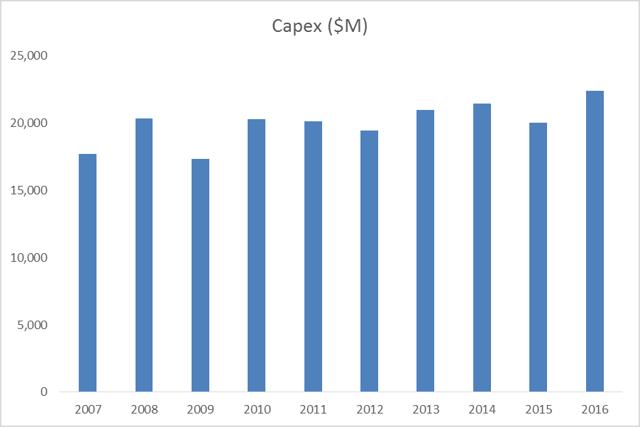 This is why I worry about T's long term ability to raise its dividend; balancing ever-rising capex costs against a wireless war that is seeing prices dropping as well as another enormous acquisition introduce a lot of uncertainty into the mix. If indeed Time Warner helps with this situation and produces incremental FCF, perhaps T will be able to raise its dividend more than 2% at some point down the road. Until that time, the stock is going to remain stagnant because T is a bond equivalent and its value depends solely upon its ability to pay shareholders to own it.
The final piece to this puzzle is that T spent almost$5B on interest expense last year, or about 20% of its operating income. That tally will go up substantially if the Time Warner deal goes through because T is borrowing the other half of the purchase price so we're going to see T's financial flexibility erode a bit more. T continues to lever up and while it can always find willing buyers for its debt, there is a point where it will inhibit other things T wants to do, like raise its dividend. I hope management is right about the Time Warner deal because if it isn't, T's already messy balance sheet could become disastrous.
So where does that leave us with T's dividend? It looks like all we can hope for in the next couple of years is the obligatory 2% increase we've seen for many years now. Depending upon when the Time Warner deal closes (or if), T's financing and FCF will potentially look much different than it does today. Despite the bump in the share count, we will apparently see an improvement in T's FCF and if that happens, it may lead to higher dividend increases down the road. For now, I'm cautiously optimistic on T's dividend but I'll also say that if the Time Warner deal doesn't go through, which seems like a low probability at this point, T's dividend will be relegated to the 2% club for the foreseeable future, and that will impact the valuation of the stock. But at around 70% of FCF, T's dividend is currently well within the safety zone for long term dividend holders and that shouldn't change for the worse anytime soon.
Disclosure: I/we have no positions in any stocks mentioned, and no plans to initiate any positions within the next 72 hours.
I wrote this article myself, and it expresses my own opinions. I am not receiving compensation for it (other than from Seeking Alpha). I have no business relationship with any company whose stock is mentioned in this article.