Thesis: There is a continued divergence between the stock market and economic fundamentals which cannot last. Unless there are significant changes in the health of the economy, stocks will have to correct. Using estimates for GDP growth and inflation, we can estimate how far the S&P 500 (SPY) would have to drop in order for the market and economic reality to realign. When stocks begin to realign should relate to shifts in disposable income and sentiment about Trump's policies and his ability to implement them.
Note: I will use MCP since "market capitalization to GDP" is just a pain in the neck to say repeatedly.
The Trump Rally 2.0
S&P 500 futures, heading into Wednesday, showed marked improvement, likely as a result of Trump's speech. Stocks followed through and the S&P 500 actually managed to touch 2,400.98. This is the first time in a while that the S&P 500 has moved by more than 1% in a day, and it has further caused stocks and fundamentals to diverge. But while stocks are barreling ahead, economic activity is looking a bit different.
Economic Data
Monday we saw the release of durable goods orders data, which on the surface looked good, but failed to impress when transportation was taken into account. The December figure was also revised lower, from -0.4% to -0.8%.
Core capital orders and home sales also showed a drop. The latter can at least partially be explained by rising prices in the housing market and higher interest rates.
Tuesday we were informed that GDP for Q4 grew at 1.9%, as originally estimated, rather than the expected 2.2%
Advance trade in in goods also came in at -$69.2bln as opposed to the expected -$66.4.bln.
On the positive side, consumer sentiment was up slightly from a month ago.
On Wednesday, updates to expectations of Q1 GDP growth came in at pitifully low values. The best case scenario was from the Atlanta Fed which estimated Q1 growth GDP to be 1.8%.
We also found out that construction spending, disposable income adjusted for inflation, and consumer spending adjusted for inflation all dropped.
By official estimates, inflation is near 2%, which is the Federal Reserve goal the long term inflation rate.
Incorporating Market Capitalization to GDP
I mentioned the MCP in "Yes; Stocks Really Are Overvalued" and want to expand on that using the current figures.
Below is a graph showing the S&P 500's MCP since 1950. It, along with a full discussion can be found at "Market Cap to GDP: An Updated Look at the Buffett Valuation Indicator." To summarize, the ratio has had three major peaks since 1950. One of those is the current peak (or really double peak), the second was during leading up to the great recession, and the third was during the dot-com bubble.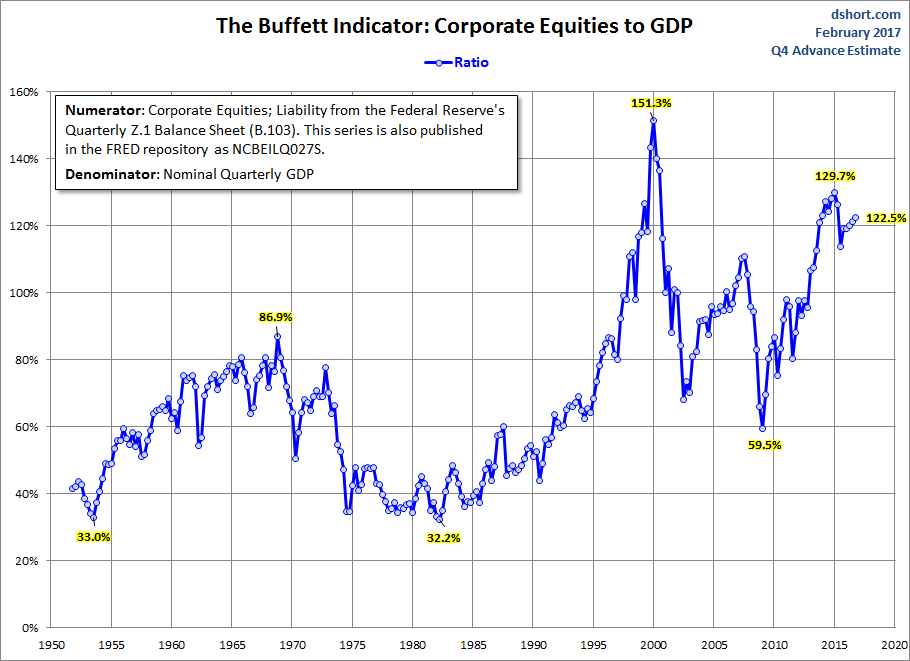 One argument against MCP being too high is that low interest rates should be driving up inflation, so it will only take a short amount of time to close the gap. I certainly agree with that to an extent, but there are limits to the argument.
As of the beginning of February, market cap to GDP, for the S&P 500 sat at around 122.5%. This was using the estimated Q4 GDP available at the time. As mentioned earlier, that figure was actually revised down. I want to give a buffer, so instead let us pretend that it was not revised down and that we see an uptick in economic activity leading to a 3% GDP growth rate, which is the rate that the Trump administration would like to see.
Furthermore, let us just suppose for a minute that we see inflation of 2.5%, which again provides a buffer for my calculations. From the beginning of February, to the market peak on March 1st, the S&P 500 grew 5%. Assuming a 2.5% inflation rate for February and the 3% estimated GDP growth, that would place the new MCP at roughly 128%. That, by the way, is very close to the December 2016 peak.
From the graph, it appears that the historical average for the indicator is about 80%. Let is see how long it would it take in order to get that level, assuming no growth in the S&P 500 until it reaches that level, and the over-inflated growth values I used as a buffer. The calculation is simple enough.

The variable x is in years. Throwing that into a calculator, you end up with 8.66 years. It would take over four and a half years just to reach 100%.
Where We're Heading
This is all well and good, but what I really want to do is try to figure out where we will be as things move forward. For that, we will need a slightly different formula.

The following is a table of the maximum of where the S&P 500 could be, after a given number of years, in order for the MCP to be 80% or less, assuming 3% inflation and 2.5% real GDP growth, along with the associated percent decrease.
| | | |
| --- | --- | --- |
| Years | S&P | Percent Decrease |
| 0 | 1500.00 | 37.50% |
| 1 | 1583.63 | 34.02% |
| 2 | 1671.91 | 30.34% |
| 3 | 1765.12 | 26.45% |
| 4 | 1863.53 | 22.35% |
| 5 | 1967.42 | 18.02% |
| 6 | 2077.10 | 13.45% |
| 7 | 2192.90 | 8.63% |
| 8 | 2315.15 | 3.54% |
Remember, this is an estimate made with over-inflated GDP growth and inflation used as a buffer.
Further Hints at Alignment Timing
The fact that disposable income has started to drop, in real terms is an important clue. While one month of negative growth is not enough to make a definitive assessment, disposable income growth has been flirting with negative territory for a while. And up until now, the increase in disposable income has meant that the average person has had more to put into investments. But if growth stays in the negative territory, the average person will have less money to invest, or in the worst case scenario, have to start taking money out.
Shifts in sentiment of course are going to drive the market as well. Right now, those who move the market are happy with what Trump has been saying. But as I have mentioned in the past, whether Trump can actually implement a lot of what he wants is yet to be seen. March will see an interesting conflict between tax reform, protectionism, and budget fights.