Simple set-ups can work well.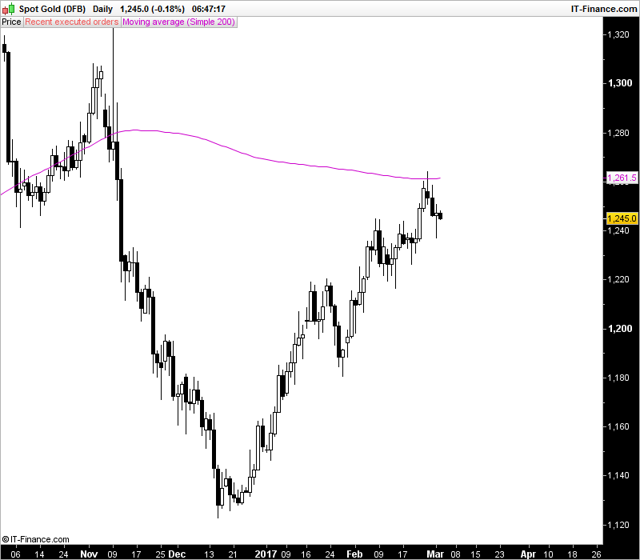 I assume most readers know what the 200 daily moving average (dma) is and most chart packages load it as default. Anyone shorting gold (NYSEARCA:GLD) at the 200dma must be feeling quite pleased at the recent drop.
But this pink line on the above chart is not magic. If you faded every move in every instrument that tested the 200dma I doubt you would be a consistently profitable trader. It can work fantastically well, but the context must be right. Look at gold in 2014-2015 when the move down started to develop ranges and get choppy: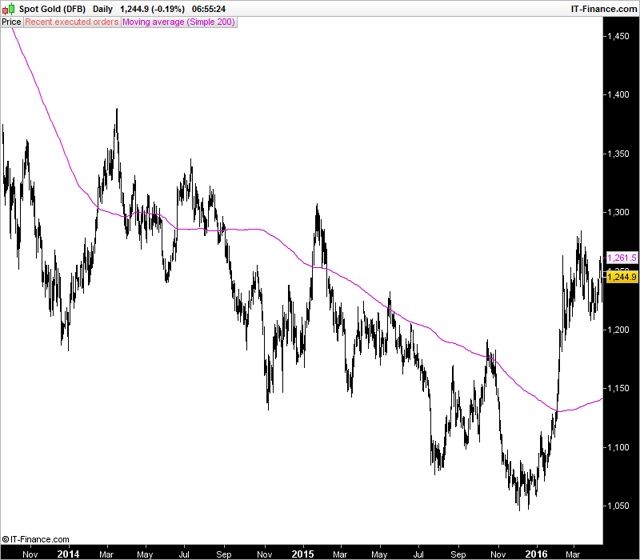 The 200dma works best when there is a clear trend, and it can be very useful for scanning markets; look to buy stocks above the 200dma and avoid stocks below the 200dma. I have a variety of scans and the 200dma is a vital part of nearly all of them. For example, I have a scan for stocks > the 200dma, where the 50dma is > the 200dma, and the 20dma is > the 50dma.
The problems arise when you base trades around the 200dma when a market is in a range. Every participant with a chart can see where it is, and it's a bit of a coin flip what price does around this 'squiggly line'. I sometimes think the market makers use it to play games with retail traders.
This week gold has pulled back, but there's nothing to say it can't go back up and try again. Actually in my experience it is quite common to work perfectly for a few sessions, then come back through to stop weak hands out, then reverse.
This is a scenario I highlighted in my weekend update: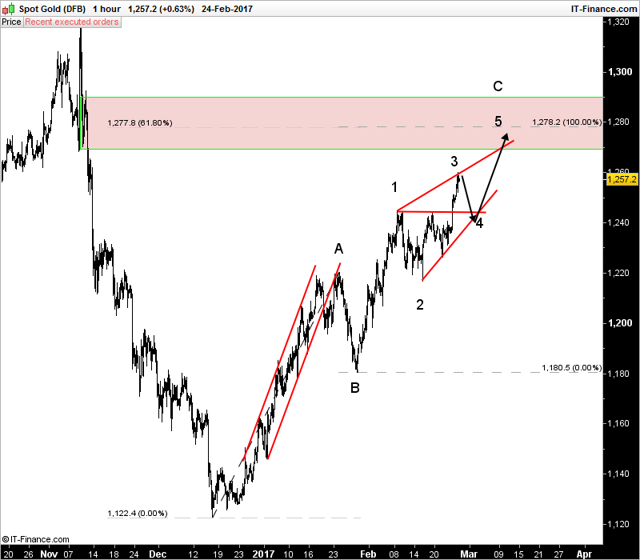 If you are not familiar with Elliott Wave, you can ignore the labeling and just look at the arrows. Based on the cycles, gold should continue higher, despite any temporary pullback from the 200dma. As I said at the weekend,
The target of $1279 is where waves C and A are equal in size and is the 61.8% retrace of the 2016 decline. It is also the area where the post-election spike and sell off originated. This 'return to the scene of the crime' is often a good target.
I added to my gold position yesterday at $1238, where the correction looked like ending: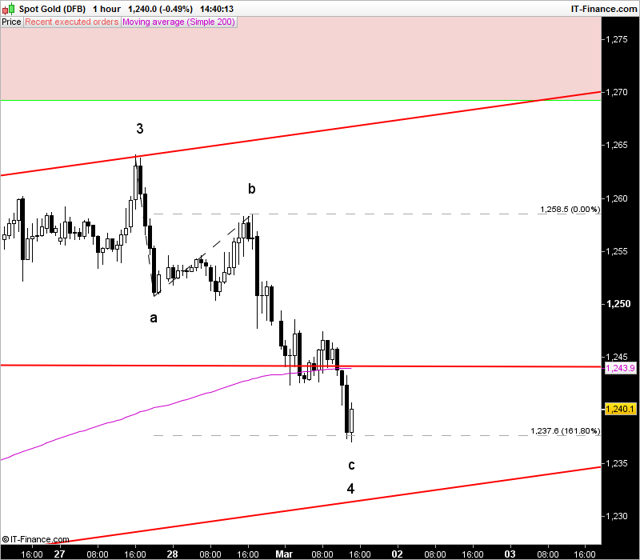 This is a shorter term trade and the risk to reward is good as any move below $1230 invalidates the idea. I still hold a small longer term position I bought during the decline in November and December.
I'm sure some readers hold gold for a very long time and won't bat an eye lid at any $40 move around the 200dma, but I also gather from the comments there are many short term traders too. Trade what is relevant to your time frame.
Conclusions
Simple set-ups can work perfectly, but more often than not they work perfectly for a short time and then fail. Fading the 200dma in a range-bound market doesn't usually work for long.
There is an opportunity to go long for a break of last week's highs and a target of $1279.
Disclosure: I am/we are long GLD.
I wrote this article myself, and it expresses my own opinions. I am not receiving compensation for it (other than from Seeking Alpha). I have no business relationship with any company whose stock is mentioned in this article.
Additional disclosure: I trade gold futures.